Abstract
Aquaporins (AQPs) are channel-forming membrane proteins highly permeable to water. AQP4 is found in mammalian hearts; however, its expression sites, regulation and function are largely unknown. The aim was to investigate cardiac AQP4 expression in humans and mice, its regulation by ischemia and hypoxia, and in particular its role in cardiac ischemic injury using AQP4 knockout (KO) mice. Comparable levels of AQP4 were detected by Western blot and qPCR in biopsies from human donor hearts and wild type C57Bl6 mouse hearts. In mice, AQP4 was expressed on cardiomyocyte plasmalemma (qPCR, Western blot, immunogold), and its mRNA decreased following ischemia/reperfusion (isolated hearts, p = 0.02) and after normobaric hypoxia in vivo (oxygen fraction 10 % for 1 week, p < 0.001). Isolated hearts from AQP4 KO mice undergoing global ischemia and reperfusion had reduced infarct size (p = 0.05) and attenuated left ventricular end-diastolic pressure during reperfusion (p = 0.04). Infarct size was also reduced in AQP4 KO mice 24 h after left coronary artery ligation in vivo (p = 0.036). AQP4 KO hearts had no compensatory change in AQP1 protein expression. AQP4 KO cardiomyocytes were partially resisted to hypoosmotic stress in the presence of hypercontracture. AQP4 is expressed in human and mouse hearts, in the latter confined to the cardiomyocyte plasmalemma. AQP4 mRNA expression is downregulated by hypoxia and ischemia. Deletion of AQP4 is protective in acute myocardial ischemia–reperfusion, and this molecule might be a future target in the treatment of acute myocardial infarction.
This is a preview of subscription content, log in to check access.
Access options
Buy single article
Instant unlimited access to the full article PDF.
US$ 39.95
Price includes VAT for USA
Subscribe to journal
Immediate online access to all issues from 2019. Subscription will auto renew annually.
US$ 199
This is the net price. Taxes to be calculated in checkout.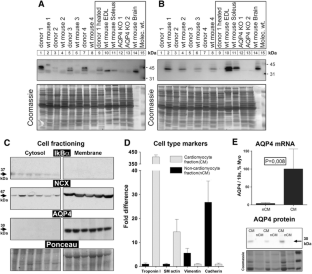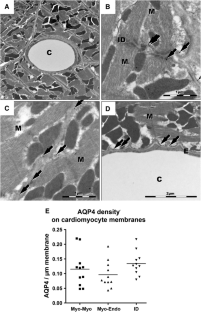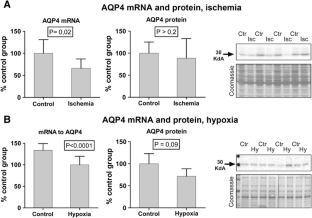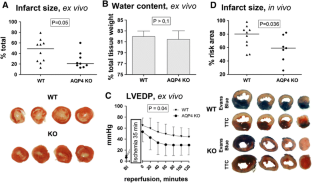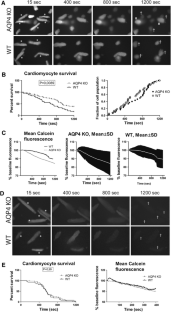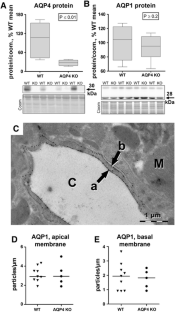 References
1.

Amiry-Moghaddam M, Otsuka T, Hurn PD, Traystman RJ, Haug FM, Froehner SC, Adams ME, Neely JD, Agre P, Ottersen OP, Bhardwaj A (2003) An alpha-syntrophin-dependent pool of AQP4 in astroglial end-feet confers bidirectional water flow between blood and brain. Proc Natl Acad Sci USA 100(4):2106–2111. doi:10.1073/pnas.0437946100

2.

Askenasy N, Navon G (1997) Continuous monitoring of intracellular volumes in isolated rat hearts during normothermic perfusion and ischemia. J Magn Reson 124(1):42–50. doi:10.1006/jmre.1996.1026

3.

Au CG, Cooper ST, Lo HP, Compton AG, Yang N, Wintour EM, North KN, Winlaw DS (2004) Expression of aquaporin 1 in human cardiac and skeletal muscle. J Mol Cell Cardiol 36(5):655–662. doi:10.1016/j.yjmcc.2004.01.009

4.

Becker BF, Chappell D, Jacob M (2010) Endothelial glycocalyx and coronary vascular permeability: the fringe benefit. Basic Res Cardiol 105(6):687–701. doi:10.1007/s00395-010-0118-z

5.

Benfenati V, Caprini M, Dovizio M, Mylonakou MN, Ferroni S, Ottersen OP, Amiry-Moghaddam M (2011) An aquaporin-4/transient receptor potential vanilloid 4 (AQP4/TRPV4) complex is essential for cell-volume control in astrocytes. Proc Natl Acad Sci USA 108(6):2563–2568. doi:10.1073/pnas.1012867108

6.

Bergersen LH, Storm-Mathisen J, Gundersen V (2008) Immunogold quantification of amino acids and proteins in complex subcellular compartments. Nat Protoc 3(1):144–152. doi:10.1038/nprot.2007.525

7.

Butler TL, Au CG, Yang B, Egan JR, Tan YM, Hardeman EC, North KN, Verkman AS, Winlaw DS (2006) Cardiac aquaporin expression in humans, rats, and mice. Am J Physiol Heart Circ Physiol 291(2):H705–H713. doi:10.1152/ajpheart.00090.2006

8.

Chappell D, Hofmann-Kiefer K, Jacob M, Rehm M, Briegel J, Welsch U, Conzen P, Becker BF (2009) TNF-alpha induced shedding of the endothelial glycocalyx is prevented by hydrocortisone and antithrombin. Basic Res Cardiol 104(1):78–89. doi:10.1007/s00395-008-0749-5

9.

Cheng YS, Tang YQ, Dai DZ, Dai Y (2012) AQP4 knockout mice manifest abnormal expressions of calcium handling proteins possibly due to exacerbating pro-inflammatory factors in the heart. Biochem Pharmacol 83(1):97–105. doi:10.1016/j.bcp.2011.10.006

10.

Dahl CP, Husberg C, Gullestad L, Waehre A, Damas JK, Vinge LE, Finsen AV, Ueland T, Florholmen G, Aakhus S, Halvorsen B, Aukrust P, Oie E, Yndestad A, Christensen G (2009) Increased production of CXCL16 in experimental and clinical heart failure: a possible role in extracellular matrix remodeling. Circ Heart Fail 2(6):624–632. doi:10.1161/CIRCHEARTFAILURE.108.821074

11.

Egan JR, Butler TL, Au CG, Tan YM, North KN, Winlaw DS (2006) Myocardial water handling and the role of aquaporins. Biochim Biophys Acta 1758(8):1043–1052. doi:10.1016/j.bbamem.2006.05.021

12.

Egan JR, Butler TL, Cole AD, Aharonyan A, Baines D, Street N, Navaratnam M, Biecker O, Zazulak C, Au CG, Tan YM, North KN, Winlaw DS (2008) Myocardial ischemia is more important than the effects of cardiopulmonary bypass on myocardial water handling and postoperative dysfunction: a pediatric animal model. J Thorac Cardiovasc Surg 136(5):1265–1273. doi:10.1016/j.jtcvs.2008.04.002

13.

Eltzschig HK, Carmeliet P (2011) Hypoxia and inflammation. N Engl J Med 364(7):656–665. doi:10.1056/NEJMra0910283

14.

Garcia-Dorado D, Oliveras J, Gili J, Sanz E, Perez-Villa F, Barrabes J, Carreras MJ, Solares J, Soler-Soler J (1993) Analysis of myocardial oedema by magnetic resonance imaging early after coronary artery occlusion with or without reperfusion. Cardiovasc Res 27(8):1462–1469. doi:10.1093/cvr/27.8.1462

15.

Garcia-Dorado D, Theroux P, Munoz R, Alonso J, Elizaga J, Fernandez-Aviles F, Botas J, Solares J, Soriano J, Duran JM (1992) Favorable effects of hyperosmotic reperfusion on myocardial edema and infarct size. Am J Physiol 262(1 Pt 2):H17–H22

16.

He Q, Spiro MJ (1995) Isolation of rat heart endothelial cells and pericytes: evaluation of their role in the formation of extracellular matrix components. J Mol Cell Cardiol 27(5):1173–1183. doi:10.1016/0022-2828(95)90053-5

17.

Heusch G, Boengler K, Schulz R (2008) Cardioprotection: nitric oxide, protein kinases, and mitochondria. Circulation 118(19):1915–1919. doi:10.1161/CIRCULATIONAHA.108.805242

18.

Hibuse T, Maeda N, Nakatsuji H, Tochino Y, Fujita K, Kihara S, Funahashi T, Shimomura I (2009) The heart requires glycerol as an energy substrate through aquaporin 7, a glycerol facilitator. Cardiovasc Res 83(1):34–41. doi:10.1093/cvr/cvp095

19.

Iandiev I, Pannicke T, Biedermann B, Wiedemann P, Reichenbach A, Bringmann A (2006) Ischemia-reperfusion alters the immunolocalization of glial aquaporins in rat retina. Neurosci Lett 408(2):108–112. doi:10.1016/j.neulet.2006.08.084

20.

Kaljusto ML, Mori T, Mohammad Husain Rizvi S, Galagudza M, Frantzen ML, Valen G, Vaage J (2006) Postconditioning in rats and mice. Scand Cardiovasc J 40(6):334–341. doi:10.1080/14017430601007587

21.

Laine GA, Allen SJ (1991) Left ventricular myocardial edema. Lymph flow, interstitial fibrosis, and cardiac function. Circ Res 68(6):1713–1721

22.

Lee M, Lee SJ, Choi HJ, Jung YW, Frokiaer J, Nielsen S, Kwon TH (2008) Regulation of AQP4 protein expression in rat brain astrocytes: role of P2X7 receptor activation. Brain Res 1195:1–11. doi:10.1016/j.brainres.2007.12.023

23.

Loo DD, Wright EM, Zeuthen T (2002) Water pumps. J Physiol 542(Pt 1):53–60. doi:PHY_18713

24.

Manley GT, Fujimura M, Ma T, Noshita N, Filiz F, Bollen AW, Chan P, Verkman AS (2000) Aquaporin-4 deletion in mice reduces brain edema after acute water intoxication and ischemic stroke. Nat Med 6(2):159–163. doi:10.1038/72256

25.

McNutt NS (1975) Ultrastructure of the myocardial sarcolemma. Circ Res 37(1):1–13

26.

Mehlhorn U, Geissler HJ, Laine GA, Allen SJ (2001) Myocardial fluid balance. Eur J Cardiothorac Surg 20(6):1220–1230. doi:S1010-7940(01)01031-4

27.

Mewton N, Rapacchi S, Augeul L, Ferrera R, Loufouat J, Boussel L, Micolich A, Rioufol G, Revel D, Ovize M, Croisille P (2011) Determination of the myocardial area at risk with pre- versus post-reperfusion imaging techniques in the pig model. Basic Res Cardiol 106(6):1247–1257. doi:10.1007/s00395-011-0214-8

28.

Moe SE, Sorbo JG, Sogaard R, Zeuthen T, Petter Ottersen O, Holen T (2008) New isoforms of rat Aquaporin-4. Genomics 91(4):367–377. doi:10.1016/j.ygeno.2007.12.003

29.

Mola MG, Nicchia GP, Svelto M, Spray DC, Frigeri A (2009) Automated cell-based assay for screening of aquaporin inhibitors. Anal Chem 81(19):8219–8229. doi:10.1021/ac901526k

30.

Neely JD, Christensen BM, Nielsen S, Agre P (1999) Heterotetrameric composition of aquaporin-4 water channels. Biochemistry 38(34):11156–11163. doi:10.1021/bi990941s

31.

Nicchia GP, Mola MG, Pisoni M, Frigeri A, Svelto M (2007) Different pattern of aquaporin-4 expression in extensor digitorum longus and soleus during early development. Muscle Nerve 35(5):625–631

32.

O'Connell TD, Rodrigo MC, Simpson PC (2007) Isolation and culture of adult mouse cardiac myocytes. Methods Mol Biol 357:271–296. doi:10.1385/1-59745-214-9:271

33.

Piper HM, Garcia-Dorado D (1999) Prime causes of rapid cardiomyocyte death during reperfusion. Ann Thorac Surg 68(5):1913–1919. doi:10.1016/S0003-4975(99)01025-5

34.

Ran X, Wang H, Chen Y, Zeng Z, Zhou Q, Zheng R, Sun J, Wang B, Lv X, Liang Y, Zhang K, Liu W (2010) Aquaporin-1 expression and angiogenesis in rabbit chronic myocardial ischemia is decreased by acetazolamide. Heart Vessels 25(3):237–247. doi:10.1007/s00380-009-1179-5

35.

Ruiz-Meana M, Garcia-Dorado D, Gonzalez MA, Barrabes JA, Soler-Soler J (1995) Effect of osmotic stress on sarcolemmal integrity of isolated cardiomyocytes following transient metabolic inhibition. Cardiovasc Res 30(1):64–69. doi:10.1016/S0008-6363(95)00008-9

36.

Schluter KD, Jakob G, Ruiz-Meana M, Garcia-Dorado D, Piper HM (1996) Protection of reoxygenated cardiomyocytes against osmotic fragility by nitric oxide donors. Am J Physiol 271(2 Pt 2):H428–H434

37.

Sepramaniam S, Armugam A, Lim KY, Karolina DS, Swaminathan P, Tan JR, Jeyaseelan K (2010) MicroRNA 320a functions as a novel endogenous modulator of aquaporins 1 and 4 as well as a potential therapeutic target in cerebral ischemia. J Biol Chem 285(38):29223–29230. doi:10.1074/jbc.M110.144576

38.

Shibuya S, Hara H, Wakayama Y, Inoue M, Jimi T, Matsuzaki Y (2008) Aquaporin 4 mRNA levels in neuromuscular tissues of wild-type and dystrophin-deficient mice. Tohoku J Exp Med 215(4):313–319. doi:10.1620/tjem.215.313

39.

Sorbo JG, Moe SE, Ottersen OP, Holen T (2008) The molecular composition of square arrays. Biochemistry 47(8):2631–2637. doi:10.1021/bi702146k

40.

Stenslokken KO, Rutkovskiy A, Kaljusto ML, Hafstad AD, Larsen TS, Vaage J (2009) Inadvertent phosphorylation of survival kinases in isolated perfused hearts: a word of caution. Basic Res Cardiol 104(4):412–423. doi:10.1007/s00395-009-0780-1

41.

Sun XL, Zhang J, Fan Y, Ding JH, Sha JH, Hu G (2009) Aquaporin-4 deficiency induces subfertility in female mice. Fertil Steril 92(5):1736–1743. doi:10.1016/j.fertnstert.2008.07.1785

42.

Thrane AS, Rappold PM, Fujita T, Torres A, Bekar LK, Takano T, Peng W, Wang F, Thrane VR, Enger R, Haj-Yasein NN, Skare O, Holen T, Klungland A, Ottersen OP, Nedergaard M, Nagelhus EA (2011) Critical role of aquaporin-4 (AQP4) in astrocytic Ca2+ signaling events elicited by cerebral edema. Proc Natl Acad Sci USA 108(2):846–851. doi:10.1073/pnas.1015217108

43.

Wakayama Y, Takahashi J, Shibuya S, Inoue M, Kojima H, Oniki H, Arata S, Hara H, Jimi T, Shioda S, Sunada Y, Ohi H, Shimizu T (2007) Generation of muscle aquaporin 4 overexpressing transgenic mouse: its characterization at RNA and protein levels including freeze-fracture study. Micron 38(3):257–267. doi:10.1016/j.micron.2006.05.001

44.

Warth A, Eckle T, Kohler D, Faigle M, Zug S, Klingel K, Eltzschig HK, Wolburg H (2007) Upregulation of the water channel aquaporin-4 as a potential cause of postischemic cell swelling in a murine model of myocardial infarction. Cardiology 107(4):402–410. doi:10.1159/000099060

45.

Wright AR, Rees SA (1998) Cardiac cell volume: crystal clear or murky waters? A comparison with other cell types. Pharmacol Ther 80(1):89–121. doi:10.1016/S0163-7258(98)00025-4

46.

Xu WB, Gu YT, Wang YF, Lu XH, Jia LS, Lv G (2008) Bradykinin preconditioning modulates aquaporin-4 expression after spinal cord ischemic injury in rats. Brain Res 1246:11–18. doi:10.1016/j.brainres.2008.09.087

47.

Yang B, Brown D, Verkman AS (1996) The mercurial insensitive water channel (AQP-4) forms orthogonal arrays in stably transfected Chinese hamster ovary cells. J Biol Chem 271(9):4577–4580. doi:10.1074/jbc.271.9.4577
Acknowledgments
Mubashar Amin and Bjørg Riber helped with quantitative immunogold, Torgeir Holen gave valuable advice regarding PCR technique and Western blot, Anna Thoren provided animals, and Torun Flatebø provided excellent technical assistance, all of which is gratefully acknowledged. This work was supported by Gjensidigestiftelsen, The Southeastern Regional Health Trust, The Jahre Foundation, The University of Oslo, and Oslo University Hospital—Ullevål, The Nansen Foundation, and the Norwegian Health Association. Lars Mariero is the recipient of a medical student's scholarship from the University of Oslo and the Norwegian Research Council.
Conflict of interests
None declared.
Electronic supplementary material
Below is the link to the electronic supplementary material.
Supplementary material 1 (MPG 12319 kb)
Supplementary material 2 (MPG 6794 kb)
About this article
Cite this article
Rutkovskiy, A., Stensløkken, K., Mariero, L.H. et al. Aquaporin-4 in the heart: expression, regulation and functional role in ischemia. Basic Res Cardiol 107, 280 (2012) doi:10.1007/s00395-012-0280-6
Received:

Revised:

Accepted:

Published:
Keywords
Aquaporins

Myocardial infarction

Edema

Transgenic mice