Abstract
Background
Tart Montmorency cherries have been reported to contain high levels of phytochemicals including melatonin, a molecule critical in regulating the sleep-wake cycle in humans.
Purpose
The aim of our investigation was to ascertain whether ingestion of a tart cherry juice concentrate would increase the urinary melatonin levels in healthy adults and improve sleep quality.
Methods
In a randomised, double-blind, placebo-controlled, crossover design, 20 volunteers consumed either a placebo or tart cherry juice concentrate for 7 days. Measures of sleep quality recorded by actigraphy and subjective sleep questionnaires were completed. Sequential urine samples over 48 h were collected and urinary 6-sulfatoxymelatonin (major metabolite of melatonin) determined; cosinor analysis was used to determine melatonin circadian rhythm (mesor, acrophase and amplitude). In addition, total urinary melatonin content was determined over the sampled period. Trial differences were determined using a repeated measures ANOVA.
Results
Total melatonin content was significantly elevated (P < 0.05) in the cherry juice group, whilst no differences were shown between baseline and placebo trials. There were significant increases in time in bed, total sleep time and sleep efficiency total (P < 0.05) with cherry juice supplementation. Although there was no difference in timing of the melatonin circardian rhythm, there was a trend to a higher mesor and amplitude.
Conclusions
These data suggest that consumption of a tart cherry juice concentrate provides an increase in exogenous melatonin that is beneficial in improving sleep duration and quality in healthy men and women and might be of benefit in managing disturbed sleep.
Access options
Buy single article
Instant access to the full article PDF.
US$ 39.95
Tax calculation will be finalised during checkout.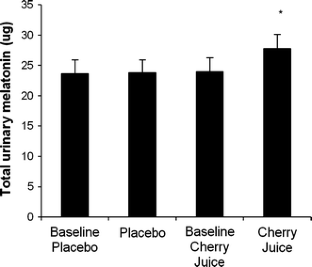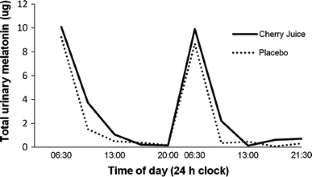 References
1.

Jacob RA, Spinozzi GM, Simon VA, Kelley DS, Prior RL, Hess-Pierce B, Kader AA (2003) Consumption of cherries lowers plasma urate in healthy women. J Nutr 133(6):1826–1829

2.

Kelley DS, Rasooly R, Jacob RA, Kader AA, Mackey BE (2006) Consumption of Bing sweet cherries lowers circulating concentrations of inflammation markers in healthy men and women. J Nutr 136(4):981–986

3.

Kuehl K, Perrier E, Elliot D, Chesnutt J (2010) Efficacy of tart cherry juice in reducing muscle pain during running: a randomized controlled trial. J Int Soc Sports Nut 7(1):17

4.

Traustadottir T, Davies SS, Stock AA, Su Y, Heward CB, Roberts LJ II, Harman SM (2009) Tart cherry juice decreases oxidative stress in healthy older men and women. J Nutr 139(10):1896–1900. doi:10.3945/jn.109.111716

5.

Howatson G, McHugh MP, Hill JA, Brouner J, Jewell AP, Van Someren KA, Shave RE, Howatson SA (2010) Influence of tart cherry juice on indices of recovery following marathon running. Scand J Med Sci Sports 20(6):843–852. doi:10.1111/j.1600-0838.2009.01005.x

6.

Connolly DAJ, McHugh MP, Padilla-Zakour OI (2006) Efficacy of a tart cherry juice blend in preventing the symptoms of muscle damage. Br J Sports Med 40(8):679–683. doi:10.1136/bjsm.2005.025429

7.

Bowtell JL, Sumners DP, Dyer A, Fox P, Mileva K (2011) Montmorency cherry juice reduces muscle damage caused by intensive strength exercise. Med Sci Sports Exerc 43(8):1544–1551

8.

Pigeon WR, Carr M, Gorman C, Perlis ML (2010) Effects of a tart cherry juice beverage on the sleep of older adults with insomnia: a pilot study. J Med Food 13(3):579–583. doi:10.1089/jmf.2009.0096

9.

Wang H, Nair MG, Strasburg GM, Chang Y-C, Booren AM, Gray JI, DeWitt DL (1999) Antioxidant and antiinflammatory activities of anthocyanins and their aglycon, cyanidin, from tart cherries. J Nat Prod 62(2):294–296. doi:10.1021/np980501m

10.

Kim D-O, Heo HJ, Kim YJ, Yang HS, Lee CY (2005) Sweet and sour cherry phenolics and their protective effects on neuronal cells. J Agric Food Chem 53(26):9921–9927. doi:10.1021/jf0518599

11.

Wang H, Nair MG, Iezzoni AF, Strasburg GM, Booren AM, Gray JI (1997) Quantification and characterization of anthocyanins in Balaton tart cherries. J Agric Food Chem 45(7):2556–2560. doi:10.1021/jf960896k

12.

Burkhardt S, Tan DX, Manchester LC, Hardeland Rd, Reiter RJ (2001) Detection and quantification of the antioxidant melatonin in Montmorency and Balaton tart cherries (Prunus cerasus). J Agric Food Chem 49(10):4898–4902. doi:10.1021/jf010321+

13.

Hughes RJ, Sack RL, Lewy AJ (1998) The role of melatonin and circadian phase in age-related sleep-maintenance insomnia: assessment in a clinical trial of melatonin replacement. Sleep 21(1):52–66

14.

Claustrat B, Brun J, Chazot G (2005) The basic physiology and pathophysiology of melatonin. Sleep Med Rev 9(1):11–24

15.

Morris M, Lack L, Barrett J (1990) The effect of sleep/wake state on nocturnal melatonin excretion. J Pineal Res 9(2):133–138. doi:10.1111/j.1600-079X.1990.tb00701.x

16.

Ferguson SA, Rajaratnam SMW, Dawson D (2010) Melatonin agonists and insomnia. Expert Rev Neurother 10(2):305–318

17.

Opp MR (2004) Cytokines and sleep: the first hundred years. Brain Behav Immun 18(4):295–297

18.

Iinuma F, Hamase K, Matsubayashi S, Takahashi M, Watanabe M, Zaitsu K (1999) Sensitive determination of melatonin by precolumn derivatization and reversed-phase high-performance liquid chromatography. J Chromatogr A 835(1–2):67–72

19.

Herxheimer A, Pertrie KJ (2002) Melatonin for the prevention of jet lag. Cochrane Database Syst Rev 9:11–24

20.

Aldhous ME, Arendt J (1988) Radioimmunoassay for 6-sulphatoxymelatonin in urine using an iodinated tracer. Ann Clin Biochem 25(3):298–303

21.

Minors DS, Waterhouse JM (1988) Mathematical and statistical analysis of circadian rhythms. Psychoneuroendocrinology 13(6):443–464

22.

Lockley SW, Skene DJ, Tabandeh H, Bird AC, Defrance R, Arendt J (1997) Relationship between napping and melatonin in the blind. J Biol Rhythm 12(1):16–25. doi:10.1177/074873049701200104

23.

Ancoli-Israel S, Cole R, Alessi C, Chambers M, Moorcroft W, Pollak CP (2003) The role of actigraphy in the study of sleep and circadian rythyms. Sleep 26(3):342–392

24.

Rogers AE, Caruso CC, Aldrich MS (1993) Reliability of sleep diaries for assessment of sleep/wake patterns. Nurs Res 42(6):368–372

25.

Lockley SW, Skene DJ, Arendt J (1999) Comparison between subjective and actigraphic measurement of sleep and sleep rhythms. J Sleep Res 8(3):175–183. doi:10.1046/j.1365-2869.1999.00155.x

26.

Garrido M, Paredes SD, Cubero J, Lozano M, Toribio-Delgado AF, Muñoz JL, Reiter RJ, Barriga C, Rodríguez AB (2010) Jerte valley cherry-enriched diets improve nocturnal rest and increase 6-sulfatoxymelatonin and total antioxidant capacity in the urine of middle-aged and elderly humans. J Gerontol Ser A Biol Sci Med Sci. doi:10.1093/gerona/glq099

27.

Coyne MD, Kesick CM, Doherty TJ, Kolka MA, Stephenson LA (2000) Circadian rhythm changes in core temperature over the menstrual cycle: method for noninvasive monitoring. Am J Physiol Regul Integr Comp Physiol 279:R1316–R1320
Acknowledgments
Gratitude is extended to Kelly Mitcheson for her help in data collection and to CherryActive (Sunbury, UK) for donating the cherry juice concentrate.
About this article
Cite this article
Howatson, G., Bell, P.G., Tallent, J. et al. Effect of tart cherry juice (Prunus cerasus) on melatonin levels and enhanced sleep quality. Eur J Nutr 51, 909–916 (2012). https://doi.org/10.1007/s00394-011-0263-7
Received:

Accepted:

Published:

Issue Date:
Keywords
Tart cherries

Melatonin

Sleep

Recovery