Zusammenfassung
Obwohl die Pathogenese der Spondyloarthritiden (SpA) in den letzten Jahren intensiv beforscht worden ist, sind die Konsequenzen für die Therapie eher als gering anzusehen. Für die Zytokine Tumor-Nekrose-Faktor(TNF)-α und Interleukin(IL)-17 gab es zwar Hinweise auf ihre mögliche Rolle für die Pathogenese der SpA, ihre herausragende Rolle konnte aber dann erst durch ihre Inhibition in klinischen Studien gezeigt werden, während andere Erfolg versprechende Targets wie IL‑23 oder auch IL‑6 in klinischen Studien nicht als relevant (zumindest bei der axialen Beteiligung) gezeigt werden konnten. Die Mikrobiota des Darms spielt vermutlich eine wichtige Rolle in der Pathogenese, aber noch nicht für die Therapie der SpA. Schließlich ist die frühzeitige, effektive und langfristige Suppression der Entzündung zurzeit die beste Prävention, um längerfristig Ankylose zu verhindern.
Abstract
Although the pathogenesis of spondylarthritis (SpA) has been the subject of intensive research in recent years, the consequences for treatment are relatively minor. Basic research studies indicated a potentially important role of the cytokines tumor necrosis factor (TNF) alpha and interleukin (IL)-17 for the pathogenesis of SpA but their outstanding role could then only be demonstrated by their inhibition in clinical studies, while other promising targets, such as IL‑23 and IL‑6 could not be shown to be relevant (at least against axial manifestations) in clinical studies. The intestinal microbiota probably plays an important role in the pathogenesis but not yet for the treatment of SpA. Ultimately, early effective and long-term suppression of inflammation is currently the best method to prevent ankylosis in the long run.
This is a preview of subscription content, log in to check access.
Access options
Buy single article
Instant access to the full article PDF.
US$ 39.95
Price includes VAT for USA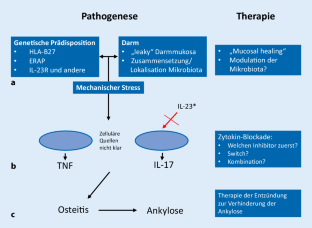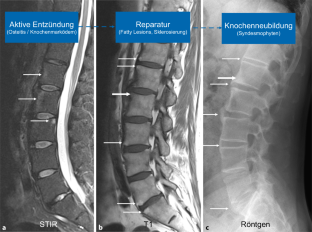 Literatur
1.

Araujo EG, Englbrecht M, Hoepken S et al (2019) Effects of ustekinumab versus tumor necrosis factor inhibition on enthesitis: results from the enthesial clearance in psoriatic arthritis (ECLIPSA) study. Semin Arthritis Rheum 48:632–637

2.

Baeten D, Ostergaard M, Wei JC et al (2018) Risankizumab, an IL‑23 inhibitor, for ankylosing spondylitis: results of a randomised, double-blind, placebo-controlled, proof-of-concept, dose-finding phase 2 study. Ann Rheum Dis 77:1295–1302

3.

Bettelli E, Carrier Y, Gao W et al (2006) Reciprocal developmental pathways for the generation of pathogenic effector TH17 and regulatory T cells. Nature 441:235–238

4.

Bisanz JE, Suppiah P, Thomson WM et al (2016) The oral microbiome of patients with axial spondyloarthritis compared to healthy individuals. Peer J 4:e2095

5.

Braun J, Baraliakos X, Deodhar A et al (2018) Secukinumab shows sustained efficacy and low structural progression in ankylosing spondylitis: 4‑year results from the MEASURE 1 study. Rheumatology (Oxford). https://doi.org/10.1093/rheumatology/key375

6.

Braun J, Bollow M, Neure L et al (1995) Use of immunohistologic and in situ hybridization techniques in the examination of sacroiliac joint biopsy specimens from patients with ankylosing spondylitis. Arthritis Rheum 38:499–505

7.

Breban M, Tap J, Leboime A et al (2017) Faecal microbiota study reveals specific dysbiosis in spondyloarthritis. Ann Rheum Dis 76:1614–1622

8.

Cambre I, Gaublomme D, Burssens A et al (2018) Mechanical strain determines the site-specific localization of inflammation and tissue damage in arthritis. Nat Commun 9:4613

9.

Costello ME, Ciccia F, Willner D et al (2015) Intestinal dysbiosis in ankylosing spondylitis. Arthritis Rheumatol 67(3):686-691

10.

Deodhar A, Gensler LS, Sieper J et al (2019) Three multicenter, randomized, double-blind, placebo-controlled studies evaluating the efficacy and safety of Ustekinumab in axial Spondyloarthritis. Arthritis Rheumatol 71:258–270

11.

Gravallese EM, Schett G (2018) Effects of the IL‑23-IL‑17 pathway on bone in spondyloarthritis. Nat Rev Rheumatol 14:631–640

12.

Hueber W, Sands BE, Lewitzky S et al (2012) Secukinumab, a human anti-IL‑17A monoclonal antibody, for moderate to severe Crohn's disease: unexpected results of a randomised, double-blind placebo-controlled trial. Gut 61:1693–1700

13.

Lee JS, Tato CM, Joyce-Shaikh B et al (2015) Interleukin-23-independent IL‑17 production regulates intestinal epithelial permeability. Immunity 43:727–738

14.

Mangan PR, Su LJ, Jenny V et al (2015) Dual inhibition of Interleukin-23 and Interleukin-17 offers superior efficacy in mouse models of autoimmunity. J Pharmacol Exp Ther 354:152–165

15.

Mcgonagle D, Gibbon W, Emery P (1998) Classification of inflammatory arthritis by enthesitis. Lancet 352:1137–1140

16.

Mcinnes IB, Kavanaugh A, Gottlieb AB et al (2013) Efficacy and safety of ustekinumab in patients with active psoriatic arthritis: 1 year results of the phase 3, multicentre, double-blind, placebo-controlled PSUMMIT 1 trial. Lancet 382:780–789

17.

Mielants H, Veys EM, Cuvelier C et al (1995) The evolution of spondyloarthropathies in relation to gut histology. III. Relation between gut and joint. J Rheumatol 22:2279–2284

18.

Molnar C, Scherer A, Baraliakos X et al (2018) TNF blockers inhibit spinal radiographic progression in ankylosing spondylitis by reducing disease activity: results from the Swiss Clinical Quality Management cohort. Ann Rheum Dis 77:63–69

19.

Noack M, Ndongo-Thiam N, Miossec P (2016) Role of podoplanin in the high interleukin-17A secretion resulting from interactions between activated lymphocytes and psoriatic skin-derived mesenchymal cells. Clin Exp Immunol 186:64–74

20.

Noordenbos T, Blijdorp I, Chen S et al (2016) Human mast cells capture, store, and release bioactive, exogenous IL‑17A. J Leukoc Biol 100:453–462

21.

Poddubnyy D, Appel H, Sieper J (2010) Investigation of involved tissue in axial spondyloarthritis—what have we learnt from immunohistochemical studies? Best Pract Res Clin Rheumatol 24:715–719

22.

Poddubnyy D, Sieper J (2017) Mechanism of new bone formation in axial spondyloarthritis. Curr Rheumatol Rep 19:55

23.

Poddubnyy D, Sieper J (2018) What is the best treatment target in axial spondyloarthritis: tumour necrosis factor alpha, interleukin 17, or both? Rheumatology (Oxford) 57(7):1145–1150

24.

Ranganathan V, Gracey E, Brown MA et al (2017) Pathogenesis of ankylosing spondylitis—recent advances and future directions. Nat Rev Rheumatol 13:359–367

25.

Ratz T, Dean LE, Atzeni F et al (2015) A possible link between ankylosing spondylitis and periodontitis: a systematic review and meta-analysis. Rheumatology (Oxford) 54:500–510

26.

Regner EH, Ohri N, Stahly A et al (2018) Functional intraepithelial lymphocyte changes in inflammatory bowel disease and spondyloarthritis have disease specific correlations with intestinal microbiota. Arthritis Res Ther 20:149

27.

Rosenbaum JT, Asquith MJ (2016) The Microbiome: a revolution in treatment for rheumatic diseases? Curr Rheumatol Rep 18:62

28.

Sherlock JP, Joyce-Shaikh B, Turner SP et al (2012) IL‑23 induces spondyloarthropathy by acting on ROR-gammat+ CD3+CD4-CD8- entheseal resident T cells. Nat Med 18:1069–1076

29.

Sieper J, Listing J, Poddubnyy D et al (2016) Effect of continuous versus on-demand treatment of ankylosing spondylitis with diclofenac over 2 years on radiographic progression of the spine: results from a randomised multicentre trial (ENRADAS). Ann Rheum Dis 75:1438–1443

30.

Sieper J, Poddubnyy D (2017) Axial spondyloarthritis. Lancet 390:73–84

31.

Sieper J, Poddubnyy D (2016) New evidence on the management of spondyloarthritis. Nat Rev Rheumatol 12:282–295

32.

Tamassia N, Arruda-Silva F, Calzetti F et al (2018) A reappraisal on the potential ability of human neutrophils to express and produce IL‑17 family members in vitro: failure to reproducibly detect it. Front Immunol 9:795

33.

Taurog JD, Richardson JA, Croft JT et al (1994) The germfree state prevents development of gut and joint inflammatory disease in HLA-B27 transgenic rats. J Exp Med 180:2359–2364

34.

Tito RY, Cypers H, Joossens M et al (2017) Brief report: Dialister as a microbial marker of disease activity in Spondyloarthritis. Arthritis Rheumatol 69:114–121

35.

Torgutalp M, Poddubnyy D (2019) IL‑17 inhibition in axial spondyloarthritis: current and future perspectives. Expert Opin Biol Ther 19(7):631–641

36.

Van Der Heijde D, Baraliakos X, Hermann KA et al (2018) Limited radiographic progression and sustained reductions in MRI inflammation in patients with axial spondyloarthritis: 4‑year imaging outcomes from the RAPID-axSpA phase III randomised trial. Ann Rheum Dis 77:699–705

37.

Van Praet L, Jans L, Carron P et al (2014) Degree of bone marrow oedema in sacroiliac joints of patients with axial spondyloarthritis is linked to gut inflammation and male sex: results from the GIANT cohort. Ann Rheum Dis 73:1186–1189

38.

Wanders A, Heijde D, Landewe R et al (2005) Nonsteroidal antiinflammatory drugs reduce radiographic progression in patients with ankylosing spondylitis: a randomized clinical trial. Arthritis Rheum 52:1756–1765

39.

Wellcome Trust Case Control C, Australo-Anglo-American Spondylitis C, Burton PR et al (2007) Association scan of 14,500 nonsynonymous SNPs in four diseases identifies autoimmunity variants. Nat Genet 39:1329–1337

40.

Wen C, Zheng Z, Shao T et al (2017) Quantitative metagenomics reveals unique gut microbiome biomarkers in ankylosing spondylitis. Genome Biol 18:142

41.

Ziebolz D, Douglas D, Douglas D et al (2018) Periodontal condition is associated with disease duration and motoric disabilities in patients with ankylosing spondylitis: results of a cross-sectional study. Rheumatol Int 38:855–863
Ethics declarations
Interessenkonflikt
J. Sieper: Forschungsförderung durch: AbbVie, BMS, MSD, Novartis, Pfizer, Roche; Referenten‑/Beratertätigkeit für: AbbVie, Janssen, Lilly, MSD, Novartis, Pfizer, Roche, UCB. D. Poddubnyy: Forschungsförderung durch: AbbVie, Lilly, MSD, Novartis, Pfizer; Referenten‑/Beratertätigkeit für: AbbVie, BMS, Celgene, Lilly, MSD, Novartis, Pfizer, Roche, UCB.
Für diesen Beitrag wurden von den Autoren keine Studien an Menschen oder Tieren durchgeführt. Für die aufgeführten Studien gelten die jeweils dort angegebenen ethischen Richtlinien.
About this article
Cite this article
Sieper, J., Poddubnyy, D. Pathogenese der Spondyloarthritiden. Z Rheumatol 79, 5–12 (2020). https://doi.org/10.1007/s00393-019-00708-y
Schlüsselwörter
Spondylitis

Ankylose

Mikrobiota

Tumor-Nekrose-Faktor‑α

Interleukin-17
Keywords
Spondylitis

Ankylosis

Microbiota

Tumor necrosis factor alpha

Interleukin-17