Abstract
Background
Low individual socioeconomic status (SES) is a known risk factor for morbidity and mortality. A related measure is the area-based SES (abSES), which describes the average SES of a region. The association of measures of abSES with morbidity and mortality is less well studied.
Methods
The Ludwigshafen Risk and Cardiovascular Health study consists of 3316 patients hospitalized for coronary angiography between 1997 and 2000 at a tertiary care centre in Germany. Patients were followed up for a median of 10 years. Two measures of abSES were used: the regional purchasing index (PPI, data obtained from IQVIA GmbH) and the German Index of Socioeconomic Deprivation (GISD, developed by the Robert-Koch Institute). The association of abSES with disease and with mortality was analysed using logistic regression and Cox proportional hazards regression, respectively.
Results
Study participants living in regions with higher abSES had lower HbA1c and high-sensitive C-reactive protein. A higher abSES was associated with lower prevalence of active smoking, vitamin D deficiency and diabetes mellitus. We further found significantly increased mortality for participants in the lowest PPI quartile (age- and sex-adjusted hazard ratio (95% CI) of 0.58 (0.38–0.90) as compared to the first quartile), and in the highest GISD tertile (HR of 1.32 (1.13–1.54) as compared to the first tertile).
Conclusion
Living in an area with a low abSES was associated with a higher burden of diabetes mellitus, a higher percentage of severe vitamin D deficiency, higher systemic inflammation and a significant increase in mortality.
Graphic abstract
This is a preview of subscription content, log in to check access.
We're sorry, something doesn't seem to be working properly.
Please try refreshing the page. If that doesn't work, please contact support so we can address the problem.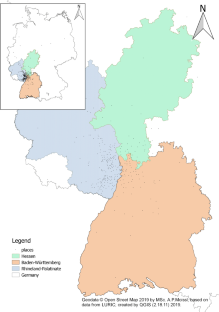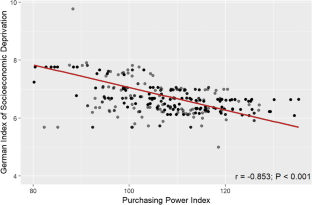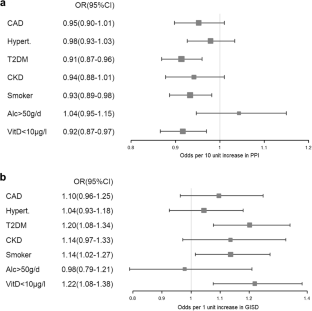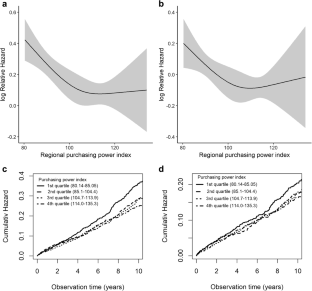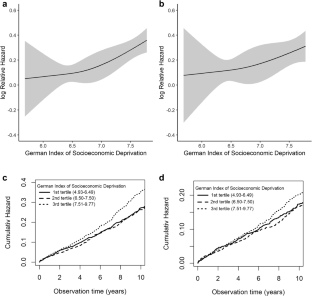 References
1.

Mokdad AH, Forouzanfar MH, Daoud F, Mokdad AA, El Bcheraoui C, Moradi-Lakeh M, Kyu HH, Barber RM, Wagner J, Cercy K, Kravitz H, Coggeshall M, Chew A, O'Rourke KF, Steiner C, Tuffaha M, Charara R, Al-Ghamdi EA, Adi Y, Afifi RA, Alahmadi H, AlBuhairan F, Allen N, AlMazroa M, Al-Nehmi AA, AlRayess Z, Arora M, Azzopardi P, Barroso C, Basulaiman M, Bhutta ZA, Bonell C, Breinbauer C, Degenhardt L, Denno D, Fang J, Fatusi A, Feigl AB, Kakuma R, Karam N, Kennedy E, Khoja TA, Maalouf F, Obermeyer CM, Mattoo A, McGovern T, Memish ZA, Mensah GA, Patel V, Petroni S, Reavley N, Zertuche DR, Saeedi M, Santelli J, Sawyer SM, Ssewamala F, Taiwo K, Tantawy M, Viner RM, Waldfogel J, Zuniga MP, Naghavi M, Wang H, Vos T, Lopez AD, Al Rabeeah AA, Patton GC, Murray CJ (2016) Global burden of diseases, injuries, and risk factors for young people's health during 1990–2013: a systematic analysis for the global burden of disease study 2013. Lancet 387(10036):2383–2401. https://doi.org/10.1016/s0140-6736(16)00648-6

2.

Topel ML, Kim JH, Mujahid MS, Sullivan SM, Ko YA, Vaccarino V, Quyyumi AA, Lewis TT (2018) Neighborhood socioeconomic status and adverse outcomes in patients with cardiovascular disease. Am J Cardiol. https://doi.org/10.1016/j.amjcard.2018.10.011

3.

Nagamine Y, Kondo N, Yokobayashi K, Ota A, Miyaguni Y, Sasaki Y, Tani Y, Kondo K (2018) Socioeconomic disparity in the prevalence of objectively evaluated diabetes among older japanese adults: JAGES cross-sectional data in 2010. J Epidemiol. https://doi.org/10.2188/jea.je20170206

4.

Hoebel J, Kroll LE, Fiebig J, Lampert T, Katalinic A, Barnes B, Kraywinkel K (2018) Socioeconomic inequalities in total and site-specific cancer incidence in Germany: a population-based registry study. Front Oncol 8:402. https://doi.org/10.3389/fonc.2018.00402

5.

Agardh E, Allebeck P, Hallqvist J, Moradi T, Sidorchuk A (2011) Type 2 diabetes incidence and socio-economic position: a systematic review and meta-analysis. Int J Epidemiol 40(3):804–818. https://doi.org/10.1093/ije/dyr029

6.

Mackenbach JP, Stirbu I, Roskam AJ, Schaap MM, Menvielle G, Leinsalu M, Kunst AE (2008) Socioeconomic inequalities in health in 22 European countries. New Engl J Med 358(23):2468–2481. https://doi.org/10.1056/NEJMsa0707519

7.

Marmot M (2001) Inequalities in health. New Engl J Med 345(2):134–136. https://doi.org/10.1056/nejm200107123450210

8.

Marmot M (2010) Fair society, healthy lives: the Marmot review: strategic review of health inequalities in England post-2010. https://www.gov.uk/dfid-research-outputs/fair-society-healthy-lives-the-marmot-review-strategic-review-of-health-inequalities-in-england-post-2010#citation

9.

Vandenheede H, Vikhireva O, Pikhart H, Kubinova R, Malyutina S, Pajak A, Tamosiunas A, Peasey A, Simonova G, Topor-Madry R, Marmot M, Bobak M (2014) Socioeconomic inequalities in all-cause mortality in the Czech Republic, Russia, Poland and Lithuania in the 2000s: findings from the HAPIEE study. J Epidemiol Community Health 68(4):297–303. https://doi.org/10.1136/jech-2013-203057

10.

Kagamimori S, Gaina A, Nasermoaddeli A (2009) Socioeconomic status and health in the japanese population. Soc Sci Med 68(12):2152–2160. https://doi.org/10.1016/j.socscimed.2009.03.030

11.

Donkin A, Goldblatt P, Allen J, Nathanson V, Marmot M (2018) Global action on the social determinants of health. BMJ Glob Health 3(Suppl 1):e000603. https://doi.org/10.1136/bmjgh-2017-000603

12.

Lampert TMA (2008) Gesundheit und soziale Ungleicheit. GGW 8(2):7–16

13.

Geyer S (2008) Sozialstruktur und Krankheit—Analysen mit Daten der Gesetzlichen Krankenversicherung. Bundesgesundheitsbl Gesundheitsforsch Gesundheitsschutz 51:1164–1172

14.

Lampert T, Kroll L, Von der Lippe E, Müters S, Stolzenberg H (2013) Socioeconomic status and health. results of the German health interview and examination survey for adults (DEGS1). Bundesgesundheitsbl 56:814

15.

Lampert T, Kroll LE, Dunkelberg A (2007) Soziale Ungleichheit der Lebenserwartung in Deutschland. Robert Koch Inst. https://doi.org/10.25646/531

16.

Winkelmann BR, Marz W, Boehm BO, Zotz R, Hager J, Hellstern P, Senges J, Group LS (2001) Rationale and design of the LURIC study–a resource for functional genomics, pharmacogenomics and long-term prognosis of cardiovascular disease. Pharmacogenomics 2(1 Suppl 1):S1–S73. https://doi.org/10.1517/14622416.2.1.s1

17.

Kroll LE, Schumann M, Hoebel J, Lampert T (2017) Regional health differences—developing a socioeconomic deprivation index for Germany. Robert Koch Institut Epidemiologie und Gesundheitsberichterstattung. https://doi.org/10.17886/rki-gbe-2017-048

18.

Laaksonen M, Talala K, Martelin T, Rahkonen O, Roos E, Helakorpi S, Laatikainen T, Prattala R (2008) Health behaviours as explanations for educational level differences in cardiovascular and all-cause mortality: a follow-up of 60000 men and women over 23 years. Eur J Pub Health 18(1):38–43. https://doi.org/10.1093/eurpub/ckm051

19.

Harald K, Pajunen P, Jousilahti P, Koskinen S, Vartiainen E, Salomaa V (2006) Modifiable risk factors have an impact on socio-economic differences in coronary heart disease events. Scand Cardiovasc J 40(2):87–95. https://doi.org/10.1080/14017430500519872

20.

Eikemo TA, Hoffmann R, Kulik MC, Kulhanova I, Toch-Marquardt M, Menvielle G, Looman C, Jasilionis D, Martikainen P, Lundberg O, Mackenbach JP (2014) How can inequalities in mortality be reduced? A quantitative analysis of 6 risk factors in 21 European populations. PLoS One 9(11):e110952. https://doi.org/10.1371/journal.pone.0110952

21.

Stringhini S, Dugravot A, Shipley M, Goldberg M, Zins M, Kivimaki M, Marmot M, Sabia S, Singh-Manoux A (2011) Health behaviours, socioeconomic status, and mortality: further analyses of the British Whitehall II and the French GAZEL prospective cohorts. PLoS Med 8(2):e1000419. https://doi.org/10.1371/journal.pmed.1000419

22.

Assari S, Lankarani MM (2017) Income gradient in renal disease mortality in the United States. Front Med 4:190. https://doi.org/10.3389/fmed.2017.00190

23.

WHO (2018) Global status report on alcohol and health—2018. World Health Organ, Geneva

24.

Rabenberg M, Scheidt-Nave C, Busch MA, Rieckmann N, Hintzpeter B, Mensink GB (2015) Vitamin D status among adults in Germany–results from the German health interview and examination survey for adults (DEGS1). BMC Public Health 15:641. https://doi.org/10.1186/s12889-015-2016-7

25.

Fabreau GE, Leung AA, Southern DA, Knudtson ML, McWilliams JM, Ayanian JZ, Ghali WA (2014) Sex, socioeconomic status, access to cardiac catheterization, and outcomes for acute coronary syndromes in the context of universal healthcare coverage. Circ Cardiovasc Qual Outcome 7(4):540–549. https://doi.org/10.1161/circoutcomes.114.001021

26.

De Luca G, Petrelli A, Landriscina T, Gnavi R, Giammaria M, Costa G (2016) Geographic and socioeconomic differences in access to revascularization following acute myocardial infarction. Eur J Pub Health 26(5):760–765. https://doi.org/10.1093/eurpub/ckw062

27.

Gnavi R, Rusciani R, Dalmasso M, Giammaria M, Anselmino M, Roggeri DP, Roggeri A (2014) Gender, socioeconomic position, revascularization procedures and mortality in patients presenting with STEMI and NSTEMI in the era of primary PCI. Differences or inequities? Int J Cardiol 176(3):724–730. https://doi.org/10.1016/j.ijcard.2014.07.107

28.

Schroder SL, Fink A, Hoffmann L, Schumann N, Martin O, Frantz S, Richter M (2017) Socioeconomic differences in the pathways to diagnosis of coronary heart disease: a qualitative study. Eur J Pub Health 27(6):1055–1060. https://doi.org/10.1093/eurpub/ckx147

29.

Bachmann JM, Huang S, Gupta DK, Lipworth L, Mumma MT, Blot WJ, Akwo EA, Kripalani S, Whooley MA, Wang TJ, Freiberg MS (2017) Association of neighborhood socioeconomic context with participation in cardiac rehabilitation. J Am Heart Assoc. https://doi.org/10.1161/jaha.117.006260

30.

Turrell G, Blakely T, Patterson C, Oldenburg B (2004) A multilevel analysis of socioeconomic (small area) differences in household food purchasing behaviour. J Epidemiol Community Health 58(3):208–215

31.

Turrell G, Bentley R, Thomas LR, Jolley D, Subramanian S, Kavanagh AM (2009) A multilevel study of area socio-economic status and food purchasing behaviour. Public Health Nutr 12(11):2074–2083. https://doi.org/10.1017/s1368980009004911

32.

Roswall J, Almqvist-Tangen G, Holmen A, Alm B, Bergman S, Dahlgren J, Stromberg U (2016) Overweight at four years of age in a Swedish birth cohort: influence of neighbourhood-level purchasing power. BMC Public Health 16:546. https://doi.org/10.1186/s12889-016-3252-1

33.

Diez Roux AV, Merkin SS, Arnett D, Chambless L, Massing M, Nieto FJ, Sorlie P, Szklo M, Tyroler HA, Watson RL (2001) Neighborhood of residence and incidence of coronary heart disease. New Engl J Med 345(2):99–106. https://doi.org/10.1056/nejm200107123450205

34.

Smith GD, Hart C, Watt G, Hole D, Hawthorne V (1998) Individual social class, area-based deprivation, cardiovascular disease risk factors, and mortality: the Renfrew and Paisley Study. J Epidemiol Community Health 52(6):399–405
Acknowledgements
We thank the members of the LURIC study team who were either temporarily or permanently involved in patient recruitment, and sample and data handling, and in addition the laboratory staff at the Klinikum Ludwigshafen and the Universities of Freiburg and Ulm, Germany. This work was supported by the 7th Framework Program RiskyCAD (grant agreement number 305739) of the European Union.
Ethics declarations
Conflict of interest
The authors report no conflict of interest concerning the data of this study.
Ethical standards
The ethics committee of the "Landesärztekammer Rheinland-Pfalz" approved the study that was conducted in accordance with the "Declaration of Helsinki". Informed consent was obtained from all individual participants included in the study.
Electronic supplementary material
Below is the link to the electronic supplementary material.
About this article
Cite this article
Moissl, A.P., Delgado, G.E., Krämer, B.K. et al. Area-based socioeconomic status and mortality: the Ludwigshafen Risk and Cardiovascular Health study. Clin Res Cardiol 109, 103–114 (2020). https://doi.org/10.1007/s00392-019-01494-y
Received:

Accepted:

Published:

Issue Date:
Keywords
Purchasing power index

German Index of Socioeconomic Deprivation

Socioeconomic status

Diabetes mellitus

Mortality