Abstract
Background
Hypertension, obesity and diabetes are major and potentially modifiable "risk factors" for cardiovascular diseases. Identification of biomarkers specific to these risk factors may help understanding the underlying pathophysiological pathways, and developing individual treatment.
Methods
The FIBRO-TARGETS (targeting cardiac fibrosis for heart failure treatment) consortium has merged data from 12 patient cohorts in 1 common database of > 12,000 patients. Three mutually exclusive main phenotypic groups were identified ("cases"): (1) "hypertensive"; (2) "obese"; and (3) "diabetic"; age–sex matched in a 1:2 proportion with "healthy controls" without any of these phenotypes. Proteomic associations were studied using a biostatistical method based on LASSO and confronted with machine-learning and complex network approaches.
Results
The case:control distribution by each cardiovascular phenotype was hypertension (50:100), obesity (50:98), and diabetes (36:72). Of the 86 studied proteins, 4 were found to be independently associated with hypertension: GDF-15, LEP, SORT-1 and FABP-2; 3 with obesity: CEACAM-8, LEP and PRELP; and 4 with diabetes: GDF-15, REN, CXCL-1 and SCF. GDF-15 (hypertension + diabetes) and LEP (hypertension + obesity) are shared by 2 different phenotypes. A machine-learning approach confirmed GDF-15, LEP and SORT-1 as discriminant biomarkers for the hypertension group, and LEP plus PRELP for the obesity group. Complex network analyses provided insight on the mechanisms underlying these disease phenotypes where fibrosis may play a central role.
Conclusion
Patients with "mutually exclusive" phenotypes display distinct bioprofiles that might underpin different biological pathways, potentially leading to fibrosis.
Graphic abstract
Plasma protein biomarkers and their association with mutually exclusive cardiovascular phenotypes: the FIBRO-TARGETS case–control analyses. Patients with "mutually exclusive" phenotypes (blue: obesity, hypertension and diabetes) display distinct protein bioprofiles (green: decreased expression; red: increased expression) that might underpin different biological pathways (orange arrow), potentially leading to fibrosis.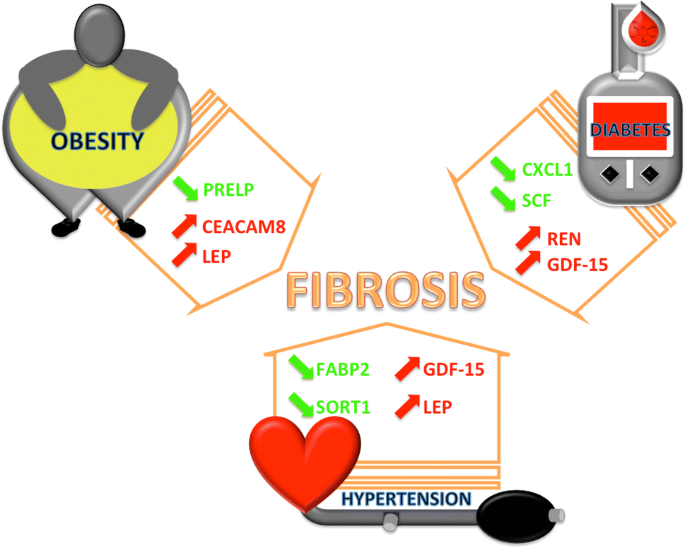 This is a preview of subscription content, log in to check access.
Access options
Buy single article
Instant unlimited access to the full article PDF.
US$ 39.95
Price includes VAT for USA
Subscribe to journal
Immediate online access to all issues from 2019. Subscription will auto renew annually.
US$ 199
This is the net price. Taxes to be calculated in checkout.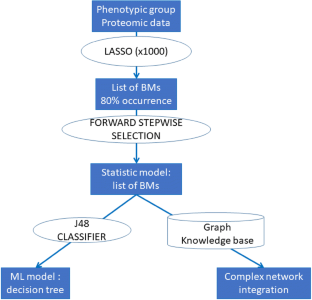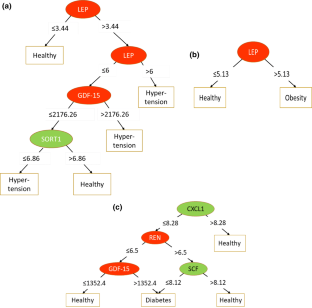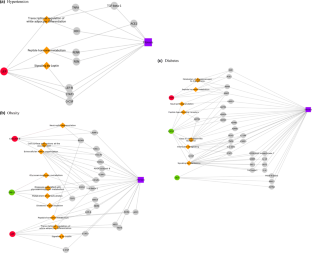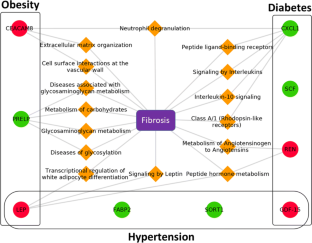 References
1.

Roth GA, Johnson C, Abajobir A, Abd-Allah F, Abera SF, Abyu G, Ahmed M, Aksut B, Alam T, Alam K, Alla F, Alvis-Guzman N, Amrock S, Ansari H, Arnlov J, Asayesh H, Atey TM, Avila-Burgos L, Awasthi A, Banerjee A, Barac A, Barnighausen T, Barregard L, Bedi N, Belay Ketema E, Bennett D, Berhe G, Bhutta Z, Bitew S, Carapetis J, Carrero JJ, Malta DC, Castaneda-Orjuela CA, Castillo-Rivas J, Catala-Lopez F, Choi JY, Christensen H, Cirillo M, Cooper L Jr, Criqui M, Cundiff D, Damasceno A, Dandona L, Dandona R, Davletov K, Dharmaratne S, Dorairaj P, Dubey M, Ehrenkranz R, El Sayed Zaki M, Faraon EJA, Esteghamati A, Farid T, Farvid M, Feigin V, Ding EL, Fowkes G, Gebrehiwot T, Gillum R, Gold A, Gona P, Gupta R, Habtewold TD, Hafezi-Nejad N, Hailu T, Hailu GB, Hankey G, Hassen HY, Abate KH, Havmoeller R, Hay SI, Horino M, Hotez PJ, Jacobsen K, James S, Javanbakht M, Jeemon P, John D, Jonas J, Kalkonde Y, Karimkhani C, Kasaeian A, Khader Y, Khan A, Khang YH, Khera S, Khoja AT, Khubchandani J, Kim D, Kolte D, Kosen S, Krohn KJ, Kumar GA, Kwan GF, Lal DK, Larsson A, Linn S, Lopez A, Lotufo PA, El Razek HMA, Malekzadeh R, Mazidi M, Meier T, Meles KG, Mensah G, Meretoja A, Mezgebe H, Miller T, Mirrakhimov E, Mohammed S, Moran AE, Musa KI, Narula J, Neal B, Ngalesoni F, Nguyen G, Obermeyer CM, Owolabi M, Patton G, Pedro J, Qato D, Qorbani M, Rahimi K, Rai RK, Rawaf S, Ribeiro A, Safiri S, Salomon JA, Santos I, Santric Milicevic M, Sartorius B, Schutte A, Sepanlou S, Shaikh MA, Shin MJ, Shishehbor M, Shore H, Silva DAS, Sobngwi E, Stranges S, Swaminathan S, Tabares-Seisdedos R, Tadele Atnafu N, Tesfay F, Thakur JS, Thrift A, Topor-Madry R, Truelsen T, Tyrovolas S, Ukwaja KN, Uthman O, Vasankari T, Vlassov V, Vollset SE, Wakayo T, Watkins D, Weintraub R, Werdecker A, Westerman R, Wiysonge CS, Wolfe C, Workicho A, Xu G, Yano Y, Yip P, Yonemoto N, Younis M, Yu C, Vos T, Naghavi M, Murray C (2017) Global, regional, and national burden of cardiovascular diseases for 10 causes, 1990 to 2015. J Am Coll Cardiol 70(1):1–25

2.

Bertram MY, Sweeny K, Lauer JA, Chisholm D, Sheehan P, Rasmussen B, Upreti SR, Dixit LP, George K, Deane S (2018) Investing in non-communicable diseases: an estimation of the return on investment for prevention and treatment services. Lancet 391(10134):2071–2078

3.

Mozaffarian D, Benjamin EJ, Go AS, Arnett DK, Blaha MJ, Cushman M, de Ferranti S, Despres JP, Fullerton HJ, Howard VJ, Huffman MD, Judd SE, Kissela BM, Lackland DT, Lichtman JH, Lisabeth LD, Liu S, Mackey RH, Matchar DB, McGuire DK, Mohler ER, Moy CS, Muntner P, Mussolino ME, Nasir K, Neumar RW, Nichol G, Palaniappan L, Pandey DK, Reeves MJ, Rodriguez CJ, Sorlie PD, Stein J, Towfighi A, Turan TN, Virani SS, Willey JZ, Woo D, Yeh RW, Turner MB (2015) Heart disease and stroke statistics–2015 update: a report from the American Heart Association. Circulation 131(4):e29–e322

4.

Townsend N, Wilson L, Bhatnagar P, Wickramasinghe K, Rayner M, Nichols M (2016) Cardiovascular disease in Europe: epidemiological update 2016. Eur Heart J 37(42):3232–3245

5.

Ho JE, Lyass A, Courchesne P, Chen G, Liu C, Yin X, Hwang SJ, Massaro JM, Larson MG, Levy D (2018) Protein biomarkers of cardiovascular disease and mortality in the community. J Am Heart Assoc 7(14):e008108

6.

Ferreira JP, Machu JL, Girerd N, Jaisser F, Thum T, Butler J, Gonzalez A, Diez J, Heymans S, McDonald K, Gyongyosi M, Firat H, Rossignol P, Pizard A, Zannad F (2018) Rationale of the FIBROTARGETS study designed to identify novel biomarkers of myocardial fibrosis. ESC Heart Fail 5(1):139–148

7.

Ferreira JP, Girerd N, Bozec E, Merckle L, Pizard A, Bouali S, Eby E, Leroy C, Machu JL, Boivin JM, Lamiral Z, Rossignol P, Zannad F (2018) Cohort profile: rationale and design of the fourth visit of the STANISLAS cohort: a familial longitudinal population-based cohort from the Nancy region of France. Int J Epidemiol 47(2):395i–395j

8.

Williams B, Mancia G, Spiering W, Agabiti Rosei E, Azizi M, Burnier M, Clement DL, Coca A, de Simone G, Dominiczak A, Kahan T, Mahfoud F, Redon J, Ruilope L, Zanchetti A, Kerins M, Kjeldsen SE, Kreutz R, Laurent S, Lip GYH, McManus R, Narkiewicz K, Ruschitzka F, Schmieder RE, Shlyakhto E, Tsioufis C, Aboyans V, Desormais I (2018) 2018 ESC/ESH guidelines for the management of arterial hypertension: the Task Force for the management of arterial hypertension of the European Society of Cardiology and the European Society of Hypertension: The Task Force for the management of arterial hypertension of the European Society of Cardiology and the European Society of Hypertension. J Hypertens 36(10):1953–2041

9.

de Onis M, Habicht JP (1996) Anthropometric reference data for international use: recommendations from a World Health Organization Expert Committee. Am J Clin Nutr 64(4):650–658

10.

Greenland P, Alpert JS, Beller GA, Benjamin EJ, Budoff MJ, Fayad ZA, Foster E, Hlatky MA, Hodgson JM, Kushner FG, Lauer MS, Shaw LJ, Smith SC, Taylor AJ, Weintraub WS, Wenger NK, Jacobs AK, Anderson JL, Albert N, Buller CE, Creager MA, Ettinger SM, Guyton RA, Halperin JL, Hochman JS, Nishimura R, Ohman EM, Page RL, Stevenson WG, Tarkington LG, Yancy CW (2010) ACCF/AHA guideline for assessment of cardiovascular risk in asymptomatic adults: a report of the American College of Cardiology Foundation/American Heart Association Task Force on Practice Guidelines. J Am Coll Cardiol 56(25):e50–e103

11.

Lundberg M, Eriksson A, Tran B, Assarsson E, Fredriksson S (2011) Homogeneous antibody-based proximity extension assays provide sensitive and specific detection of low-abundant proteins in human blood. Nucleic Acids Res 39(15):e102

12.

The UniProt Consortium (2017) UniProt: the universal protein knowledgebase. Nucleic Acids Res 45(D1):D158–D169

13.

Kibbe WA, Arze C, Felix V, Mitraka E, Bolton E, Fu G, Mungall CJ, Binder JX, Malone J, Vasant D, Parkinson H, Schriml LM (2015) Disease Ontology 2015 update: an expanded and updated database of human diseases for linking biomedical knowledge through disease data. Nucleic Acids Res 43:D1071–D1078

14.

Pinero J, Bravo A, Queralt-Rosinach N, Gutierrez-Sacristan A, Deu-Pons J, Centeno E, Garcia-Garcia J, Sanz F, Furlong LI (2017) DisGeNET: a comprehensive platform integrating information on human disease-associated genes and variants. Nucleic Acids Res 45(D1):D833–D839

15.

Fabregat A, Jupe S, Matthews L, Sidiropoulos K, Gillespie M, Garapati P, Haw R, Jassal B, Korninger F, May B, Milacic M, Roca CD, Rothfels K, Sevilla C, Shamovsky V, Shorser S, Varusai T, Viteri G, Weiser J, Wu G, Stein L, Hermjakob H, D'Eustachio P (2018) The reactome pathway knowledgebase. Nucleic Acids Res 46(D1):D649–D655

16.

Szklarczyk D, Franceschini A, Wyder S, Forslund K, Heller D, Huerta-Cepas J, Simonovic M, Roth A, Santos A, Tsafou KP, Kuhn M, Bork P, Jensen LJ, von Mering C (2015) STRING v10: protein-protein interaction networks, integrated over the tree of life. Nucleic Acids Res 43:D447–D452

17.

Slenter DN, Kutmon M, Hanspers K, Riutta A, Windsor J, Nunes N, Melius J, Cirillo E, Coort SL, Digles D, Ehrhart F, Giesbertz P, Kalafati M, Martens M, Miller R, Nishida K, Rieswijk L, Waagmeester A, Eijssen LMT, Evelo CT, Pico AR, Willighagen EL (2018) WikiPathways: a multifaceted pathway database bridging metabolomics to other omics research. Nucleic Acids Res 46(D1):D661–D667

18.

Calderone A, Castagnoli L, Cesareni G (2013) mentha: a resource for browsing integrated protein-interaction networks. Nat Methods United States 10:690–691

19.

Chatr-Aryamontri A, Oughtred R, Boucher L, Rust J, Chang C, Kolas NK, O'Donnell L, Oster S, Theesfeld C, Sellam A, Stark C, Breitkreutz BJ, Dolinski K, Tyers M (2017) The BioGRID interaction database: 2017 update. Nucleic Acids Res 45(D1):D369–D379

20.

Eggebrecht L, Prochaska JH, Trobs SO, Schwuchow-Thonke S, Gobel S, Diestelmeier S, Schulz A, Arnold N, Panova-Noeva M, Koeck T, Rapp S, Gori T, Lackner KJ, Ten Cate H, Munzel T, Wild PS (2019) Direct oral anticoagulants and vitamin K antagonists are linked to differential profiles of cardiac function and lipid metabolism. Clin Res Cardiol. https://doi.org/10.1007/s00392-018-1408-y

21.

Lorenzi M, Ambegaonkar B, Baxter CA, Jansen J, Zoratti MJ, Davies G (2019) Ezetimibe in high-risk, previously treated statin patients: a systematic review and network meta-analysis of lipid efficacy. Clin Res Cardiol 108(5):487–509

22.

Adela R, Banerjee SK (2015) GDF-15 as a target and biomarker for diabetes and cardiovascular diseases: a translational prospective. J Diabetes Res 2015:490842

23.

Wang TJ, Wollert KC, Larson MG, Coglianese E, McCabe EL, Cheng S, Ho JE, Fradley MG, Ghorbani A, Xanthakis V, Kempf T, Benjamin EJ, Levy D, Vasan RS, Januzzi JL (2012) Prognostic utility of novel biomarkers of cardiovascular stress: the Framingham Heart Study. Circulation 126(13):1596–1604

24.

Waits GS, O'Neal WT, Sandesara PB, Li Y, Shah AJ, Soliman EZ (2018) Association between low diastolic blood pressure and subclinical myocardial injury. Clin Res Cardiol 107(4):312–318

25.

Lopez-Jaramillo P, Gomez-Arbelaez D, Lopez-Lopez J, Lopez-Lopez C, Martinez-Ortega J, Gomez-Rodriguez A, Triana-Cubillos S (2014) The role of leptin/adiponectin ratio in metabolic syndrome and diabetes. Horm Mol Biol Clin Investig 18(1):37–45

26.

Van de Voorde J, Pauwels B, Boydens C, Decaluwe K (2013) Adipocytokines in relation to cardiovascular disease. Metabolism 62(11):1513–1521

27.

Kjolby M, Nielsen MS, Petersen CM (2015) Sortilin, encoded by the cardiovascular risk gene SORT1, and its suggested functions in cardiovascular disease. Curr Atheroscler Rep 17(4):496

28.

Musunuru K, Strong A, Frank-Kamenetsky M, Lee NE, Ahfeldt T, Sachs KV, Li X, Li H, Kuperwasser N, Ruda VM, Pirruccello JP, Muchmore B, Prokunina-Olsson L, Hall JL, Schadt EE, Morales CR, Lund-Katz S, Phillips MC, Wong J, Cantley W, Racie T, Ejebe KG, Orho-Melander M, Melander O, Koteliansky V, Fitzgerald K, Krauss RM, Cowan CA, Kathiresan S, Rader DJ (2010) From noncoding variant to phenotype via SORT1 at the 1p13 cholesterol locus. Nature 466(7307):714–719

29.

Liu P, Yu D, Jin X, Li C, Zhu F, Zheng Z, Lv C, He X (2015) The association between the FABP2 Ala54Thr variant and the risk of type 2 diabetes mellitus: a meta-analysis based on 11 case-control studies. Int J Clin Exp Med 8(4):5422–5429

30.

Naba A, Clauser KR, Hoersch S, Liu H, Carr SA, Hynes RO (2012) The matrisome: in silico definition and in vivo characterization by proteomics of normal and tumor extracellular matrices. Mol Cell Proteomics 11(4):M111014647

31.

Hultgardh-Nilsson A, Boren J, Chakravarti S (2015) The small leucine-rich repeat proteoglycans in tissue repair and atherosclerosis. J Intern Med 278(5):447–461

32.

Hasselbalch HC, Skov V, Larsen TS, Thomassen M, Riley CH, Jensen MK, Bjerrum OW, Kruse TA (2011) High expression of carcinoembryonic antigen-related cell adhesion molecule (CEACAM) 6 and 8 in primary myelofibrosis. Leuk Res 35(10):1330–1334

33.

Konoshita T, Kato N, Fuchs S, Mizuno S, Aoyama C, Motomura M, Makino Y, Wakahara S, Inoki I, Miyamori I, Pinet F (2009) Genetic variant of the Renin–Angiotensin system and diabetes influences blood pressure response to Angiotensin receptor blockers. Diabetes Care 32(8):1485–1490

34.

Fragoso JM, Alvarez-Leon E, Delgadillo-Rodriguez H, Arellano-Gonzalez M, Lopez-Pacheco FC, Cruz-Robles D, Pena-Duque MA, Perez-Mendez O, Martinez-Rios MA, Vargas-Alarcon G (2015) The C4280A (rs5705) gene polymorphism of the renin (REN) gene is associated with risk of developing coronary artery disease, but not with restenosis after coronary stenting. Exp Mol Pathol 99(1):128–132

35.

Wigren M, Rattik S, Hultman K, Bjorkbacka H, Nordin-Fredrikson G, Bengtsson E, Hedblad B, Siegbahn A, Goncalves I, Nilsson J (2016) Decreased levels of stem cell factor in subjects with incident coronary events. J Intern Med 279(2):180–191

36.

Bjorkbacka H, Yao Mattisson I, Wigren M, Melander O, Fredrikson GN, Bengtsson E, Goncalves I, Almgren P, Lagerstedt JO, Orho-Melander M, Engstrom G, Nilsson J (2017) Plasma stem cell factor levels are associated with risk of cardiovascular disease and death. J Intern Med 282(6):508–521

37.

Omatsu T, Cepinskas G, Clarson C, Patterson EK, Alharfi IM, Summers K, Couraud PO, Romero IA, Weksler B, Fraser DD (2014) CXCL1/CXCL8 (GROalpha/IL-8) in human diabetic ketoacidosis plasma facilitates leukocyte recruitment to cerebrovascular endothelium in vitro. Am J Physiol Endocrinol Metab 306(9):E1077–E1084

38.

Takahashi K, Ohara M, Sasai T, Homma H, Nagasawa K, Takahashi T, Yamashina M, Ishii M, Fujiwara F, Kajiwara T, Taneichi H, Takebe N, Satoh J (2011) Serum CXCL1 concentrations are elevated in type 1 diabetes mellitus, possibly reflecting activity of anti-islet autoimmune activity. Diabetes Metab Res Rev 27(8):830–833
Acknowledgements
JF, AP, JLM, PR, NG, MD D, EB and FZ are supported by the French National Research Agency Fighting Heart Failure (ANR-15-RHU-0004), by the French PIA project « Lorraine Université d'Excellence » GEENAGE (ANR-15-IDEX-04-LUE) programs, and the Contrat de Plan Etat Région Lorraine and FEDER IT2MP. The authors thank the CRB Lorrain biobank for handling biosamples. The research leading to these results has received funding from the European Union Commission's Seventh Framework programme under Grant agreement no. 602904 (FIBROTARGETS) and No. 261409 (MEDIA). SH acknowledge the support from the Netherlands Cardiovascular Research Initiative, an initiative with support of the Dutch Heart Foundation, CVON2016-Early HFPEF, 2015-10, and CVON She-PREDICTS, 2017-21. This research is co-financed as a PPP-allowance Research and Innovation by the Ministry of Economic Affairs within Top Sector Life sciences & Health in the Netherlands.
Funding
This work was funded through the European Commission Seventh Framework Programme (FIBRO-TARGETS project grant #602904 HEALTH-2013-602904) and the REBIRTH Excellence Cluster, Hannover Medical School.
Ethics declarations
Conflict of interest
All authors are actively involved in the FIBROTARGETS consortium.
Electronic supplementary material
Below is the link to the electronic supplementary material.
About this article
Cite this article
Ferreira, J., Pizard, A., Machu, J. et al. Plasma protein biomarkers and their association with mutually exclusive cardiovascular phenotypes: the FIBRO-TARGETS case–control analyses. Clin Res Cardiol 109, 22–33 (2020) doi:10.1007/s00392-019-01480-4
Received:

Accepted:

Published:

Issue Date:
Keywords
Cardiovascular diseases

Phenotypes

Proteomics

LASSO

Decision tree

Complex networks