Valve-in-valve Medtronic CoreValve implantation into a degenerated transapical Ventor Embracer aortic valve bioprosthesis
Sirs:
Since the advent of TAVI as an alternative treatment to surgical aortic valve replacement, implantation numbers have exceeded 100,000 heart valves [1]. Among those are some 100 Medtronic Engager™ (originally Ventor Embracer™) self-expanding transapical implants [2], specifically designed to omit potentially life-threatening coronary obstruction [3].
While TAVI has had a remarkable impact on the management of patients with severe aortic stenosis with satisfactory short-term results [4, 5], only limited data exist on the durability and valve performance in the long term.
Here, we present the case of a transfemoral 23 mm Medtronic CoreValve™ (CoV) bioprosthesis (Medtronic Inc., Minneapolis, USA) TAVI into a degenerated transapical Ventor Embracer™ (VeE) bioprosthesis (Ventor Technologies Ltd.) implanted 5 years previously (Fig.
1
).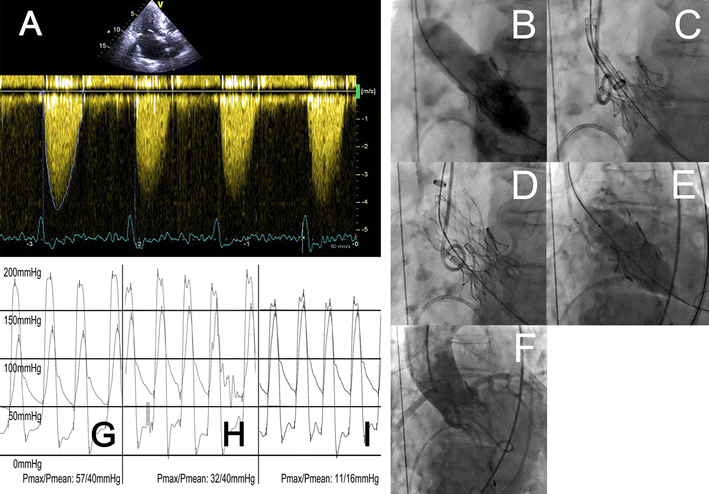 Keywords
Aortic Valve 
Prosthetic Valve 
Aortic Valve Stenosis 
Aortic Valve Regurgitation 
Medtronic CoreValve 
These keywords were added by machine and not by the authors. This process is experimental and the keywords may be updated as the learning algorithm improves.
Notes
Complaince with ethical standards
Conflict of interest
Dr. Linke is a consultant to Medtronic and St. Jude Medical. He received speaker honoraria from Edwards, Medtronic and St. Jude Medical and is a proctor for Medtronic, Edwards and St. Jude Medical. Prof. Schuler and Dr. Schlotter report no conflict of interest.
Copyright information
© Springer-Verlag Berlin Heidelberg 2015