Percutaneous mitral valve repair as rescue procedure after post myocardial infarction papillary muscle rupture and acute cardiogenic shock
Sirs:
A 75-year-old male presented to the emergency department at 2 a.m. with acute onset pulmonary oedema and evidence of cardiogenic shock (blood pressure 70/40 mmHg, tachycardia with a heart rate of 110/min). The initial oxygen saturation was 86 % with room air. The ECG showed ST-elevation in II, III, aVF and V5 + V6 with corresponding ST-segment depression in V1–V4. A history of lung fibrosis and osteoporosis is reported, no cardiac comorbidity was known prior to admission.
After haemodynamic stabilisation with inotropes, the patient was immediately transferred to the catheter lab with the working diagnosis of ST-segment elevation myocardial infarction (MI) and acute cardiogenic shock. An occlusion of the circumflex artery (RCX) causing lateral infarction was diagnosed (Fig.
1
a).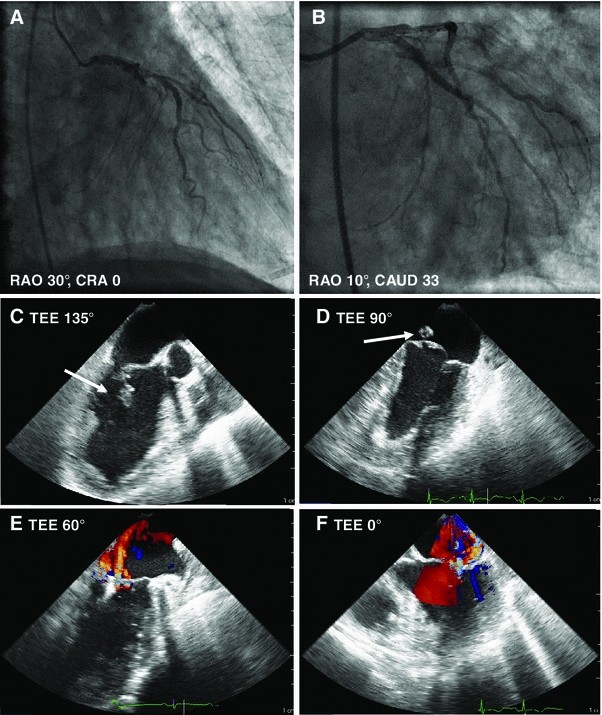 Keywords
Papillary Muscle 
Cardiogenic Shock 
Fractional Shorten 
Posterior Leaflet 
Supplemental Video 
These keywords were added by machine and not by the authors. This process is experimental and the keywords may be updated as the learning algorithm improves.
Notes
Acknowledgments
We specially thank Emma Schwarzlaender as native speaker for critically reviewing the manuscript for spellings and sentence structure.
Conflict of interest
P. Boekstegers is proctor for Abbott Vascular and has received speaker's fee from Abbot Vascular. All other authors have no disclosures.
Supplementary material
Video 1: TEE shows the ruptured anterior papillary muscle floating between left ventricle and left atrium. (MPEG 855 kb)
Video 2: Color duplex TEE: Severe mitral valve regurgitation with a massive jet following the lateral left atrial wall, originated in a large gap due to co-adaption defect of the mitral leaflets. (MPEG 292 kb)
Video 3: After placement of two MitraClips trapping the free papillary muscle the mitral regurgitation could be reduced to a minimal MR, showing only a trace in the color duplex TEE. (MPEG 414 kb)
Video 4: (TEE 60°) In nine month follow up the TEE color duplex sonography shows only a minor deterioration of the mitral regurgitation with three small regurgitation jets and a slightly decreased LV-function. (AVI 1257 kb)
Video 5: (TEE 60°) The trapped PM could be detected in a stable position below the AML after 9 month. (AVI 6202 kb)
Copyright information
© Springer-Verlag Berlin Heidelberg 2014