Abstract
Background
Rapid ventricular pacing (RVP) is an established technique to temporarily reduce left ventricular output during transcatheter aortic valve implantation (TAVI). The purpose of this study was to evaluate the impact of RVP on microvascular tissue perfusion (MTP) in patients undergoing TAVI.
Methods and results
We studied 42 patients (mean age 81.8 ± 6.9 years, n = 18 females. EuroSCORE 33 ± 12 %) during TAVI. MTP was analyzed using Sidestream–Darkfield imaging, of the sublingual microvasculature. Microvascular flow index (MFI) was continuously measured in small (10–25 μm)- and medium (26–50 μm)-sized vessels, starting 10 s before and ending 12 s after RVP. Further, perfused capillary density, total vessel density and the proportion of perfused vessels were assessed. After a mean RVP duration of 14.3 s (range 6–29), mean arterial pressure decreased from 68 ± 05 to 40 ± 7 mmHg (p < 0.001). This was associated with a significant decrease of MFI in small- and medium-sized vessels from 2.29 ± 0.64 and 2.36 ± 0.6 to 0.87 ± 0.66 (p < 0.001) and 1.0 ± 0.83 (p < 0.001), respectively. MFI remained significantly below baseline values (small: 1.75 ± 0.8, p = 0.001 vs. baseline; medium: 1.77 ± 0.85; p = 0.005 vs. baseline) at 12 s after end of RVP.
Conclusions
The study demonstrates a time-dependent effect of RVP on microflow, leading to 50 and 25 % of baseline at 8 and 18 s of RVP, respectively. In a substantial proportion of patients, RVP is associated with microcirculatory arrest and a delayed recovery of microflow. Although the impact of these findings on outcome is yet unclear, TAVI operators should be aware of the potentially adverse effects of even short periods of RVP.
This is a preview of subscription content, log in to check access.
Access options
Buy single article
Instant unlimited access to the full article PDF.
US$ 39.95
Price includes VAT for USA
Subscribe to journal
Immediate online access to all issues from 2019. Subscription will auto renew annually.
US$ 199
This is the net price. Taxes to be calculated in checkout.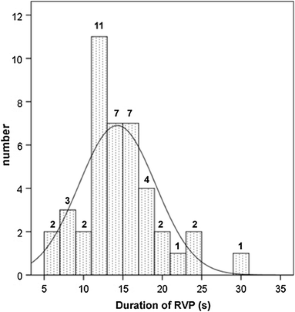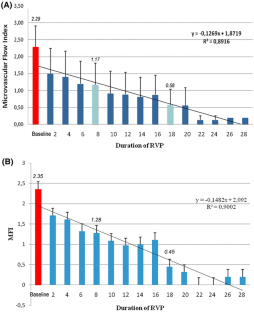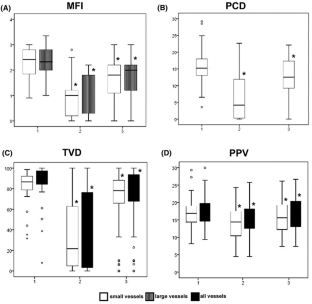 References
1.

Lichtenstein SV, Cheung A, Ye J, Thompson CR, Carere RG, Pasupati S, Webb JG (2006) Transapical transcatheter aortic valve implantation in humans: initial clinical experience. Circulation 114:591–596

2.

Figulla HR, Ferrari M (2006) Percutaneously implantable aortic valve: the JenaValve concept evolution. Herz 31:685–687

3.

Pornratanarangsi S, Webster MW, Alison P, Nand P (2006) Rapid ventricular pacing to lower blood pressure during endograft deployment in the thoracic aorta. Ann Thorac Surg 81:e21–e23

4.

Witzke C, Don CW, Cubeddu RJ, Herrero-Garibi J, Pomerantsev E, Caldera A, McCarty D, Inglessis I, Palacios IF (2010) Impact of rapid ventricular pacing during percutaneous balloon aortic valvuloplasty in patients with critical aortic stenosis: should we be using it? Catheter Cardiovasc Interv 75:444–452

5.

Alfonso F, Perez-Vizcayno MJ, Gomez-Recio M, Insa L, Calvo I, Hernandez JM, Bullones JA, Hernandez R, Escaned J, Macaya C, Gama-Ribeiro V, Leitao-Marques A, Restenosis I (2005) Intrastent: balloon angioplasty versus elective stenting, implications of the "watermelon seeding" phenomenon during coronary interventions for in-stent restenosis. Catheter Cardiovasc Interv 66:521–527

6.

De Backer D, Creteur J, Dubois MJ, Sakr Y, Vincent JL (2004) Microvascular alterations in patients with acute severe heart failure and cardiogenic shock. Am Heart J 147:91–99

7.

De Backer D, Donadello K, Sakr Y, Ospina-Tascon G, Salgado D, Scolletta S, Vincent JL (2013) Microcirculatory alterations in patients with severe sepsis: impact of time of assessment and relationship with outcome. Crit Care Med 41:791–799

8.

De Backer D, Donadello K, Taccone FS, Ospina-Tascon G, Salgado D, Vincent JL (2011) 1) Microcirculatory alterations: potential mechanisms and implications for therapy. Ann Intensive Care 1:27

9.

Chierego M, Verdant C, De Backer D (2006) Microcirculatory alterations in critically ill patients. Minerva Anestesiol 72:199–205

10.

De Backer D, Ospina-Tascon G, Salgado D, Favory R, Creteur J, Vincent JL (2010) Monitoring the microcirculation in the critically ill patient: current methods and future approaches. Intensive Care Med 36:1813–1825

11.

De Backer D, Ortiz JA, Salgado D (2010) Coupling microcirculation to systemic hemodynamics. Curr Opin Crit Care 16:250–254

12.

Belz GG (1995) Elastic properties and Windkessel function of the human aorta. Cardiovasc Drugs Ther 9:73–83

13.

Goedhart PT, Khalilzada M, Bezemer R, Merza J, Ince C (2007) Sidestream Dark Field (SDF) imaging: a novel stroboscopic LED ring-based imaging modality for clinical assessment of the microcirculation. Opt Express 15:15101–15114

14.

De Backer D, Hollenberg S, Boerma C, Goedhart P, Buchele G, Ospina-Tascon G, Dobbe I, Ince C (2007) How to evaluate the microcirculation: report of a round table conference. Crit Care 11:R101

15.

Dobbe JG, Streekstra GJ, Atasever B, van Zijderveld R, Ince C (2008) Measurement of functional microcirculatory geometry and velocity distributions using automated image analysis. Med Biol Eng Comput 46:659–670

16.

Jung C, Rodiger C, Fritzenwanger M, Schumm J, Lauten A, Figulla HR, Ferrari M (2009) Acute microflow changes after stop and restart of intra-aortic balloon pump in cardiogenic shock. Clin Res Cardiol 98:469–475

17.

Jung C, Lauten A, Rodiger C, Krizanic F, Figulla HR, Ferrari M (2009) Effect of intra-aortic balloon pump support on microcirculation during high-risk percutaneous intervention. Perfusion 24:417–421

18.

Angeli F, Reboldi G, Verdecchia P (2012) Microcirculation and left-ventricular hypertrophy. J Hypertens 30:477–481

19.

Bezemer R, Bartels SA, Bakker J, Ince C (2012) Clinical review: clinical imaging of the sublingual microcirculation in the critically ill—where do we stand? Crit Care 16:224

20.

Zahn R, Gerckens U, Grube E, Linke A, Sievert H, Eggebrecht H, Hambrecht R, Sack S, Hauptmann KE, Richardt G, Figulla HR, Senges J (2011) Transcatheter aortic valve implantation: first results from a multi-centre real-world registry. Eur Heart J 32:198–204

21.

Kappetein AP, Head SJ, Genereux P, Piazza N, van Mieghem NM, Blackstone EH, Brott TG, Cohen DJ, Cutlip DE, van Es GA, Hahn RT, Kirtane AJ, Krucoff MW, Kodali S, Mack MJ, Mehran R, Rodes-Cabau J, Vranckx P, Webb JG, Windecker S, Serruys PW, Leon MB (2012) Updated standardized endpoint definitions for transcatheter aortic valve implantation: the Valve Academic Research Consortium-2 consensus document. Eur Heart J 33:2403–2418

22.

Lauten A, Zahn R, Horack M, Sievert H, Linke A, Ferrari M, Harnath A, Grube E, Gerckens U, Kuck KH, Sack S, Senges J, Figulla HR (2012) Transcatheter aortic valve implantation in patients with low-flow, low-gradient aortic stenosis. JACC Cardiovasc Interv 5:552–559

23.

Sakr Y, Dubois MJ, De Backer D, Creteur J, Vincent JL (2004) Persistent microcirculatory alterations are associated with organ failure and death in patients with septic shock. Crit Care Med 32:1825–1831

24.

van Genderen ME, Lima A, Akkerhuis M, Bakker J, van Bommel J (2012) Persistent peripheral and microcirculatory perfusion alterations after out-of-hospital cardiac arrest are associated with poor survival. Crit Care Med 40:2287–2294

25.

Jung C, Ferrari M, Gradinger R, Fritzenwanger M, Pfeifer R, Schlosser M, Poerner TC, Brehm BR, Figulla HR (2008) Evaluation of the microcirculation during extracorporeal membrane-oxygenation. Clin Hemorheol Microcirc 40:311–314

26.

Forti A, Comin A, Lazzarotto N, Battistella G, Salandin V, Sorbara C (2012) Pump flow changes do not impair sublingual microcirculation during cardiopulmonary bypass. J Cardiothorac Vasc Anesth 26:785–790

27.

Elbers PW, Ozdemir A, Heijmen RH, Heeren J, van Iterson M, van Dongen EP, Ince C (2010) Microvascular hemodynamics in human hypothermic circulatory arrest and selective antegrade cerebral perfusion. Crit Care Med 38:1548–1553

28.

Fries M, Weil MH, Chang YT, Castillo C, Tang W (2006) Microcirculation during cardiac arrest and resuscitation. Crit Care Med 34:S454–S457

29.

Dubin A, Pozo MO, Casabella CA, Palizas F Jr, Murias G, Moseinco MC, Kanoore Edul VS, Palizas F, Estenssoro E, Ince C (2009) Increasing arterial blood pressure with norepinephrine does not improve microcirculatory blood flow: a prospective study. Crit Care 13:R92

30.

Jhanji S, Stirling S, Patel N, Hinds CJ, Pearse RM (2009) The effect of increasing doses of norepinephrine on tissue oxygenation and microvascular flow in patients with septic shock. Crit Care Med 37:1961–1966

31.

Thang OH, Serne EH, Grooteman MP, Smulders YM, Ter Wee PM, Tangelder GJ, Nube MJ (2012) Premature aging of the microcirculation in patients with advanced chronic kidney disease. Nephron Extra 2:283–292

32.

Abularrage CJ, Sidawy AN, Aidinian G, Singh N, Weiswasser JM, Arora S (2005) Evaluation of the microcirculation in vascular disease. J Vasc Surg 42:574–581

33.

Weil MH, Shubin H (1971) Proposed reclassification of shock states with special reference to distributive defects. Adv Exp Med Biol 23:13–23

34.

Sinning JM, Scheer AC, Adenauer V, Ghanem A, Hammerstingl C, Schueler R, Muller C, Vasa-Nicotera M, Grube E, Nickenig G, Werner N (2012) Systemic inflammatory response syndrome predicts increased mortality in patients after transcatheter aortic valve implantation. Eur Heart J 33:1459–1468

35.

Grube E, Naber C, Abizaid A, Sousa E, Mendiz O, Lemos P, Kalil Filho R, Mangione J, Buellesfeld L (2011) Feasibility of transcatheter aortic valve implantation without balloon pre-dilation: a pilot study. JACC Cardiovasc Interv 4:751–757

36.

Alfieri O, Maisano F, De Bonis M, Stefano PL, Torracca L, Oppizzi M, La Canna G (2001) The double-orifice technique in mitral valve repair: a simple solution for complex problems. J Thorac Cardiovasc Surg 122:674–681

37.

Leon MB, Piazza N, Nikolsky E, Blackstone EH, Cutlip DE, Kappetein AP, Krucoff MW, Mack M, Mehran R, Miller C, Morel MA, Petersen J, Popma JJ, Takkenberg JJ, Vahanian A, van Es GA, Vranckx P, Webb JG, Windecker S, Serruys PW (2011) Standardized endpoint definitions for transcatheter aortic valve implantation clinical trials: a consensus report from the Valve Academic Research Consortium. Eur Heart J 32:205–217
Conflict of interest
The authors have no conflicts to disclose.
Electronic supplementary material
Below is the link to the electronic supplementary material.
Video visualizing changes of microvascular perfusion during rapid ventricular pacing. (MPEG 21898 kb)
About this article
Cite this article
Selle, A., Figulla, H.R., Ferrari, M. et al. Impact of rapid ventricular pacing during TAVI on microvascular tissue perfusion. Clin Res Cardiol 103, 902–911 (2014) doi:10.1007/s00392-014-0728-9
Received:

Accepted:

Published:

Issue Date:
Keywords
Transcatheter aortic valve implantation (TAVI)

Rapid ventricular pacing

Microcirculation