Abstract
Purpose
Whether indocyanine green fluorescence angiography (ICG-FA) during rectal surgery is effective in reducing anastomotic leakage remains unclear. This study aimed to investigate the effect of intraoperative ICG-FA on anastomotic leakage after sphincter-sparing surgery for malignant rectal tumors.
Methods
This was a retrospective, single-center cohort study conducted on 852 consecutive patients who underwent laparoscopic sphincter-sparing surgery from January 2007 to June 2017 at our institution. The incidence of anastomotic leakage was compared between patients who underwent ICG-FA to determine the proximal resection margin and those in whom this technique was not performed, using logistic regression analysis, including propensity score.
Results
A total of eight patients were excluded (one patient with previous low anterior resection and seven patients who underwent simultaneous resection for other primary cancers), resulting in 844 patients being analyzed. Before propensity score matching, 141 patients (16.7%) who underwent ICG-FA were compared with 703 patients (83.3%) in whom ICG-FA was not performed. The incidence of anastomotic leakage was 2.8% (4/141) in the ICG-FA group and 12.4% (87/703) in the control group (p = 0.001). After propensity score matching (n = 420), the patient characteristics between the two groups were well balanced, and the incidence of anastomotic leakage was 2.8% (4/141) in the ICG-FA group and 13.6% (38/279) in the control group (p = 0.001). Logistic regression analyses using propensity score showed that patients who underwent ICG-FA had significantly lower odds of anastomotic leakage.
Conclusion
Intraoperative ICG-FA is a promising method to reduce anastomotic leakage after laparoscopic rectal surgery.
This is a preview of subscription content, log in to check access.
Access options
Buy single article
Instant access to the full article PDF.
US$ 39.95
Price includes VAT for USA
Subscribe to journal
Immediate online access to all issues from 2019. Subscription will auto renew annually.
US$ 199
This is the net price. Taxes to be calculated in checkout.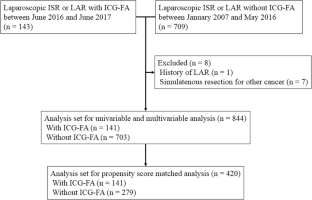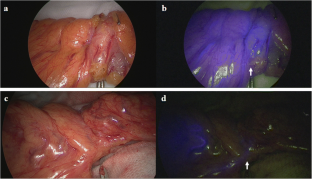 References
1.

Pommergaard HC, Gessler B, Burcharth J, Angenete E, Haglind E, Rosenberg J (2014) Preoperative risk factors for anastomotic leakage after resection for colorectal cancer: a systematic review and meta-analysis. Color Dis 16:662–671

2.

Qu H, Liu Y, Bi DS (2015) Clinical risk factors for anastomotic leakage after laparoscopic anterior resection for rectal cancer: a systematic review and meta-analysis. Surg Endosc 29:3608–3617

3.

Kang CY, Halabi WJ, Chaudhry OO, Nguyen V, Pigazzi A, Carmichael JC, Mills S, Stamos MJ (2013) Risk factors for anastomotic leakage after anterior resection for rectal cancer. JAMA Surg 148:65–71

4.

Snijders HS, Wouters MW, van Leersum NJ, Kolfschoten NE, Henneman D, de Vries AC, Tollenaar RA, Bonsing BA (2012) Meta-analysis of the risk for anastomotic leakage, the postoperative mortality caused by leakage in relation to the overall postoperative mortality. Eur J Surg Oncol 38:1013–1019

5.

Mongin C, Maggiori L, Agostini J, Ferron M, Panis Y (2014) Does anastomotic leakage impair functional results and quality of life after laparoscopic sphincter-saving total mesorectal excision for rectal cancer? A case-matched study. Int J Color Dis 29:459–467

6.

Mirnezami A, Mirnezami R, Chandrakumaran K, Sasapu K, Sagar P, Finan P (2011) Increased local recurrence and reduced survival from colorectal cancer following anastomotic leak: systematic review and meta-analysis. Ann Surg 253:890–899

7.

Kingham TP, Pachter HL (2009) Colonic anastomotic leak: risk factors, diagnosis, and treatment. J Am Coll Surg 208:269–278

8.

Foster ME, Brennan SS, Morgan A, Leaper DJ (1985) Colonic ischaemia and anastomotic healing. Eur Surg Res 17:133–139

9.

Thompson SK, Chang EY, Jobe BA (2006) Clinical review: healing in gastrointestinal anastomoses, part I. Microsurgery 26:131–136

10.

Alander JT, Kaartinen I, Laakso A, Pätilä T, Spillmann T, Tuchin VV, Venermo M, Välisuo P (2012) A review of indocyanine green fluorescent imaging in surgery. Int J Biomed Imaging 2012:940585

11.

Kudszus S, Roesel C, Schachtrupp A, Höer JJ (2010) Intraoperative laser fluorescence angiography in colorectal surgery: a noninvasive analysis to reduce the rate of anastomotic leakage. Langenbeck's Arch Surg 395:1025–1030

12.

Jafari MD, Wexner SD, Martz JE, McLemore EC, Margolin DA, Sherwinter DA, Lee SW, Senagore AJ, Phelan MJ, Stamos MJ (2015) Perfusion assessment in laparoscopic left-sided/anterior resection (PILLAR II): a multi-institutional study. J Am Coll Surg 220:82–92.e1

13.

Boni L, Fingerhut A, Marzorati A, Rausei S, Dionigi G, Cassinotti E (2017) Indocyanine green fluorescence angiography during laparoscopic low anterior resection: results of a case-matched study. Surg Endosc 31:1836–1840

14.

Kim JC, Lee JL, Park SH (2017) Interpretative guidelines and possible indications for indocyanine green fluorescence imaging in robot-assisted sphincter-saving operations. Dis Colon Rectum 60:376–384

15.

Wada T, Kawada K, Hoshino N, Inamoto S, Yoshitomi M, Hida K, Sakai Y (2019) The effects of intraoperative ICG fluorescence angiography in laparoscopic low anterior resection: a propensity score-matched study. Int J Clin Oncol 24:394–402

16.

Ito M, Hasegawa H, Tsukada Y (2017) Indocyanine green fluorescence angiography during laparoscopic rectal surgery. Ann Laparosc Endosc Surg 2:7

17.

Watanabe J, Ishibe A, Suwa Y, Suwa H, Ota M, Kunisaki C, Endo I (2019) Indocyanine green fluorescence imaging to reduce the risk of anastomotic leakage in laparoscopic low anterior resection for rectal cancer: a propensity score-matched cohort study. Surg Endosc. https://doi.org/10.1007/s00464-019-06751-9

18.

Sherwinter DA, Gallagher J, Donkar T (2013) Intra-operative transanal near infrared imaging of colorectal anastomotic perfusion: a feasibility study. Color Dis 15:91–96

19.

Ito M, Sugito M, Kobayashi A, Nishizawa Y, Tsunoda Y, Saito N (2008) Relationship between multiple numbers of stapler firings during rectal division and anastomotic leakage after laparoscopic rectal resection. Int J Color Dis 23:703–707

20.

Dindo D, Demartines N, Clavien PA (2004) Classification of surgical complications: a new proposal with evaluation in a cohort of 6336 patients and results of a survey. Ann Surg 240:205–213

21.

Austin PC (2009) Some methods of propensity-score matching had superior performance to others: results of an empirical investigation and Monte Carlo simulations. Biom J 51:171–184

22.

Austin PC (2011) An introduction to propensity score methods for reducing the effects of confounding in observational studies. Multivariate Behav Res 46:399–424

23.

Karliczek A, Harlaar NJ, Zeebregts CJ, Wiggers T, Baas PC, van Dam GM (2009) Surgeons lack predictive accuracy for anastomotic leakage in gastrointestinal surgery. Int J Color Dis 24:569–576

24.

Nachiappan S, Askari A, Currie A, Kennedy RH, Faiz O (2014) Intraoperative assessment of colorectal anastomotic integrity: a systematic review. Surg Endosc 28:2513–2530

25.

Kin C, Vo H, Welton L, Welton M (2015) Equivocal effect of intraoperative fluorescence angiography on colorectal anastomotic leaks. Dis Colon Rectum 58:582–587

26.

Yang Y, Wang G, He J, Zhang J, Xi J, Wang F (2018) High tie versus low tie of the inferior mesenteric artery in colorectal cancer: a meta-analysis. Int J Surg 52:20–24

27.

Mari GM, Crippa J, Cocozza E, Berselli M, Livraghi L, Carzaniga P, Valenti F, Roscio F, Ferrari G, Mazzola M, Magistro C, Origi M, Forgione A, Zuliani W, Scandroglio I, Pugliese R, Costanzi ATM, Maggioni D (2019) Low ligation of inferior mesenteric artery in laparoscopic anterior resection for rectal cancer reduces genitourinary dysfunction: results from a randomized controlled trial (HIGHLOW trial). Ann Surg 269:1018–1024

28.

Carlson RM, Roberts PL, Hall JF, Marcello PW, Schoetz DJ, Read TE, Ricciardi R (2014) What are 30-day postoperative outcomes following splenic flexure mobilization during anterior resection? Tech Coloproctol 18:257–264

29.

Nowakowski M, Małczak P, Mizera M, Rubinkiewicz M, Lasek A, Wierdak M, Major P, Budzyński A, Pędziwiatr M (2018) The safety of selective use of splenic flexure mobilization in sigmoid and rectal resections—systematic review and meta-analysis. J Clin Med 7:E392

30.

Hüttner FJ, Tenckhoff S, Jensen K, Uhlmann L, Kulu Y, Büchler MW, Diener MK, Ulrich A (2015) Meta-analysis of reconstruction techniques after low anterior resection for rectal cancer. Br J Surg 102:735–745

31.

Armstrong G, Croft J, Corrigan N, Brown JM, Goh V, Quirke P, Hulme C, Tolan D, Kirby A, Cahill R, O'Connell PR, Miskovic D, Coleman M, Jayne D (2018) IntAct: intra-operative fluorescence angiography to prevent anastomotic leak in rectal cancer surgery: a randomized controlled trial. Color Dis 20:O226–O234
Funding
This study has not received any direct or indirect funding from extramural sources.
Ethics declarations
Conflict of interest
The authors declare that they have no conflict of interest.
Ethical approval
All procedures performed in studies involving human participants were in accordance with the ethical standards of the institutional and/or national research committee (National Cancer Center Institutional Review Board; reference no. 2017-410) and with the 1964 Helsinki declaration and its later amendments or comparable ethical standards.
Informed consent
The requirement for acquisition of informed consent from patients was waived owing to the retrospective nature of this study.
Additional information
Publisher's note
Springer Nature remains neutral with regard to jurisdictional claims in published maps and institutional affiliations.
Electronic supplementary material
In the estimated propensity score matched cohort, all adjustment covariates were well balanced, which resulted in a decrease in standardized differences. ASA-PS, American Society of Anesthesiologists physical status classification; BMI, body mass index; LLND, lateral lymph node dissection. (PDF 7 kb)
About this article
Cite this article
Hasegawa, H., Tsukada, Y., Wakabayashi, M. et al. Impact of intraoperative indocyanine green fluorescence angiography on anastomotic leakage after laparoscopic sphincter-sparing surgery for malignant rectal tumors. Int J Colorectal Dis 35, 471–480 (2020). https://doi.org/10.1007/s00384-019-03490-0
Accepted:

Published:

Issue Date:
Keywords
Indocyanine green

Fluorescence angiography

Anastomotic leakage

Sphincter-sparing surgery