Abstract
Purpose
This study was to ascertain whether a robot-assisted (RA) approach to APR might facilitate a cylindrical APR by enabling a deeper pelvic dissection during an abdominal approach, concurrently comparing the feasibility and short-term oncologic outcomes.
Methods
Forty-eight consecutive patients with lower rectal cancer who had undergone curative APR (21 RA vs. 27 open) were prospectively enrolled. The short-term operative outcomes and oncologic feasibility were evaluated and compared. A levator muscle excision was performed concomitantly with the abdominal procedure in the RA group and with the perineal procedure in the open group.
Results
No patients in the RA group experienced intraoperative perforation or required conversion to open APR. Overall, a cylindrical APR was performed in 72 % of patients, and subtotal excision of the levator muscle, i.e., either one or both sides of the puborectalis and pubococcygeus muscles, was more likely in the RA group (P = 0.019). A positive CRM was exclusively identified in four open APR patients. The mean number of retrieved lymph nodes was greater in the RA group (20 vs. 16, P = 0.035). There was no difference in perineal morbidity between the two groups (P = 0.445).
Conclusions
The RA approach facilitates an efficient excision in the pelvic region than open APR during the abdominal procedure. The RA approach also demonstrated a trend toward improved oncologic outcomes with equivalent postoperative morbidities than with the open approach.
This is a preview of subscription content, log in to check access.
Access options
Buy single article
Instant unlimited access to the full article PDF.
US$ 39.95
Price includes VAT for USA
Subscribe to journal
Immediate online access to all issues from 2019. Subscription will auto renew annually.
US$ 199
This is the net price. Taxes to be calculated in checkout.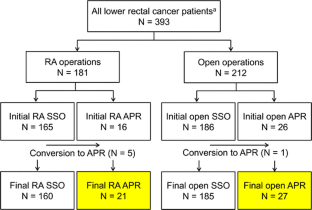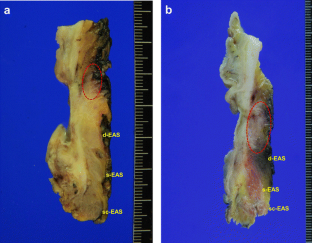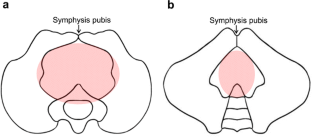 References
1.

Stelzner S, Koehler C, Stelzer J, Sims A, Witzigmann H (2011) Extended abdominoperineal excision vs. standard abdominoperineal excision in rectal cancer—a systematic overview. Int J Colorectal Dis 26:1227–1240

2.

Marr R, Birbeck K, Garvican J et al (2005) The modern abdominoperineal excision: the next challenge after total mesorectal excision. Ann Surg 242:74–82

3.

Holm T, Ljung A, Häggmark T, Jurell G, Lagergren J (2007) Extended abdominoperineal resection with gluteus maximus flap reconstruction of the pelvic floor for rectal cancer. Br J Surg 94:232–238

4.

Reshef A, Lavery I, Kiran RP (2012) Factors associated with oncologic outcomes after abdominoperineal resection compared with restorative resection for low rectal cancer: patient- and tumor-related or technical factors only? Dis Colon Rectum 55:51–58

5.

Wibe A, Syse A, Andersen E, Tretli S, Myrvold HE, Søreide O, Norwegian Rectal Cancer Group (2004) Oncological outcomes after total mesorectal excision for cure for cancer of the lower rectum: anterior vs. abdominoperineal resection. Dis Colon Rectum 47:48–58

6.

Kim JC, Yu CS, Lim SB, Kim CW, Kim JH, Kim TW (2013) Abdominoperineal resection and low anterior resection: comparison of long-term oncologic outcome in matched patients with lower rectal cancer. Int J Colorectal Dis 28:493–501

7.

Nagtegaal ID, van de Velde CJ, Marijnen CA, van Krieken JH, Quirke P, Dutch Colorectal Cancer Group, Pathology Review Committee (2005) Low rectal cancer: a call for a change of approach in abdominoperineal resection. J Clin Oncol 23:9257–9264

8.

Miles WE (1971) A method of performing abdomino-perineal excision for carcinoma of the rectum and of the terminal portion of the pelvic colon (1908). CA Cancer J Clin 21:361–364

9.

Baek SK, Carmichael JC, Pigazzi A (2013) Robotic surgery: colon and rectum. Cancer J 19:140–146

10.

Marecik SJ, Zawadzki M, Desouza AL, Park JJ, Abcarian H, Prasad LM (2011) Robotic cylindrical abdominoperineal resection with transabdominal levator transection. Dis Colon Rectum 54:1320–1325

11.

Kim JC, Yang SS, Jang TY, Kwak JY, Yun MJ, Lim SB (2012) Open versus robot-assisted sphincter-saving operations in rectal cancer patients: techniques and comparison of outcomes between groups of 100 matched patients. Int J Med Robot 8:468–475

12.

Krishna A, Rickard MJ, Keshava A, Dent OF, Chapuis PH (2013) A comparison of published rates of resection margin involvement and intra-operative perforation between standard and 'cylindrical' abdominoperineal excision for low rectal cancer. Colorectal Dis 15:57–65

13.

Kennelly RP, Rogers AC, Winter DC, Abdominoperineal Excision Study Group (2013) Multicentre study of circumferential margin positivity and outcomes following abdominoperineal excision for rectal cancer. Br J Surg 100:160–166

14.

Nagtegaal ID, Quirke P (2008) What is the role for the circumferential margin in the modern treatment of rectal cancer? J Clin Oncol 26:303–312

15.

Ng SS, Leung KL, Lee JF et al (2008) Laparoscopic-assisted versus open abdominoperineal resection for low rectal cancer: a prospective randomized trial. Ann Surg Oncol 15:2418–2425

16.

Christensen HK, Nerstrøm P, Tei T, Laurberg S (2011) Perineal repair after extralevator abdominoperineal excision for low rectal cancer. Dis Colon Rectum 54:711–717

17.

Simorov A, Reynoso JF, Dolghi O, Thompson JS, Oleynikov D (2011) Comparison of perioperative outcomes in patients undergoing laparoscopic versus open abdominoperineal resection. Am J Surg 202:666–670

18.

Bullard KM, Trudel JL, Baxter NN, Rothenberger DA (2005) Primary perineal wound closure after preoperative radiotherapy and abdominoperineal resection has a high incidence of wound failure. Dis Colon Rectum 48:438–443

19.

Petrelli N, Rosenfield L, Herrera L, Mittelman A (1986) The morbidity of perineal wounds following abdominoperineal resection for rectal carcinoma. J Surg Oncol 32:138–140

20.

Lange MM, van de Velde CJ (2011) Urinary and sexual dysfunction after rectal cancer treatment. Nat Rev Urol 8:51–57

21.

Digennaro R, Tondo M, Cuccia F et al (2013) Coloanal anastomosis or abdominoperineal resection for very low rectal cancer: what will benefit, the surgeon's pride or the patient's quality of life? Int J Colorectal Dis 28:949–957

22.

Kim JY, Kim NK, Lee KY, Hur H, Min BS, Kim JH (2012) A comparative study of voiding and sexual function after total mesorectal excision with autonomic nerve preservation for rectal cancer: laparoscopic versus robotic surgery. Ann Surg Oncol 19:2485–2493

23.

Pachler J, Wille-Jørgensen P (2012) Quality of life after rectal resection for cancer, with or without permanent colostomy. Cochrane Database Syst Rev 12, CD004323
Acknowledgments
Grants (to J.C. Kim) from the Asan Institute for Life Sciences (2014–69), the Korea Research Foundation (2013R1A2A1A03070986), Ministry of Science, ICT, and Future Planning, the Korea Health 21 R&D Project (HI06C0868 and HI13C1750), and the Center for Development and Commercialization of Anti-Cancer Therapeutics (HI10C2014), Ministry of Health and Welfare, Republic of Korea.
Electronic supplementary material
Below is the link to the electronic supplementary material.
Supplementary Video Clip. Abdominal procedure of RA APR performed in a 50-year male patient with lower rectal cancer (WMV 31513 kb)
In cases where a SSO was converted to APR, the levator with EAS muscles were widely excised in the RA APR (a) and open APR (b). Divided lines of specimen were noted around the red arrow. Additional excisions at the external anal sphincters (dotted red circle) and parts of the puborectalis and pubococcygeus muscles (red arrow) (TIFF 5932 kb)
Supplementary Video Clip. Abdominal procedure of RA APR performed in a 50-year male patient with lower rectal cancer (WMV 31513 kb)
About this article
Cite this article
Kim, J.C., Kwak, J.Y., Yoon, Y.S. et al. A comparison of the technical and oncologic validity between robot-assisted and conventional open abdominoperineal resection. Int J Colorectal Dis 29, 961–969 (2014). https://doi.org/10.1007/s00384-014-1916-9
Accepted:

Published:

Issue Date:
Keywords
Rectal cancer

Abdominoperineal resection

Robot-assisted

Open