Abstract
Background
The risk factors for recurrence in primary spontaneous pneumothorax (PSP) in children are not well known. We aimed to identify possible risk factors, and to evaluate the utility of computerised tomography (CT) scans in predicting future episodes.
Methods
We reviewed children aged < 18 years admitted to our institution for PSP from 2008 to 2017, excluding those with malignancies. Basic demographic data were extracted. Clinical data collected include pneumothorax laterality, CT results, treatment protocols and recurrences.
Results
63 patients were included, 19 (30.2%) of whom had CT scans. A total of 41 surgeries were performed. The median (interquartile range) age was 15.4 years (14.9–15.9), and body-mass index was 17.9 kg/m2 (15.8–19.3). 56 (88.9%) patients were male. Median follow-up duration was 19.8 months (11.6–35.9). Multivariate logistic regression analyses identified surgery in the first episode as a predictor for a subsequent contralateral occurrence (odds ratio [95% confidence interval] 32.026 [1.685–608.518], p = 0.021). No predictors for ipsilateral recurrence were found. CT scans were 76.5% sensitive for bleb detection, and predicted poorly for occurrence (positive predictive value 14.3%, likelihood ratio 1.1).
Conclusion
This is the first study demonstrating that surgery at first presentation appears to predict for occurrence of PSP on the contralateral lung. CT appears to be ineffective in detecting blebs and predicting PSP occurrence.
This is a preview of subscription content, log in to check access.
We're sorry, something doesn't seem to be working properly.
Please try refreshing the page. If that doesn't work, please contact support so we can address the problem.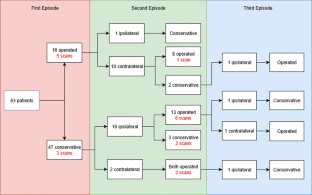 References
1.

Nathan N, Guilbert J, Larroquet M et al (2009) Efficacy of blebs detection for preventive surgery in children's idiopathic spontaneous pneumothorax. World J Surg 34(1):185

2.

Kuo P-Y, Nong B-R, Huang Y-F et al (2018) Primary spontaneous pneumothorax in children: a literature review. Pediatr Respirol Crit Care Med 2(2):25–31

3.

Kim D, Shin H-J, Kim S-W et al (2017) Psychological problems of pneumothorax according to resilience, stress, and post-traumatic stress. Psychiatry Investig 14(6):795–800

4.

Olesen WH, Katballe N, Sindby JE et al (2018) Surgical treatment versus conventional chest tube drainage in primary spontaneous pneumothorax: a randomized controlled trial. Eur J Cardiothorac Surg 54(1):113–121

5.

Imperatori A, Rotolo N, Spagnoletti M et al (2015) Risk factors for postoperative recurrence of spontaneous pneumothorax treated by video-assisted thoracoscopic surgerydagger. Int Cardiovasc Thorac Surg 20(5):647–651 (discussion 51-2)

6.

Casali C, Stefani A, Ligabue G et al (2013) Role of blebs and bullae detected by high-resolution computed tomography and recurrent spontaneous pneumothorax. Ann Thorac Surg 95(1):249–255

7.

Noh D, Keum DY, Park CK (2015) Outcomes of contralateral bullae in primary spontaneous pneumothorax. Korean J Thorac Cardiovasc Surg 48(6):393–397

8.

Chen YY, Huang HK, Chang H et al (2016) Postoperative predictors of ipsilateral and contralateral recurrence in patients with primary spontaneous pneumothorax. J Thorac Dis 8(11):3217–3224

9.

Young Choi S, Beom Park C, Wha Song S et al (2014) What factors predict recurrence after an initial episode of primary spontaneous pneumothorax in children? Ann Thorac Cardiovasc Surg 20(6):961–967

10.

Yeung F, Chung PHY, Hung ELY et al (2017) Surgical intervention for primary spontaneous pneumothorax in pediatric population: when and why? J Laparoendosc Adv Surg Tech Part A 27(8):841–844

11.

MacDuff A, Arnold A, Harvey J (2010) Management of spontaneous pneumothorax: British Thoracic Society pleural disease guideline 2010. Thorax 65(Suppl 2):ii18

12.

Baumann MH, Strange C, Heffner JE et al (2001) Management of spontaneous pneumothorax: an American College of Chest Physicians Delphi consensus statement. Chest 119(2):590–602

13.

Vuong NL, Elshafay A, Thao LP et al (2018) Efficacy of treatments in primary spontaneous pneumothorax: a systematic review and network meta-analysis of randomized clinical trials. Respir Med 137:152–166

14.

Chiu CY, Chen TP, Wang CJ et al (2014) Factors associated with proceeding to surgical intervention and recurrence of primary spontaneous pneumothorax in adolescent patients. Eur J Pediatr 173(11):1483–1490

15.

Soler LM, Raymond SL, Larson SD et al (2018) Initial primary spontaneous pneumothorax in children and adolescents: operate or wait? J Pediatr Surg 53(10):1960–1963

16.

Seguier-Lipszyc E, Elizur A, Klin B et al (2011) Management of primary spontaneous pneumothorax in children. Clin Pediatr 50(9):797–802

17.

Uramoto H, Shimokawa H, Tanaka F (2012) What factors predict recurrence of a spontaneous pneumothorax? J Cardiothorac Surg 7:112

18.

Butterworth SA, Blair GK, LeBlanc JG et al (2007) An open and shut case for early VATS treatment of primary spontaneous pneumothorax in children. Can J Surg 50(3):171–174

19.

Robinson PD, Blackburn C, Babl FE et al (2015) Management of paediatric spontaneous pneumothorax: a multicentre retrospective case series. Arch Dis Child 100(10):918–923

20.

Leys C, Hirschl RB, Kohler JE et al (2019) Changing the paradigm for management of pediatric primary spontaneous pneumothorax: a simple aspiration test predicts need for operation. J Pediatr Surg. https://doi.org/10.1016/j.jpedsurg.2019.09.043

21.

Soccorso G, Anbarasan R, Singh M et al (2015) Management of large primary spontaneous pneumothorax in children: radiological guidance, surgical intervention and proposed guideline. Pediatr Surg Int 31(12):1139–1144

22.

Sihoe AD, Yim AP, Lee TW et al (2000) Can CT scanning be used to select patients with unilateral primary spontaneous pneumothorax for bilateral surgery? Chest 118(2):380–383

23.

Ouanes-Besbes L, Golli M, Knani J et al (2007) Prediction of recurrent spontaneous pneumothorax: CT scan findings versus management features. Respir Med 101(2):230–236

24.

Lee KH, Kim KW, Kim EY et al (2014) Detection of blebs and bullae in patients with primary spontaneous pneumothorax by multi-detector CT reconstruction using different slice thicknesses. J Med Imaging Radiat Oncol 58(6):663–667
Funding
No funding was received for this study.
Ethics declarations
Conflict of interest
All authors declare that they have no conflict of interest.
Ethical approval
Prior to data collection in this retrospective audit, ethical approval was obtained from SingHealth Centralised Institutional Review Board (IRB reference number 2016/2454).
Additional information
Publisher's Note
Springer Nature remains neutral with regard to jurisdictional claims in published maps and institutional affiliations.
About this article
Cite this article
Ng, G.Y.H., Nah, S.A., Teoh, O.H. et al. Primary spontaneous pneumothorax in children: factors predicting recurrence and contralateral occurrence. Pediatr Surg Int 36, 383–389 (2020). https://doi.org/10.1007/s00383-020-04619-x
Accepted:

Published:

Issue Date: