Abstract
Purpose
Venous thromboembolism (VTE) in injured children is rare, but sequelae can be morbid and life-threatening. Recent trauma society guidelines suggesting that all children over 15 years old should receive thromboprophylaxis may result in overtreatment. We sought to evaluate the efficacy of a previously published VTE prediction algorithm and compare it to current recommendations.
Methods
Two institutional trauma registries were queried for all pediatric (age < 18 years) patients admitted from 2007 to 2018. Clinical data were applied to the algorithm and the area under the receiver operating characteristic (AUROC) curve was calculated to test algorithm efficacy.
Results
A retrospective review identified 8271 patients with 30 episodes of VTE (0.36%). The VTE prediction algorithm classified 51 (0.6%) as high risk (> 5% risk), 322 (3.9%) as moderate risk (1–5% risk) and 7898 (95.5%) as low risk (< 1% risk). AUROC was 0.93 (95% CI 0.89–0.97). In our population, prophylaxis of the 'moderate-' and 'high-risk' cohorts would outperform the sensitivity (60% vs. 53%) and specificity (96% vs. 77%) of current guidelines while anticoagulating substantially fewer patients (373 vs. 1935, p < 0.001).
Conclusion
A VTE prediction algorithm using clinical variables can identify injured children at risk for venous thromboembolic disease with more discrimination than current guidelines. Prospective studies are needed to investigate the validity of this model.
Level of evidence
III—Clinical decision rule evaluated in a single population.
This is a preview of subscription content, log in to check access.
Access options
Buy single article
Instant access to the full article PDF.
US$ 39.95
Price includes VAT for USA
Subscribe to journal
Immediate online access to all issues from 2019. Subscription will auto renew annually.
US$ 199
This is the net price. Taxes to be calculated in checkout.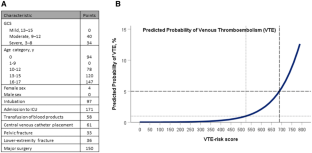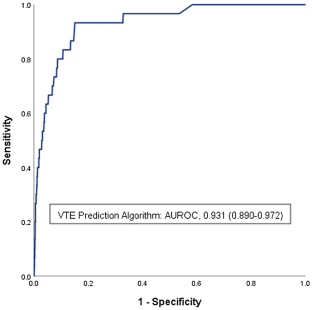 Abbreviations
VTE:

Venous thromboembolism

DVT:

Deep vein thrombosis

PE:

Pulmonary embolism

ISS:

Injury Severity Score

GCS:

Glasgow Coma Score

ICU:

Intensive care unit

CVL:

Central venous line

NTDB:

National Trauma Data Bank

ICD-9/10:

International Classification of Diseases, Ninth or Tenth Revision, Clinical Modification
References
1.

Geerts WH, Bergqvist D, Pineo GF, Heit JA, Samama CM, Lassen MR et al (2008) Prevention of venous thromboembolism. Chest 133(6):381S–453S

2.

Knudson MM, Ikossi DG (2004) Venous thromboembolism after trauma. Curr Opin Crit Care 10(6):539–548

3.

Geerts WH, Code KI, Jay RM, Chen E, Szalai JP (1994) A prospective study of venous thromboembolism after major trauma. N Engl J Med 331(24):1601–1606

4.

Knudson MM, Ikossi DG, Khaw L, Morabito D, Speetzen LS (2004) Thromboembolism after trauma: an analysis of 1602 episodes from the American College of Surgeons National Trauma Data Bank. Ann Surg 240(3):490–498

5.

Hanson SJ, Punzalan RC, Greenup RA, Liu H, Sato TT, Havens PL (2010) Incidence and risk factors for venous thromboembolism in critically ill children after trauma. J Trauma Acute Care Surg 68(1):52–56

6.

Mahajerin A, Branchford BR, Amankwah EK, Raffini L, Chalmers E, van Ommen CH et al (2015) Hospital-associated venous thromboembolism in pediatrics: a systematic review and meta-analysis of risk factors and risk-assessment models. Haematologica 100(8):1045–1050

7.

Raffini L, Huang YS, Witmer C, Feudtner C (2009) Dramatic increase in venous thromboembolism in children's hospitals in the United States from 2001 to 2007. Pediatrics 124(4):1001–1008

8.

Candrilli SD, Balkrishnan R, O'Brien SH (2009) Effect of injury severity on the incidence and utilization-related outcomes of venous thromboembolism in pediatric trauma inpatients. Pediatr Crit Care Med. 10(5):554–557

9.

Engel E, Albisetti M, Brandao LR, Amankwah E, Nguyen A, Goldenberg NA et al (2018) Predictors of post-thrombotic syndrome (PTS) in pediatric thrombosis: a systematic review and meta-analysis of the literature. Blood 132(Suppl 1):3806–3806

10.

Fang Z, Tang L, Zhou S (2012) Ischemic stroke caused by paradoxical embolism after an unsuccessful transcatheter atrial septal defect closure procedure: a word of caution. Pediatr Cardiol 33(2):366–369

11.

Brohi K, Cohen MJ, Ganter MT, Schultz MJ, Levi M, Mackersie RC et al (2008) Acute coagulopathy of trauma: hypoperfusion induces systemic anticoagulation and hyperfibrinolysis. J Trauma Acute Care Surg 64(5):1211–1217

12.

Mahajerin A, Petty JK, Hanson SJ, Thompson AJ, O'Brien SH, Streck CJ et al (2017) Prophylaxis against venous thromboembolism in pediatric trauma: a practice management guideline from the Eastern Association for the Surgery of Trauma and the Pediatric Trauma Society. J Trauma Acute Care Surg 82(3):627–636

13.

Connelly CR, Laird A, Barton JS, Fischer PE, Krishnaswami S, Schreiber MA et al (2016) A clinical tool for the prediction of venous thromboembolism in pediatric trauma patients. JAMA Surg 151(1):50–57

14.

Yen J, Van Arendonk KJ, Streiff MB, McNamara L, Stewart FD, Conner KG et al (2016) Risk factors for venous thromboembolism in pediatric trauma patients and validation of a novel scoring system: the risk of clots in kids with trauma score. Pediatr Crit Care Med 17(5):391–399

15.

American College of Surgeons. Committee on Trauma. National Trauma Data Standard: Data Dictionary; 2016.

16.

Petty JK (2017) Venous thromboembolism prophylaxis in the pediatric trauma patient. Semin Pediatr Surg 26(1):14–20

17.

Liras IN, Rahbar E, Harting MT, Holcomb JB, Cotton BA (2016) When children become adults and adults become most hypercoagulable after trauma: An assessment of admission hypercoagulability by rapid thrombelastography and venous thromboembolic risk. J Trauma Acute Care Surg 80(5):778–782

18.

Hanson SJ, Punzalan RC, Arca MJ, Simpson P, Christensen MA, Hanson SK et al (2012) Effectiveness of clinical guidelines for deep vein thrombosis prophylaxis in reducing the incidence of venous thromboembolism in critically ill children after trauma. J Trauma Acute Care Surg 72(5):1292–1297

19.

Kardooni S, Haut ER, Chang DC, Pierce CA, Efron DT, Haider AH et al (2008) Hazards of benchmarking complications with the national trauma data bank: numerators in search of denominators. J Trauma Inj Infect Crit Care 64(2):273–279

20.

Fransman R, Kent AJ, Haut ER, Reema Kar A, Sakran JV, Stevens K et al (2018) Facility disparities in reporting comorbidities to the National Trauma Data Bank. Am J Surg 216(3):401–406

21.

Robles AJ, Conroy AS, Cohen MJ, Callcut RA (2019) Is it time to measure complications from the National Trauma Data Bank? A longitudinal analysis of recent reporting trends. J Trauma Acute Care Surg 86(2):282–288

22.

Bidlingmaier C, Kenet G, Kurnik K, Mathew P, Manner D, Mitchell L et al (2011) Safety and efficacy of low molecular weight heparins in children: a systematic review of the literature and meta-analysis of single-arm studies. Semin Thromb Hemost 37(07):814–825

23.

Vidal E, Sharathkumar A, Glover J, Faustino EVS (2014) Central venous catheter-related thrombosis and thromboprophylaxis in children: a systematic review and meta-analysis. J Thromb Haemost 12(7):1096–1109

24.

Gould MK, Garcia DA, Wren SM, Karanicolas PJ, Arcelus JI, Heit JA et al (2012) Prevention of VTE in nonorthopedic surgical patients: antithrombotic therapy and prevention of thrombosis, 9th ed: American College of Chest Physicians Evidence-Based Clinical Practice Guidelines. Chest 141(2 Suppl):e227S–e277S

25.

Dente CJ, Ashley DW, Dunne JR, Henderson V, Ferdinand C, Renz B et al (2016) Heterogeneity in trauma registry data quality: implications for regional and national performance improvement in trauma. J Am Coll Surg 222(3):288–295
Funding
This research did not receive any specific funding or grant support from agencies in the public, commercial, or not-for-profit sectors.
Ethics declarations
Conflict of interest
The following authors AC, ED, SL, KH, EB, CC, LM, KD, NH, SK, MS, MJ have no financial disclosures.
Patient consent
This study was exempted from obtaining individual patient consent as approved by our Institutional Review Board. This report does not contain any personal information that could lead to identification of any patients. All procedures performed in studies involving human participants were in accordance with the ethical standards of the institutional and/or national research committee and with the 1964 Helsinki Declaration and its later amendments or comparable ethical standards.
Additional information
Publisher's Note
Springer Nature remains neutral with regard to jurisdictional claims in published maps and institutional affiliations.
Electronic supplementary material
Below is the link to the electronic supplementary material.
About this article
Cite this article
Cunningham, A.J., Dewey, E., Lin, S. et al. Pediatric trauma venous thromboembolism prediction algorithm outperforms current anticoagulation prophylaxis guidelines: a pilot study. Pediatr Surg Int 36, 373–381 (2020). https://doi.org/10.1007/s00383-019-04613-y
Accepted:

Published:

Issue Date:
Keywords
Venous thromboembolism

Pediatric trauma

Thromboprophylaxis

Guidelines