Abstract
Background
Current consensus guidelines do not recommend routine follow-up imaging for blunt splenic injury (BSI) in children. However, repeat imaging is recommended based on persistent symptoms. Wide variation of practice continues to exist among surgeons. By defining the natural evolution of BSI, we sought to identify patients at higher risk for delayed healing who could benefit from outpatient imaging.
Methods
A retrospective review of all children with BSI at a Level 1 Pediatric Trauma Center was completed. Grade of injury, hospital course, laboratory values and follow-up imaging results were obtained. Injured spleens were classified as 'healed', 'healing' (with echogenic scar), or 'non-healing' with persistence of parenchymal abnormalities.
Results
Between 2000 and 2014, 222 patients with BSI were identified. Seven patients (3%) underwent immediate splenectomy. Packed red blood cell transfusion was required in 13 (6%) of the 222 patients, and 3 (2%) of 145 with isolated splenic injuries. Seventy-one percent of patients underwent additional imaging 2–74 weeks post-injury. A receiver operating characteristics (ROC) curve was used to establish the relationship between sensitivity and specificity of capturing non-healing spleens over time. Optimal timing for post-injury imaging for grades I–II was 7–8 weeks; healing of higher-grade injuries could not accurately be predicted.
Conclusions
If return to full physical activity, in particular contact sports, is contingent upon documented healing of the splenic parenchyma after blunt trauma in the pediatric population, follow-up imaging for low-grade injuries is best obtained around 7–8 weeks. No such recommendations can be made for high-grade splenic injuries, as the exact time to healing cannot be predicted based on initial data.
Level of evidence
IV. Diagnostic test.
This is a preview of subscription content, log in to check access.
Access options
Buy single article
Instant unlimited access to the full article PDF.
US$ 39.95
Price includes VAT for USA
Subscribe to journal
Immediate online access to all issues from 2019. Subscription will auto renew annually.
US$ 199
This is the net price. Taxes to be calculated in checkout.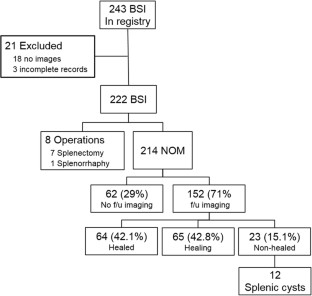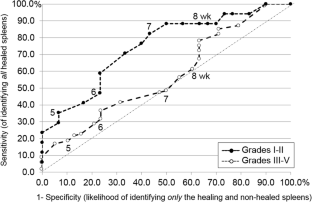 References
1.

Howman-Giles R, Gilday DL, Venugopal S, Shandling B, Ash JM (1978) Splenic trauma—nonoperative management and long-term follow-up by scintiscan. J Pediatr Surg 13(2):121–126

2.

Stylianos S (2000) Evidence-based guidelines for resource utilization in children with isolated spleen or liver injury. The APSA Trauma Committee. J Pediatr Surg 35(2):164–167 (discussion 167–9)

3.

Notrica DM, Eubanks JW III, Tuggle DW, Maxson RT, Letton RW, Garcia NM, Alder AC, Lawson KA, St Peter SD, Megison S, Garcia-Filion P (2015) Nonoperative management of blunt liver and spleen injury in children: evaluation of the ATOMAC guideline using GRADE. J Trauma Acute Care Surg 79(4):683–693

4.

Savage SA, Zarzaur BL, Magnotti LJ, Weinberg JA, Maish GO, Bee TK, Minard G, Schroeppel T, Croce MA, Fabian TC (2008) The evolution of blunt splenic injury: resolution and progression. J Trauma Inj Infect Crit Care 64(4):1085–1092

5.

Stylianos S, Egorova N, Guice KS, Arons RR, Oldham KT (2006) Variation in treatment of pediatric spleen injury at trauma centers versus nontrauma centers: a call for dissemination of American Pediatric Surgical Association benchmarks and guidelines. J Am Coll Surg 202(2):247–251

6.

Leinwand MJ, Atkinson CC, Mooney DP (2004) Application of the APSA evidence-based guidelines for isolated liver or spleen injuries: a single institution experience. J Pediatr Surg 39(3):487–490 (discussion 487–90)

7.

Martin K, VanHouwelingen L, Butter A (2011) The significance of pseudoaneurysms in the nonoperative management of pediatric blunt splenic trauma. J Pediatr Surg 46:933–937

8.

Bird JJ, Patel NY, Mathiason MA, Schroeppel TJ, D'huyvetter CJ, Cogbill TH (2012) Management of pediatric blunt splenic injury at a rural trauma center. J Trauma Acute Care Surg 73(4):919–922

9.

Leschied JR, Mazza MB, Davenport MS, Chong ST, Smith EA, Hoff CN, Ladino-Torres MF, Khalatbari S, Ehrlich PF, Dillman JR (2016) Inter-radiologist agreement for CT scoring of pediatric splenic injuries and effect on an established clinical practice guideline. Pediatr Radiol 46(2):229–236

10.

Lynch JM, Meza MP, Newman B, Gardner MJ, Albanese CT (1997) Computed tomography grade of splenic injury is predictive of the time required for radiographic healing. J Pediatr Surg 32(7):1093–1095 (discussion 1095–6)

11.

Emery KH, Babcock DS, Borgman AS, Garcia VF (1999) Splenic injury diagnosed with CT: US follow-up and healing rate in children and adolescents. Radiology 212:515–518

12.

Huebner S, Reed MH (2001) Analysis of the value of imaging as part of the follow-up of splenic injury in children. Pediatr Radiol 31(12):852–855

13.

Davies DA, Fecteau A, Himidan S, Mikrogianakis A, Wales PW (2009) What's the incidence of delayed splenic bleeding in children after blunt trauma? An institutional experience and review of the literature. J Trauma Inj Infect Crit Care 67(3):573–577

14.

Frumiento C, Sartorelli K, Vane D (2000) Complications of splenic injuries: expansion of the nonoperative theorem. J Pediatr Surg 35(5):788–791

15.

Kristoffersen KW, Mooney DP (2007) Long-term outcome of nonoperative pediatric splenic injury management. J Pediatr Surg 42:1038–1042
Ethics declarations
Conflict of interest
The authors declare they have no conflicts of interest.
Financial disclosures
We have no financial disclosures.
About this article
Cite this article
Dickinson, C.M., Vidri, R.J., Smith, A.D. et al. Can time to healing in pediatric blunt splenic injury be predicted?. Pediatr Surg Int 34, 1195–1200 (2018) doi:10.1007/s00383-018-4341-2
Accepted:

Published:

Issue Date:
Keywords
Pediatric trauma

Blunt splenic injury

Imaging