Abstract
Umbilical hernias occur frequently in children but complications are very rare and thus surgery is not routinely indicated. In this literature review, we report 19 cases of spontaneous evisceration of abdominal contents through umbilical hernias. Precipitating causes included umbilical ulceration or sepsis, crying, respiratory infection, intussusception and ascites. Management involved resuscitation and surgical repair. Mortality is low. As the incidence of spontaneous rupture is very low, the current management of an umbilical hernia remains appropriate. However, we encourage physicians to be aware of the potential risk factors for spontaneous rupture and in these patients expedite surgical repair.
This is a preview of subscription content, log in to check access.
Access options
Buy single article
Instant access to the full article PDF.
US$ 39.95
Price includes VAT for USA
Subscribe to journal
Immediate online access to all issues from 2019. Subscription will auto renew annually.
US$ 199
This is the net price. Taxes to be calculated in checkout.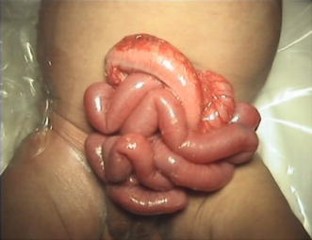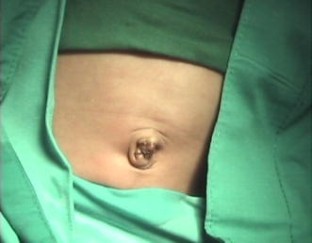 References
1.

Strange SL (1956) Spontaneous rupture of umbilical hernia in an infant. Postgrad Med J 32(363):39

2.

Harding-Jones D, Robson P (1965) Rupture of an infantile umbilical hernia. Brit Med J 1(5433):498–499

3.

Metcalf PJ, Price S (1972) Extrusion of small intestine due to rupture of previously normal umbilicus. Br Med J 2:692–693

4.

Chatterjee SK (1972) Spontaneous rupture of umbilical hernia with evisceration of small intestine. J Indian Med Assoc 59:287

5.

Chochinov H (1980) "Spontaneous" umbilical evisceration. J Pediatr Surg 15(5):670–671

6.

Holme JI, Gundersen BW (1982) Spontaneous rupture of umbilical hernia because of intussusceptions. Tidsskr Nor Laegeforen 102(2):98

7.

Bain IM, Bishop HM (1995) Spontaneous rupture of an infantile umbilical hernia. Br J Surg 82(1):35

8.

Ahmed A, Ahmed M, Nmadu PT (1998) Spontaneous rupture of infantile umbilical hernia: report of three cases. Ann Trop Paediatr 18:239–241

9.

Ameh EA, Chirdan LB, Nmadu PT, Yusufu LMD (2003) Complicated umbilical hernias in children. Pediatr Surg Int 19(4):280–282

10.

Singh UK, Singh S, Ojha P, Kumar R (2000) Spontaneous rupture of an umbilical hernia in an infant. Indian Pediatr 37(3):341–342

11.

Hulsebos RG, Zeebregts CJ, de Langen ZJ (2004) Perforation of a congenital umbilical hernia in a patient with Hurler's syndrome. J Pediatr Surg 39(9):1426–1427

12.

Weik J, Moores D (2005) An unusual case of umbilical hernia rupture with evisceration. J Paediatr Surg 40(4):E33–E35

13.

Kaya M, Yucesan S (2005) Spontaneous ruptured umbilical hernia in a child with hepatic cirrohsis and ascites. Pediatr Surg Int 21(5):413–414

14.

Cigdem Ulukaya, Durakbasa CU (2006) Spontaneous rupture of an infantile umbilical hernia with intestinal evisceration. Paediatr Surg Int 22(6):567–569

15.

Pandey A, Kumar V, Gangopadhyay AN, Upadhyaya VD (2008) Eviscerated urinary bladder via ruptured umbilical hernia: a rare occurrence. Hernia 12(3):317–319

16.

Garcia VF (2000) Umbilical and other abdominal wall hernias. In: Ashcraft KW (ed) Paediatric surgery, 3rd edn. WB Saunders and Co, Philadelphia (PA), pp 651–652

17.

Evans A (1941) The comparative incidence of umbilical hernias in coloured and white infants. J Natl Med Assoc 33:158

18.

Vohr BR, Rosenfield AG, Oh W (1997) Umbilical hernia in the low birth-weight infant (less than 1,500 gm). J Pediatr 90:807–808

19.

Ciley RE, Krummel TM (1998) Disorders of the umbilicus. In: O'Neil JA Jr, Rowe MI, Grosfield JL et al (eds) Paediatric Surgery, 5th edn. Mosby, St Louis (Mo), pp 1037–1039

20.

Brown RA, Numanoglu A, Rode H (2006) Complicated umbilical hernia in childhood. S Afr J Surg 44(4):136–137

21.

Karpelowsky JS (2009) Outcomes of human immunodeficiency and exposed children undergoing surgery—a prospective study. J Pediatr Surg 44:681–687
Conflict of Interest
 The authors declare that there is no conflict of interest.
About this article
Cite this article
Thomson, W.L., Wood, R.J. & Millar, A.J.W. A literature review of spontaneous evisceration in paediatric umbilical hernias. Pediatr Surg Int 28, 467–470 (2012). https://doi.org/10.1007/s00383-012-3076-8
Accepted:

Published:

Issue Date:
Keywords
Umbilical

Hernia

Evisceration

Paediatric