Abstract
Osteodystrophy is frequently found in children with chronic cholestatic liver disease. We herein report an end-stage case of biliary atresia that was associated with multiple bone fractures and severe growth retardation. The patient, an 8-month-old female, underwent a living-related liver transplantation and thereafter showed a dramatic improvement in growth and decrease in bone fractures. A correction of the liver function is therefore considered to be a key factor in treating osteodystrophy that is related to chronic cholestatic liver disease. It is also essential to perform liver transplantation at the most appropriate time to enhance and support the growth of these patients.
This is a preview of subscription content, log in to check access.
Access options
Buy single article
Instant access to the full article PDF.
US$ 39.95
Price includes VAT for USA
Subscribe to journal
Immediate online access to all issues from 2019. Subscription will auto renew annually.
US$ 199
This is the net price. Taxes to be calculated in checkout.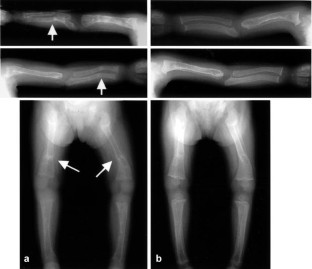 References
1.

D'Antiga L, Moniz C, Buxton-Thomas M, Cheeseman P, Gray B, Abraha H, Baker AJ, Heaton ND, Rela M, Mieli-Vergani G, Dhawan A (2002) Bone mineral density and height gain in children with chronic cholestatic liver disease undergoing transplantation. Transplantation 73:1788–1793

2.

Okajima H, Sigeno C, Inomata Y, Egawa H, Uemoto S, Asomuma K, Kiuchi T, Konishi J, Tanaka K (2003) Long-term effects of liver transplantation on bone mineral density in children with end-stage liver disease: a 2-year prospective study. Liver Transplantation 9:360–364

3.

Argao EA, Specker BL, Heubi JE (1993) Bone mineral content in infants and children with chronic cholestatic liver disease. Pediatrics 91:1151–1154

4.

Chongsrisawat V, Ruttanamongkol P, Chaiwatanarat T, Chandrakamol B, Poovorawan Y (2001) Bone density and 25-hydroxy vitamin D level in extrahepatic biliary atresia. Pediatr Surg Int 17:604–608

5.

Compston JE (2003) The skeletal effect of liver transplantation in children. Liver Transplantation 9:371–372

6.

Meyers L, Book LS, O'Gorman MA, Jackson WD, Black RE, Johnson DG, Matlak ME (2003) High-dose steroids, ursodeoxycholic acid, and chronic intravenous antibiotics improve bile flow after Kasai procedure in infants with biliary atresia. J Pediatr Surg 38:406–411
About this article
Cite this article
Katsura, S., Ogita, K., Taguchi, T. et al. Effect of liver transplantation on multiple bone fractures in an infant with end-stage biliary atresia: a case report. Ped Surgery Int 21, 47–49 (2005). https://doi.org/10.1007/s00383-004-1262-z
Keywords
Biliary atresia (BA)

Bone fractures

Living-related liver transplantation (LRLT)