Abstract
Blocking occurrence and its impacts on European temperature have been studied in the last decade. However, most previous studies on blocking impacts have focused on winter only, disregarding its fingerprint in summer and differences with other synoptic patterns that also trigger temperature extremes. In this work, we provide a clear distinction between high-latitude blocking and sub-tropical ridges occurring in three sectors of the Euro-Atlantic region, describing their climatology and consequent impacts on European temperature during both winter and summer. Winter blocks (ridges) are generally associated to colder (warmer) than average conditions over large regions of Europe, in some areas with anomalies larger than 5 °C, particularly for the patterns occurring in the Atlantic and Central European sectors. During summer, there is a more regional response characterized by above average temperature for both blocking and ridge patterns, especially those occurring in continental areas, although negative temperature anomalies persist in southernmost areas during blocking. An objective analysis of the different forcing mechanisms associated to each considered weather regime has been performed, quantifying the importance of the following processes in causing the temperature anomalies: horizontal advection, vertical advection and diabatic heating. While during winter advection processes tend to be more relevant to explain temperature responses, in summer radiative heating under enhanced insolation plays a crucial role for both blocking and ridges. Finally, the changes in the distributions of seasonal temperature and in the frequencies of extreme temperature indices were also examined for specific areas of Europe. Winter blocking and ridge patterns are key drivers in the occurrence of regional cold and warm extreme temperatures, respectively. In summer, they are associated with substantial changes in the frequency of extremely warm days, but with different signatures in southern Europe. We conclude that there has been some misusage of the traditional blocking definition in the attribution of extreme events.
This is a preview of subscription content, log in to check access.
Access options
Buy single article
Instant access to the full article PDF.
US$ 39.95
Price includes VAT for USA
Subscribe to journal
Immediate online access to all issues from 2019. Subscription will auto renew annually.
US$ 199
This is the net price. Taxes to be calculated in checkout.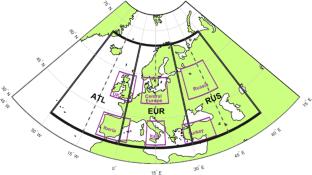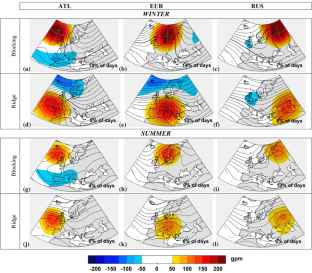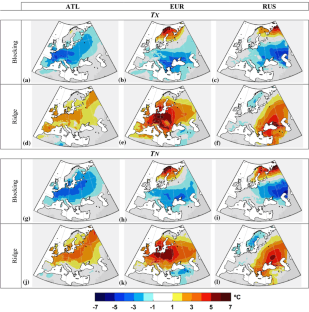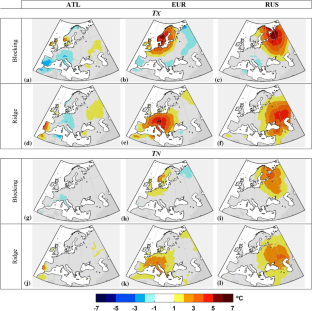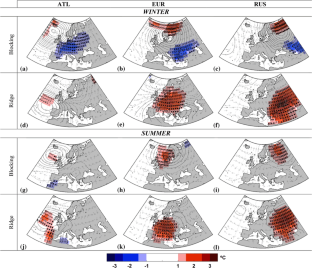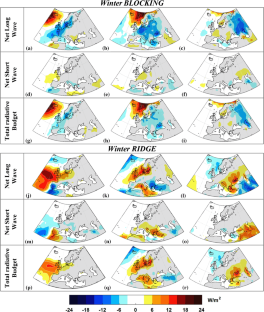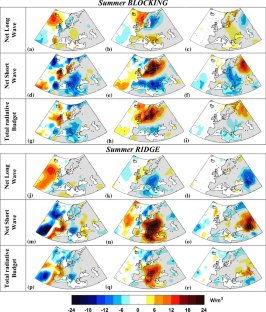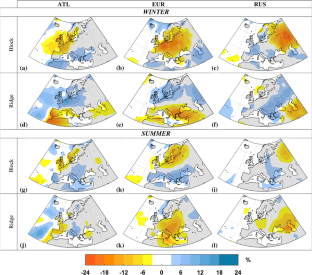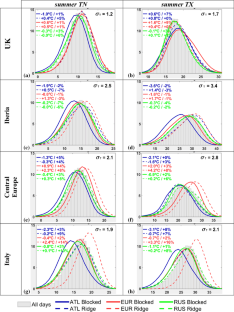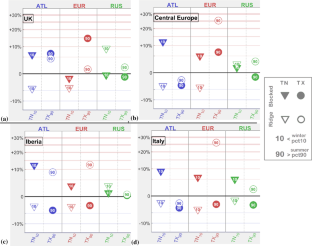 References
Altenhoff AM, Martius O, Croci-Maspoli M, Schwiers C, Davies HC (2008) Linkage of atmospheric blocks and synoptic-scale Rossby waves: a climatological analysis. Tellus Series A-Dyn Meteorol Oceanogr 60(5):1053–1063. doi:10.1111/j.1600-0870.2008.00354.x

Andrade C, Leite SM, Santos JA (2012) Temperature extremes. Europe: overview of their driving atmospheric patterns. Nat Hazards Earth Syst Sci 12:1671–1691. doi:10.5194/nhess-12-1671-2012

Barriopedro D, Calvo N (2014) On the relationship between ENSO, stratospheric sudden warmings, and blocking. J Climate 27(12):4704–4720. doi:10.1175/JCLI-D-13-00770.1

Barriopedro D, García-Herrera R, Lupo AR, Hernández E (2006) Aclimatology of northern hemisphere blocking. J Clim 19:1042–1063. doi:10.1175/JCLI3678.1

Barriopedro D, García-Herrera R, Trigo RM (2010) Application of blocking diagnosis methods to general circulation models. Part I: a novel detection scheme. Clim Dyn 35:1373–1391. doi:10.1007/s00382-010-0767-5

Barriopedro D, Fischer EM, Luterbacher J, Trigo RM, García-Herrera R (2011) The Hot Summer of 2010: Redrawing the Temperature Record Map of Europe. Science 332:220. doi:10.1126/science.1201224

Bastos A, Gouveia CM, Trigo RM, Running SW (2014) Analysing the spatio-temporal impacts of the 2003 and 2010 extreme heatwaves on plant productivity in Europe. Biogeosciences 11(13):3421–3435. doi:10.5194/bg-11-3421-2014

Bieli M, Pfahl S, Wernli H (2015) A Lagrangian investigation of hot and cold temperature extremes in Europe. QJR Meteorol Soc 141: 98–108. doi:10.1002/qj.2339

Brunner L, Hegerl GC, Steiner AK (2017) Connecting atmospheric blocking to european temperature extremes in spring. J Climate 30:585–593. doi:10.1175/JCLI-D-16-0518.1

Buehler T, Raible CC, Stocker TF (2011) The relationship of winter season North Atlantic blocking frequencies to extreme cold or dry spells in the ERA-40. Tellus Ser A 63:212–222. doi:10.1111/j.1600-0870.2010.00492.x

Cattiaux J, Vautard R, Cassou C, Yiou P, Masson-Delmotte V, Codron F (2010) Winter 2010 in Europe: a cold extreme in a warming climate. Geophys Res Lett 37:L20704. doi:10.1029/2010GL044613

Cattiaux J, Quesada B, Arakélian A, Codron F, Vautard R, Yiou P (2012) North-Atlantic dynamics and European temperature extremes in the IPSL model: sensitivity to atmospheric resolution. Climate Dynamics 40(9–10):2293–2310. doi:10.1007/s00382-012-1529-3

Chan SC, Nigam S (2009) Residual diagnosis of diabatic heating from ERA-40 and NCEP reanalyses: intercomparisons with TRMM. J Climate 22(2):414–428. doi:10.1175/2008JCLI2417.1

Christensen JH, Krishna Kumar K, Aldrian E, An S-I, I.F.A. Cavalcanti, de Castro M, Dong W, Goswami P, Hall A, Kanyanga JK, Kitoh A, Kossin J, Lau N-C, Renwick J, Stephenson DB, Xie S-P, Zhou T (2013) Climate phenomena and their relevance for future regional climate change. In: Stocker TF, Qin D, Plattner G-K, Tignor M, Allen SK, Boschung J, Nauels A, Xia Y, Bex V, Midgley PM (eds) Climate change 2013: the physical science basis. Contribution of Working Group I to the Fifth assessment report of the intergovernmental panel on climate change. Cambridge University Press, Cambridge

Cohen J, Jones J (2011) A new index for more accurate winter predictions. Geophys Res Lett 38:L21701. doi:10.1029/2011GL049626

Croci-Maspoli M, Schwierz C, Davies HC (2007) Atmospheric blocking: space-time links to the NAO and PNA. Clim Dyn 29:713–725. doi:10.1007/s00382-007-0259-4

Davini P, Cagnazzo C, Neale R, Tribbia J (2012) Coupling between Greenland blocking and the North Atlantic Oscillation pattern. Geophys Res Lett 39(14):L14701. doi:10.1029/2012GL052315

de Vries H, Haarsma RJ, Hazeleger W (2012) Western European cold spells in current and future climate. Geophysucak Res Lett 39:L04706. doi:10.1029/2011GL050665

Deser C, Phillips AS (2009) Atmospheric circulation trends, 1950–2000: The relative roles of sea surface temperature forcing and direct atmospheric radiative forcing. J Climate 22(2):396–413. doi:10.1175/2008JCLI2453.1

Fischer EM, Knutti R (2015) Anthropogenic contribution to global occurrence of heavy-precipitation and high-temperature extremes. Nature. Climate Change 5(6):560–564. doi:10.1038/nclimate2617

García-Herrera R, Barriopedro D (2006) Northern Hemisphere snow cover and atmospheric blocking variability. J Geophys Res Atm 111(D21):D21104. doi:10.1029/2005JD006975

García-Herrera R, Díaz J, Trigo RM, Hernández E (2005) Extreme summer temperatures in Iberia: health impacts and associated synoptic conditions. Ann Geophys 23:239–251

García-Herrera R, Dias J, Trigo RM, Luterbacher J, Fischer EM (2010) A Review of the European summer heat wave of 2003. Crit Rev Environ Sci Technology 40(4):267–306. doi:10.1080/10643380802238137

Gouveia CM, Bistinas I, Liberato MLR, Bastos A, Koutsiasd N, Trigo RM (2016) The outstanding synergy between drought, heatwaves and fuel on the 2007 Southern Greece exceptional fire season. Agric For Meteorol 218–219:135–145. doi:10.1016/j.agrformet.2015.11.023

Green HK, Andrews N, Armstrong B, Bickler G, Pebody R (2016) Mortality during the 2013 heatwave in England—how did it compare to previous heatwaves? A retrospective observational study. Environ Res 147:343–349. doi:10.1016/j.envres.2016.02.028

Haylock MR, Hofstra N, Klein Tank AMJ, Klok EJ, Jones PD, New M (2008) A European daily high-resolution gridded dataset of surface temperature and precipitation. J Geophys Res 113:D20119. doi:10.1029/2008JD10201

Hofstra N, Haylock M, New M, Jones PD (2009) Testing E-OBS European high-resolution gridded data set of daily precipitation and surface temperature. J Geophys Res 114:D21101. doi:10.1029/2009JD011799

Horton DE, Johnson NC, Singh D, Swain DL, Rajaratnam B, Diffenbaugh NS (2015) Contribution of changes in atmospheric circulation patterns to extreme temperature trends. Nature 522(7557):465–469. doi:10.1038/nature14550

Kalnay E, Kanamitsu M, Kistler R, Collins W, Deaven D, Gandin L, Iredell M, Saha S, White G, Woollen J, Zhu Y, Chelliah M, Ebisuzaki W, Higgins W, Janowiak J, Mo KC, Ropelewski C, Wang J, Leetmaa A, Reynolds R, Jenne R, Joseph D (1996) The NCEP/NCAR 40-year reanalysis project. Bull Am Meteorol Soc 77(3):437–471. doi:10.1175/1520-0477(1996)077<0437:TNYRP>2.0.CO;2

Kyselý J, Plavcová E (2010) A critical remark on the applicability of E-OBS European gridded temperature dataset for validating control climate simulations. J Geophys Res 115:D23118. doi:10.1029/2010JD014123

Li J, Sun C, Jin F (2013) NAO implicated as a predictor of Northern Hemisphere mean temperature multidecadal variability. Geophys Res Lett 40(20):5497–5502. doi:10.1002/2013GL057877

Liu C, Tian B, Li K, Manney GL, Livesey NJ, Yung YL, Waliser DE (2014) Northern Hemisphere mid-winter vortex-displacement and vortex-split stratospheric sudden warmings: Influence of the Madden-Julian Oscillation and Quasi-Biennial Oscillation. J Geophys Res Atmos 119(12):12599–12620. doi:10.1002/2014JD021876

Lowe R, Ballester J, Creswick J, Robine JM, Herrmann FR, Rodo X (2015) Evaluating the performance of a climate-driven mortality model during heat waves and cold spells in Europe. Int J Environ Res Public Health 12(2):1279–1294. doi:10.3390/ijerph120201279

Marcos R, Turco M, Bedia J, Llasat MC, Provenzale A (2015) Seasonal predictability of summer fires in a Mediterranean environment. International Journal of Wildland Fire Year 24(8):1076–1084. doi:10.1071/WF15079

Masato G, Hoskins BJ, Woollings TJ (2011) Wave-breaking characteristics of mid-latitude blocking. Q J R Meteorol Soc 138:1285–1296. doi:10.1002/qj.990

Monteiro A, Carvalho V, Gois J, Sousa C (2013) Use of "Cold Spell" indices to quantify excess chronic obstructive pulmonary disease (COPD) morbidity during winter (November to March 2000–2007): case study in Porto. Int J Biometeorol 57(6):857–870. doi:10.1007/s00484-012-0613-z

Muthers S, Matzarakis A, Koch E (2010) Summer climate and mortality in Vienna: a human-biometeorological approach of heat-related mortality during the heat waves in 2003. Wien Klin Wochenschr 122(17–18):525–531

Pereira MG, Trigo RM, DaCamara CC, Pereira JMC, Solange ML (2005) Synoptic patterns associated with large summer forest fires in Portugal. Agric For Meteorol 129:11–25. doi:10.1016/j.agrformet.2004.12.007

Pfahl S (2014) Characterising the relationship between weather extremes in Europe and synoptic circulation features. Nat. Hazards Earth Syst. Sci. 14: 1461–1475. doi:10.5194/nhess-14-1461-2014

Pfahl S, Schwierz C, Croci-Maspol M, Grams CM, Wernli H (2015) Importance of latent heat release in ascending air streams for atmospheric blocking. Nature Geoscience 8: 610–614. doi:10.1038/ngeo2487

Rex DF (1950a) Blocking action in the middle troposphere and its effect upon regional climate. Part I: an aerological study of blocking action. Tellus 2:196–211

Rex DF (1950b) Blocking action in the middle troposphere and its effect upon regional climate. Part II: the climatology of blocking action. Tellus 2:275–301

Ruti PM, Dell'Aquila A, Giorgi F (2014) Understanding and attributing the Euro-Russian summer blocking signatures. Atnos. Sci. Let. 15(3): 204–210. doi:10.1002/asl2.490

Santos JA, Corte-Real J (2006) Temperature Extremes in Europe and Large-Scale Circulation: HadCM3 future scenarios. Climate Research 31: 3–18. doi:10.3354/cr031003

Santos JA, Pinto JG, Ulbrich U (2009) On the development of strong ridge episodes over the eastern North Atlantic. Geophys Res Lett 36:L17804. doi:10.1029/2009GL039086

Santos JA, Wiillings T, Pinto JG (2013) Are the Winters 2010 and 2012 Archetypes Exhibiting Extreme Opposite Behavior of the North Atlantic Jet Stream? Mon Weather Rev 141(19):3626–3640. doi:10.1175/MWR-D-13-00024.1

Santos JA, Pfahl S, Pinto JG, Wernli H (2015) Mechanisms underlying temperature extremes in Iberia: a Lagrangian perspective. Tellus Series A-Dynamic Meteorology Oceanography 67:26032. doi:10.3402/tellusa.v67.26032

Seneviratne SI, Donat MG, Mueller B, Alexander LV (2014) No pause in the increase of hot temperature extremes. Nature. Climate Change 4(5):161–163. doi:10.1038/nclimate2145

Seo K, Lee H, Frierson DMW (2016) Unraveling the Teleconnection Mechanisms that Induce Wintertime Temperature Anomalies over the Northern Hemisphere Continents in Response to the MJO. J Atmos Sci 73(9):3557–3571. doi:10.1175/JAS-D-16-0036.1

Sillmann J, Croci-Maspoli M, Kallache M, Katz RW (2011) Extreme cold winter temperatures in Europe under the influence of north atlantic atmospheric blocking. J Clim 24(22):5899–5913. doi:10.1175/2011JCLI4075.1

Simolo C, Brunetti M, Maugeri M, Nanni T (2012) Extreme summer temperatures in Western Europe. Adv Sci Res 8:5–9. doi:10.5194/asr-8-5-2012

Sousa PM, Trigo RM, Pereira MG, Bedia J, Gutiérrez JM (2015) Different approaches to model future burnt area in the Iberian Peninsula. Agric For Meteorol 202:11–25. doi:10.1016/j.agrformet.2014.11.018

Sousa PM, Trigo RM, Barriopedro D, Soares PMM, Ramos AM, Liberato MLR (2016) Responses of European precipitation distributions and regimesto different blocking locations. Clim Dyn. doi:10.1007/s00382-016-3132-5

Treidl RA, Birch EC, Sajecki P (1981) Blocking action in the northern hemisphere: a climatological study. Atmos Ocean 19:1–23. doi:10.1080/07055900.1981.9649096

Trigo RM, Trigo IF, DaCamara CC, Osborn TJ (2004) Winter blocking episodes in the European-Atlantic sector: climate impacts and associated physical mechanisms in the reanalysis. Clim Dyn. 23:17–28. doi:10.1007/s00382-004-0410-4

Trigo RM, García-Herrera R, Díaz J, Trigo IF, Valente MA (2005) How exceptional was the early August 2003 heatwave in France? Geophys Res Lett 32:L10701. doi:10.1029/2005GL022410

Trigo RM, Ramos AM, Nogueira P, Santos FD, García-Herrera R, Gouveia C, Santo FE (2009) Evaluating the impact of extreme temperature based indices in the 2003 heatwave excessive mortality in Portugal. Environ Sci Policy 12:844–854. doi:10.1016/j.envsci.2009.07.007

van der Schrier G, van der Besselaar EJM, Klein Tank AMG, Verver G (2013) Monitoring European averaged temperature based on the E-OBS gridded dataset. J Geophys Res Atmos 118(11):5120–5135

Woollings T, Pinto JG, Santos JA (2011) Dynamical evolution of north atlantic ridges and poleward jet stream displacements. J Atmos Sci 68(5):954–963. doi:10.1175/2011JAS3661.1

Wright JS, Fueglistaler S (2013) Large differences in reanalyses of diabatic heating in the tropical upper troposphere and lower stratosphere. Atmos. Chem Phys 13:9565–9576. doi:10.5194/acp-13-9565-2013

WMO (2012) Cold spell in Europe and Asia in late winter 2011/2012. http://ane4bf-datap1.s3-eu-west-1.amazonaws.com/wmocms/s3fs-public/news/related_docs/dwd_2012_report.pdf
Acknowledgements
Pedro M. Sousa was supported by the Portuguese Science Foundation (FCT) through a doctoral Grant (SFRH/BD/84395/2012). Pedro M.M. Soares thanks the Portuguese Science Foundation (FCT) for funding under Project SOLAR-PTDC/GEOMET/7078/2014. This work was also supported by FEDER/COMPETE/POCI–Operational Competitiveness and Internationalization Programme, under Project POCI-01-0145-FEDER-006958 and by FCT-Portuguese Foundation for Science and Technology, under the project UID/AGR/04033/2013. We acknowledge the E-OBS dataset from the EU-FP6 project ENSEMBLES (http://ensembles-eu.metoffice.com) and the data providers in the ECA&D project (http://www.ecad.eu).
Electronic supplementary material
Below is the link to the electronic supplementary material.
About this article
Cite this article
Sousa, P.M., Trigo, R.M., Barriopedro, D. et al. European temperature responses to blocking and ridge regional patterns. Clim Dyn 50, 457–477 (2018). https://doi.org/10.1007/s00382-017-3620-2
Received:

Accepted:

Published:

Issue Date:
Keywords
Blocking

Ridges

Temperature

Europe

Extremes

Synoptic meteorology