Factors contributing to the development of extreme North Atlantic cyclones and their relationship with the NAO
1

Erratum to: Clim Dyn DOI 10.1007/s382-008-0396-4

We have detected a small error on the computation of the (pseudo-potential) equivalent temperature (

θ e

) that implies small corrections to figures/data relating to absolute

θ e

values. The correct Fig. 

2

d and the corrected text passages are given below. This problem has only negligible impact to the percentile data presented on the manuscript; hence no further corrections are needed.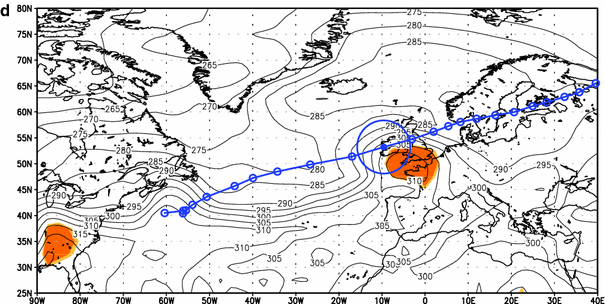 Text passages (changed numbers are given in bold):
In Sect. 5.3, below Fig. 12, second paragraph, please read
"More importantly, the average θ e value raise from 295.6 K in 20C to 302.7 K (+7.1 K; for comparison, the value for non-extreme cyclones is +5.1 K). Considering the individual NAO phases, θ e changes range from +8.8 K for NAO−− to +5.4 K for NAO++."
In Sect. 6, beside Table 7, second paragraph, please read
"In terms of absolute values, the largest increases for extreme cyclones are found for θ e: +7.1 K on average within the 500 km radius."