Abstract
We present a 3 million year record of aeolian dust supply into the eastern Mediterranean Sea, based on hematite contents derived from magnetic properties of sediments from Ocean Drilling Program Site 967. Our record has an average temporal resolution of ∼400 years. Geochemical data validate this record of hematite content as a proxy for the supply of aeolian dust from the Sahara. We deduce that the aeolian hematite in eastern Mediterranean sediments derives from the eastern Algerian, Libyan, and western Egyptian lowlands located north of the central Saharan watershed (∼21°N). In corroboration of earlier work, we relate dust flux minima to penetration of the African summer monsoon front to the north of the central Saharan watershed. This would have enhanced soil humidity and vegetation cover in the source regions, in agreement with results from "green Sahara" climate models. Our results indicate that this northward monsoon penetration recurred during insolation maxima throughout the last 3 million years. As would be expected, this orbital precession-scale mechanism is modulated on both short (∼100-kyr) and long (∼400-kyr) eccentricity time scales. We also observe a strong expression of the ∼41-kyr (obliquity) cycle, which we discuss in terms of high- and low-latitude mechanisms that involve Southern Hemisphere meridional temperature contrasts and shifts in the latitudes of the tropics, respectively. We also observe a marked increase in sub-Milankovitch variability around the mid-Pleistocene transition (∼0.95 Ma), which suggests a link between millennial-scale climate variability, including monsoon dynamics, and the size of northern hemisphere ice sheets.
This is a preview of subscription content, log in to check access.
Access options
Buy single article
Instant access to the full article PDF.
US$ 39.95
Price includes VAT for USA
Subscribe to journal
Immediate online access to all issues from 2019. Subscription will auto renew annually.
US$ 199
This is the net price. Taxes to be calculated in checkout.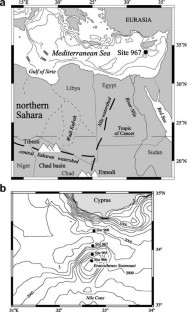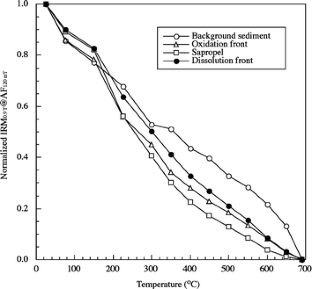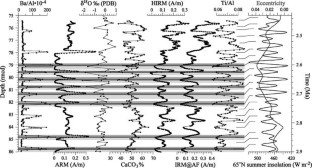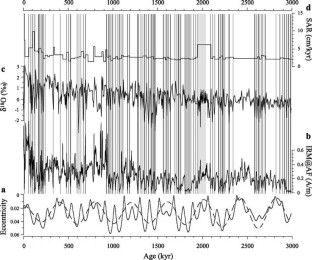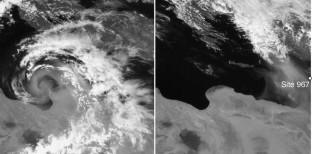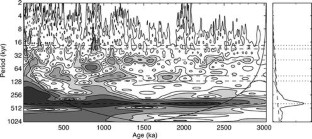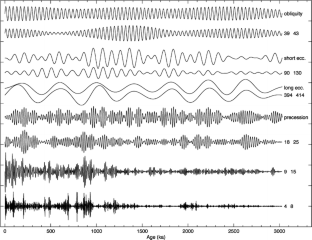 References
Balsam WL, Otto-Bliesner BL, Deaton BC (1995) Modern and last glacial maximum eolian sedimentation patterns in the Atlantic Ocean interpreted from sediment iron oxide content. Paleoceanography 10: 493–507

Brovkin V, Claussen M, Petoukhov V, Ganopolski A (1998) On the stability of the atmosphere-vegetation system in the Sahara/Sahel region. J Geophys Res 103: 31,613–31,624

Claussen M, Brovkin V, Ganopolski A, Kubatski C, Petoukhov V (1998) Modelling global terrestrial vegetation-climate interaction. Philos Trans R Soc London 353: 53–63

Dayan U, Heffter J, Miller J, Gutman G (1991) Dust intrusions into the Mediterranean basin. J Appl Meteorol 30: 1185–1199

Dekkers MJ (1989) Magnetic properties of natural pyrrhotite. II. High- and low-temperature behaviour of Jrs and TRM as function of grain size. Phys Earth Planet Inter 57: 266–283

Dinarès-Turell J, Hoogakker BAA, Roberts AP, Rohling EJ, Sagnotti L (2003) Quaternary climatic control of biogenic magnetite production and eolian dust input in cores from the Mediterranean Sea. Palaeogeogr Palaeoclimatol Palaeoecol 190: 195–209

Dunlop DJ, Özdemir Ö (1997) Rock magnetism: fundamentals and frontiers. Cambridge University Press, New York, pp 573

Emeis K-C, Sakamoto T, Wehausen R, Brumsack H-J (2000) The sapropel record of the eastern Mediterranean Sea – results of Ocean Drilling Program Leg 160. Palaeogeogr Palaeoclimatol Palaeoecol 158: 371–395

Emeis K-C, Schulz H, Struck U, Rossignol-Strick M, Erlenkeuser H, Howell MW, Kroon D, Mackensen H, Ishizuka S, Oba T, Sakamoto T, Koizumi I (2003) Eastern Mediterranean surface water temperatures and δ18O composition during deposition of sapropels in the late Quaternary. Paleoceanography 18: doi: 10.1029/2000PA000617

Fontugne M, Arnold M, Labeyrie L, Calvert SE, Paterne M, Duplessy JC (1994) Palaeoenvironment, sapropel chronology and Nile River discharge during the last 20,000 years as indicated by deep sea sediment records in the eastern Mediterranean. Radiocarbon 34: 75–88

Foucault A, Mélières F (2000) Palaeoclimatic cyclicity in central Mediterranean Pliocene sediments: the mineralogical signal. Palaeogeogr Palaeoclimatol Palaeoecol 158: 311–323

Gasse F (2000) Hydrological changes in the African tropics since the Last Glacial Maximum. Quat Sci Rev 19: 189–211

Gaven C, Hillaire-Marcel C, Petit-Maire N (1981) A Pleistocene lacustrine episode in southeastern Libya. Nature 290: 131–133

Goudie AS, Middleton NJ (2001) Saharan dust storms: nature and consequences. Earth Sci Rev 56: 179–204

King JW, Channell JET (1991) Sedimentary magnetism, environmental magnetism, and magnetostratigraphy. Rev Geophys Suppl 29: 258–370

Krom MD, Cliff RA, Eijsink LM, Herut B, Chester R (1999) The characterisation of Saharan dust and Nile particulate matter in surface sediments from the Levantine basin using Sr isotopes. Mar Geol 155: 319–330

Kroon D, Alexander I, Little M, Lourens LJ, Matthewson A, Robertson AHF, Sakamoto T (1998) Oxygen isotope and sapropel stratigraphy in the Eastern Mediterranean during the last 3.2 million years. In: Robertson AHF, Emeis K-C, Richter C, Camerlenghi A (eds) Proc ODP Sci Res 160, pp 181–190, Ocean Drilling Program, College Station, Texas

Kruiver PP, Passier HF (2001) Coercivity analysis of magnetic phases in sapropel S1 related to variations in redox conditions, including an investigation of the S-ratio. Geochem Geophys Geosys 2: Paper #2001GC00018

Larrasoaña JC, Roberts AP, Stoner JS, Richter C, Wehausen R (2003) A new proxy for bottom-water ventilation in the eastern Mediterranean based on diagenetically controlled magnetic properties of sapropel-bearing sediments. Palaeogeogr Palaeoclimatol Palaeoecol 190: 221–242

Laskar J, Joutel F, Boudin F (1993) Orbital, precessional and insolation quantities for the Earth from –20 Myr to + 10 Myr. Astron Astrophys 270: 522–533

Liu QS, Banerjee SK, Jackson MJ, Zhu RX, Pan YX (2002) A new method in mineral magnetism for the separation of weak antiferromagnetic signal from a strong ferrimagnetic background. Geophys Res Lett 29: 1565–1568

Lourens LJ, Wehausen R, Brumsack H-J (2001) Geological constraints on tidal dissipation and dynamical ellipticity of the earth over the past three million years. Nature 409: 1029–1033

Maher BA (1986) Characterisation of soils by mineral magnetic measurements. Phys Earth Planet Inter 42: 76–92

Mann ME, Lees JM (1996) Robust estimation of background noise and signal detection in climatic time series. Clim Change 33: 409–445

Middleton NJ (1985) Effect of drought on dust production in the Sahel. Nature 316: 431–434

Myers PG, Haines K, Rohling EJ (1998) Modelling the paleo-circulation of the Mediterranean: the last glacial maximum and the Holocene with emphasis on the formation of sapropel S1. Paleoceanography 13: 586–606

Nahon D (1980) Soil accumulations and climatic variations in western Sahara. Palaeoecology of Africa and of the Surrounding Islands and Antarctica (Balkema, Cape Town, South Africa) 12: 63–68

Özdemir Ö, Dunlop DJ (1996) Thermoremanence and Néel temperature of goethite. Geophys Res Lett 23: 921–924

Pachur HJ, Hoelzmann P (2000) Late Quaternary paleoecology and paleoclimates of the eastern Sahara. J Afr Earth Sci 30: 929–939

Passier HF, de Lange GJ, Dekkers MJ (2001) Magnetic properties and geochemistry of the active oxidation front at the youngest sapropel in the eastern Mediterranean Sea. Geophys J Int 145: 604–614

Pedelaborde P (1963) The monsoon. Methuen, London, pp 196

Prospero JM (1996) Saharan dust transport over the North Atlantic Ocean and Mediterranean: an overview. In: Guerzoni S, Chester R (eds) The impact of desert dust across the Mediterranean. Kluwer Academic Publishing, Dordrecht, pp 133–151

Roberts AP (1995) Magnetic characteristics of sedimentary greigite (Fe3S4). Earth Planet Sci Lett 134: 227–236

Roberts AP, Stoner JS, Richter C (1999) Diagenetic magnetic enhancement of sapropels from the eastern Mediterranean Sea. Mar Geol 153: 103–116

Rohling EJ (1994) Review and new aspects concerning the formation of eastern Mediterranean sapropels. Mar Geol 122: 1–28

Rohling EJ, Cane TR, Cooke S, Sprovieri M, Bouloubassi I, Emeis K-C, Schiebel R, Kroon D, Jorissen FJ, Lorre A, Kemp AES (2002) African monsoon variability during the previous interglacial maximum. Earth Planet Sci Lett 202: 61–75

Rossignol-Strick M (1983) African monsoons, an immediate climate response to orbital insolation. Nature 304: 46–49

Rossignol-Strick M (1985) Mediterranean Quaternary sapropels, an immediate response of the African monsoon to variation of insolation. Palaeogeogr Palaeoclimatol Palaeoecol 49: 237–263

Rossignol-Strick M, Nesteroff W, Olive P, Vergnaud-Grazzini C (1982) After the deluge; Mediterranean stagnation and sapropel formation. Nature 295: 105–110

Sakamoto T, Janecek T, Emeis K-C (1998) Continuous sedimentary sequences from the eastern Mediterranean Sea: composite depth sections. In: Robertson AHF, Emeis K-C, Richter C, Camerlenghi A (eds) Proc ODP Sci Res 160, pp 37–59, Ocean Drilling Program, College Station, Texas

Sarnthein M, Tetzlaff G, Koopmann B, Wolter K, Pflaumann U (1981) Glacial and interglacial wind regimes over the eastern subtropical Atlantic and NW Africa. Nature 293: 153–157

Schulz M, Stattegger K (1997) SPECTRUM: Spectral analysis of unevenly spaced paleoclimatic time series. Comp Geosci 23: 929–945

Shipboard Scientific Party (1996) Site 967. In: Robertson AHF, Emeis K-C, Richter C (eds) Proc ODP Init Repts 160, pp 215–287, Ocean Drilling Program, College Station, Texas

Staerker TS (1998) Quantitative calcareous nannofossil biostratigraphy of Pliocene and Pleistocene sediments from the Eratosthenes Seamount region in the eastern Mediterranean. In: Robertson AHF, Emeis K-C, Richter C, Camerlenghi A (eds) Proc ODP Sci Res 160, pp 83–98, Ocean Drilling Program, College Station, Texas

Thomson J, Higgs NC, Wilson TRS, Croudace IW, de Lange GJ, van Santvoort PJM (1995) Redistribution and geochemical behavior of redox-sensitive elements around S1, the most recent eastern Mediterranean sapropel. Geochim Cosmochim Acta 59: 3487–3501

Tiedemann R, Sarnthein M, Shackleton NJ (1994) Astronomic time scale for the Pliocene Atlantic δ18O and dust flux records of Ocean Drilling Program site 659. Paleoceanography 9: 619–638

Torrence C, Compo GP (1998) A practical guide to wavelet analysis. Bull Am Meteorol Soc 79: 61–78

Wadi Kufra radar image. http://southport.jpl.nasa.gov/imagemaps/html/srl-wadik.html. Image P-45719, December 2002

Weeks R, Laj C, Endignoux L, Fuller M, Roberts A, Manganne R, Blanchard E, Goree W (1993) Improvements in long-core measurement techniques: applications in palaeomagnetism and palaeoceanography. Geophys J Int 114: 651–662

Wehausen R, Brumsack H-J (2000) Chemical cycles in Pliocene sapropel-bearing and sapropel-barren eastern Mediterranean sediments. Palaeogeogr Palaeoclimatol Palaeoecol 158: 325–352

Weldeab S, Emeis K-C, Hemleben C, Siebel W (2002) Provenance of lithogenic surface sediments and pathways of riverine suspended matter in the eastern Mediterranean Sea: evidence from 143Nd/144Nd and 87Sr/86Sr ratios. Chem Geol 186: 139–149
Acknowledgements
We thank the staff from the ODP Core Repository in Bremen for technical assistance and hospitality during sampling. We also thank Catherine Kissel, Michael Sarnthein and two anonymous reviewers for their constructive comments that helped to improve the paper and Jean-Claude Duplessy for editorial handling. This work was financially supported by European Community TMR Network contract MAG-NET (ERBFMRXCT98-0247) and the UK NERC, and contributes to NERC project NER/B/S/2002/00268. Samples were provided by the ODP, which is sponsored by the US National Science Foundation and participating countries (including the UK) under management of Joint Oceanographic Institutions, Inc.
About this article
Cite this article
Larrasoaña, J.C., Roberts, A.P., Rohling, E.J. et al. Three million years of monsoon variability over the northern Sahara. Climate Dynamics 21, 689–698 (2003). https://doi.org/10.1007/s00382-003-0355-z
Received:

Accepted:

Published:

Issue Date:
Keywords
Isothermal Remanent Magnetization

Anhysteretic Remanent Magnetization

Saharan Dust

Dust Production

Ocean Drill Program Site