Abstract
Purpose
Spinal angiolipomas are benign spinal epidural tumors consisting of mature fat cells with angiomatous components. These tumors are rare in children and there are no definite management guidelines.
Method
To the best of our knowledge, only five cases of spinal angiolipomas have been reported in children below 12 years. This article discusses the presentation, diagnostics, and surgical tips for the management of a case of spinal angiolipoma.
Result
In this paper, we present a one and half-year-old child presenting with a spontaneous spinal epidural hematoma from a spinal angiolipoma and underscore the importance of early surgery in a benign disease for a good outcome.
Conclusion
Overall neurological recovery and prognosis following timely intervention for spinal angiolipomas are good.
This is a preview of subscription content, log in to check access.
Access options
Buy single article
Instant access to the full article PDF.
US$ 39.95
Price includes VAT for USA
Subscribe to journal
Immediate online access to all issues from 2019. Subscription will auto renew annually.
US$ 199
This is the net price. Taxes to be calculated in checkout.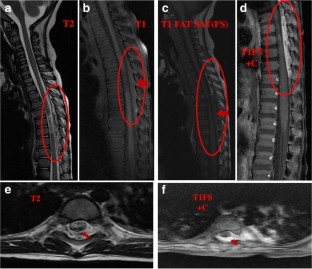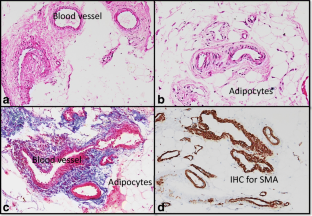 References
1.

Akhaddar A, Gazzaz M, Derraz S, Rifi L, Amarti A, Aghzadi A, El Ouahabi A n, El Khamlichi A n (2000) Spinal epidural angiolipomas: a rare cause of spinal cord compression. A report of 8 cases and review of the literature. Neurochirurgie 46(6):523–533

2.

Andaluz N, Balko G, Bui H, Zuccarello M (2000) Angiolipomas of the central nervous system. J Neuro-Oncol 49(3):219–230

3.

Bender JL, Van Landingham JH, Manno NJ (1974) Epidural lipoma producing spinal cord compression. Report of two cases. J Neurosurg 41(1):100–103

4.

Chotai S, Hur JS, Moon HJ, Kwon T-H, Park YK, Kim JH (2011) Spinal angiolipoma--case report. Neurol Med Chir (Tokyo) 51(7):539–542

5.

Cull DJ, Erdohazi M, Symon L (1978) Extradural haemangiolipoma in the spinal canal. Two cases presenting during pregnancy. Acta Neurochir 45(1):187–193

6.

Ehni G, Love JG (1945) Intraspinal lipomas: report of cases; review of the literature, and clinical and pathologic study. Arch Neurol Psychiatr 53(1):1–28

7.

Fourney DR, Tong KA, Macaulay RJ, Griebel RW (2001) Spinal angiolipoma. Can J Neurol Sci 28(1):82–88

8.

Gelabert-González M, Agulleiro-Díaz J, Reyes-Santías RM (2002) Spinal extradural angiolipoma, with a literature review. Childs Nerv Syst 18(12):725–728

9.

Gelabert-González M, García-Allut A (2009) Spinal extradural angiolipoma: report of two cases and review of the literature. Eur Spine J 18(3):324–335

10.

Kasper J, Cowan A (1929) Extradural lipoma of the spinal canal. Arch Pathol 8:800–802

11.

Klisch J, Spreer J, Bloss HG, Baborie A, Hubbe U (1999) Radiological and histological findings in spinal intramedullary angiolipoma. Neuroradiology 41(8):584–587

12.

Kuroda S, Abe H, Akino M, Iwasaki Y, Nagashima K (1990) Infiltrating spinal angiolipoma causing myelopathy: case report. Neurosurgery 315

13.

Lin JJ, Lin F (1974) Two entities in angiolipoma. A study of 459 cases of lipoma with review of literature on infiltrating angiolipoma. Cancer 34(3):720–727

14.

Meng J, Du Y, Yang H-F, Hu F-B, Huang Y-Y, Li B, Zee C-S (2013) Thoracic epidural angiolipoma: a case report and review of the literature. World J Radiol 5(4):187–192

15.

Michilli R, Tzonos P, Iglesias-Rozas JR (1993) Spinal extradural angiolipoma: case report and literature review. Neurochirurgia (Stuttg) 36(2):63–65

16.

Nanassis K, Tsitsopoulos P, Marinopoulos D, Mintelis A, Tsitsopoulos P (2008) Lumbar spinal epidural angiolipoma. J Clin Neurosci 15(4):460–463

17.

Pagni CA, Canavero S (1992) Spinal epidural angiolipoma: rare or unreported? Neurosurgery 31(4):758–764 discussion 764

18.

Parizel PM, Balériaux D, Rodesch G, Segebarth C, Lalmand B, Christophe C, Lemort M, Haesendonck P, Niendorf HP, Flament-Durand J (1989) Gd-DTPA-enhanced MR imaging of spinal tumors. AJR Am J Roentgenol 152(5):1087–1096

19.

Park JH, Jeon SR, Rhim SC, Roh SW (2008) Lumbar spinal extradural angiolipoma: case report and review of the literature. J Korean Neurosurg Soc 44(4):265–267

20.

Provenzale JM, McLendon RE (1996) Spinal Angiolipomas: MR Features:7

21.

Samdani AF, Garonzik IM, Jallo G, Eberhart CG, Zahos P (2004) Spinal angiolipoma: case report and review of the literature. Acta Neurochir 146(3):299–302

22.

Sandvik U, Svensdotter E, Gustavsson B (2015) Spinal cavernous extradural angiolipoma manifesting as a spontaneous spinal epidural hematoma in a child. Childs Nerv Syst 31(8):1223–1226

23.

Shibata Y, Sugimoto K, Matsuki T, Nose T (1993) Thoracic epidural angiolipoma--case report. Neurol Med Chir (Tokyo) 33(5):316–319

24.

Turgut M (1999) Spinal angiolipomas: report of a case and review of the cases published since the discovery of the tumour in 1890. Br J Neurosurg 13(1):30–40

25.

Wang FF, Wang S, Xue WH, Cheng JL (2017) Epidural spinal angiolipoma: a case series. BMC Res Notes 10(1):128

26.

Yang T, Niu C (2019) Microsurgical treatment for spinal epidural angiolipomas. Acta Neurol Belg:1–7. https://doi.org/10.1007/s13760-019-01192-6
Ethics declarations
Conflict of interest
The authors declare that they have no conflict of interest.
Ethical approval
All procedures performed in studies involving human participants were in accordance with the ethical standards of the institutional ethics committee.
Informed consent
Individual patient consent was not required as the study was retrospective one and was undertaken with local institutional approval.
Additional information
Publisher's note
Springer Nature remains neutral with regard to jurisdictional claims in published maps and institutional affiliations.
Palak A Jaiswal-first author
About this article
Cite this article
Jaiswal, P.A., Divakar, G., Krishnakumar, K. et al. Spinal angiolipoma—a rare but reversible cause of paraplegia in a child. Childs Nerv Syst (2020). https://doi.org/10.1007/s00381-020-04542-5
Received:

Accepted:

Published:
Keywords
Angiolipoma

Benign spinal tumor

Paraplegia