Abstract
Degenerative cysts associated with an unstable os odontoideum in pediatric patients are uncommon lesions. Reported treatments of such lesions have varied and yielded mixed results with the optimal surgical strategy remaining unclear. The authors report the clinical and surgical outcome of a 13-year-old patient presenting with degenerative cyst adjacent to an abnormal os odontoideum motion segment. The patient was asymptomatic from this lesion which was an incidental finding while undergoing workup for atypical headaches. Clinical and radiologic findings, operative details, and postoperative outcome are described. The patient was successfully treated with posterior cervical fusion without direct cyst decompression. Complete resolution of the cyst was demonstrated on magnetic resonance imaging at 6 months. Computed tomography 8 months postoperatively showed solid bony fusion and normal alignment. Regarding treatment goals in pediatric patients with os odontoideum degenerative cysts, the current case and literature review supports posterior instrumented fusion without direct surgical cyst resection.
This is a preview of subscription content, log in to check access.
Access options
Buy single article
Instant access to the full article PDF.
US$ 39.95
Price includes VAT for USA
Subscribe to journal
Immediate online access to all issues from 2019. Subscription will auto renew annually.
US$ 199
This is the net price. Taxes to be calculated in checkout.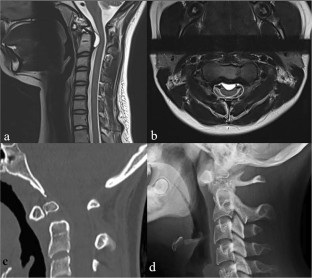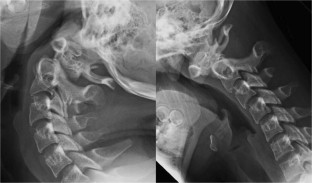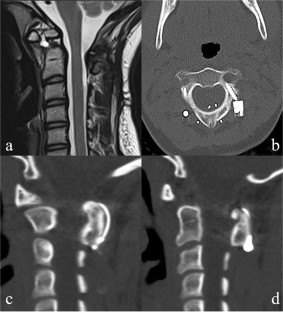 Abbreviations
CT:

Computed tomography

MRI:

Magnetic resonance imaging

OO:

Os odontoideum
References
1.

Fielding JW, Griffin PP (1974) Os odontoideum: an acquired lesion. J Bone Joint Surg Am 56:187–190

2.

Le Pape S, Gauthe R, Latrobe C, Leroux J, Roussignol X, Ould-Slimane M (2016) Cervical myelopathy involving os odontoideum and retro-odontoid cyst treated with Harms C1-C2 arthrodesis. Orthop Traumatol Surg Res 102:817–820

3.

Menezes AH (2008) Craniocervical developmental anatomy and its implications. Childs Nerv Syst 24:1109–1122

4.

Puffer RC, Van Gompel JJ, Morris JM, Krauss WE (2013) Resolution of cystic deterioration of the C1-2 articulation with posterior fusion: treatment implications for asymptomatic patients. World Neurosurg 79:773–778

5.

Theodotou CB, Urakov TM, Vanni S (2016) Atlantoaxial synovial cyst: case report and literature review. World neurosurgery 92:588.e587–588.e515

6.

Cecchi PC, Peltz MT, Rizzo P, Musumeci A, Pinna G, Schwarz A (2008) Conservative treatment of an atlantoaxial degenerative articular cyst: case report. Spine J 8:687–690

7.

Velan O, Rabadan A, Paganini L, Langhi L (2008) Atlantoaxial joint synovial cyst: diagnosis and percutaneous treatment. Cardiovasc Intervent Radiol 31:1219–1221

8.

Ito T, Hayashi M, Ogino T (2000) Retrodental synovial cyst which disappeared after posterior C1-C2 fusion: a case report. J Orthop Surg (Hong Kong) 8:83–87

9.

Weng C, Wang LM, Wang WD, Tan HY (2010) Bipartite atlas with os odontoideum and synovial cyst: case report and review literature. Spine (Phila Pa 1976) 35:E568–E575

10.

Harms J, Melcher RP (2001) Posterior C1-C2 fusion with polyaxial screw and rod fixation. Spine 26:2467–2471

11.

Bydon M, Lin JA, de la Garza-Ramos R, Sciubba DM, Wolinsky JP, Witham TF, Gokaslan ZL, Bydon A (2014) The role of spinal fusion in the treatment of cervical synovial cysts: a series of 17 cases and meta-analysis. J Neurosurg Spine 21:919–928

12.

Christophis P, Asamoto S, Kuchelmeister K, Schachenmayr W (2007) "Juxtafacet cysts", a misleading name for cystic formations of mobile spine (CYFMOS). Eur Spine J 16:1499–1505

13.

Kirk HJ, Pik JH (2009) A novel operative technique to manage a symptomatic synovial cyst associated with an os odontoideum. J Clin Neurosci 16:822–824

14.

Lyons MK, Birch B (2011) Transoral surgical approach for treatment of symptomatic atlantoaxial cervical synovial cysts. Turk Neurosurg 21:483–488

15.

Marbacher S, Lukes A, Vajtai I, Ozdoba C (2009) Surgical approach for synovial cyst of the atlantoaxial joint: a case report and review of the literature. Spine (Phila Pa 1976) 34:E528–E533

16.

Van Gompel JJ, Morris JM, Kasperbauer JL, Graner DE, Krauss WE (2011) Cystic deterioration of the C1-2 articulation: clinical implications and treatment outcomes. J Neurosurg Spine 14:437–443

17.

Klimo P Jr, Coon V, Brockmeyer D (2011) Incidental os odontoideum: current management strategies. Neurosurg Focus 31:E10

18.

Rozzelle CJ, Aarabi B, Dhall SS, Gelb DE, Hurlbert RJ, Ryken TC, Theodore N, Walters BC, Hadley MN (2013) Os odontoideum. Neurosurgery 72(Suppl 2):159–169

19.

Theodotou CB, Urakov TM, Vanni S (2016) Atlantoaxial synovial cyst: case report and literature review. World Neurosurg 92:588 e587–588 e515
Ethics declarations
Conflict of interest
The authors declare that they have no conflict of interest.
Additional information
Publisher's note
Springer Nature remains neutral with regard to jurisdictional claims in published maps and institutional affiliations.
About this article
Cite this article
Alvarado, A.M., Domino, J.S., Grabb, P.A. et al. Treatment of pediatric unstable os odontoideum with adjacent degenerative cyst: case presentation and literature review. Childs Nerv Syst (2020). https://doi.org/10.1007/s00381-020-04533-6
Received:

Accepted:

Published:
Keywords
Atlantoaxial fusion

C1-2 arthrodesis

Degenerative cyst

Os odontoideum