Abstract
Introduction
Awake brain surgery (ABS) represents a rare surgical procedure in children as age and psychological aspects, which are considered to interfere with its feasibility and psychological outcome and limit its application. Only few pediatric case series have been reported so far, indicating a more complex translation of this surgical approach to children. However, the advances in neuropsychological testing and monitoring may have a substantial impact on ameliorating the eligibility of children undergoing awake procedures. This study addresses the condition of ABS in a pediatric cohort, focusing on its practicability and diversified outcome aspects.
Methods
We performed a retrospective review and prospective outcome analysis of pediatric patients with CNS lesions undergoing ABS between 2005 and 2018, completed at the University of Lyon, France.
Results
Eighteen children were considered for ABS with respect to the eloquent location of their CNS lesions documented in their pre-operative MRI. Seventeen of them underwent asleep–awake–asleep brain surgery. The cohort included 5 males and 12 females. The median age at surgery was 14.8 years, (range 9.4 to 17.6 years). Intraoperative testing included electrocortical stimulation while pursuing speech or motor activity. Most of the lesions were intrinsic tumors of glial origin. A complete tumor removal was achieved in 11 patients (65%). Post-operative neurological deficits were transiently observed in 2 patients, whereas severe psychological reactions occurred in 1 child. Persistent attention deficits were found in 2 patients. One patient experienced an infectious complication requiring antibiotic treatment. Two patients died during follow-up due to tumor progression. The mean duration of follow up was 22.2 months (range 3.4 to 46.8 months).
Conclusions
ABS was shown to be beneficial in terms of efficient tumor resection besides simultaneous preservation of neurological functions. Psychological preparation of the families and the children is essential to increase the number and age range of patients, who can benefit from this technique. Neuropsychological testing before and after surgery is essential to determine cognitive outcome, which can be altered in a minority of patients.
This is a preview of subscription content, log in to check access.
Access options
Buy single article
Instant access to the full article PDF.
US$ 39.95
Price includes VAT for USA
Subscribe to journal
Immediate online access to all issues from 2019. Subscription will auto renew annually.
US$ 199
This is the net price. Taxes to be calculated in checkout.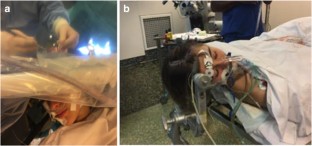 References
1.

Taylor MD, Bernstein M (1999) Awake craniotomy with brain mapping as the routine surgical approach to treating patients with supratentorial intraaxial tumors: a prospective trial of 200 cases. J Neurosurg 90:35–41. https://doi.org/10.3171/jns.1999.90.1.0035

2.

Serletis D, Bernstein M (2007) Prospective study of awake craniotomy used routinely and nonselectively for supratentorial tumors. J Neurosurg 107:1–6. https://doi.org/10.3171/jns-07/07/0001

3.

Sanai N, Mirzadeh Z, Berger MS (2008) Functional outcome after language mapping for glioma resection. N Engl J Med 358:18–27. https://doi.org/10.1056/NEJMoa067819

4.

Hervey-Jumper SL, Li J, Lau D, Molinaro AM, Perry DW, Meng L, Berger MS (2015) Awake craniotomy to maximize glioma resection: methods and technical nuances over a 27-year period. J Neurosurg 123:325–339. https://doi.org/10.3171/2014.10.jns141520

5.

Sacko O, Lauwers-Cances V, Brauge D, Sesay M, Brenner A, Roux FE (2011) Awake craniotomy vs surgery under general anesthesia for resection of supratentorial lesions. Neurosurgery 68:1192–1198; discussion 1198-1199. https://doi.org/10.1227/NEU.0b013e31820c02a3

6.

Sanai N, Berger MS (2008) Glioma extent of resection and its impact on patient outcome. Neurosurgery 62:753–764; discussion 264-756. https://doi.org/10.1227/01.neu.0000318159.21731.cf

7.

De Witt Hamer PC, Robles SG, Zwinderman AH, Duffau H, Berger MS (2012) Impact of intraoperative stimulation brain mapping on glioma surgery outcome: a meta-analysis. J Clin Oncol Off J Am Soc Clin Oncol 30:2559–2565. https://doi.org/10.1200/jco.2011.38.4818

8.

Brown T, Shah AH, Bregy A, Shah NH, Thambuswamy M, Barbarite E, Fuhrman T, Komotar RJ (2013) Awake craniotomy for brain tumor resection: the rule rather than the exception? J Neurosurg Anesthesiol 25:240–247. https://doi.org/10.1097/ANA.0b013e318290c230

9.

Beez T, Boge K, Wager M, Whittle I, Fontaine D, Spena G, Braun S, Szelenyi A, Bello L, Duffau H, Sabel M (2013) Tolerance of awake surgery for glioma: a prospective European Low Grade Glioma Network multicenter study. Acta Neurochir 155:1301–1308. https://doi.org/10.1007/s00701-013-1759-0

10.

Manninen PH, Tan TK (2002) Postoperative nausea and vomiting after craniotomy for tumor surgery: a comparison between awake craniotomy and general anesthesia. J Clin Anesth 14:279–283

11.

Hol JW, Klimek M, van der Heide-Mulder M, Stronks D, Vincent AJ, Klein J, Zijlstra FJ, Fekkes D (2009) Awake craniotomy induces fewer changes in the plasma amino acid profile than craniotomy under general anesthesia. J Neurosurg Anesthesiol 21:98–107. https://doi.org/10.1097/ANA.0b013e318192d4aa

12.

Freyschlag CF, Duffau H (2014) Awake brain mapping of cortex and subcortical pathways in brain tumor surgery. J Neurosurg Sci 58:199–213

13.

Everett LL, van Rooyen IF, Warner MH, Shurtleff HA, Saneto RP, Ojemann JG (2006) Use of dexmedetomidine in awake craniotomy in adolescents: report of two cases. Paediatr Anaesth 16:338–342. https://doi.org/10.1111/j.1460-9592.2005.01697.x

14.

McClain CD, Landrigan-Ossar M (2014) Challenges in pediatric neuroanesthesia: awake craniotomy, intraoperative magnetic resonance imaging, and interventional neuroradiology. Anesthesiol Clin 32:83–100. https://doi.org/10.1016/j.anclin.2013.10.009

15.

Ojemann SG, Berger MS, Lettich E, Ojemann GA (2003) Localization of language function in children: results of electrical stimulation mapping. J Neurosurg 98:465–470. https://doi.org/10.3171/jns.2003.98.3.0465

16.

Riquin E, Dinomais M, Malka J, Lehousse T, Duverger P, Menei P, Delion M (2017) Psychiatric and psychological impact of surgery while awake in children for resection of brain tumors. World Neurosurg. https://doi.org/10.1016/j.wneu.2017.03.017

17.

Air EL, Ostrem JL, Sanger TD, Starr PA (2011) Deep brain stimulation in children: experience and technical pearls. J Neurosurg Pediatr 8:566–574. https://doi.org/10.3171/2011.8.peds11153

18.

Akay A, Ruksen M, Cetin HY, Seval HO, Islekel S (2016) Pediatric awake craniotomy for brain lesions. Pediatr Neurosurg 51:103–108. https://doi.org/10.1159/000442988

19.

Ard J, Doyle W, Bekker A (2003) Awake craniotomy with dexmedetomidine in pediatric patients. J Neurosurg Anesthesiol 15:263–266

20.

Balogun JA, Khan OH, Taylor M, Dirks P, Der T, Carter Snead Iii O, Weiss S, Ochi A, Drake J, Rutka JT (2014) Pediatric awake craniotomy and intra-operative stimulation mapping. J Clin Neurosci: official journal of the Neurosurgical Society of Australasia 21:1891–1894. https://doi.org/10.1016/j.jocn.2014.07.013

21.

Delion M, Terminassian A, Lehousse T, Aubin G, Malka J, N'Guyen S, Mercier P, Menei P (2015) Specificities of awake craniotomy and brain mapping in children for resection of supratentorial tumors in the language area. World Neurosurg 84:1645–1652. https://doi.org/10.1016/j.wneu.2015.06.073

22.

Klimek M, Verbrugge SJ, Roubos S, van der Most E, Vincent AJ, Klein J (2004) Awake craniotomy for glioblastoma in a 9-year-old child. Anaesthesia 59:607–609. https://doi.org/10.1111/j.1365-2044.2004.03675.x

23.

Riquin E, Martin P, Duverger P, Menei P, Delion M (2017) A case of awake craniotomy surgery in an 8-year-old girl. Child's nervous Syst: ChNS: official journal of the International Society for Pediatric Neurosurgery 33:1039–1042. https://doi.org/10.1007/s00381-017-3463-5

24.

Sheshadri V, Chandramouli BA (2016) Pediatric awake craniotomy for seizure focus resection with dexmedetomidine sedation-a case report. J Clin Anesth 32:199–202. https://doi.org/10.1016/j.jclinane.2016.03.009

25.

Soriano SG, Eldredge EA, Wang FK, Kull L, Madsen JR, Black PM, Riviello JJ, Rockoff MA (2000) The effect of propofol on intraoperative electrocorticography and cortical stimulation during awake craniotomies in children. Paediatr Anaesth 10:29–34

26.

Hagberg CA, Gollas A, Berry JM (2004) The laryngeal mask airway for awake craniotomy in the pediatric patient: report of three cases. J Clin Anesth 16:43–47. https://doi.org/10.1016/j.jclinane.2003.02.011

27.

Ojemann G, Ojemann J, Lettich E, Berger M (1989) Cortical language localization in left, dominant hemisphere. An electrical stimulation mapping investigation in 117 patients. J Neurosurg 71:316–326. https://doi.org/10.3171/jns.1989.71.3.0316

28.

Kombos T, Suess O, Kern BC, Funk T, Hoell T, Kopetsch O, Brock M (1999) Comparison between monopolar and bipolar electrical stimulation of the motor cortex. Acta Neurochir 141:1295–1301

29.

Duffau H (2018) Is non-awake surgery for supratentorial adult low-grade glioma treatment still feasible? Neurosurg Rev 41:133–139. https://doi.org/10.1007/s10143-017-0918-9

30.

Huguet L, Lohkamp LN, Beuriat PA, Desmurget M, Bapteste L, Szathmari A, Mottolese C, Di Rocco F (2019) Psychological aspects of awake brain surgery in children-interests and risks. Child's Nervous Syst: ChNS: official journal of the International Society for Pediatric Neurosurgery 36:273–279. https://doi.org/10.1007/s00381-019-04308-8

31.

Pasquet A (1954) Combined regional and general anesthesia for craniotomy and cortical exploration. II. Anesthetic considerations. Current researches in anesthesia & analgesia 33: 156–164

32.

Berger MS (1996) The impact of technical adjuncts in the surgical management of cerebral hemispheric low-grade gliomas of childhood. J Neuro-Oncol 28:129–155

33.

So EL, Alwaki A (2018) A guide for cortical electrical stimulation mapping. J Clin Neurophysiol: official publication of the American Electroencephalographic Society 35:98–105. https://doi.org/10.1097/wnp.0000000000000435

34.

Szelenyi A, Bello L, Duffau H, Fava E, Feigl GC, Galanda M, Neuloh G, Signorelli F, Sala F (2010) Intraoperative electrical stimulation in awake craniotomy: methodological aspects of current practice. Neurosurg Focus 28:E7. https://doi.org/10.3171/2009.12.focus09237

35.

Duffau H (2005) Intraoperative cortico-subcortical stimulations in surgery of low-grade gliomas. Expert Rev Neurother 5:473–485. https://doi.org/10.1586/14737175.5.4.473
Ethics declarations
Conflict of interest
There are no conflicts of interest or any financial disclosures requiring declaration with respect to this study or its publication.
Additional information
Publisher's note
Springer Nature remains neutral with regard to jurisdictional claims in published maps and institutional affiliations.
About this article
Cite this article
Lohkamp, L., Beuriat, P., Desmurget, M. et al. Awake brain surgery in children—a single-center experience. Childs Nerv Syst (2020). https://doi.org/10.1007/s00381-020-04522-9
Received:

Accepted:

Published:
Keywords
Awake surgery

Neurosurgery

Children

Pediatric

Neuropsychology

Outcome