Abstract
Introduction
Arteriovenous malformations (AVMs) are a common cause of intracranial hemorrhage in children, which can result in elevated intracranial pressure (ICP) and cerebral edema. We sought to explore the role of initial decompressive craniectomy at time of rupture, followed by interval surgical AVM resection, compared to treatment with initial resection, in clinical outcomes and recovery in children.
Methods
A retrospective chart review was conducted examining patients age 0–18 with AVM rupture between 2005 and 2018 who underwent resection for ruptured AVM either initially at presentation or underwent initial decompressive craniectomy followed by interval AVM resection. Clinical, radiographic, surgical, and outcome data were examined. Primary outcomes measured included functional status, AVM obliteration rate, AVM recurrence/residual, and re-hemorrhage.
Results
Thirty-six cases were included; 28 (77.8%) underwent initial AVM resection, and 7 (19.4%) underwent initial decompressive craniectomy with interval resection. The mean time between craniectomy and resection was 66.9 days (SD 59.3). Patients undergoing initial decompressive craniectomy with interval resection were younger (mean age 6.1 vs. 9.8 years, p = 0.05) and had a higher mean hematoma volume (52.9 vs. 22.2 mL, p = 0.01), mean midline shift (5.1 vs. 2.1 mm, p = 0.01), and presence of cisternal effacement (p = 0.01). There were no statistically significant associations between surgical strategy and postoperative outcomes, including complications, radiographic outcomes, complete resection, residual, recurrence, and functional outcomes. Those treated by initial craniectomy followed by interval resection were associated with undergoing additional procedures.
Conclusions
Children presenting with AVM rupture who require emergent decompression may safely undergo emergent craniectomy with interval AVM resection and cranioplasty without additional risk of morbidity or mortality. This is reasonable in those with elevated intracranial pressure. This strategy may provide time for initial recovery and allow for natural degradation of the hematoma enhancing the plane for interval AVM resection, perhaps improving outcomes.
This is a preview of subscription content, log in to check access.
Access options
Buy single article
Instant unlimited access to the full article PDF.
US$ 39.95
Price includes VAT for USA
Subscribe to journal
Immediate online access to all issues from 2019. Subscription will auto renew annually.
US$ 199
This is the net price. Taxes to be calculated in checkout.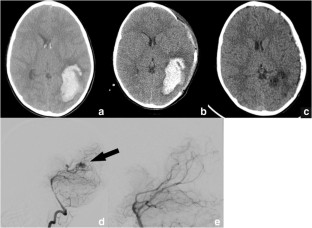 Abbreviations
AVM:

Arteriovenous malformation

ICH:

Intracranial hemorrhage

GCS:

Glasgow Coma Scale

ICP:

Intracranial pressure
References
1.

Ahn JH, Phi JH, Kang H-S, Wang KC, Cho BK, Lee JY, Kim GB, Kim SK (2010) A ruptured middle cerebral artery aneurysm in a 13-month-old boy with Kawasaki disease. J Neurosurg Pediatr. 6(2):150–153. https://doi.org/10.3171/2010.5.PEDS1012

2.

Ali A, Basaran B, Yornuk M, Altun D, Aydoseli A, Sencer A, Akinci IO (2013) Factors influencing blood loss and postoperative morbidity in children undergoing craniosynostosis surgery: a retrospective study. Pediatr Neurosurg 49(6):339–346. https://doi.org/10.1159/000368781

3.

Anderson RCE, McDowell MM, Kellner CP, Appelboom G, Bruce SS, Kotchetkov IS, Haque R, Feldstein NA, Connolly ES, Solomon RA, Meyers PM, Lavine SD (2012) Arteriovenous malformation-associated aneurysms in the pediatric population. J Neurosurg Pediatr 9(1):11–16. https://doi.org/10.3171/2011.10.PEDS11181

4.

Barone DG, Marcus HJ, Guilfoyle MR, Higgins JNP, Antoun N, Santarius T, Trivedi RA, Kirollos RW (2017) Clinical experience and results of microsurgical resection of Arterioveonous malformation in the presence of space-occupying Intracerebral hematoma. Neurosurgery. 81(1):75–86. https://doi.org/10.1093/neuros/nyx003

5.

Beecher JS, Lyon K, Ban VS et al (2018) Delayed treatment of ruptured brain AVMs: is it ok to wait? J Neurosurg 128(4):999–1005. https://doi.org/10.3171/2017.1.JNS16745

6.

Dorfer C, Czech T, Bavinzski G, Kitz K, Mert A, Knosp E, Gruber A (2010) Multimodality treatment of cerebral AVMs in children: a single-Centre 20 years experience. Childs Nerv Syst 26(5):681–687. https://doi.org/10.1007/s00381-009-1039-8

7.

Freeman WD (2015) Management of intracranial pressure. Contin Minneap Minn 21(5 Neurocritical Care):1299–1323. https://doi.org/10.1212/CON.0000000000000235

8.

Hoh BL, Ogilvy CS, Butler WE, Loeffler JS, Putman CM, Chapman PH (2000) Multimodality treatment of Nongalenic Arteriovenous malformations in pediatric patients. Neurosurgery. 47(2):346–358. https://doi.org/10.1097/00006123-200008000-00015

9.

Kurokawa T, Matsuzaki A, Hasuo K, Fukui M, Tomita S, Matsuo M, Chen YJ, Kasemkosolsri C (1985) Cerebral arteriovenous malformations in children. Brain and Development 7(4):408–413. https://doi.org/10.1016/S0387-7604(85)80138-8

10.

Ma L, Chen X-L, Chen Y, Wu C-X, Ma J, Zhao Y-L (2017) Subsequent haemorrhage in children with untreated brain arteriovenous malformation: higher risk with unbalanced inflow and outflow angioarchitecture. Eur Radiol 27(7):2868–2876. https://doi.org/10.1007/s00330-016-4645-3

11.

Meyer PG, Orliaguet GA, Zerah M, Charron B, Jarreau MM, Brunelle F, Laurent-Vannier A, Carli PA (2000) Emergency management of deeply comatose children with acute rupture of cerebral arteriovenous malformations. Can J Anaesth J Can Anesth 47(8):758–766. https://doi.org/10.1007/BF03019478

12.

Pellettieri L, Svendsen P, Wikholm G, Carlsson CA (1997) Hidden compartments in AVMs--a new concept. Acta Radiol Stockh Swed 1987 38(1):2–7

13.

Ranger A, Szymczak A, Fraser D, Salvadori M, Jardine L (2009) Bilateral decompressive craniectomy for refractory intracranial hypertension in a child with severe ITP-related intracerebral haemorrhage. Pediatr Neurosurg 45(5):390–395. https://doi.org/10.1159/000260910

14.

Shtaya A, Millar J, Sparrow O (2017) Multimodality management and outcomes of brain arterio-venous malformations (AVMs) in children: personal experience and review of the literature, with specific emphasis on age at first AVM bleed. Childs Nerv Syst 33(4):573–581. https://doi.org/10.1007/s00381-017-3383-4

15.

Sorenson TJ, Brinjikji W, Bortolotti C, Kaufmann G, Lanzino G (2018) Recurrent brain Arteriovenous malformations (AVMs): a systematic review. World Neurosurg 116:e856–e866. https://doi.org/10.1016/j.wneu.2018.05.117

16.

Stein K-P, Huetter B-O, Goericke S, Oezkan N, Leyrer R, Sandalcioglu IE, Forsting M, Sure U, Mueller O (2018) Cerebral arterio-venous malformations in the paediatric population: angiographic characteristics, multimodal treatment strategies and outcome. Clin Neurol Neurosurg 164:164–168. https://doi.org/10.1016/j.clineuro.2017.12.006

17.

Tucker EW, Jain SK, Mahesh M (2017) Balancing the risks of radiation and anesthesia in pediatric patients. J Am Coll Radiol 14(11):1459–1461. https://doi.org/10.1016/j.jacr.2017.06.014

18.

Weil AG, Li S, Zhao J-Z (2011) Recurrence of a cerebral arteriovenous malformation following complete surgical resection: a case report and review of the literature. Surg Neurol Int 2. https://doi.org/10.4103/2152-7806.90692

19.

Zhang Q, Peng Y, Wang Y (2017) Long-duration general anesthesia influences the intelligence of school age children. BMC Anesthesiol 17(1):170. https://doi.org/10.1186/s12871-017-0462-8
Ethics declarations
Conflict of interest
On behalf of all authors, the corresponding author declares that no conflict of interest exists.
The authors have no conflicts of interest to disclose.
No part of this work has been previously published.
Additional information
Publisher's note
Springer Nature remains neutral with regard to jurisdictional claims in published maps and institutional affiliations.
About this article
Cite this article
LoPresti, M.A., Goethe, E.A. & Lam, S. Surgical strategies for management of pediatric arteriovenous malformation rupture: the role of initial decompressive craniectomy. Childs Nerv Syst (2020). https://doi.org/10.1007/s00381-020-04501-0
Received:

Accepted:

Published:
Keywords
Pediatric arteriovenous malformation

Arteriovenous malformation rupture

Decompressive craniectomy

Arteriovenous malformation resection