Abstract
Pediatric low-grade gliomas (LGGs) are found in approximately 1–3% of patients with childhood epilepsy that is often medically refractory. Magnetic resonance guided laser interstitial thermal therapy (MRgLITT) is a minimal access technique FDA-approved since 2007 to ablate soft tissue lesions including brain tumors and seizure foci in children. The authors describe the case of an 11-year-old boy who presented with focal right-sided seizures and was found to have a growing left insular mass determined to be a WHO grade II diffuse astrocytoma. After the initial open resection using frontotemporal craniotomy with transsylvian approach, gross total resection was achieved; however, the tumor recurred, as did the seizures. Six months postoperatively, the patient underwent laser ablation with MRgLITT for the recurrent tumor with complete removal. At both 1- and 6-months post re-operation, he has remained seizure free. MRgLITT management of LGG allows for both successfully reducing tumor burden and the amelioration of secondary seizures.
This is a preview of subscription content, log in to check access.
Access options
Buy single article
Instant unlimited access to the full article PDF.
US$ 39.95
Price includes VAT for USA
Subscribe to journal
Immediate online access to all issues from 2019. Subscription will auto renew annually.
US$ 199
This is the net price. Taxes to be calculated in checkout.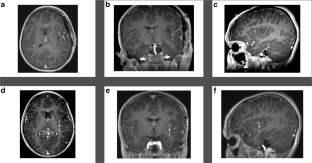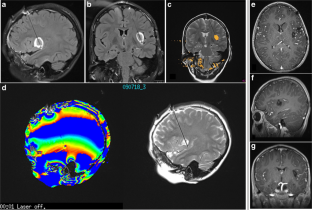 References
1.

Ashraf O, Patel NV, Hanft S, Danish SF (2018) Laser-induced thermal therapy in neuro-oncology: a review. World Neurosurg 112:166–177

2.

Barnett GH, Voigt JD, Alhuwalia MS (2016) A systematic review and meta-analysis of studies examining the use of brain laser interstitial thermal therapy versus craniotomy for the treatment of high-grade tumors in or near areas of eloquence: an examination of the extent of resection and major complication rates associated with each type of surgery. Stereotact Funct Neurosurg 94(3):164–173

3.

Curry DJ, Gowda A, McNichols R, Wilfong AA (2012) MR-guided stereotactic laser ablation of epileptogenic foci in children. Epilepsy Behav 24(4):408–414

4.

Englot DJ, Berger MS, Barbaro NM, Chang EF (2011) Predictors of seizure freedom after resection of supratentorial low-grade gliomas. A review. J Neurosurg 115(2):240–244

5.

Fayed I, Sacino MF, Gaillard WD, Keating RF, Oluigbo CO (2018) MR-guided laser interstitial thermal therapy for medically refractory lesional epilepsy in pediatric patients: experience and outcomes. Pediatr Neurosurg 53(5):322–329

6.

Kerkhof M, Vecht CJ (2013) Seizure characteristics and prognostic factors of gliomas. Epilepsia 54(Suppl 9):12–17

7.

Medvid R, Ruiz A, Komotar RJ, Jagid JR, Ivan ME, Quencer RM, Desai MB (2015) Current applications of MRI-guided laser interstitial thermal therapy in the treatment of brain neoplasms and epilepsy: a radiologic and neurosurgical overview. AJNR Am J Neuroradiol 36(11):1998–2006

8.

Perry MS, Donahue DJ, Malik SI, Keator CG, Hernandez A, Reddy RK, Perkins FF, Lee MR, Clarke DF (2017) Magnetic resonance imaging-guided laser interstitial thermal therapy as treatment for intractable insular epilepsy in children. J Neurosurg Pediatr 20(6):575–582

9.

Rahmathulla G, Recinos PF, Kamian K, Mohammadi AM, Ahluwalia MS, Barnett GH (2014) MRI-guided laser interstitial thermal therapy in neuro-oncology: a review of its current clinical applications. Oncology 87(2):67–82

10.

Sanai N, Polley MY, Berger MS (2010) Insular glioma resection: assessment of patient morbidity, survival, and tumor progression. J Neurosurg 112(1):1–9

11.

Sievert AJ, Fisher MJ (2009) Pediatric low-grade gliomas. J Child Neurol 24(11):1397–1408

12.

Tovar-Spinoza Z, Choi H (2016) Magnetic resonance-guided laser interstitial thermal therapy: report of a series of pediatric brain tumors. J Neurosurg Pediatr 17(6):723–733

13.

Ullrich NJ (2009) Neurologic sequelae of brain tumors in children. J Child Neurol 24(11):1446–1454

14.

Wells EM, Gaillard WD, Packer RJ (2012) Pediatric brain tumors and epilepsy. Semin Pediatr Neurol 19(1):3–8
Ethics declarations
Conflict of interest
The author's have no conflicts of interest.
Additional information
Publisher's note
Springer Nature remains neutral with regard to jurisdictional claims in published maps and institutional affiliations.
About this article
Cite this article
Easwaran, T., Lion, A., Vortmeyer, A. et al. Seizure freedom from recurrent insular low-grade glioma following laser interstitial thermal therapy. Childs Nerv Syst (2020). https://doi.org/10.1007/s00381-019-04493-6
Received:

Accepted:

Published:
Keywords
Seizures

MRGLITT

Low-grade glioma

Pediatric