Abstract
Purpose
The diagnosis of diffuse intrinsic pontine glioma (DIPG) is based largely on a combination of clinical and radiological findings due to the difficulty of obtaining a biopsy. An accurate evaluation of magnetic resonance imaging (MRI) scans is consequently essential. Recent analyses on the genomic landscape of DIPG revealed recurrent mutations in the H3F3A and HIST1H3B histone genes. We reviewed cases with available tumor tissue from institutional DIPG series to ascertain the consistency between their histo-molecular findings and clinical-radiological features.
Methods
We conducted a radiological and pathological central review of 22 cases enrolled in institutional DIPG trials. We performed immunohistochemical analyses to detect H3F3A/HIST1H3B K27M mutations, histone trimethylation, and EZH2 expression. Mutational analysis was performed for ACVR1, H3F3A, and HIST1H3B genes.
Results
Patients' median age at diagnosis was 8 years, and their median overall survival was 11 months. Nineteen/22 cases (86%) showed evidence of K27M mutation on immunohistochemistry and/or mutation analysis. Histone trimethylation expression was low or lacking in these mutated cases. Sequence analysis revealed 13 cases with H3F3A and 1 case with HIST1H3B K27M mutation. There was no significant difference in EZH2 expression between the K27M mutant and wild-type DIPGs. Upon external, blinded MRI re-evaluation one lesion not consistent with DIPG showed no evidence of K27M mutation and retained histone trimethylation expression.
Conclusion
In conclusion, our study demonstrates a high frequency of histone K27M mutations in DIPG when MRI features are carefully assessed, thus confirming the consistency of imaging with biological markers in our institutional series of DIPG.
This is a preview of subscription content, log in to check access.
Access options
Buy single article
Instant access to the full article PDF.
US$ 39.95
Price includes VAT for USA
Subscribe to journal
Immediate online access to all issues from 2019. Subscription will auto renew annually.
US$ 199
This is the net price. Taxes to be calculated in checkout.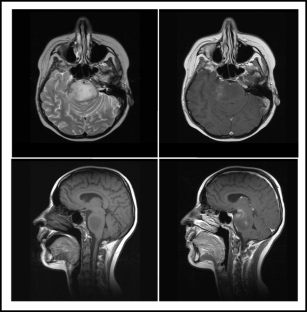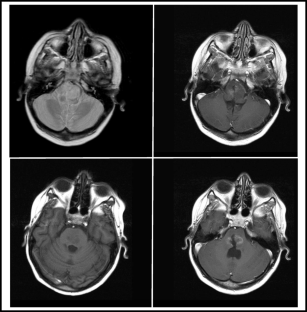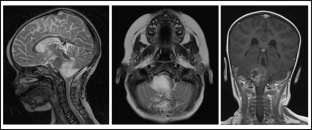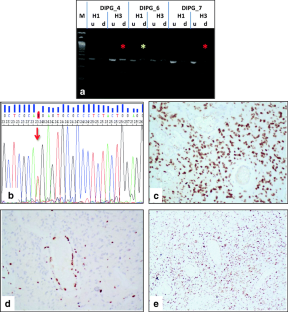 References
1.

Hoffmann LM, van Veldhuijzen Zanten SEM, Colditz N, Baugh J, Chaney B, Hoffmann M, Lane A, Fuller C, Miles L, Hawkins C, Bartels U, Bouffet E, Goldman S, Leary S, Foreman NK, Packer R, Warren KE, Broniscer A, Kieran MW, Minturn J, Comito M, Broxson E, Shih CS, Khatua S, Chintagumpala M, Carret AS, Escorza NY, Hassall T, Ziegler DS, Gottardo N, Dholaria H, Doughman R, Benesch M, Drissi R, Nazarian J, Jabado N, Boddaert N, Varlet P, Giraud G, Castel D, Puget S, Jones C, Hulleman E, Modena P, Giagnacovo M, Antonelli M, Pietsch T, Gielen GH, DTW J, Sturm D, Pfister SM, Gerber NU, Grotzer MA, Pfaff E, von Bueren AO, Hargrave D, Solanki GA, Jadrijevic Cvrlje F, GJL K, Vandertop WP, Grill J, Bailey S, Biassoni V, Massimino M, Calmon R, Sanchez E, Bison B, Warmuth-Metz M, Leach J, Jones B, van Vuurden DG, Kramm CM, Fouladi M (2018) Clinical, radiologic, pathologic, and molecular characteristics of long-term survivors of diffuse intrinsic pontine glioma (DIPG): a collaborative report from the International and European Society for Pediatric Oncology DIPG Registries. J Clin Oncol 36:1963–1972

2.

Donaldson SS, Laningham F, Fisher PG (2006) Advances toward an understanding of brainstem gliomas. J Clin Oncol 24:1266–1272

3.

Wu G, Broniscer A, McEachron TA, Lu C, Paugh BS, Becksfort J, Qu C, Ding L, Huether R, Parker M, Zhang J, Gajjar A, Dyer MA, Mullighan CG, Gilbertson RJ, Mardis ER, Wilson RK, Downing JR, Ellison DW, Zhang J, Baker SJ (2012) Somatic histone H3 alterations in pediatric diffuse intrinsic pontine gliomas and non-brainstem glioblastomas. Nat Genet 44:251–253

4.

Gianno F, Antonelli M, Ferretti E, Massimino M, Arcella A, Giangaspero F (2018) Pediatric high-grade glioma: a heterogeneous group of neoplasms with different molecular drivers. Glioma 1:117–124

5.

Taylor KR, Mackay A, Truffaux N, Butterfield Y, Morozova O, Philippe C, Castel D, Grasso CS, Vinci M, Carvalho D, Carcaboso AM, de Torres C, Cruz O, Mora J, Entz-Werle N, Ingram WJ, Monje M, Hargrave D, Bullock AN, Puget S, Yip S, Jones C, Grill J (2014) Recurrent activating ACVR1 mutations in diffuse intrinsic pontine glioma. Nat Genet 46:457–461

6.

Louis DN, Perry A, Reifenberger G, von Deimling A, Figarella-Branger D, Cavenee WK, Ohgaki H, Wiestler OD, Kleihues P, Ellison DW (2016) The 2016 World Health Organization Classification of Tumors of the Central Nervous System: a summary. Acta Neuropathol 131:803–820

7.

Schwartzentruber J, Korshunov A, Liu XY, Jones DT, Pfaff E, Jacob K, Sturm D, Fontebasso AM, Quang DA, Tönjes M, Hovestadt V, Albrecht S, Kool M, Nantel A, Konermann C, Lindroth A, Jäger N, Rausch T, Ryzhova M, Korbel JO, Hielscher T, Hauser P, Garami M, Klekner A, Bognar L, Ebinger M, Schuhmann MU, Scheurlen W, Pekrun A, Frühwald MC, Roggendorf W, Kramm C, Dürken M, Atkinson J, Lepage P, Montpetit A, Zakrzewska M, Zakrzewski K, Liberski PP, Dong Z, Siegel P, Kulozik AE, Zapatka M, Guha A, Malkin D, Felsberg J, Reifenberger G, von Deimling A, Ichimura K, Collins VP, Witt H, Milde T, Witt O, Zhang C, Castelo-Branco P, Lichter P, Faury D, Tabori U, Plass C, Majewski J, Pfister SM, Jabado N (2012) Driver mutations in histone H3.3 and chromatin remodelling genes in paediatric glioblastoma. Nature 482:226–231

8.

Shanmugam MK, Arfuso F, Arumugam S, Chinnathambi A, Jinsong B, Warrier S, Wang LZ, Kumar AP, Ahn KS, Sethi G, Lakshmanan M (2017) Role of novel histone modifications in cancer. Oncotarget 9:11414–11426

9.

Yuen BT, Knoepfler PS (2013) Histone H3.3 mutations: a variant path to cancer. Cancer Cell 24:567–574

10.

Deb G, Singh AK, Gupta S (2014) EZH2: not EZHY (easy) to deal. Mol Cancer Res 12:639–653

11.

Massimino M, Spreafico F, Biassoni V, Simonetti F, Riva D, Trecate G, Giombini S, Poggi G, Pecori E, Pignoli E, Casanova M, Ferrari A, Meazza C, Luksch R, Terenziani M, Cefalo G, Podda M, Polastri D, Clerici CA, Fossati-Bellani F, Gandola L (2008) Diffuse pontine gliomas in children: changing strategies, changing results? A mono-institutional 20-year experience. J Neuro-Oncol 87:355–361

12.

Massimino M, Biassoni V, Miceli R, Schiavello E, Warmuth-Metz M, Modena P, Casanova M, Pecori E, Giangaspero F, Antonelli M, Buttarelli FR, Potepan P, Pollo B, Nunziata R, Spreafico F, Podda M, Anichini A, Clerici CA, Sardi I, De Cecco L, Bode U, Bach F, Gandola L (2014) Results of nimotuzumab and vinorelbine, radiation and re-irradiation for diffuse pontine glioma in childhood. J Neuro-Oncol 118:305–312

13.

Hargrave D, Bartels U, Bouffet E (2006) Diffuse brainstem glioma in children: critical review of clinical trials. Lancet Oncol 7:241–248

14.

Fleischhack G, Massimino M, Warmuth-Metz M, Khuhlaeva E, Janssen G, Graf N, Rutkowski S, Beilken A, Schmid I, Biassoni V, Gorelishev SK, Kramm C, Reinhard H, Schlegel PG, Kortmann RD, Reuter D, Bach F, Iznaga-Escobar NE, Bode U (2019) Nimotuzumab and radiotherapy for treatment of newly diagnosed diffuse intrinsic pontine glioma (DIPG): a phase III clinical study. J Neuro-Oncol 143(1):107–113

15.

Janssens GO, Gandola L, Bolle S, Mandeville H, Ramos-Albiac M, van Beek K, Benghiat H, Hoeben B, Morales La Madrid A, Kortmann RD, Hargrave D, Menten J, Pecori E, Biassoni V, von Bueren AO, van Vuurden DG, Massimino M, Sturm D, Peters M, Kramm CM (2017) Survival benefit for patients with diffuse intrinsic pontine glioma (DIPG) undergoing re-irradiation at first progression: a matched-cohort analysis on behalf of the SIOP-E-HGG/DIPG working group. Eur J Cancer 73:38–47

16.

van Veldhuijzen Zanten SE, Baugh J, Chaney B, De Jongh D, Sanchez Aliaga E, Barkhof F, Noltes J, De Wolf R, Van Dijk J, Cannarozzo A, Damen-Korbijn CM, Lieverst JA, Colditz N, Hoffmann M, Warmuth-Metz M, Bison B, Jones DT, Sturm D, Gielen GH, Jones C, Hulleman E, Calmon R, Castel D, Varlet P, Giraud G, Slavc I, Van Gool S, Jacobs S, Jadrijevic-Cvrlje F, Sumerauer D, Nysom K, Pentikainen V, Kivivuori SM, Leblond P, Entz-Werle N, von Bueren AO, Kattamis A, Hargrave DR, Hauser P, Garami M, Thorarinsdottir HK, Pears J, Gandola L, Rutkauskiene G, Janssens GO, Torsvik IK, Perek-Polnik M, Gil-da-Costa MJ, Zheludkova O, Shats L, Deak L, Kitanovski L, Cruz O, Morales La Madrid A, Holm S, Gerber N, Kebudi R, Grundy R, Lopez-Aguilar E, Zapata-Tarres M, Emmerik J, Hayden T, Bailey S, Biassoni V, Massimino M, Grill J, Vandertop WP, Kaspers GJ, Fouladi M, Kramm CM, van Vuurden DG (2017) Development of the SIOPE DIPG network, registry and imaging repository: a collaborative effort to optimize research into a rare and lethal disease. J Neuro-Oncol 132:255–266

17.

Castel D, Philippe C, Calmon R, Le Dret L, Truffaux N, Boddaert N, Pagès M, Taylor KR, Saulnier P, Lacroix L, Mackay A, Jones C, Sainte-Rose C, Blauwblomme T, Andreiuolo F, Puget S, Grill J, Varlet P, Debily MA (2015) Histone H3F3A and HIST1H3B K27 M mutations define two subgroups of diffuse intrinsic pontine gliomas with different prognosis and phenotypes. Acta Neuropathol. 130(6):815–827

18.

Lober RM, Cho YJ, Tang Y, Barnes PD, Edwards MS, Vogel H, Fisher PG, Monje M, Yeom KW (2014) Diffusion-weighted MRI derived apparent diffusion coefficient identifies prognostically distinct subgroups of pediatric diffuse intrinsic pontine glioma. J Neuro-Oncol 117(1):175–182
Acknowledgments
We gratefully acknowledge the unrestricted support by the following charities: Associazione Bianca Garavaglia Onlus (Busto Arsizio, I), Il Fondo di Giò (Trieste, I), Gli amici di Carola (Erba, I), Chicca Il Sole esiste per tutti (Pioltello, I), Eleonora Cocchia Vivere a Colori (Lonate Ceppino, I), and AIRC (associazione Italiana per la Ricerca sul Cancro).
Ethics declarations
Conflict of interest
The authors declare that they have no conflict of interest.
Informed consent
All procedures performed were in accordance with the ethical standards of the institutional and national research committee and with the 1964 Helsinki declaration and its later amendments or comparable ethical standards. Informed consent was obtained from all individual participants/legal representative included in the study.
Additional information
Publisher's note
Springer Nature remains neutral with regard to jurisdictional claims in published maps and institutional affiliations.
About this article
Cite this article
Giagnacovo, M., Antonelli, M., Biassoni, V. et al. Retrospective analysis on the consistency of MRI features with histological and molecular markers in diffuse intrinsic pontine glioma (DIPG). Childs Nerv Syst (2019). https://doi.org/10.1007/s00381-019-04463-y
Received:

Accepted:

Published:
Keywords