Abstract
Purpose
Brainstem lesions comprise 10–20% of all pediatric brain tumors. Over the past years, the benefits of stereotactic biopsy versus the use alone of MRI features to guide treatment have been controversial.
Methods
Retrospective study with pediatric patients submitted to stereotactic brainstem biopsies between 2008 and 2018. Demographic, clinical, imaging, and surgical characteristics were recorded, as well as the histological diagnosis, complications, and survival. Predictors of survival were evaluated through Cox regression models after multivariate adjustment.
Results
Twenty-six patients (mean age of 8.8 ± 4.3 years and 14 female). Diagnosis was reached on 84.6% (95% CI 65.1–95.6%) of the patients. Glioma was diagnosed on 20 cases (11 high-grade and 9 low-grade lesions). There was no association between age and gender and the dichotomized histological diagnosis. Contrast enhancement, diffuse distribution, invasion of adjacent structures, and remote injury were present on 62.5%, 75.0%, 62.5%, and 25.0% of the cases. Hydrocephalus at admission was present on almost half of the patients (46.2%). Only radiological invasion of adjacent structures had a possible association with high-grade lesions (p = 0.057). Surgical trajectory was trans-cerebellar in most of the cases (79.9%). There were no major complications and only two minor/transitory complications. Poorer survival was independently associated with high-grade lesions (HR 32.14, 95% CI 1.40–735.98, p = 0.030) and contrast enhancement at MRI (HR 36.54, 95% CI 1.40–952.26, p = 0.031).
Conclusions
Stereotactic biopsy was safe and allows successful tissue sampling for a definite diagnosis. Poorer survival was independently associated with high-grade and contrast-enhancing lesions.
This is a preview of subscription content, log in to check access.
Access options
Buy single article
Instant access to the full article PDF.
US$ 39.95
Price includes VAT for USA
Subscribe to journal
Immediate online access to all issues from 2019. Subscription will auto renew annually.
US$ 199
This is the net price. Taxes to be calculated in checkout.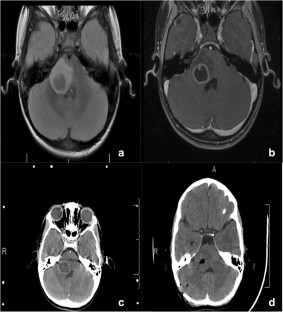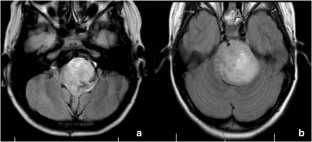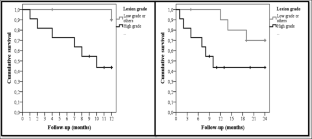 References
1.

Albright AL, Packer RJ, Zimmerman R et al (1993) Magnetic resonance scans should replace biopsies for the diagnosis of diffuse brain stem gliomas: a report from the Children's Cancer Group Current Perspective. Neurosurgery 33:1026–1030

2.

Buczkowicz P, Hoeman C, Rakopoulos P, Pajovic S, Letourneau L, Dzamba M, Morrison A, Lewis P, Bouffet E, Bartels U, Zuccaro J, Agnihotri S, Ryall S, Barszczyk M, Chornenkyy Y, Bourgey M, Bourque G, Montpetit A, Cordero F, Castelo-Branco P, Mangerel J, Tabori U, Ho KC, Huang A, Taylor KR, Mackay A, Bendel AE, Nazarian J, Fangusaro JR, Karajannis MA, Zagzag D, Foreman NK, Donson A, Hegert JV, Smith A, Chan J, Lafay-Cousin L, Dunn S, Hukin J, Dunham C, Scheinemann K, Michaud J, Zelcer S, Ramsay D, Cain J, Brennan C, Souweidane MM, Jones C, Allis CD, Brudno M, Becher O, Hawkins C (2014) Genomic analysis of diffuse intrinsic pontine gliomas identifies three molecular subgroups and recurrent activating ACVR1 mutations. Nat Genet 46:451–456. https://doi.org/10.1038/ng.2936

3.

Buczkowicz P, Bartels U, Bouffet E, Becher O, Hawkins C (2014) Histopathological spectrum of paediatric diffuse intrinsic pontine glioma: diagnostic and therapeutic implications. Acta Neuropathol 128:573–581. https://doi.org/10.1007/s00401-014-1319-6

4.

Castel D, Philippe C, Calmon R, le Dret L, Truffaux N, Boddaert N, Pagès M, Taylor KR, Saulnier P, Lacroix L, Mackay A, Jones C, Sainte-Rose C, Blauwblomme T, Andreiuolo F, Puget S, Grill J, Varlet P, Debily MA (2015) Histone H3F3A and HIST1H3B K27M mutations define two subgroups of diffuse intrinsic pontine gliomas with different prognosis and phenotypes. Acta Neuropathol 130:815–827. https://doi.org/10.1007/s00401-015-1478-0

5.

Dellaretti M, Touzet G, Reyns N, Dubois F, Gusmão S, Pereira JL, Blond S (2011) Correlation among magnetic resonance imaging findings, prognostic factors for survival, and histological diagnosis of intrinsic brainstem lesions in children. J Neurosurg Pediatr 8:539–543. https://doi.org/10.3171/2011.9.PEDS1167

6.

Epstein F, McCleary EL (1986) Intrinsic brain-stem tumors of childhood: surgical indications. J Neurosurg 64:11–15. https://doi.org/10.3171/jns.1986.64.1.0011

7.

Furlanetti LL, Monaco BA, Cordeiro JG, Lopez WO, Trippel M (2015) Frame-based stereotactic neurosurgery in children under the age of seven: Freiburg University's experience from 99 consecutive cases. Clin Neurol Neurosurg 130:42–47. https://doi.org/10.1016/j.clineuro.2014.12.011

8.

Gleason CA, Wise BL, Feinstein B (1978) Stereotactic localization (with computerized tomographic scanning), biopsy, and radiofrequency treatment of deep brain lesions. Neurosurgery 2:217–222

9.

Hamisch C, Kickingereder P, Fischer M, Simon T, Ruge MI (2017) Update on the diagnostic value and safety of stereotactic biopsy for pediatric brainstem tumors: a systematic review and meta-analysis of 735 cases. J Neurosurg Pediatr 20:261–268. https://doi.org/10.3171/2017.2.PEDS1665

10.

Hankinson TC, Elizabeth JC, Foreman NK, Handler MH (2011) Interpretation of magnetic resonance images in diffuse intrinsic pontine glioma: a survey of pediatric neurosurgeons. J Neurosurg Pediatr 8:97–102. https://doi.org/10.3171/2011.4.PEDS1180

11.

Hennika T, Becher O (2016) Diffuse intrinsic pontine glioma: time for cautious optimism. J Child Neurol 31:1377–1385

12.

Jallo GI (2006) Brainstem Gliomas. Childs Nerv Syst 22:1–2. https://doi.org/10.1007/978-3-319-30789-3_3

13.

Pierre-Aurélien B, Alexandru S, Federico DR et al (2016) Diffuse intrinsic pontine glioma in children: document or treat? World Neurosurg 93:485–485. https://doi.org/10.1016/j.wneu.2016.07.011

14.

Poussaint TY, Kocak M, Vajapeyam S, Packer RI, Robertson RL, Geyer R, Haas-Kogan D, Pollack IF, Vezina G, Zimmerman R, Cha S, Patay Z, Boyett JM, Kun LE (2011) MRI as a central component of clinical trials analysis in brainstem glioma: a report from the Pediatric Brain Tumor Consortium (PBTC). Neuro-Oncology 13:417–427. https://doi.org/10.1093/neuonc/noq200

15.

Puget S, Beccaria K, Blauwblomme T, Roujeau T, James S, Grill J, Zerah M, Varlet P, Sainte-Rose C (2015) Biopsy in a series of 130 pediatric diffuse intrinsic pontine gliomas. Childs Nerv Syst 31:1773–1780. https://doi.org/10.1007/s00381-015-2832-1

16.

Schumacher M, Schulte-Mönting J, Stoeter P, Warmuth-Metz M, Solymosi L (2007) Magnetic resonance imaging compared with biopsy in the diagnosis of brainstem diseases of childhood: a multicenter review. J Neurosurg 106:111–119

17.

Stroink AR, Hoffman HJ, Hendrick EB, Humphreys RP (1986) Diagnosis and management of pediatric brain-stem gliomas. J Neurosurg 65:745–750. https://doi.org/10.3171/jns.1986.65.6.0745

18.

Taylor KR, Mackay A, Truffaux N et al (2014) Recurrent activating ACVR1 mutations in diffuse intrinsic pontine glioma. Nat Genet 46:457–461. https://doi.org/10.1038/ng.2925
Ethics declarations
Conflict of interest
The authors declare that they have no conflict of interest.
Additional information
Publisher's note
Springer Nature remains neutral with regard to jurisdictional claims in published maps and institutional affiliations.
About this article
Cite this article
Morais, B.A., Solla, D.J.F., Matushita, H. et al. Pediatric intrinsic brainstem lesions: clinical, imaging, histological characterization, and predictors of survival. Childs Nerv Syst (2019). https://doi.org/10.1007/s00381-019-04453-0
Received:

Accepted:

Published:
Keywords
Stereotactic biopsy

Brainstem

Children

Histopathological diagnosis

Survival