Abstract
Introduction
Diffuse intrinsic pontine glioma (DIPG) is a type of brain malignancy with a very poor prognosis. Although various radiation and chemotherapy protocols have been attempted, only conventional radiotherapy has yielded improvements in survival. In this study, we aimed to compare proton therapy versus conventional photon radiotherapy in terms of the outcomes of pediatric patients with DIPG.
Methods
This retrospective review included 12 pediatric patients with newly diagnosed DIPG who received a total proton therapy dose of 54 Gy (relative biological effectiveness) in 30 fractions at the University of Tsukuba Hospital between 2011 and 2017 (proton group). We additionally reviewed the medical records of 10 patients with DIPG who previously underwent conventional photon radiotherapy at our institute (historical cohort).
Results
The median progression-free survival (PFS) duration was 5 months (range 1–11 months), and the 6-, 12-, and 18-month PFS rates were 50%, 33%, and 25%, respectively. The median overall survival (OS) duration was 9 months (range 4–48 months), and the 6-, 12-, 18-, and 24-month OS rates were 66.8%, 50%, 41%, and 20%, respectively. There were no significant differences in survival between the proton and historical groups (PFS, p = 0.169 and OS, p = 0.16).
Conclusions
Proton therapy was well tolerated by the majority of patients. No severe adverse events, including radiation necrosis, were recorded. Proton therapy did not yield superior survival outcomes vs. conventional photon radiotherapy in patients with DIPG at our institution. Further research is needed to identify the factors associated with better survival in this population.
This is a preview of subscription content, log in to check access.
Access options
Buy single article
Instant unlimited access to the full article PDF.
US$ 39.95
Price includes VAT for USA
Subscribe to journal
Immediate online access to all issues from 2019. Subscription will auto renew annually.
US$ 199
This is the net price. Taxes to be calculated in checkout.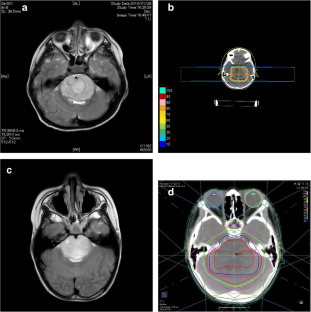 References
1.

Nakata K, Ito Y, Magadi W, Bonaventure A, Stiller CA, Katanoda K, Matsuda T, Miyashiro I, Pritchard-Jones K, Rachet B (2017) Childhood cancer incidence and survival in Japan and England: a population-based study (1993-2010). Cancer Sci 109:422–434. https://doi.org/10.1111/cas.13457

2.

Hargrave D, Bartels U, Bouffet E (2006) Diffuse brainstem glioma in children: critical review of clinical trials. Lancet Oncol 7:241–248. https://doi.org/10.1016/S1470-2045(06)70615-5

3.

Mizumoto M, Oshiro Y, Yamamoto T et al (2017) Proton beam therapy for pediatric brain tumor. Neurol Med Chir (Tokyo) 57:343–355. https://doi.org/10.2176/nmc.ra.2017-0003

4.

Allen J, Siffert J, Donahue B et al (1999) A phase I/II study of carboplatin combined with hyperfractionated radiotherapy for brainstem gliomas. Cancer 86:1064–1069

5.

Mandell LR, Kadota R, Freeman C et al (1999) There is no role for hyperfractionated radiotherapy in the management of children with newly diagnosed diffuse intrinsic brainstem tumors: results of a Pediatric Oncology Group phase III trial comparing conventional vs. hyperfractionated radiotherapy. Int J Radiat Oncol Biol Phys 43:959–964

6.

Jennings MT, Sposto R, Boyett JM et al (2002) Preradiation chemotherapy in primary high-risk brainstem tumors: phase II study CCG-9941 of the Children's Cancer Group. J Clin Oncol 20:3431–3437. https://doi.org/10.1200/JCO.2002.04.109

7.

Janssens GO, Jansen MH, Lauwers SJ et al (2013) Hypofractionation vs conventional radiation therapy for newly diagnosed diffuse intrinsic pontine glioma: a matched-cohort analysis. Int J Radiat Oncol Biol Phys 85:315–320. https://doi.org/10.1016/j.ijrobp.2012.04.006

8.

Zaghloul MS, Eldebawy E, Ahmed S, Mousa AG, Amin A, Refaat A, Zaky I, Elkhateeb N, Sabry M (2014) Hypofractionated conformal radiotherapy for pediatric diffuse intrinsic pontine glioma (DIPG): a randomized controlled trial. Radiother Oncol 111:35–40. https://doi.org/10.1016/j.radonc.2014.01.013

9.

Frappaz D, Schell M, Thiesse P, Marec-Bérard P, Mottolese C, Perol D, Bergeron C, Philip T, Ricci AC, Galand-Desme S, Szathmari A, Carrie C (2008) Preradiation chemotherapy may improve survival in pediatric diffuse intrinsic brainstem gliomas: final results of BSG 98 prospective trial. Neuro Oncol 10:599–607. https://doi.org/10.1215/15228517-2008-029

10.

Gokce-Samar Z, Beuriat PA, Faure-Conter C, Carrie C, Chabaud S, Claude L, di Rocco F, Mottolese C, Szathmari A, Chabert C, Frappaz D (2016) Pre-radiation chemotherapy improves survival in pediatric diffuse intrinsic pontine gliomas. Childs Nerv Syst 32:1415–1423. https://doi.org/10.1007/s00381-016-3153-8

11.

Schwartzentruber J, Korshunov A, Liu X-Y et al (2012) Driver mutations in histone H3.3 and chromatin remodelling genes in paediatric glioblastoma. Nature:1–8. https://doi.org/10.1038/nature10833

12.

Khuong-Quang D-A, Buczkowicz P, Rakopoulos P, Liu XY, Fontebasso AM, Bouffet E, Bartels U, Albrecht S, Schwartzentruber J, Letourneau L, Bourgey M, Bourque G, Montpetit A, Bourret G, Lepage P, Fleming A, Lichter P, Kool M, von Deimling A, Sturm D, Korshunov A, Faury D, Jones DT, Majewski J, Pfister SM, Jabado N, Hawkins C (2012) K27M mutation in histone H3.3 defines clinically and biologically distinct subgroups of pediatric diffuse intrinsic pontine gliomas. Acta Neuropathol 124:439–447. https://doi.org/10.1007/s00401-012-0998-0

13.

Wu G, Broniscer A, McEachron TA, Lu C, Paugh BS, Becksfort J, Qu C, Ding L, Huether R, Parker M, Zhang J, Gajjar A, Dyer MA, Mullighan CG, Gilbertson RJ, Mardis ER, Wilson RK, Downing JR, Ellison DW, Zhang J, Baker SJ, St. Jude Children's Research Hospital–Washington University Pediatric Cancer Genome Project (2012) Somatic histone H3 alterations in pediatric diffuse intrinsic pontine gliomas and non-brainstem glioblastomas. Nat Genet 44:251–253. https://doi.org/10.1038/ng.1102

14.

Merchant TE, Hua C-H, Shukla H et al (2008) Proton versus photon radiotherapy for common pediatric brain tumors: comparison of models of dose characteristics and their relationship to cognitive function. Pediatr Blood Cancer 51:110–117. https://doi.org/10.1002/pbc.21530

15.

Fukushima H, Fukushima T, Suzuki R, Iwabuchi A, Hidaka K, Shinkai T, Masumoto K, Muroi A, Yamamoto T, Nakao T, Oshiro Y, Mizumoto M, Sakurai H, Sumazaki R (2017) Comorbidity and quality of life in childhood cancer survivors treated with proton beam therapy. Pediatr Int 59:1039–1045. https://doi.org/10.1111/ped.13323

16.

Mizumoto M, Murayama S, Akimoto T et al (2016) Proton beam therapy for pediatric malignancies: a retrospective observational multicenter study in Japan. Cancer Med 5:1519–1525. https://doi.org/10.1002/cam4.743

17.

Navarria P (2019) Re-irradiation for recurrent glioma: outcome evaluation, toxicity and prognostic factors assessment. A multicenter study of the Radiation Oncology Italian Association (AIRO). J Neurooncol 142:59–67. https://doi.org/10.1007/s11060-018-03059-x

18.

Rao AD, Rashid AS, Chen Q et al (2017) Reirradiation for recurrent pediatric central nervous system malignancies: a multi-institutional review. Int J Radiat Oncol Biol Phys 99:634–641. https://doi.org/10.1016/j.ijrobp.2017.07.026

19.

Lu VM, Welby JP, Mahajan A, Laack NN, Daniels DJ (2019) Reirradiation for diffuse intrinsic pontine glioma: a systematic review and meta-analysis. Childs Nerv Syst 35:739–746. https://doi.org/10.1007/s00381-019-04118-y
Acknowledgments
We would like to thank Editage (www.editage.com) for the English language editing.
Ethics declarations
Conflict of interest
The authors declare that they have no conflict of interest.
Ethical approval
The study was approved by the Ethics Committee of the University of Tsukuba Hospital.
Additional information
Publisher's note
Springer Nature remains neutral with regard to jurisdictional claims in published maps and institutional affiliations.
About this article
Cite this article
Muroi, A., Mizumoto, M., Ishikawa, E. et al. Proton therapy for newly diagnosed pediatric diffuse intrinsic pontine glioma. Childs Nerv Syst (2019) doi:10.1007/s00381-019-04420-9
Received:

Accepted:

Published:
Keywords
Proton therapy

Diffuse intrinsic pontine glioma

Radiotherapy

Reirradiation