Abstract
Purpose
To compare results from a third (1995–2010) cohort of children with medulloblastoma with two previous series (J Neurosurg 86:13–21, 1997; Arch Dis Child 54:200–203, 1979) to analyse the effects of management changes aimed at improving both overall and event-free survivals (OS and EFS) and functional outcomes.
Methods
Review of neuro-oncology and imaging databases and previously published results.
Results
There was no statistically significant improvement in the 5-year OS for 104 children diagnosed 1995–2010, 61.5% (95% CI, 52.9, 71.6), compared with 50% of the 80 children presenting 1980–1990 (J Neurosurg 86:13–21, 1997) (difference 11.5%; 95% CI, 2.8, 25.4). Five-year OS for 96 children suitable for risk-stratification was overall 66% (95% CI, 57.9, 75.8); standard risk 77.8% (95% CI, 67.4, 89.7); high risk < 3 years 50.0% (95% CI, 32.3, 77.5); high risk ≥ 3 years 54.5% (95% CI, 37.2, 79.9); 5-year EFS were standard risk 68.5% (95% CI, 57.2, 82.1); high risk < 3 years 40.0% (95% CI, 23.4, 68.4); and high risk ≥ 3 years 36.4% (95% CI, 20.9, 63.2); overall 55.2% (95% CI, 46.1, 66.1). Of 62/63 ≥ 5-year survivor, 9 died later from tumour relapse and 4 from second malignancy. Functional outcomes of 62 of the 63 ≥ 5-year survivors: 67.7% had educational issues requiring remedial input; 18% restricted mobility indoors and outdoors; 59.7% hearing impairment (42% prescribed aids).
Conclusions
1.

Comparison of this single-institution series with its predecessor found that revised chemotherapy and RT protocols and greater accuracy of risk stratification did not result in statistically significant improvements in either survival or treatment-related functional disability.

2.

Extended (> 5-year) follow-up is essential if 20% of late deaths from relapse and second malignancies are not to be overlooked.
This is a preview of subscription content, log in to check access.
Access options
Buy single article
Instant unlimited access to the full article PDF.
US$ 39.95
Price includes VAT for USA
Subscribe to journal
Immediate online access to all issues from 2019. Subscription will auto renew annually.
US$ 199
This is the net price. Taxes to be calculated in checkout.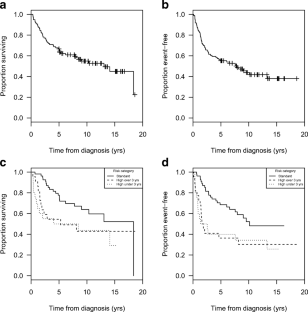 Notes
1.

Surgery → induction (6 cycles every 14 days with G-CSF-induced blood harvest and re-infusion: cyclophosphamide; carboplatin AUC 6.63;vincristine)

→ Tumour response → involved field(s) RT (max 2 sites) → consolidation therapy (4 cycles cisplatin, vincristine, and lomustine)

→ No response/progression (and/or close to 3 years) → age adapted CS RT with appropriate boosts to bulk disease
References
1.

McIntosh N (1979) Medulloblastoma-a changing prognosis? Arch Dis Child 54:200–203. https://doi.org/10.1136/adc.54.3.200

2.

David KM, Casey ATH, Hayward RD et al (1997) Medulloblastoma: is the 5-year survival rate improving? J Neurosurg 86:13–21. https://doi.org/10.3171/jns.1997.86.1.0013

3.

Packer RJ, Gajjar A, Vezina G et al (2006) Phase III study of craniospinal radiation therapy followed by adjuvant chemotherapy for newly diagnosed average-risk medulloblastoma. J Clin Oncol 24:4202–4208. https://doi.org/10.1200/JCO.2006.06.4980

4.

Chang CH, Housepian EM, Herbert C (1969) An operative staging system and a megavoltage radiotherapeutic technic for cerebellar medulloblastomas. Radiology 93:1351–1359. https://doi.org/10.1148/93.6.1351

5.

Dufour C, Beaugrand A, Pizer B et al (2012) Metastatic medulloblastoma in childhood: Chang's classification revisited. 2012:1–6. https://doi.org/10.1155/2012/245385

6.

Thompson EM, Hielscher T, Bouffet E et al (2016) Prognostic value of medulloblastoma extent of resection after accounting for molecular subgroup: a retrospective integrated clinical and molecular analysis. Lancet Oncol 17:484–495. https://doi.org/10.1016/S1470-2045(15)00581-1

7.

Wells EM, Khademian ZP, Walsh KS et al (2010) Post-operative cerebellar mutism syndrome following treatment of medulloblastoma: neuroradiographic features and origin. J Neurosurg Pediatr 5:329–334. https://doi.org/10.3171/2009.11.PEDS09131

8.

Souweidane M (2010) Posterior fossa syndrome. J Neurosurg Pediatr 5:325–328

9.

Taylor RE, Howman AJ, Wheatley K et al (2014) Hyperfractionated accelerated radiotherapy (HART) with maintenance chemotherapy for metastatic (M1–3) medulloblastoma-a safety/feasibility study. Radiother Oncol 111:41–46. https://doi.org/10.1016/j.radonc.2014.01.022

10.

Girish Dhall MD, Grodman H, Ji L, Sands S, Gardner S, Dunkel IJ, McCowage GB, Diez B, Allen JC, Gopalan A, Cornelius AS, Termuhlen A et al (2008) Outcome of children less than three years old at diagnosis with non-metastatic medulloblastoma treated with chemotherapy on the "Head Start" I and II protocols. Pediatr Blood Cancer 50:1169–1175

11.

Gandola L, Massimino M, Cefalo G et al (2009) Hyperfractionated accelerated radiotherapy in the Milan strategy for metastatic medulloblastoma. J Clin Oncol 27:566–571. https://doi.org/10.1200/JCO.2008.18.4176

12.

Taylor RE, Bailey CC, Robinson K et al (2003) Results of a randomized study of preradiation chemotherapy versus radiotherapy alone for nonmetastatic medulloblastoma: the International Society of Paediatric Oncology/United Kingdom Children's Cancer Study Group PNET-3 Study. J Clin Oncol 21:1581–1591. https://doi.org/10.1200/JCO.2003.05.116

13.

Lannering B, Rutkowski S, Doz F et al (2012) Hyperfractionated versus conventional radiotherapy followed by chemotherapy in standard-risk medulloblastoma: Results from the randomized multicenter HIT-SIOP PNET 4 trial. J Clin Oncol 30:3187–3193. https://doi.org/10.1200/JCO.2011.39.8719

14.

Packer RJ, Zhou T, Holmes E et al (2013) Survival and secondary tumors in children with medulloblastoma receiving radiotherapy and adjuvant chemotherapy: results of Children's Oncology Group trial A9961. Neuro Oncol 15:97–103. https://doi.org/10.1093/neuonc/nos267

15.

Public Health England (2016) Childhood cancer registration in England: 2015 to 2016

16.

Johnston DL, Keene D, Kostova M et al (2015) Survival of children with medulloblastoma in Canada diagnosed between 1990 and 2009 inclusive. J Neurooncol 124:247–253. https://doi.org/10.1007/s11060-015-1831-0

17.

Weil AG, Wang AC, Westwick HJ et al (2017) Survival in pediatric medulloblastoma: a population-based observational study to improve prognostication. J Neurooncol 132:99–107. https://doi.org/10.1007/s11060-016-2341-4

18.

Rourke L. PR and BJ (1996) Central nervous system atypical teratoid/rhabdoid tumors of infancy and childhood: definition of an entity. J Neurosurg 85:55–65

19.

Feinstein A. SD and WC (1985) The Will Rogers Phenomenon. Stage migration and new diagnostic techniques as a source of misleading statistics for survival in cancer. New Engl Journasl Med 312:1604–1608

20.

Ning MS, Perkins SM, Dewees T, Shinohara ET (2015) Evidence of high mortality in long term survivors of childhood medulloblastoma. J Neurooncol 122:321–327. https://doi.org/10.1007/s11060-014-1712-y

21.

Ris M, Walsh K, Wallace D, Armstrong FD, Holmes E. Gajjar A. Z and PR (2013) Intellectual and academic outcome following two chemotherapy regimens and radiotherapy for average-risk medulloblastoma: COG A9961. Pediatr Blood Cancer 60:1350–1357

22.

Gudrunardottir T, Lannering B, Remke M et al (2014) Treatment developments and the unfolding of the quality of life discussion in childhood medulloblastoma: a review. Child's Nerv Syst 30:979–990. https://doi.org/10.1007/s00381-014-2388-5

23.

Bull KS, Spoudeas HA, Yadegarfar G, Kennedy CR (2007) Reduction of health status 7 years after addition of chemotherapy to craniospinal irradiation for medulloblastoma: a follow-up study in PNET 3 trial survivors-on behalf of the CCLG (formerly UKCCSG). J Clin Oncol 25:4239–4245. https://doi.org/10.1200/JCO.2006.08.7684

24.

Packer RJ (2008) Reduction of health status 7 years after addition of chemotherapy to cranio-spinal irradiation for medulloblstoma: a follow-up study on PNET-3 trial survivors. Curr Neurol Neurosci Reportsurrent Neurol Neurosci Reports 8:111–113

25.

Kennedy C, Bull K, Chevignard M et al (2014) Quality of survival and growth in children and young adults in the PNET4 European controlled trial of hyperfractionated versus conventional radiation therapy for standard-risk medulloblastoma. Int J Radiat Oncol Biol Phys 88:292–300. https://doi.org/10.1016/j.ijrobp.2013.09.046

26.

Wood MD, Halfpenny AM, Moore SR (2019) Applications of molecular neuro-oncology-a review of diffuse glioma integrated diagnosis and emerging molecular entities. 1–16

27.

Pollack IF, Agnihotri S, Broniscer A (2019) Childhood brain tumors: current management, biological insights, and future directions. J Neurosurg Pediatr 23:261–273. https://doi.org/10.3171/2018.10.peds18377

28.

Morrissy AS, Cavalli FMG, Remke M et al (2017) Spatial heterogeneity in medulloblastoma. Nat Genet 49:780–788. https://doi.org/10.1038/ng.3838

29.

Schwalbe EC, Lindsey JC, Nakjang S et al (2017) Novel molecular subgroups for clinical classification and outcome prediction in childhood medulloblastoma : a cohort study. Lancet Oncol 18:958–971. https://doi.org/10.1016/S1470-2045(17)30243-7

30.

Taylor MD, Northcott PA, Korshunov A et al (2012) Molecular subgroups of medulloblastoma: the current consensus. Acta Neuropathol 123:465–472. https://doi.org/10.1007/s00401-011-0922-z

31.

Remke M, Ramaswamy V, Taylor MD (2013) Medulloblastoma molecular dissection: the way toward targeted therapy. Curr Opin Oncol 25:674–681. https://doi.org/10.1097/CCO.0000000000000008

32.

Schmidt C (2015) Targeted therapy makes inroads in medulloblastoma. J. Natl. Cancer Inst 107:djv353

33.

Bull KS, Kennedy CR, Bailey S et al (2014) Improved health-related quality of life outcomes associated with SHH subgroup medulloblastoma in SIOP-UKCCSG PNET3 trial survivors. Acta Neuropathol. 128:151–153

34.

Drezner NL, Packer RJ (2016) The impact of molecular analysis on the survival of children with embryonal tumors. Transl Pediatr 5:5–8. https://doi.org/10.3978/j.issn.2224-4336.2015.11.01

35.

Gajjar A, Stewart CF, Ellison DW et al (2013) Phase I study of vismodegib in children with recurrent or refractory medulloblastoma: a pediatric brain tumor consortium study. Clin Cancer Res 19:6305–6312. https://doi.org/10.1158/1078-0432.CCR-13-1425

36.

Kram D, Henderson J, Baig M et al (2018) Embryonal tumors of the central nervous system in children: the era of targeted therapeutics. Bioengineering 5:78. https://doi.org/10.3390/bioengineering5040078

37.

Amarante MK, Vitiello GAF, Rosa MH et al (2018) Potential use of CXCL12/CXCR4 and sonic hedgehog pathways as therapeutic targets in medulloblastoma. Acta Oncol (Madr) 57:1134–1142. https://doi.org/10.1080/0284186X.2018.1473635

38.

Ellison DW, Onilude OE, Lindsey JC et al (2005) β-catenin status predicts a favorable outcome in childhood medulloblastoma: the United Kingdom Children's Cancer Study Group Brain Tumour Committee. J Clin Oncol 23:7951–7957. https://doi.org/10.1200/JCO.2005.01.5479

39.

European Clinical Trials database (EUDRACT) www.clinicaltrialsregister.eu/ctr-search/trial/2011-004868-30/AT)

40.

Grosshans DR (2016) Proton therapy for paediatric medulloblastoma. Lancet Oncol 17:258–259. https://doi.org/10.1016/S1470-2045(15)00217-X

41.

Bernier V, Klein O (2018) Late effects of craniospinal irradiation for medulloblastomas in paediatric patients. Neurochirurgie:6–9. https://doi.org/10.1016/j.neuchi.2018.01.006

42.

van Gool SW, Holm S, Rachor J et al (2016) Immunotherapy in atypical teratoid-rhabdoid tumors: data from a survey of the HGG-Immuno Group. Cytotherapy 18:1178–1186. https://doi.org/10.1016/j.jcyt.2016.06.004

43.

Mitchell EJS and DA (2017) Immunotherapy for pediatric brain tumors. Brain Sci 7:137
Ethics declarations
Conflict of Interest
The authors have declared no conflicts of interest.
Additional information
Publisher's note
Springer Nature remains neutral with regard to jurisdictional claims in published maps and institutional affiliations.
About this article
Cite this article
Phipps, K., Kirkman, M.A., Aquilina, K. et al. Childhood medulloblastoma—a single institution's historical perspective on survival and functional morbidity. Childs Nerv Syst 35, 2327–2338 (2019) doi:10.1007/s00381-019-04402-x
Received:

Accepted:

Published:

Issue Date:
Keywords
Medulloblastoma

Radiotherapy

Neurosurgery,

Chemotherapy,

Functional outcome