Abstract
Purpose
Mature pineal region teratomas differ from other pineal tumors in terms of their characteristic radiological appearance and their clinical outcome after gross total excision. Our aim is to share our clinical experience and treatment outcomes in pediatric patients with mature pineal region teratoma.
Methods
In this retrospective study, we reviewed clinical, radiological, and surgical data of ten patients who had radiologically predicted diagnosis of pineal region teratoma and pathologically confirmed diagnosis of mature pineal region teratoma between years 2004 and 2017 in our clinic. Statistical analysis was performed with SPSS 20.
Results
All patients were male. Ages of patients ranged between 5 and 17 (median age was 9.5). All of them presented with headache. Magnetic resonance imaging showed characteristic appearance of teratomas with variable degree of hydrocephalus. All patients had negative results for AFP and b-HCG levels. All patients had gross total resection of pineal tumor through occipital transtentorial approach with no permanent neurological deficit. Pathological results of all tumor samples were consistent with mature teratoma. None of them had adjuvant chemotherapy or radiotherapy. Follow-up periods ranged between 3 and 170 months (median follow-up period was 60.5 months). All patients are alive with no tumor recurrence.
Conclusions
Pediatric mature pineal region teratomas are benign tumors with characteristic MRI appearance and negative tumor markers. Their definitive treatment is gross total surgical excision. Occipital transtentorial approach is a safe procedure for treatment of pediatric mature pineal teratomas.
This is a preview of subscription content, log in to check access.
Access options
Buy single article
Instant unlimited access to the full article PDF.
US$ 39.95
Price includes VAT for USA
Subscribe to journal
Immediate online access to all issues from 2019. Subscription will auto renew annually.
US$ 199
This is the net price. Taxes to be calculated in checkout.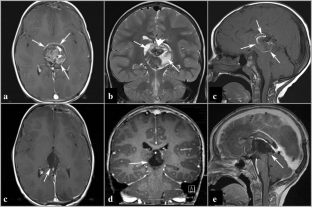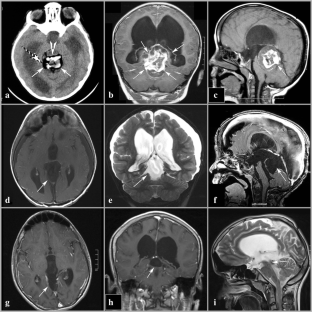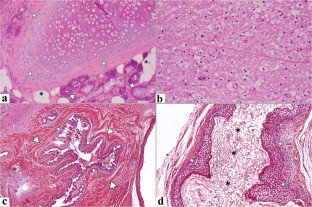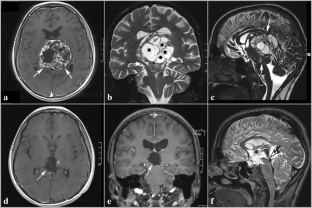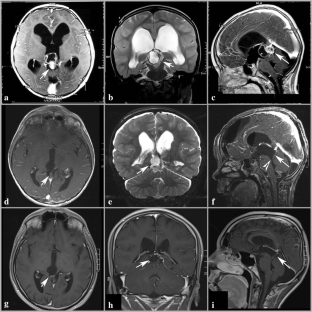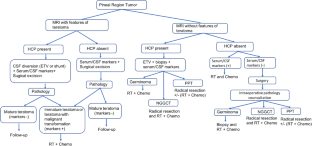 References
1.

Desai K, Nadkarni T, Muzumdar D, Goel A (2001) Midline posterior fossa teratoma--case report. Neurol Med Chir (Tokyo) 41:94–96

2.

Fults D, Kelly DL Jr (1983) A suprasellar atypical teratoma presenting as an intrasellar mass: a case report. Neurosurgery 13:40–43

3.

Bavbek M, Altinors N, Caner H, Agildere M, Cinemre O, Guz T, Erekul S (1999) Giant posterior fossa teratoma. Childs Nerv Syst 15:359–361

4.

Sawamura Y, Ikeda J, Shirato H, Tada M, Abe H (1998) Germ cell tumours of the central nervous system: treatment consideration based on 111 cases and their long-term clinical outcomes. Eur J Cancer 34:104–110

5.

Louis DN, Ohgaki H, Wiestler OD, Cavenee WK, Burger PC, Jouvet A, Scheithauer BW, Kleihues P (2007) The 2007 WHO classification of tumours of the central nervous system. Acta Neuropathol 114:97–109

6.

Zygourakis CC, Davis JL, Kaur G, Ames CP, Gupta N, Auguste KI, Parsa AT (2015) Management of central nervous system teratoma. J Clin Neurosci 22:98–104

7.

Lee YH, Park EK, Park YS, Shim KW, Choi JU, Kim DS (2009) Treatment and outcomes of primary intracranial teratoma. Childs Nerv Syst 25:1581–1587

8.

Noudel R, Vinchon M, Dhellemmes P, Litre CF, Rousseaux P (2008) Intracranial teratomas in children: the role and timing of surgical removal. J Neurosurg Pediatr 2:331–338

9.

Kersemans V, Cornelissen B, Allen PD, Beech JS, Smart SC (2013) Subcutaneous tumor volume measurement in the awake, manually restrained mouse using MRI. J Magn Reson Imaging 37:1499–1504

10.

Lundin P, Pedersen F (1992) Volume of pituitary macroadenomas: assessment by MRI. J Comput Assist Tomogr 16:519–528

11.

Poppen JL (1966) The right occipital approach to a pinealoma. J Neurosurg 25:706–710

12.

Ostrom QT, de Blank PM, Kruchko C, Petersen CM, Liao P, Finlay JL, Stearns DS, Wolff JE, Wolinsky Y, Letterio JJ, Barnholtz-Sloan JS (2015) Alex's Lemonade Stand Foundation Infant and childhood primary brain and central nervous system tumors diagnosed in the United States in 2007-2011. Neuro-Oncology 16 Suppl 10: x1-x36

13.

DeWitt JC, Mock A, Louis DN (2017) The 2016 WHO classification of central nervous system tumors: what neurologists need to know. Curr Opin Neurol 30:643–649

14.

Edwards MS, Hudgins RJ, Wilson CB, Levin VA, Wara WM (1988) Pineal region tumors in children. J Neurosurg 68:689–697

15.

Dhall G, Khatua S, Finlay JL (2010) Pineal region tumors in children. Curr Opin Neurol 23:576–582

16.

Zaazoue MA, Goumnerova LC (2016) Pineal region tumors: a simplified management scheme. Childs Nerv Syst 32:2041–2045

17.

Liu Z, Lv X, Wang W, An J, Duan F, Feng X, Chen X, Ouyang B, Li S, Singh S, Qiu S (2014) Imaging characteristics of primary intracranial teratoma. Acta Radiol 55:874–881

18.

Fang AS, Meyers SP (2013) Magnetic resonance imaging of pineal region tumours. Insights Imaging 4:369–382

19.

Naganuma H, Inoue HK, Nakamura M, Koizumi H (1985) Localization of carcinoembryonic antigen in mature intracranial teratomas. J Neurosurg 62:870–873

20.

De Los Reyes EVA, Rivera DI, Santos HM, Carlos RM (2018) Mature teratoma of the pineal region in the paediatric age group: a case report and review of the literature. Malays J Pathol 40:175–183

21.

Behari S, Jaiswal S, Nair P, Garg P, Jaiswal AK (2011) Tumors of the posterior third ventricular region in pediatric patients: the Indian perspective and a review of literature. J Pediatr Neurosci 6:S56–S71

22.

Baykaner MK, Ergun E, Cemil B, Bayik P, Emmez H (2007) A mature cystic teratoma in pineal region mimicking parietal encephalocele in a newborn. Childs Nerv Syst 23:573–576

23.

Berhouma M, Jemel H, Ksira I, Khaldi M (2008) Transcortical approach to a huge pineal mature teratoma. Pediatr Neurosurg 44:52–54

24.

Harrison RL, Abernethy LJ (2001) Asymptomatic intraventricular lipid leak from a primary pineal teratoma. Pediatr Radiol 31:129–131

25.

Schmugge M, Boltshauser E, Pluss HJ, Niggli FK (2000) Long-term follow-up and residual sequelae after treatment for intracerebral germ-cell tumour in children and adolescents. Ann Oncol 11:527–533

26.

Sugimoto K, Nakahara I, Nishikawa M (2002) Bilateral metachronous germinoma of the basal ganglia occurring long after total removal of a mature pineal teratoma: case report. Neurosurgery 50: 613–616; discussion 616-617

27.

Harms D, Zahn S, Gobel U, Schneider DT (2006) Pathology and molecular biology of teratomas in childhood and adolescence. Klin Padiatr 218:296–302

28.

Burgueno-Montanes C, Santalla-Castro C, Pena-Suarez J (2016) Parinaud <<plus>> syndrome in a patient with dysgerminoma. Arch Soc Esp Oftalmol 91:341–345

29.

Brandes AA, Pasetto LM, Monfardini S (2000) The treatment of cranial germ cell tumours. Cancer Treat Rev 26:233–242

30.

Matsutani M, Sano K, Takakura K, Fujimaki T, Nakamura O, Funata N, Seto T (1997) Primary intracranial germ cell tumors: a clinical analysis of 153 histologically verified cases. J Neurosurg 86:446–455
Acknowledgments
We would like to thank Dr. Ayca Ersen for her cooperation in pathological diagnosis of the specimens and preparation of figures of pathological specimens for this study.
Ethics declarations
Conflict of interest
The authors report no conflict of interest concerning the materials or methods used in this study or the findings specified in this paper.
Informed consent
Informed consent was obtained from all individual participants included in the study.
Additional information
Publisher's note
Springer Nature remains neutral with regard to jurisdictional claims in published maps and institutional affiliations.
About this article
Cite this article
Tanrıkulu, B., Özek, M.M. Management of mature pineal region teratomas in pediatric age group. Childs Nerv Syst 36, 153–163 (2020) doi:10.1007/s00381-019-04204-1
Received:

Accepted:

Published:

Issue Date:
Keywords
Pineal

Radiology

Mature teratoma

Treatment

Pediatric age