Abstract
Objective
Craniopharyngiomas are challenging tumors to resect due to their deep location and proximity to vital structures. The perceived benefit of gross total resection may be tempered by the possibility of permanent disability. Minimally invasive techniques may reduce surgical morbidity while still allowing effective resection. The authors describe their initial experience with a neuroendoscopic transcortical, transventricular approach to two craniopharyngiomas. The surgeries were performed through a right frontal burr hole using the NICO Myriad, a side-cutting, aspiration device that fits through the working channel of a standard neuroendoscope.
Methods
The imaging and medical records of two children (a 5-year-old male and a 9-year-old female) undergoing endoscopic resection of a craniopharyngioma with this technique were reviewed. Outcomes, results, and complications were noted.
Results
A gross total resection was achieved in both patients. The operative time was 180 and 143 min, respectively. The estimated blood loss was 20 and 50 cm3, respectively. Both patients required a cerebrospinal fluid shunt. There were no surgical complications.
Conclusions
The NICO Myriad is an effective tool that allows a safe minimally invasive endoscopic resection of craniopharyngiomas in patients with amenable anatomy. Surgeons with experience in neuroendoscopy may be able to achieve a gross total resection of these challenging tumors through a minimally invasive burr hole approach.
This is a preview of subscription content, log in to check access.
Access options
Buy single article
Instant unlimited access to the full article PDF.
US$ 39.95
Price includes VAT for USA
Subscribe to journal
Immediate online access to all issues from 2019. Subscription will auto renew annually.
US$ 199
This is the net price. Taxes to be calculated in checkout.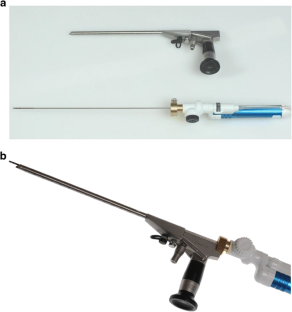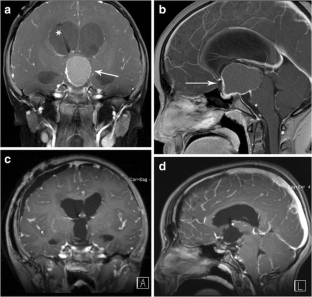 References
1.

Al-Mefty O, Hassounah M, Weaver P, Sakati N, Jinkins JR, Fox JL (1985) Microsurgery for giant craniopharyngiomas in children. Neurosurgery 17:585–595

2.

Albright AL, Okechi H (2012) Use of the NICO Myriad device for tumor and cyst removals in a developing country. Childs Nerv Syst 28:599–604

3.

Dlouhy BJ, Dahdaleh NS, Greenlee JD (2011) Emerging technology in intracranial neuroendoscopy: application of the NICO Myriad. Neurosurg Focus 30:E6

4.

Garcia-Navarro V, Lancman G, Guerrero-Maldonado A, Anand VK, Schwartz TH (2011) Use of a side-cutting aspiration device for resection of tumors during endoscopic endonasal approaches. Neurosurg Focus 30:E13

5.

McLaughlin N, Ditzel Filho LF, Prevedello DM, Kelly DF, Carrau RL, Kassam AB (2012) Side-cutting aspiration device for endoscopic and microscopic tumor removal. J Neurol Surg B Skull Base 73:11–20

6.

Mohanty A, Thompson BJ, Patterson J (2013) Initial experience with endoscopic side cutting aspiration system in pure neuroendoscopic excision of large intraventricular tumors. World Neurosurg 80(655):e615–e621

7.

Muller HL (2016) Risk-adapted treatment and follow-up management in childhood-onset craniopharyngioma. Expert Rev Neurother 16:535–548

8.

Alli S, Isik S, Rutka JT (2016) Microsurgical removal of craniopharyngioma: endoscopic and transcranial techniques for complication avoidance. J Neurooncol

9.

Leroy R, Benahmed N, Hulstaert F, Van Damme N, De Ruysscher D (2016) Proton therapy in children: a systematic review of clinical effectiveness in 15 pediatric cancers. Int J Radiat Oncol Biol Phys 95:267–278

10.

Jeswani S, Nuno M, Wu A, Bonert V, Carmichael JD, Black KL, Chu R, King W, Mamelak AN (2016) Comparative analysis of outcomes following craniotomy and expanded endoscopic endonasal transsphenoidal resection of craniopharyngioma and related tumors: a single-institution study. J Neurosurg 124:627–638

11.

Baldauf J, Hosemann W, Schroeder HW (2015) Endoscopic endonasal approach for craniopharyngiomas. Neurosurg Clin N Am 26:363–375

12.

de Divitiis E, Cappabianca P, Cavallo LM, Esposito F, de Divitiis O, Messina A (2007a) Extended endoscopic transsphenoidal approach for extrasellar craniopharyngiomas. Neurosurgery 61:219–227 discussion 228

13.

de Divitiis E, Cavallo LM, Cappabianca P, Esposito F (2007b) Extended endoscopic endonasal transsphenoidal approach for the removal of suprasellar tumors: part 2. Neurosurgery 60:46–58 discussion 58-49

14.

Frank G, Pasquini E, Doglietto F, Mazzatenta D, Sciarretta V, Farneti G, Calbucci F (2006) The endoscopic extended transsphenoidal approach for craniopharyngiomas. Neurosurgery 59: ONS75-83; discussion ONS75-83

15.

Koutourousiou M, Gardner PA, Fernandez-Miranda JC, Tyler-Kabara EC, Wang EW, Snyderman CH (2013) Endoscopic endonasal surgery for craniopharyngiomas: surgical outcome in 64 patients. J Neurosurg 119:1194–1207

16.

Sankhla SK, Jayashankar N, Khan GM (2015) Extended endoscopic endonasal transsphenoidal approach for retrochiasmatic craniopharyngioma: surgical technique and results. J Pediatr Neurosci 10:308–316

17.

Zacharia BE, Amine M, Anand V, Schwartz TH (2016) Endoscopic endonasal management of craniopharyngioma. Otolaryngol Clin N Am 49:201–212

18.

Komotar RJ, Starke RM, Raper DM, Anand VK, Schwartz TH (2012) Endoscopic endonasal compared with microscopic transsphenoidal and open transcranial resection of craniopharyngiomas. World Neurosurg 77:329–341

19.

Nakahara Y, Koga H, Maeda K, Takagi M, Tabuchi K (2004) Neuroendoscopic transventricular surgery for suprasellar cystic mass lesions such as cystic craniopharyngioma and Rathke cleft cyst. Neurol Med Chir (Tokyo) 44:408–413 discussion 414-405

20.

Delitala A, Brunori A, Chiappetta F (2004) Purely neuroendoscopic transventricular management of cystic craniopharyngiomas. Childs Nerv Syst 20:858–862

21.

Nakamizo A, Inamura T, Nishio S, Inoha S, Ishibashi H, Fukui M (2001) Neuroendoscopic treatment of cystic craniopharyngioma in the third ventricle. Minim Invasive Neurosurg 44:85–87

22.

Kim K, Yeon JY, Seol HJ, Shin HJ (2013) Transventricular endoscopic biopsy of suprasellar tumors: a pediatric case series. Childs Nerv Syst 29:1285–1291
Acknowledgements
The authors appreciate the photographs in Fig. 1 provided by NICO and Jana Quigley.
Ethics declarations
Conflict of interest
The authors have no financial or commercial interest in any of the devices or companies mentioned in the article.
Electronic supplementary material
Intraoperative video of the endoscopic approach, septostomy, and tumor resection of Patient #2. (MOV 374019 kb)
Intraoperative video of the endoscopic approach, septostomy, and tumor resection of Patient #2. (MOV 374019 kb)
About this article
Cite this article
Moore, R.J., Scherer, A. & Fulkerson, D.H. Frontal burr hole approach for neuroendoscopic resection of craniopharyngioma with the NICO Myriad device: report of two cases. Childs Nerv Syst 33, 659–664 (2017). https://doi.org/10.1007/s00381-017-3386-1
Received:

Accepted:

Published:

Issue Date:
Keywords
NICO Myriad

Craniopharyngioma

Endoscopic

Minimally invasive

Surgical technique