Abstract
Purpose
The aim of this study is to document the dynamic behavior of a choroid plexus cyst of the third ventricle. Although these lesions may float freely within the ventricle leading to intermittent obstruction of the cerebrospinal fluid (CSF) circulation at variable points in a single patient, such a phenomenon has only been documented using cranial ultrasonography and was never observed intraoperatively.
Methods
We endoscopically treated a case of third ventricular choroid plexus cyst in a 9-year-old boy who presented with headaches and disturbed conscious level. He underwent a transventricular approach through a single burr hole.
Results
During the procedure, the cyst was noted to intermittently herniate into the lateral ventricle and recede back through the foramen of Monro. Endoscopic ablation of the cyst was achieved and followed by endoscopic third ventriculostomy (ETV). The patient made an excellent recovery after the procedure.
Conclusions
We were able to endoscopically observe the dynamic behavior displayed by a choroid plexus cyst of the third ventricle. To the best of our knowledge, intraoperative documentation of the obstruction of the CSF pathway by a single choroid plexus cyst that intermittently herniates through the foramen of Monro and back into the third ventricular cavity has not been previously demonstrated neither microsurgically nor endoscopically.
This is a preview of subscription content, log in to check access.
Access options
Buy single article
Instant unlimited access to the full article PDF.
US$ 39.95
Price includes VAT for USA
Subscribe to journal
Immediate online access to all issues from 2019. Subscription will auto renew annually.
US$ 199
This is the net price. Taxes to be calculated in checkout.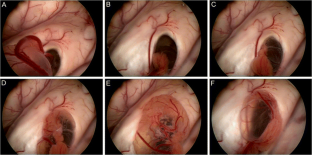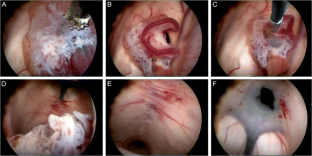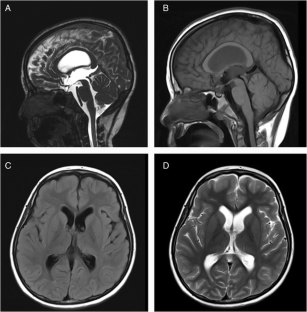 References
1.

Andreussi L, Cama A, Cozzutto C, Gianbartolomei G, Grossi G (1979) Cyst of the choroid plexus of the left lateral ventricle. Surg Neurol 12:53–57

2.

Chamczuk AJ, Grand W (2010) Endoscopic cauterization of a symptomatic choroid plexus cyst at the foramen of Monro: case report. Neurosurgery 66(6 Suppl Operative):376–377

3.

Chan L, Hixson JL, Laifer SA, Marchese SG, Martin JG, Hill LM (1989) A sonographic and karyotypic study of second-trimester fetal choroid plexus cysts. Obstet Gynecol 73:703–706

4.

Choi JH, Kim SH, Koh HS, Youm JY, Song SH, Kim Y (1998) A symptomatic choroid plexus cyst in the lateral ventricle: case report. J Korean Neurosurg Soc 27:1283–1287

5.

de Lara D, Ditzel Filho LF, Muto J, Prevedello DM (2013) Endoscopic treatment of a third ventricle choroid plexus cyst. Neurosurg Focus 34(1 Suppl) Video 9

6.

Dempsey RJ, Chandler WF (1981) Choroid plexus cyst in the lateral ventricle causing obstructive symptoms in an adult. Surg Neurol 15:116–119

7.

Eboli P, Danielpour M (2011) Acute obstructive hydrocephalus due to a large posterior third ventricle choroid plexus cyst. Pediatr Neurosurg 47:292–294

8.

Filardi TZ, Finn L, Gabikian P, Giussani C, Ebenezer S, Avellino AM (2009) Treatment of intermittent obstructive hydrocephalus secondary to a choroid plexus cyst. J Neurosurg Pediatr 4:571–574

9.

Gangemi M, Maiuri F, Godano U, Mascari C, Longatti PL, Marzucco M (2000) Endoscopic treatment of para- and intraventricular cerebrospinal fluid cysts. Minim Invasive Neurosurg 43:153–158

10.

Hanbali F, Fuller GN, Leeds NE, Sawaya R (2001) Choroid plexus cyst and chordoid glioma. Report of two cases. Neurosurg Focus 10(6):E5

11.

Jeon JH, Lee SW, Ko JK, Choi BG, Cha SH, Song GS, Choi CH (2005) Neuroendoscopic removal of large choroid plexus cyst: a case report. J Korean Med Sci 20:335–339

12.

Kariyattil R, Panikar D (2008) Choroid plexus cyst of the third ventricle presenting as acute triventriculomegaly. Childs Nerv Syst 24:875–877

13.

Kennedy KA, Carey JC (1993) Choroid plexus cysts: significance and current management practices. Semin US CT MR 14:23–30

14.

Margetis K, Souweidane MM (2013) Endoscopic treatment of intraventricular cystic tumors. World Neurosurg 79(2 Suppl):e1–e11

15.

Nahed BV, Darbar A, Doiron R, Saad A, Robson CD, Smith ER (2007) Acute hydrocephalus secondary to obstruction of the foramen of Monro and cerebral aqueduct caused by a choroid plexus cyst in the lateral ventricle. Case report. J Neurosurg 107(3 Suppl):236–239

16.

Nakase H, Ishida Y, Tada T, Sakaki T, Goda K, Tunoda S, Tominaga M, Hisanaga M, Lee KS, Yun IG, Bae HG (1992) Neuroepithelial cyst of the lateral ventricle. Clinical features and treatment. Surg Neurol 37:94–100

17.

Odake G, Tenjin H, Murakami N (1990) Cyst of the choroid plexus in the lateral ventricle: case report and review of the literature. Neurosurgery 27:470–476

18.

Parizek J, Jakubec J, Hobza V, Nemecková J, Cernoch Z, Sercl M, Zizka J, Spacek J, Nemecek S, Suba P (1998) Choroid plexus cyst of the left lateral ventricle with intermittent blockage of the foramen of Monro, and initial invagination into the III ventricle in a child. Childs Nerv Syst 14:700–708

19.

Pelletier J, Milandre L, Peragut JC, Cronqvist S (1990) Intraventricular choroid plexus "arachnoid" cyst. MRI findings. Neuroradiology 32:523–525

20.

Rathod SB, Baheti AD, Dabhade PT, Sankhe SS (2012) Walker-Warburg syndrome: demonstration of cerebellar cysts with CISS sequence. Magn Reson Med Sci 11(2):137–140

21.

van Baalen A, Stephani U (2007) Flexible and floating choroid plexus cyst of the third ventricle: an ultrasonographic video documentation. Childs Nerv Syst 23:259–261

22.

Vlaho S, Gebhardt B, Gerlach R, Weidauer S, Kieslich M (2003) Cyst of the third ventricle as an unusual cause of acquired hydrocephalus. Pediatr Neurol 28:225–227

23.

Walkinshaw S, Pilling D, Spriggs A (1994) Isolated choroid plexus cysts—the need for routine offer of karyotyping. Prenat Diagn 14:663–667

24.

Yang D, Korogi Y, Ushio Y, Takahashi M (2000) Increased conspicuity of intraventricular lesions revealed by three-dimensional constructive interference in steady state sequences. AJNR Am J Neuroradiol 21:1070–1072
Electronic supplementary material
Below is the link to the electronic supplementary material.
About this article
Cite this article
Azab, W.A., Mijalcic, R.M., Aboalhasan, A.A. et al. Endoscopic management of a choroid plexus cyst of the third ventricle: case report and documentation of dynamic behavior. Childs Nerv Syst 31, 815–819 (2015). https://doi.org/10.1007/s00381-015-2649-y
Received:

Accepted:

Published:

Issue Date:
Keywords
Choroid plexus cyst

Endoscopic ablation

Endoscopic third ventriculostomy