Abstract
Purpose
Endoscopic resection of pineal tumors using an endoscope with a mounted rigid suction that allows bimanual handling of the tumor for resection. This contrasts to the established method of biopsy of pineal tumors through intraventricular approach.
Methods
Two patients, one with a cystic lesion in the pineal region and one with a large pineal tumor, were operated in sitting position through a subtorcular approach. Endoscope was held in the left hand with suction tip extending beyond the tip through its instrument channel. Regular microsurgical instrumentation/CUSA/Nico Aspirator was used with the right hand for dissection, cutting, and removing the tumor under endoscopic vision.
Result
Surgeon comfort was superior to when microscope is used in sitting position. Complete resection was achieved in all cases.
Conclusion
The two-handed endoscopic technique using a mounted suction on the endoscope as described is a safe and effective strategy for resecting pineal region tumors.
This is a preview of subscription content, log in to check access.
Access options
Buy single article
Instant unlimited access to the full article PDF.
US$ 39.95
Price includes VAT for USA
Subscribe to journal
Immediate online access to all issues from 2019. Subscription will auto renew annually.
US$ 199
This is the net price. Taxes to be calculated in checkout.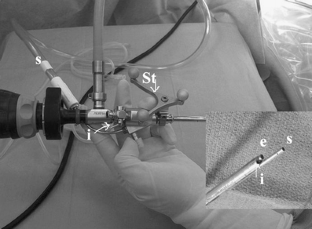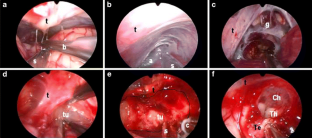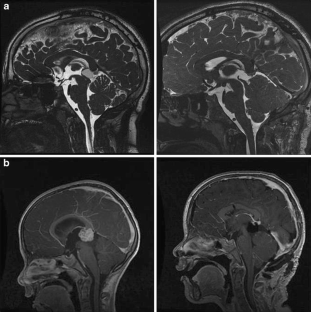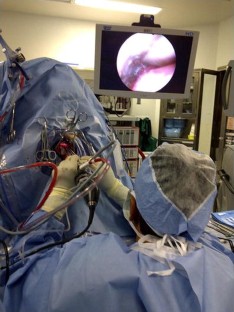 References
1.

Broggi M, Darbar A, Teo C (2010) The value of endoscopy in the total resection of pineocytomas. Neurosurgery 67(3 Suppl Operative):ons159–ons165

2.

Gore PA, Gonzalez LF, Rekate HL, Nakaji P (2008) Endoscopic supracerebellar infratentorial approach for pineal cyst resection: technical case report. Neurosurgery 62(3 Suppl 1):108–109, discussion 109

3.

Grover K, Sood S (2010) Midline suboccipital burr hole for posterior fossa craniotomy. Childs Nerv Syst 26(7):953–955
Electronic supplementary material
Below is the link to the electronic supplementary material.
Video legend: Endoscopic subtorcular approach with two-handed technique showing resection of pineal tumor (MPG 15,858 kb)
About this article
Cite this article
Sood, S., Hoeprich, M. & Ham, S.D. Pure endoscopic removal of pineal region tumors. Childs Nerv Syst 27, 1489–1492 (2011) doi:10.1007/s00381-011-1490-1
Received:

Accepted:

Published:

Issue Date:
Keywords
Pineal tumor

Endoscopic surgery

Tumor resection