Abstract
Atrial tachycardia (AT) is a clinically challenging arrhythmia that can occur based on atrial substrates. Nowadays, a rapid construction of three-dimensional electroanatomical maps, which has an analysis function for complex arrhythmias, named 'Window Sliding' (WS) is available. However, little data has revealed the efficacy of this mapping strategy. The aim of this study was to investigate the efficacy of the WS analysis for AT treatments. All patients underwent electrophysiological studies during ATs and the characteristics of the ATs were analyzed using rapid high-density mapping followed by the WS analysis. RFA was then performed. Fifty-five ATs were identified in 34 patients (63 ± 17 year-old) and in 51 activation maps (cycle length, 322 ± 120 milliseconds) were successfully constructed with 644 ± 433 points per map during 5.3 ± 2.5 min. The types of detected ATs were macro-reentries around the mitral (8) and, tricuspid (12) valves, roof-dependent reentry (5), others (13), and focal patterns (13). Of those that underwent RFA, 46 (98%) were treated successfully. Two ATs were abandoned since their critical sites were close to the His bundle and sinoatrial node. During a mean follow-up period of 179 ± 176 days, 7 patients had documented recurrences of AT. This high-density mapping using the WS analysis was useful for creating the entire picture of the ATs in a short time, resulting in favorable RFA outcomes.
This is a preview of subscription content, log in to check access.
Access options
Buy single article
Instant unlimited access to the full article PDF.
US$ 39.95
Price includes VAT for USA
Subscribe to journal
Immediate online access to all issues from 2019. Subscription will auto renew annually.
US$ 99
This is the net price. Taxes to be calculated in checkout.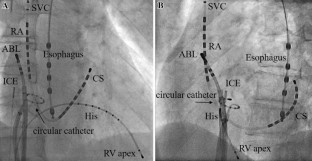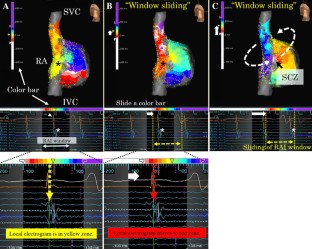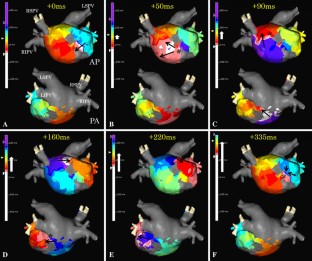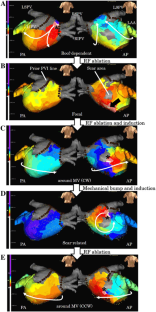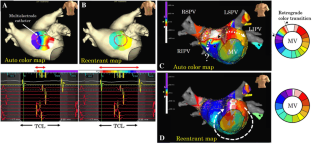 References
1.

Markowitz SM, Brodman RF, Stein KM, Mittal S, Slotwiner DJ, Iwai S, Das MK, Lerman BB (2002) Lesional tachycardias related to mitral valve surgery. J Am Coll Cardiol 39:1973–1983

2.

Gerstenfeld EP, Callans DJ, Dixit S, Russo AM, Nayak H, Lin D, Pulliam W, Siddique S, Marchlinski FE (2004) Mechanisms of organized left atrial tachycardias occurring after pulmonary vein isolation. Circulation 110:1351–1357

3.

Deisenhofer I, Estner H, Zrenner B, Schreieck J, Weyerbrock S, Hessling G, Scharf K, Karch MR, Schmitt C (2006) Left atrial tachycardia after circumferential pulmonary vein ablation for atrial fibrillation: incidence, electrophysiological characteristics, and results of radiofrequency ablation. Europace 8:573–582

4.

Chugh A, Oral H, Lemola K, Hall B, Cheung P, Good E, Tamirisa K, Han J, Bogun F, Pelosi F Jr, Morady F (2005) Prevalence, mechanisms, and clinical significance of macroreentrant atrial tachycardia during and following left atrial ablation for atrial fibrillation. Heart Rhythm 2:464–471

5.

Rostagno C, Gelsomino S, Capecchi I, Rossi A, Montesi GF, Stefano PL (2016) Factors related to sinus rhythm at discharge after radiofrequency ablation of permanent atrial fibrillation in patients undergoing mitral valve surgery. Heart Vessels 31:593–598

6.

Gerstenfeld EP, Callans DJ, Sauer W, Jacobson J, Marchlinski FE (2005) Reentrant and nonreentrant focal left atrial tachycardias occur after pulmonary vein isolation. Heart Rhythm 2:1195–1202

7.

Patel AM, d'Avila A, Neuzil P, Kim SJ, Mela T, Singh JP, Ruskin JN, Reddy VY (2008) Atrial tachycardia after ablation of persistent atrial fibrillation: identification of the critical isthmus with a combination of multielectrode activation mapping and targeted entrainment mapping. Circ Arrhythm Electrophysiol 1:14–22

8.

Maeda S, Sasaki T, Shirai Y, Ihara K, Kawabata M, Yokoyama Y, Nazarian S, Zimmerman SL, Hirao K (2015) Association of intramural fat deposition in the interatrial septum with focal atrial tachyarrhythmias originating near the atrioventricular node. Heart Vessels 30:143–145

9.

Rostock T, Drewitz I, Steven D, Hoffmann BA, Salukhe TV, Bock K, Servatius H, Aydin MA, Meinertz T, Willems S (2010) Characterization, mapping, and catheter ablation of recurrent atrial tachycardias after stepwise ablation of long-lasting persistent atrial fibrillation. Circ Arrhythm Electrophysiol 3:160–169

10.

Irtel TA, Delacretaz E (2005) Intra-atrial reentrant tachycardia with ambiguous data from activation mapping: what to do next? Heart Rhythm 2:780–781

11.

Castrejon-Castrejon S, Ortega M, Perez-Silva A, Doiny D, Estrada A, Filgueiras D, Lopez-Sendon JL, Merino JL (2011) Organized atrial tachycardias after atrial fibrillation ablation. Cardiology research and practice 2011: 957538

12.

Eitel C, Hindricks G, Dagres N, Sommer P, Piorkowski C (2010) EnSite Velocity cardiac mapping system: a new platform for 3D mapping of cardiac arrhythmias. Expert Rev Med Devices 7:185–192

13.

Ventura R, Rostock T, Klemm HU, Lutomsky B, Demir C, Weiss C, Meinertz T, Willems S (2004) Catheter ablation of common-type atrial flutter guided by three-dimensional right atrial geometry reconstruction and catheter tracking using cutaneous patches: a randomized prospective study. J Cardiovasc Electrophysiol 15:1157–1161

14.

Miyamoto K, Tsuchiya T, Narita S, Yamaguchi T, Nagamoto Y, Ando S, Hayashida K, Tanioka Y, Takahashi N (2009) Bipolar electrogram amplitudes in the left atrium are related to local conduction velocity in patients with atrial fibrillation. Europace 11:1597–1605

15.

Sanders P, Morton JB, Davidson NC, Spence SJ, Vohra JK, Sparks PB, Kalman JM (2003) Electrical remodeling of the atria in congestive heart failure: electrophysiological and electroanatomic mapping in humans. Circulation 108:1461–1468

16.

Lo LW, Tai CT, Lin YJ, Chang SL, Wongcharoen W, Chang SH, Hsieh MH, Tuan TC, Udyavar AR, Chen YJ, Tsao HM, Chen SA (2007) Progressive remodeling of the atrial substrate–a novel finding from consecutive voltage mapping in patients with recurrence of atrial fibrillation after catheter ablation. J Cardiovasc Electrophysiol 18:258–265

17.

De Ponti R, Marazzi R, Zoli L, Caravati F, Ghiringhelli S, Salerno-Uriarte JA (2010) Electroanatomic mapping and ablation of macroreentrant atrial tachycardia: comparison between successfully and unsuccessfully treated cases. J Cardiovasc Electrophysiol 21:155–162

18.

Ju W, Yang B, Chen H, Zhang F, Gu K, Yu J, Li M, Yang G, Cao K, Chen M (2014) Mapping of focal atrial tachycardia with an uninterpretable activation map after extensive atrial ablation: tricks and tips. Circ Arrhythm Electrophysiol 7:598–604

19.

Anter E, Tschabrunn CM, Josephson ME (2015) High-resolution mapping of scar-related atrial arrhythmias using smaller electrodes with closer interelectrode spacing. Circ Arrhythm Electrophysiol 8:537–545

20.

Wo HT, Wen MS, Chang PC, Chou CC, Wang CC, Yeh SJ, Wu D (2014) Successful treatment of macroreentrant atrial tachycardia by radiofrequency ablation targeting channels with continuous activation. Pacing Clin Electrophysiol 37:927–937

21.

Del Carpio Munoz F, Buescher TL, Asirvatham SJ (2010) Three-dimensional mapping of cardiac arrhythmias: what do the colors really mean? Circ Arrhythm Electrophysiol 3:e6–e11

22.

Nakagawa H, Ikeda A, Sharma T, Lazzara R, Jackman WM (2012) Rapid high resolution electroanatomical mapping: evaluation of a new system in a canine atrial linear lesion model. Circ Arrhythm Electrophysiol 5:417–424

23.

Anter E, Tschabrunn CM, Contreras-Valdes FM, Li J, Josephson ME (2015) Pulmonary vein isolation using the Rhythmia mapping system: verification of intracardiac signals using the Orion mini-basket catheter. Heart Rhythm 12:1927–1934

24.

Luther V, Linton NW, Koa-Wing M, Lim PB, Jamil-Copley S, Qureshi N, Ng FS, Hayat S, Whinnett Z, Davies DW, Peters NS, Kanagaratnam P (2016) A Prospective Study of Ripple Mapping in Atrial Tachycardias: A Novel Approach to Interpreting Activation in Low-Voltage Areas. Circ Arrhythm Electrophysiol 9:e003582

25.

Coffey JO, d'Avila A, Dukkipati S, Danik SB, Gangireddy SR, Koruth JS, Miller MA, Sager SJ, Eggert CA, Reddy VY (2013) Catheter ablation of scar-related atypical atrial flutter. Europace 15:414–419
Ethics declarations
Conflict of interest
The authors declare that they have no conflict of interest.
Electronic supplementary material
Below is the link to the electronic supplementary material.
Online Resource 1: The animation that shows actual 'Window Sliding' analysis for 3 macro-reentrant atrial tachycardia. After an acquisition of mapping points, the patterns of the color-coding on activation map can be changed by sliding the color bar. The color bar was moved until the white narrow area appeared. Some ATs had multiple narrow white areas, which meant they contained multiple slow conduction zones (MPG 5948 KB)
About this article
Cite this article
Nakasuka, K., Miyamoto, K., Noda, T. et al. "Window Sliding" analysis combined with high-density and rapid electroanatomical mapping: its efficacy and the outcome of catheter ablation of atrial tachycardia. Heart Vessels 32, 984–996 (2017) doi:10.1007/s00380-017-0959-6
Received:

Accepted:

Published:

Issue Date:
Keywords
Atrial tachycardia

Rapid and high-density electroanatomical mapping

Activation map

Window Sliding

Slow conduction zone