Near-surface electromagnetic, rock magnetic, and geochemical fingerprinting of submarine freshwater seepage at Eckernförde Bay (SW Baltic Sea)
Abstract
Submarine groundwater discharge in coastal settings can massively modify the hydraulic and geochemical conditions of the seafloor. Resulting local anomalies in the morphology and physical properties of surface sediments are usually explored with seismo-acoustic imaging techniques. Controlled source electromagnetic imaging offers an innovative dual approach to seep characterization by its ability to detect pore-water electrical conductivity, hence salinity, as well as sediment magnetic susceptibility, hence preservation or diagenetic alteration of iron oxides. The newly developed electromagnetic (EM) profiler Neridis II successfully realized this concept for a first time with a high-resolution survey of freshwater seeps in Eckernförde Bay (SW Baltic Sea). We demonstrate that EM profiling, complemented and validated by acoustic as well as sample-based rock magnetic and geochemical methods, can create a crisp and revealing fingerprint image of freshwater seepage and related reductive alteration of near-surface sediments. Our findings imply that (1) freshwater penetrates the pore space of Holocene mud sediments by both diffuse and focused advection, (2) pockmarks are marked by focused freshwater seepage, underlying sand highs, reduced mud thickness, higher porosity, fining of grain size, and anoxic conditions, (3) depletion of Fe oxides, especially magnetite, is more pervasive within pockmarks due to higher concentrations of organic and sulfidic reaction partners, and (4) freshwater advection reduces sediment magnetic susceptibility by a combination of pore-water injection (dilution) and magnetite reduction (depletion). The conductivity vs. susceptibility biplot resolves subtle lateral litho- and hydrofacies variations.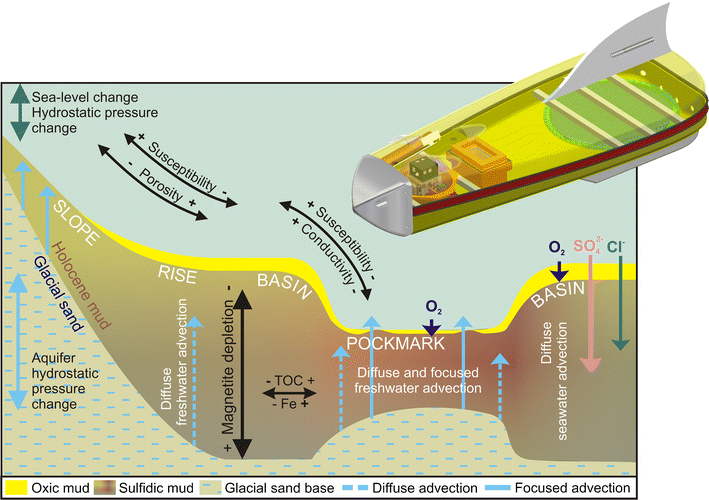 Keywords
Magnetite 
Magnetic Mineral 
Submarine Groundwater Discharge 
Isothermal Remanent Magnetization 
Anhysteretic Remanent Magnetization 
These keywords were added by machine and not by the authors. This process is experimental and the keywords may be updated as the learning algorithm improves.
Notes
Acknowledgements
Four survey campaigns with the RB Polarfuchs in the Western Baltic Sea were granted by IfM GEOMAR in Kiel and Center for Marine Environmental Sciences (MARUM) at the University of Bremen. We thank the ship's crew members H. Meier and H. Schramm for their great support. We also thank C. Hilgenfeldt and T. Frederichs for technical assistance, and D. Rey, B. Rubio, G. Bohrmann, F. Abegg, I.J. Won, B. SanFilipo, and M. Schlüter for thoughtful suggestions and comments. The authors would like to thank A. Roberts and B. Housen for helpful comments in their detailed reviews of the manuscript. Research, development, and implementation of the electromagnetic seafloor profiler Neridis II was jointly funded by MARUM incentive funding and two research grants of the Marine and Environmental Geology Group (MARGO) at the University of Vigo (Spain), PGDIT06TAM31201PR (XUGA) and CTM 2007-61227/MAR (micinn). This work contributes to MARUM projects C1 and SD2 on sediment dynamics.