Abstract
We combined behavioral analyses in the laboratory and field to investigate chemical communication in the formation of foraging columns in two Nearctic seed harvesting ants, Messor pergandei and Messor andrei. We demonstrate that both species use poison gland secretions to lay recruitment trails. In M. pergandei, the recruitment effect of the poison gland is enhanced by adding pygidial gland secretions. The poison glands of both species contain 1-phenyl ethanol. Minute quantities (3 μl of a 0.1 ppm solution) of 1-phenyl ethanol drawn out along a 40 cm long trail released trail following behavior in M. pergandei, while M. andrei required higher concentrations (0.5–1 ppm). Messor pergandei workers showed weak trail following to 5 ppm trails of the pyrazines 2,5-dimethylpyrazine and 2,3,5-trimethylpyrazine, whereas M. andrei workers showed no behavioral response. Minute quantities of pyrazines were detected in M. pergandei but not in M. andrei poison glands using single ion monitoring gas chromatography–mass spectrometry.
This is a preview of subscription content, log in to check access.
Access options
Buy single article
Instant unlimited access to the full article PDF.
US$ 39.95
Price includes VAT for USA
Subscribe to journal
Immediate online access to all issues from 2019. Subscription will auto renew annually.
US$ 199
This is the net price. Taxes to be calculated in checkout.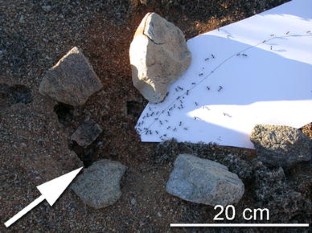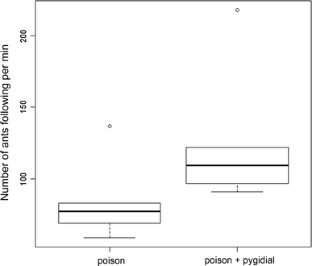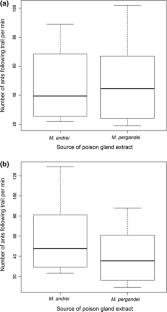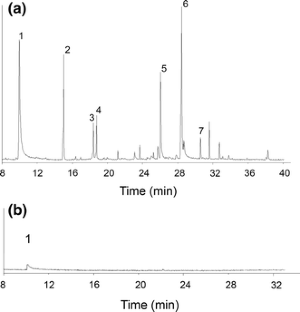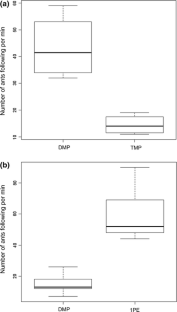 References
Bennett M (2000) Systematics of the Nearctic granivore ant genus Messor. PhD Thesis, University of California, Davis, p 128

Bernstein RA (1974) Seasonal food abundance and foraging activity in some desert ants. Am Nat 108:490–498

Bernstein RA (1975) Foraging strategies of ants in response to variable food density. Ecology 56:213–219. http://www.jstor.org/stable/1935314

Bhatkar AP, Whitcomb WH (1970) Artificial diet for rearing various species of ants. Florida Entomol 53:229–232

Blum M (1974) Myrmicine trail pheromones: specificity, source and significance. JNY Entomol Soc 82: 141–147. http://www.jstor.org/stable/25008917

Bolton B (2013) Bolton's catalogue and synopsis, http://gap.entclub.org, Version: 1 January 2012, retrieved 20 April 2013

Brown MJF, Gordon DM (2000) How resources and encounters affect the distribution of foraging activity in a seed-harvesting ant. Behav Ecol Sociobiol 47:195–203. doi:10.1007/s002650050011

Clark W, Comanor P (1973) A quantitative examination of the spring foraging of Veromessor pergandei in northern Death Valley, California. Am Midl Nat 90:467–474. http://www.jstor.org/stable/2424472

Gordon S (1978) Food and foraging ecology of a desert harvesting ant, Veromessor pergandei. PhD thesis, University of California, Berkeley, p 194

Greene MJ, Gordon DM (2007) How patrollers set foraging direction in harvester ants. Am Nat 170:943–948. doi:10.1086/522843

Hölldobler B (1976) Recruitment behavior, home range orientation and territoriality in harvester ants, Pogonomyrmex. Behav Ecol Sociobiol 1:3–44. http://www.jstor.org/stable/4599087

Hölldobler B, Wilson EO (1970) Recruitment trails in the harvester ant Pogonomyrmex badius. Psyche 77:385–399. doi:10.1155/1970/38470

Hölldobler B, Wilson EO (1990) The Ants. Harvard University Press, Cambridge, pp 1–732

Hölldobler B, Wilson EO (2009) The Superorganism: the beauty, elegance, and strangeness of insect societies. W.W. Norton and Company, New York, pp 1–544

Hölldobler B, Oldham NJ, Morgan ED, König WA (1995) Recruitment pheromones in the ants Aphaenogaster albisetosus and A. cockerelli (Hymenoptera: Formicidae). J Ins Physiol 41:739–744. doi:10.1016/0022-1910(95)00041-R

Hölldobler B, Morgan E, Oldham N, Liebig J (2001) Recruitment pheromone in the harvester ant genus Pogonomyrmex. J Ins Physiol 47:369–374. doi:10.1016/S0022-1910(00)00143-8

Hölldobler B, Plowes NJR, Johnson RA, Nishshanka U, Liu C, Attygalle A (2013) Pygidial gland chemistry and potential alarm-recruitment function in column foraging, but not solitary, Nearctic Messor harvesting ants (Hymenoptera: Formicidae: Myrmicinae). J Ins Physiol 59:863–869. doi:10.1016/j.jinsphys.2013.06.006

Jackson B, Wright P, Morgan E (1989) 3-Ethyl-2,5-dimethylpyrazine, a component of the trail pheromone of the ant Messor bouvieri. Experientia 45:487–489

Johnson RA (2000) Seed harvester ants of North America: and overview of ecology and biogeography. Sociobiology 36:89–122

Johnson RA (2001) Biogeography and community structure of North American seed-harvester ants. Annl Rev Entomol 46:1–29. doi:10.1146/annurev.ento.46.1.1

Johnson RA, Rissing SW, Killeen PR (1994) Differential learning and memory by co-occurring ant species. Insect Soc 41:165–177. doi:10.1007/BF01240476

Kamm JA, Buttery RG, Robinson WH (1987) An attractant for mushroom flies (Diptera: Phoridae). J NY Entomol Soc 95:19–22. http://www.jstor.org/stable/25009585

Lopes JFS, Forti LC, Camargo RS (2004) The influence of the scout upon the decision-making process of recruited workers in three Acromyrmex species (Formicidae: Attini). Behav Process 67:471–476. doi:10.1016/j.beproc.2004.08.001

Moreau CS, Bell CD (2013) Testing the museum versus cradle tropical biological diversity hypothesis: phylogeny, diversification, and ancestral biogeographical evolution of the ants. Evolution 67:2240–2257. doi:10.1111/evo.12105

Morgan ED (2009) Trail pheromones of ants. Physiol Entomol 34:734–739. doi:10.1111/j.1365-3032.2008.00658.x

Plowes NJR, Johnson RA, Hölldobler B (2013) Foraging in the genus Messor. Myrmecol News 18:33–49

Plowes NJR, Ramsch K, Middendorf M, Hölldobler B (2014) An empirically based simulation of group foraging in the harvesting ant, Messor pergandei. J Theor Biol 340:186–198

Rissing SW (1982) Foraging velocity of seed-harvester ants, Veromessor pergandei. Environ Entomol 11:905–907

Rissing SW (1988) Group foraging of the desert seed-harvesting ant Veromessor pergandei (Mayr). In: Trager JC (ed) Advances in Myrmecology. EJ Brill, Leiden, pp 347–353

Ruano F, Tinaut A (1999) Raid process, activity pattern and influence of abiotic conditions in the slave-making ant Rossomyrmex minuchae (Hymenoptera, Formicidae). Insect Soc 46:341–347. doi:10.1007/s000400050155

Ryti RT, Case TJ (1988) Field experiments on desert ants: testing for competition between colonies. Ecology 69: 1993–2003. http://www.jstor.org/stable/1941177

Tevis L (1958) Interrelations between the harvester ant Messor pergandei (Mayr) and some desert ephemerals. Ecology 39: 695–704. http://www.jstor.org/stable/1931610

Vuts J, Imrei Z, Tóth M (2010) New co-attractants synergizing attraction of Cetonia aurata aurata and Potosia cuprea to the known floral attractant. J Appl Entomol 134:9–15. doi:10.1111/j.1439-0418.2009.01432.x

Ward PS (2005) A syntopic review of the ants of California. Zootaxa 936:1–68

Went F, Wheeler J, Wheeler GC (1972) Feeding and digestion in some ants (Veromessor and Manica). BioScience 22:82–88. http://www.jstor.org/stable/1296037

Wheeler J, Rissing S (1975) Natural history of Veromessor pergandei 2 Behavior. Pan-Pac Entomol 51:303–314
Acknowledgments
We thank Athula Attygalle for preliminary chemical analyses, and the City of Phoenix, AZ, and the Sierra Foothill Conservancy, CA, for access to field sites. We also thank the ASU Foundation for providing funding to B.H. All animal experiments were performed according to relevant USA laws.
Electronic supplementary material
Below is the link to the electronic supplementary material.
Video 1. Video of Messor pergandei workers extending a foraging column in the field. The nest is directly behind the top of the image, and the column is forming towards the camera. Workers move forward and then loop back, laying trails as they move (MPG 6808 kb)
Video 2. Video of Messor pergandei workers walking on a foraging column in the field. Several workers can be seen trail marking-swiping the tips of their gasters to the substrate (MPG 6806 kb)
Video 3. Video of Messor pergandei workers in the laboratory demonstrating trail following response to 1-phenylethanol, and alarm-recruitment response to tridecane (MPG 34192 kb)
About this article
Cite this article
Plowes, N.J.R., Colella, T., Johnson, R.A. et al. Chemical communication during foraging in the harvesting ants Messor pergandei and Messor andrei . J Comp Physiol A 200, 129–137 (2014) doi:10.1007/s00359-013-0868-9
Received:

Revised:

Accepted:

Published:

Issue Date:
Keywords
Column foraging

Harvester ants

1-phenylethanol

Poison gland

Recruitment