Abstract
The European grape berry moth is an important pest in vineyards. Males respond to the female-produced sex pheromone released from a piezo nebulizer in a dose-dependent manner in a wind tunnel: <50% arrive at the source at 5–50 pg/min (underdosed), 80% arrive at 100 pg/min to 10 ng/min (optimal) and <20% arrive at 100 ng/min (overdosed). Males responding to overdosed pheromone show in flight arrestment at 80 cm from the source. Host plant chemostimuli for Eupoecilia ambiguella increase the responses of males to underdosed and overdosed pheromone. (Z)-3-hexen-1-ol, (+)-terpinen-4-ol, (E)-β-caryophyllene and methyl salicylate released with the underdosed pheromone cause a significant increase in male E. ambiguella flying to the source. Time–event analysis indicates a positive correlation between faster activation and probability of source contact by the responding males. The four host plant compounds added to the overdosed pheromone permitted males to take off faster and with a higher probability of flying to the source. This suggests that perception of host plant products with the sex pheromone facilitates male E. ambiguella to locate females on host plants, lending credence to the hypothesis that plant products can signal rendezvous sites suitable for mating.
This is a preview of subscription content, log in to check access.
Access options
Buy single article
Instant unlimited access to the full article PDF.
US$ 39.95
Price includes VAT for USA
Subscribe to journal
Immediate online access to all issues from 2019. Subscription will auto renew annually.
US$ 199
This is the net price. Taxes to be calculated in checkout.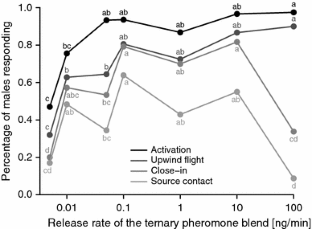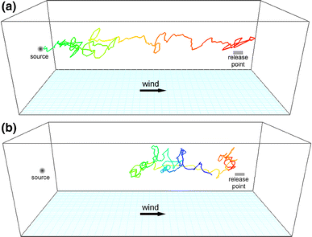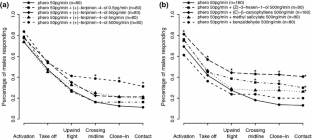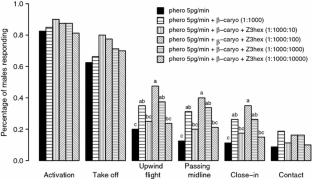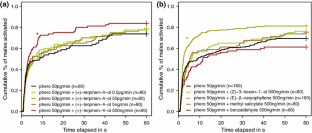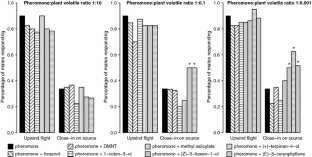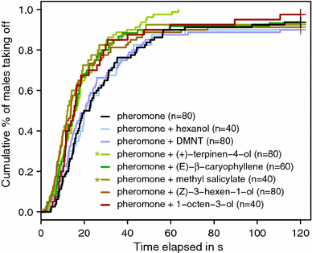 Abbreviations
DMNT:

4,8-Dimethyl-1(E),3,7-nonatriene

Z9–12:Ac:

(Z)-9-Dodecenyl acetate

12:Ac:

Dodecenyl acetate

18:Ac:

Octadecyl acetate
References
Ansebo L, Coracini MDA, Bengtsson M, Liblikas I, Ramirez M, Borg-Karlson AK, Tasin M, Witzgall P (2004) Antennal and behavioural response of codling moth Cydia pomonella to plant volatiles. J Appl Entomol 128:488–493

Arn H, Rauscher S, Buser HR, Roelofs WL (1976) Sex pheromone of Eupoecilia ambiguella—cis-9-dodecenyl acetate as a major component. Z Naturforsch C 31:499–503

Arn H, Rauscher S, Buser HR, Guerin PM (1986) Sex-pheromone of Eupoecilia ambiguella female—analysis and male response to ternary blend. J Chem Ecol 12:1417–1429

Bland JM, Altman DG (2000) The odds ratio. Br Med J 320:1468

Boppré M (1986) Insects pharmacophagously utilizing defensive plant chemicals (pyrrolizidine alkaloids). Naturwissenschaften 73:17–26

Bush GL (1969) Sympatric host race formation and speciation in frugivorous flies of the genus Rhagoletis (Diptera, Tephritidae). Evolution 23:237–251

Charmillot PJ, Pasquier D (2004) Isonet: une nouvelle gamme de diffuseurs pour la lutte par confusion contre les vers de la grappe. Revue Suisse Vitic Arboric Hortic 36:95–100

Charmillot PJ, Pasquier D, Scalco A (1995) Lutte par confusion contre les vers de la grappe eudémis et cochylis à Perroy et Allaman: résultats de 1995. Revue Suisse Vitic Arboric Hortic 27:347–358

Conner WF, Eisner T, Vandermeer RK, Guerrero R, Meinwald J (1981) Precopulatory sexual interaction in an arctiid moth (Utetheisa ornatrix): role of a pheromone derived from dietary alkaloids. Behav Ecol Sociobiol 9:227–235

Cox DR (1972) Regression models and life-tables. J R Stat Soc B 34:187–220

Cox DR, Snell EJ (1989) Analysis of binary data. Chapman & Hall, London

DeLury NC, Gries R, Gries G, Judd GJR, Khaskin G (1999) Moth scale-derived kairomones used by egg-larval parasitoid Ascogaster quadridentata to locate eggs of its host, Cydia pomonella. J Chem Ecol 25:2419–2431

Deng JY, Wei HY, Huang YP, Du JW (2004) Enhancement of attraction to sex pheromones of Spodoptera exigua by volatile compounds produced by host plants. J Chem Ecol 30:2037–2045

Dickens JC, Smith JW, Light DM (1993) Green leaf volatiles enhance sex attractant pheromone of the tobacco budworm, Heliothis virescens (Lep.: Noctuidae). Chemoecology 4:175–177

El-Sayed A, Gödde J, Arn H (1999) Sprayer for quantitative application of odor stimuli. Environ Entomol 28:947–953

Galet P (1982) Les maladies et les parasites de la vigne. Impr. du Paysan du Midi, Montpellier

Kaissling K-E (1997) Pheromone-controlled anemotaxis in moths. In: Lehrer M (ed) Orientation and communication in arthropods. Birkhauser Verlag, Basel

Landolt PJ, Phillips TW (1997) Host plant influences on sex pheromone behavior of phytophagous insects. Annu Rev Entomol 42:371–391

Light DM, Flath RA, Buttery RG, Zalom FG, Rice RE, Dickens JC, Jang EB (1993) Host-plant green leaf volatiles synergize the synthetic sex pheromone of the corn earworm and codling moth (Lepidoptera). Chemoecology 4:145–152

Linn C, Feder JL, Nojima S, Dambroski HR, Berlocher SH, Roelofs W (2003) Fruit odor discrimination and sympatric host race formation in Rhagoletis. Proc Natl Acad Sci USA 100:11490–11493

Linn CE, Dambroski HR, Nojima S, Feder JL, Berlocher SH, Roelofs WJ (2005) Variability in response specificity of apple, hawthorn, and flowering dogwood-infesting Rhagoletis flies to host fruit volatile blends: implications for sympatric host shifts. Entomol Exp Appl 116:55–64

Löfstedt C, Vickers NJ, Roelofs CJ, Baker TC (1989) Diet related courtship success in the Oriental fruit moth, Grapholita molesta (Tortricidae). Oikos 55:402–408

McDonough LM, Brown DF, Aller WC (1989) Insect sex pheromone: effect of temperature on evaporation rate of acetates from rubber septa. J Chem Ecol 15:779–790

Murlis J, Jones CD (1981) Fine-scale structure of odour plumes in relation to insect orientation to distant pheromone and other attractant sources. Physiol Entomol 6:71–86

Namiki S, Iwabuchi S, Kanzaki R (2008) Representation of a mixture of pheromone and host plant odor by antennal lobe projection neurons of the silkmoth Bombyx mori. J Comp Physiol A Sens Neural Behav Physiol 194:501–515

Ochieng SA, Park KC, Baker TC (2002) Host plant volatiles synergize responses of sex pheromone-specific olfactory receptor neurons in male Helicoverpa zea. J Comp Physiol B Biochem Syst Environ Physiol 188:325–333

Rahn R (1968) Effect of host plant on sexual attraction in Acrolepia assectella Zeller (Lep. Plutellidae). C R Hebd Seances Acad Sci D 266:2004–2006

Raina AK, Kingan TG, Mattoo AK (1992) Chemical signals from host plant and sexual behavior in a moth. Science 255:592–594

Rauscher S, Arn H (1979) Mating suppression in tethered females of Eupoecilia ambiguella by evaporation of (Z)-9-dodecenyl acetate in the field. Entomol Exp Appl 25:16–20

Rauscher S, Arn H, Guerin P (1984) Effects of dodecyl acetate and Z-10-tridecenyl acetate on attraction of Eupoecilia ambiguella males to the main sex pheromone component, Z-9-dodecenyl acetate. J Chem Ecol 10:253–264

Reddy GVP, Guerrero A (2004) Interactions of insect pheromones and plant semiochemicals. Trends Plant Sci 9:253–261

Ruther J, Reinecke A, Hilker M (2002) Plant volatiles in the sexual communication of Melolontha hippocastani: response towards time-dependent bouquets and novel function of (Z)-3-hexen-1-ol as a sexual kairomone. Ecol Entomol 27:76–83

Schoonhoven LM, van Loon JJA, Dicke M (2005) Insect-plant biology—from physiology to evolution. Oxford University Press, New York

Syed Z, Guerin PM (2004) Tsetse flies are attracted to the invasive plant Lantana camara. J Insect Physiol 50:43–50

Tasin M, Anfora G, Ioriatti C, Carlin S, De Cristofaro A, Schmidt S, Bengtsson M, Versini G, Witzgall P (2005) Antennal and behavioral responses of grapevine moth Lobesia botrana females to volatiles from grapevine. J Chem Ecol 31:77–87

Tasin M, Bäckmann A, Bengtsson M, Varela N, Ioriatti C, Witzgall P (2006a) Wind tunnel attraction of grapevine moth females, Lobesia botrana, to natural and artificial grape odour. Chemoecology 16:87–92

Tasin M, Bäckmann A, Bengtsson M, Ioriatti C, Witzgall P (2006b) Essential host plant cues in the grapevine moth. Naturwissenschaften 93:141–144

Tasin M, Bäckman A-C, Coracini M, Casado D, Ioriatti C, Witzgall P (2007) Synergism and redundancy in a plant volatile blend attracting grapevine moth females. Phytochemistry 68:203–209

Witzgall P, Arn H (1990) Direct measurement of the flight behavior of male moths to calling females and synthetic sex-pheromones. Z Naturforsch C 45:1067

Yang ZH, Bengtsson M, Witzgall P (2004) Host plant volatiles synergize response to sex pheromone in codling moth, Cydia pomonella. J Chem Ecol 30:619–629

Yang ZH, Casado D, Ioriatti C, Bengtsson M, Witzgall P (2005) Pheromone pre-exposure and mating modulate codling moth (Lepidoptera: Tortricidae) response to host plant volatiles. Agricul Forest Entomol 7:231–236
Acknowledgments
We thank Dr. Paul Becher and Dr. Denes Schmera (University of Neuchâtel, Switzerland) and Dr. Pierre-Joseph Charmillot, Françoise Briand and Dr. Thomas Degen (Agroscope Changins-Wädenswil, Nyon, Switzerland) for discussions and Martine Bourquin and Susana da Costa for help with the rearing of E. ambiguella. Further, we thank Dr. Jean-Luc Perret and Stéphane Donnet (University of Neuchâtel, Switzerland) for the installation and development of the 3D tracking system, Dr. Claudia Lozada-Can and Prof. Dr. Anthony Davison (Swiss Federal Institute of Technology, Lausanne, Switzerland) for their expert help with statistics. Funds for this project were provided by the Swiss Innovation Promotion Agency (CTI Project No. 7273.1 LSPP-LS2) and the National Centre of Competence in Research (NCCR) Plant Survival, a research programme of the Swiss National Science Foundation based at the University of Neuchâtel.
Electronic supplementary material
Below is the link to the electronic supplementary material.
Supplementary material 1 (mpeg 12.4 MB)
About this article
Cite this article
Schmidt-Büsser, D., von Arx, M. & Guerin, P.M. Host plant volatiles serve to increase the response of male European grape berry moths, Eupoecilia ambiguella, to their sex pheromone. J Comp Physiol A 195, 853–864 (2009). https://doi.org/10.1007/s00359-009-0464-1
Received:

Revised:

Accepted:

Published:

Issue Date:
Keywords
Eupoecilia ambiguella

European grape berry moth

Pheromone–host plant volatile interaction

Insect behaviour

Sensory ecology