Measurement of extensional properties during free jet breakup
Abstract
This paper reports an experimental method for extracting the extensional properties of viscoelastic liquids during atomization. As a first approach, low-velocity free jets are considered. Such jets of viscoelastic liquids break with the formation of a beads-on-a-string pattern composed of quasi-spherical beads and quasi-cylindrical ligaments. The liquid extensional properties, i.e., the relaxation time and the terminal extensional viscosity, are measured by analyzing the ligament thinning. This analysis uses a statistical multi-scale description tool whose principle is explained for an ensemble of thinning cylinders. The tool is applied to free jets of dilute polymer solutions for several polymer concentrations, liquid flow rates and nozzle dimensions. Results show a correlation between the terminal extensional viscosity and the relaxation time in good agreement with the literature. The relaxation time is found to depend on an equivalent nozzle deformation rate. This behavior is due to polymer mechanical degradation in the nozzle. Because of its statistical nature, the method also returns the diameter distribution of the ligaments seen at each position along the jet. Ligament diameter distributions observed in more energetic atomization processes can thus be measured. The extensional properties can also be inferred from a temporal monitoring of these ligaments.
Graphic abstract
Measurement of the relaxation time and the terminal extensional viscosity of viscoelastic liquids using a statistical and multi-scale analysis of their free jet behavior-from left to right: jet images produced by a backlight imaging setup, normalized images, segmented images, Euclidian Distance Map images used for the analysis.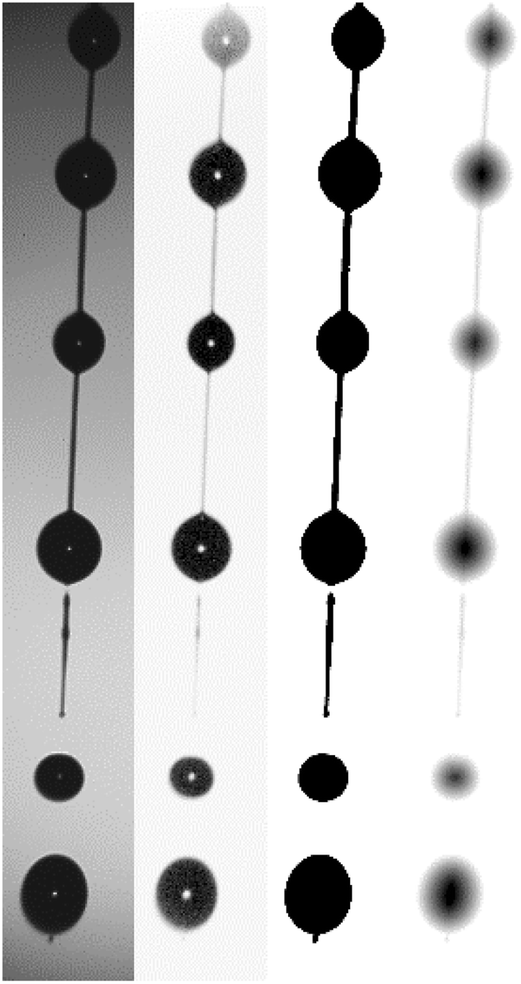 Notes
Acknowledgements
The authors acknowledge both Jean-Baptiste Charpentier for the jet wave number measurement implementation from its own work (Charpentier et al. 2017) and Massinissa Saadi for its contribution to jet experiment acquisitions.
Copyright information
© Springer-Verlag GmbH Germany, part of Springer Nature 2019