Extended flexible trailing-edge on the flow structures of an airfoil at high angle of attack
Abstract
A two-dimensional time-resolved particle image velocimetry experiment was carried out to investigate the effect of flexible trailing-edge on the flow structures of an airfoil at high angle of attack. The experimental model was composed of a rigid NACA0020 airfoil and a flexible extended trailing-edge plate. The Reynolds number ranged from 1.42 × 104 to 3.57 × 104 (based on the model length). The kinematic characteristics of the flexible trailing-edge plate were first analyzed. While interacting with the fluid, the flexible plate performed a strongly periodic vibration. The plate presented more complicated deformation and larger amplitude with the increase of Reynolds number. The flow field was also captured in this study. It was found that the vibration of the flexible plate caused the generation and shedding of the trailing-edge vortex. Furthermore, the disturbance of plate vibration could propagate upstream and influence the formation of the leading-edge vortex in the separated shear layer. In the wake region, the alternative shedding processes of the leading- and trailing-edge vortices were coupled with the vibration of the plate. Besides, this study further scaled the vibration frequencies with a Strouhal number based on the wake width. The scaled Strouhal numbers were in the range of 0.14–0.21 for all Reynolds number cases tested, which indicated that the fluid–structure coupling led the flow to form a bluff-body wake.
Graphic abstract
The vibration patterns of the flexible trailing-edge plate at various Reynolds numbers.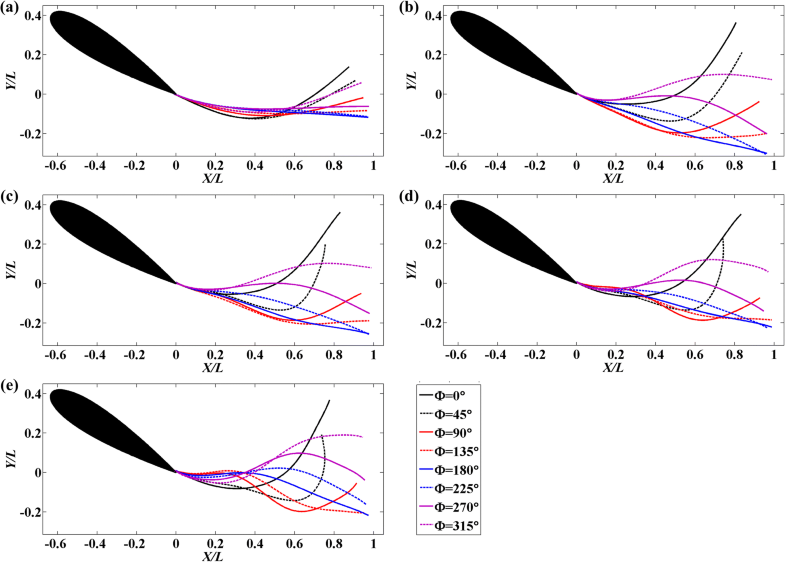 Notes
Acknowledgements
This work was supported by the National Natural Science Foundation of China (No. 11761131009 and 11721202). Besides, our deepest gratitude goes to the reviewers and editor for their careful works and thoughtful suggestions that have helped to improve this paper substantially.
Copyright information
© Springer-Verlag GmbH Germany, part of Springer Nature 2019