Zusammenfassung
Hintergrund und Ziele
Registerstudien geben einen Einblick in Diagnostik- und Behandlungsrealitäten außerhalb klinischer Studien. Sie sind einerseits für die Qualitätssicherung interessant, andererseits können explorative Analysen zur Identifikation möglicher Risiko- oder prognostisch relevanter Faktoren führen und Hypothesen generieren. In der deutschen Augenheilkunde gibt es aktuell relativ wenige aktive Registerstudien. Ziel dieser Umfrage ist es, die unterschiedliche Infrastruktur und insbesondere die möglichen Hürden bei der Etablierung und Durchführung von Registerstudien in der deutschen Augenheilkunde zu erfassen.
Methoden
Mittels eines Online-Fragebogens wurden Daten zur Beteiligung an Registerstudien zwischen September und Dezember 2018 erhoben. Die Umfrage richtete sich an alle Klinikleitungen und ärztlichen Mitarbeiter, die an Registerstudien in der Augenheilkunde beteiligt sind.
Ergebnisse
Von 45 Teilnehmern waren 18 in der Position der Klinikleitung, die übrigen waren Oberärzte (15), Fachärzte (2) oder Assistenzärzte (10). Nach Angaben der Klinikleitungen beteiligen sich pro Klinik durchschnittlich 2,5 (2,0; 3,5) Mitarbeiter an 2,0 (1,7; 3,0) Registerstudien. Die Höhe der durch die Klinikleitungen empfohlenen bzw. durch die Mitarbeiter gewünschten Aufwandsentschädigung unterscheidet sich signifikant (0,0 [0; 75] € [0–100] vs. 100,0 [50,0; 150,0] €; p = 0,0012). Als häufigste Hürden wurden der bürokratische Aufwand sowie die knappen Personalressourcen angegeben. Die Hälfte der befragten Klinikleitungen verfügt über ein separates Studienzentrum und verpflichten die an Studien beteiligten Mitarbeiter zu Good-clinical-practice(GCP)-Kursen. Ein Viertel der Kliniken erhält Unterstützung durch eine IT-Abteilung und/oder einen Statistiker.
Schlussfolgerung
Registerstudien sind ein wichtiges Instrument in der ophthalmologischen Forschung, und deren Stellenwert nimmt auch in Deutschland immer weiter zu. Die Einigung auf nationale Standards würde die Etablierung deutlich erleichtern.
Abstract
Background and objective
Registry studies provide insights into real-life diagnostic and treatment data outside of clinical trials. Registry studies are interesting for quality management and explorative analyses can lead to the identification of possible risk or prognostically relevant factors and generate hypotheses. There are currently relatively few active registry studies in German ophthalmology. The aim of this survey was to collate the different infrastructure and in particular the potential hurdles in the establishment and performance of registry studies in German ophthalmology departments.
Methods
An online questionnaire collected data on participation in registry studies in German ophthalmology departments between September and December 2018. The survey was addressed to all hospital management and medical staff involved in registry studies in German ophthalmology.
Results
Out of 45 participants 18 were head of the department, the remaining 27 were consultants (15), medical specialists (2) and residents (10). According to the department head an average of 2.5 (2.0–3.5) employees per clinic participate in 2.0 (1.7–3.0) registry studies. The amount of reimbursement recommended by the hospital management differed significantly from the amount suggested by the staff (0.0 (0; 75) € (0–100) vs. 100.0 (50.0; 150.0) €; p = 0.0012). The most frequent hurdles to conducting a registry study were bureaucracy and limited human resources. Half of the surveyed centers profited from a separate study center and good clinical practice (GCP) courses for employees involved in studies were mandatory. A quarter of these centers received support from an IT department and/or a statistician.
Conclusion
Registry studies are an important instrument in ophthalmology research and their importance is increasing in Germany. An agreement on national standards would make the establishment of further registry studies easier.
This is a preview of subscription content, log in to check access.
Access options
Buy single article
Instant unlimited access to the full article PDF.
US$ 39.95
Price includes VAT for USA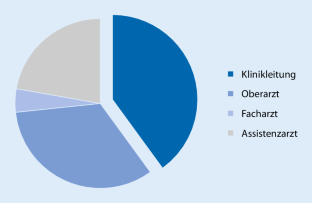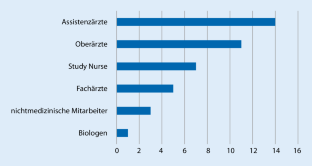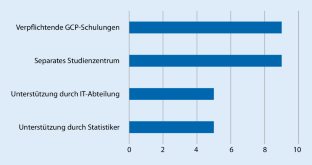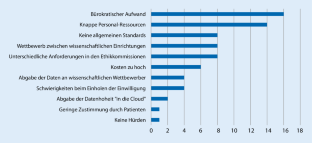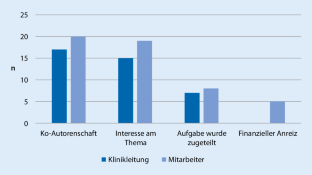 Literatur
1.

Gliklich RE, Dreyer NA, Leavy MB (2014) Registries for evaluating patient outcomes: A user's guide [Internet]. 3rd edition. https://www.ncbi.nlm.nih.gov/books/NBK208643/. Zugegriffen: 29. Dez. 2018

2.

Semler SC (2013) Das Registerportal – ein Register von Registern und Kohorten. In: 12 Deutscher Kongress für Versorgungsforschung. German Medical Science GMS Publishing House, Wiesbaden https://doi.org/10.3205/13dkvf033

3.

Nagel G, Erdmann F, Heier M, Meisinger C, Mayer B, Fallah M (2017) Registerbasierte Studien: Potenziale noch nicht ausgeschöpft. Dtsch Arztebl Int 114(18):1345–1353

4.

Neugebauer EAM, Stausberg J (2016) Was Register leisten können und was nicht: Sicht der AG Register des Deutschen Netzwerks Versorgungsforschung e. V. (DNVF). Unfallchirurg 119(6):493–500

5.

Tan JCK, Ferdi AC, Gillies MC, Watson SL (2018) Clinical registries in ophthalmology. Ophthalmology 126(5):655–662. https://doi.org/10.1016/j.ophtha.2018.12.030

6.

Flockerzi E, Maier P, Böhringer D, Reinshagen H, Kruse F, Cursiefen C et al (2018) Trends in corneal transplantation from 2001 to 2016 in Germany: A report of the DOG–section cornea and its keratoplasty registry. Am J Ophthalmol 188:91–98. https://doi.org/10.1016/j.ajo.2018.01.018

7.

Marschner N, Jänicke M (2017) Evidenzlücken in Nutzenbewertungen – Was können Registerdaten leisten? Schriftenr Interdiszip Plattf Nutzenbewert 5:48–57

8.

Zink A, Berlin DR (2017) Versorgungsrelevante Ergebnisse aus dem Rheuma-Register RABBIT. Schriftenr Interdiszip Plattf Nutzenbewert 5(7):36–64

9.

Li J, Heinz C, Finger RP (2018) Registerstudien in der Ophthalmologie. Ophthalmologe 115(10):826–831. https://doi.org/10.1007/s00347-018-0719-8

10.

Staeck F (2017) Das Potenzial von Registern ist groß, ihre langfristige Etablierung anspruchsvoll. Schriftenr Interdiszip Plattf Nutzenbewert 5:58–62

11.

Roth M, Daas L, Renner-Wilde A, Cvetkova-Fischer N, Saeger M, Herwig-Carl M et al (2019) Das Deutsche Pilz-Keratitis-Register. Ophthalmologe. https://doi.org/10.1007/s00347-019-0871-9

12.

International Committee of Medical Journal Editors (2018) Recommendations for the conduct, reporting, editing and publication of scholarly work in medical journals. http://www.icmje.org/recommendations/. Zugegriffen: 1. Feb. 2019

13.

Liesegang TJ, Schachat AP, Albert DM (2010) Defining authorship for group studies. Ophthalmology 117(8):1469–1470. https://doi.org/10.1016/j.ophtha.2010.06.009

14.

Foot B, Stanford M, Rahi J, Thompson J (2003) The British ophthalmological surveillance unit: An evaluation of the first 3 years. Eye 17(1):9–15

15.

Michalik C, Ngouongo S, Stausberg J (2015) Anforderungen an Kohortenstudien & Register It: Koregit-Spezifikation (Version 1.0)

16.

Hoffmann W, Latza U, Baumeister SE, Brünger M, Buttmann-Schweiger N, Hardt J et al (2019) Guidelines and recommendations for ensuring good epidemiological practice (GEP): A guideline developed by the German Society for Epidemiology. Eur J Epidemiol 34(3):301–317. https://doi.org/10.1007/s10654-019-00500-x

17.

Müller D, Augustin M, Banik N, Baumann W, Bestehorn K, Kieschke J et al (2010) Memorandum Register für die Versorgungsforschung – Memorandum registry for health services research. Gesundheitswesen 72(2):824–839
Ethics declarations
Interessenkonflikt
M. Roth, C. Holtmann, D. Böhringer, R.P. Finger, N. Eter, B. Seitz und G. Geerling geben an, dass kein Interessenkonflikt besteht.
Für diesen Beitrag wurden von den Autoren keine Studien an Menschen oder Tieren durchgeführt. Für die aufgeführten Studien gelten die jeweils dort angegebenen ethischen Richtlinien.
Additional information
Ein Teil der Ergebnisse wurde als Vortrag auf dem DOG-Kongress 2018 in Bonn präsentiert.
Caption Electronic Supplementary Material
About this article
Cite this article
Roth, M., Holtmann, C., Böhringer, D. et al. Stand und Perspektiven registerbasierter Studien in der deutschen Augenheilkunde. Ophthalmologe 117, 36–43 (2020). https://doi.org/10.1007/s00347-019-0931-1
Schlüsselwörter
Multicenterstudie

Register

Epidemiologie

Studiendesign

Vergütung
Keywords
Multicenter study

Registry

Epidemiology

Study design

Reimbursement