Zusammenfassung
Eine steroidinduzierte okuläre Hypertension (SIOH), die sich nicht durch lokale Antiglaukomatosa regulieren lässt, stellt eine seltene Komplikation nach intravitrealer Implantation verschiedener Kortisonderivate dar. Der vorliegende Fallbericht präsentiert ein therapeutisches Vorgehen für therapierefraktäre SIOH nach intravitrealer Implantation von Fluocinolonacetonid.
Abstract
Steroid-induced ocular hypertension (SIOH), which cannot be regulated by topical antiglaucoma agents, is a rare complication after intravitreal implantation of diverse cortisone derivatives. This case report presents a therapeutic approach for treatment-refractory SIOH after intravitreal implantation of fluocinolone acetonide using various minimally invasive glaucoma surgery (MIGS) techniques.
This is a preview of subscription content, log in to check access.
Access options
Buy single article
Instant unlimited access to the full article PDF.
US$ 39.95
Price includes VAT for USA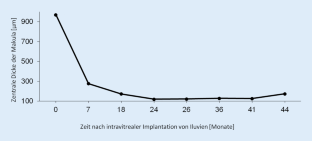 Literatur
1.

Alfaqawi F, Lip PL, Elsherbiny S et al (2017) Report of 12-months efficacy and safety of intravitreal fluocinolone acetonide implant for the treatment of chronic diabetic macular oedema: a real-world result in the United Kingdom. Eye 31:650–656

2.

Caprioli J, Kim JH, Friedman DS et al (2015) Special commentary: supporting innovation for safe and effective minimally invasive glaucoma surgery: summary of a joint meeting of the American glaucoma society and the food and drug administration, washington, DC, february 26, 2014. Ophthalmology 122:1795–1801

3.

De Gregorio A, Pedrotti E, Russo L et al (2017) Minimally invasive combined glaucoma and cataract surgery: clinical results of the smallest ab interno gel stent. Int Ophthalmol. https://doi.org/10.1155/2015/847439

4.

Fea A, Cannizzo PM, Consolandi G et al (2015) Managing drawbacks in unconventional successful glaucoma surgery: a case report of stent exposure. Case Rep Ophthalmol Med 2015:847439

5.

Gonnermann J, Bertelmann E, Pahlitzsch M et al (2017) Contralateral eye comparison study in MICS & MIGS: Trabectome(R) vs. iStent inject(R). Graefes Arch Clin Exp Ophthalmol 255:359–365

6.

Hohberger B, Welge-Luen UC, Lammer R (2017) ICE-syndrome: a case report of implantation of a Microbypass Xen gel Stent after DMEK transplantation. J Glaucoma 26:e103–e104

7.

Hohberger B, Welge-Lussen UC, Lammer R (2018) MIGS: therapeutic success of combined Xen Gel Stent implantation with cataract surgery. Graefes Arch Clin Exp Ophthalmol 256:621–625

8.

Klamann MK, Gonnermann J, Pahlitzsch M et al (2015) iStent inject in phakic open angle glaucoma. Graefes Arch Clin Exp Ophthalmol 253:941–947

9.

Leske MC, Heijl A, Hussein M et al (2003) Factors for glaucoma progression and the effect of treatment: the early manifest glaucoma trial. Arch Ophthalmol 121:48–56

10.

Lindstrom R, Lewis R, Hornbeak DM et al (2016) Outcomes following implantation of two second-generation trabecular micro-bypass Stents in patients with open-angle glaucoma on one medication: 18-month follow-up. Adv Ther 33:2082–2090

11.

Olate-Perez A, Perez-Torregrosa VT, Gargallo-Benedicto A et al (2018) Management of conjunctival perforation and late Seidel after XEN((R)) surgery. Arch Soc Esp Oftalmol 93:93–96

12.

Perez-Torregrosa VT, Olate-Perez A, Cerda-Ibanez M et al (2016) Combined phacoemulsification and XEN45 surgery from a temporal approach and 2 incisions. Arch Soc Esp Oftalmol 91:415–421

13.

Pillunat LE, Erb C, Junemann AG et al (2017) Micro-invasive glaucoma surgery (MIGS): a review of surgical procedures using stents. Clin Ophthalmol 11:1583–1600

14.

Rezkallah A, Mathis T, Denis P et al (2019) XEN gel Stent to treat Intraocular hypertension after Dexamethasone-implant Intravitreal injections: 5 cases. J Glaucoma 28:e5–e9

15.

Tham YC, Li X, Wong TY et al (2014) Global prevalence of glaucoma and projections of glaucoma burden through 2040: a systematic review and meta-analysis. Ophthalmology 121:2081–2090
Ethics declarations
Interessenkonflikt
B. Hohberger und R. Lämmer: Mobius Therapeutics. A. Bergua: Bayer, Alimera, Allergan. M. Haug gibt an, dass kein Interessenkonflikt besteht.
Für diesen Beitrag wurden von den Autoren keine Studien an Menschen oder Tieren durchgeführt. Für die aufgeführten Studien gelten die jeweils dort angegebenen ethischen Richtlinien. Für Bildmaterial oder anderweitige Angaben innerhalb des Manuskripts, über die Patienten zu identifizieren sind, liegt von ihnen und/oder ihren gesetzlichen Vertretern eine schriftliche Einwilligung vor.
Additional information
Die Ergebnisse wurden als Poster auf dem DOG-Kongress 2018 in Bonn präsentiert.
The Authors B. Hohberger and M. Haug contributed equally to the manuscript.
About this article
Cite this article
Hohberger, B., Haug, M., Bergua, A. et al. MIGS – eine Off-label-Option für eine therapierefraktäre, steroidinduzierte okuläre Hypertension. Ophthalmologe 117, 62–65 (2020). https://doi.org/10.1007/s00347-019-0898-y
Schlüsselwörter
MIGS

Okuläre Hypertension

Glaukom

Xen Gel Stent

iStent inject
Keywords
MIGS

Ocular hypertension

Glaucoma

Xen gel stent

iStent inject