Zusammenfassung
Ziel dieser Arbeit ist es, eine Übersicht über den aktuellen Stand der personalisierten Medizin bei der Therapie ausgewählter periokulärer Tumoren wie Basalzellkarzinom, Merkel-Zell-Karzinom und Bindehautmelanom zu geben. Dieser Beitrag bietet daher eine ausführliche Literaturübersicht aus PubMed unter Einbeziehung der aktuellen Leitlinien und Standard Operating Procedures (SOP). Da 90 % der Basalzellkarzinome eine pathologische Aktivierung der Sonic-Hedgehog-Kaskade zeigen, ist Vismodegib für inoperable oder metastasierte Basalzellkarzinome und bei Gorlin-Goltz-Syndrom eine neue therapeutische Option. Ein neuer Ansatz der systemischen Medizin beim metastasierten Merkel-Zell-Karzinom ist die Immuntherapie mit dem Immun-Checkpoint-Inhibitor Avelumab. Weitere personalisierte Immuntherapien, wie z. B. die Checkpoint-Inhibitoren Pembrolizumab und Nivolumab, der Tyrosinkinase-Inhibitor Pazopanib oder die Rolle des Hedgehog-Pathways bei Merkel-Zell-Karzinomen, sind Gegenstand aktueller Forschung und werden zukünftig sicher noch eine größere Rolle in der Therapie spielen. Lediglich beim metastasierten Bindehautmelanom ist die personalisierte Medizin im eigentlichen Sinne Wirklichkeit: Nur im Fall einer vorliegenden BRAF-Mutation im Tumor- oder Metastasengewebe kommt eine systemische Therapie mit BRAF-, MEK- und/oder auch Checkpoint-Inhibitoren zum Einsatz. Als weitere Therapie der ersten Wahl bei metastasierten Bindehautmelanomen kann eine systemische Immuntherapie mit den Checkpoint-Inhibitoren Pembrolizumab oder Nivolumab durchgeführt werden. Zusammenfassend ist die personalisierte Medizin Gegenstand aktueller Forschung und bietet auch für periokuläre Malignome viele neue, zielgerichtete therapeutische Möglichkeiten, aber auch große Herausforderungen bei der Entwicklung und Implementierung neuer Techniken und Therapien.
Abstract
The aim of this article is to provide an overview on the current state of personalized medicine in the systemic treatment of selected periocular tumors, such as basal cell carcinoma, Merkel cell carcinoma and conjunctival melanoma. This article therefore provides an extensive current literature review from PubMed including the current guidelines and standard operating procedures (SOP). As 90% of basal cell carcinomas have a pathologic activation of the sonic hedgehog pathway, vismodegib is a new treatment option for inoperable or metastatic basal cell carcinoma and for patients with Gorlin-Goltz syndrome. A novel approach of systemic medicine for the treatment of metastatic Merkel cell carcinoma is immunotherapy using the immune checkpoint inhibitor avelumab. Other personalized immunotherapies, such as the checkpoint inhibitors pembrolizumab and nivolumab, the tyrosine kinase inhibitor pazopanib and the role of the hedgehog pathway in Merkel cell carcinomas are the subject of current research and will certainly play an important role in future treatment. In the narrow sense personalized medicine has only come true for metastatic conjunctival melanomas: systemic treatment with BRAF, MEK and/or checkpoint inhibitors is initiated only when a BRAF mutation is detected in the tumor or metastatic tissue. Systemic immunotherapy with the checkpoint inhibitors pembrolizumab and nivolumab can also be used as a treatment option in metastatic conjunctival melanomas. In summary, personalized medicine is a subject of current research and provides many new targeted treatment options especially for periocular malignancies; however, it also involves many great challenges in the development and implementation of new techniques and therapies.
This is a preview of subscription content, log in to check access.
Access options
Buy single article
Instant unlimited access to the full article PDF.
US$ 39.95
Price includes VAT for USA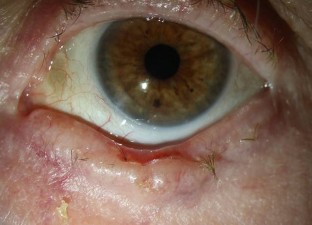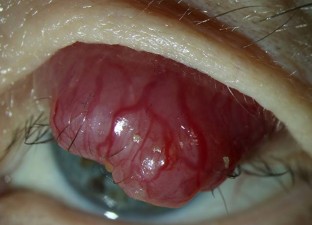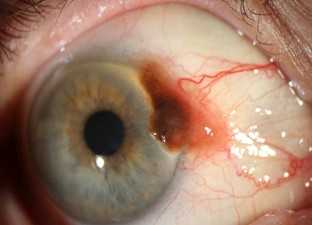 Literatur
1.

Auw-Haedrich C, Frick S, Boehringer D et al (2009) Histologic safety margin in basal cell carcinoma of the eyelid: correlation with recurrence rate. Ophthalmology 116:802–806

2.

Becker JC, Kauczok CS, Ugurel S et al (2008) Merkel cell carcinoma: molecular pathogenesis, clinical features and therapy. J Dtsch Dermatol Ges 6:709–719

3.

Bosch JJ, Heindl LM (2017) Novel adjuvant therapy for ocular melanoma. Klin Monbl Augenheilkd 234:670–673

4.

Brunner M, Thurnher D, Pammer J et al (2010) Expression of hedgehog signaling molecules in Merkel cell carcinoma. Head Neck 32:333–340

5.

Cancer Ta JC (2017) AJCC cancer staging manual. Springer, Chicago

6.

Clark JR, Veness MJ, Gilbert R et al (2007) Merkel cell carcinoma of the head and neck: is adjuvant radiotherapy necessary? Head Neck 29:249–257

7.

Damato B, Coupland SE (2009) Management of conjunctival melanoma. Expert Rev Anticancer Ther 9:1227–1239

8.

Davids MS, Charlton A, Ng SS et al (2009) Response to a novel multitargeted tyrosine kinase inhibitor pazopanib in metastatic Merkel cell carcinoma. J Clin Oncol 27:e97–100

9.

Epstude M, Tornquist K, Riklin C et al (2013) Comparison of (18)F-FDG PET/CT and (68)Ga-DOTATATE PET/CT imaging in metastasized Merkel cell carcinoma. Clin Nucl Med 38:283–284

10.

Gallo M, Guarnotta V, De Cicco F et al (2019) Immune checkpoint blockade for Merkel cell carcinoma: actual findings and unanswered questions. J Cancer Res Clin Oncol 145(2):429–443. https://doi.org/10.1007/s00432-019-02839-w

11.

Glossmann JP, Skoetz N, Starbatty B et al (2018) Conjunctival melanoma: standard operating procedures in diagnosis, treatment and follow-up care. Ophthalmologe 115(6):489–498. https://doi.org/10.1007/s00347-018-0664-6

12.

Griewank KG, Westekemper H, Murali R et al (2013) Conjunctival melanomas harbor BRAF and NRAS mutations and copy number changes similar to cutaneous and mucosal melanomas. Clin Cancer Res 19:3143–3152

13.

Harms KL, Healy MA, Nghiem P et al (2016) Analysis of prognostic factors from 9387 Merkel cell carcinoma cases forms the basis for the new 8th edition AJCC staging system. Ann Surg Oncol 23:3564–3571

14.

Hauschild A, Breuninger H, Kaufmann R et al (2013) Brief S2k guidelines—basal cell carcinoma of the skin. J Dtsch Dermatol Ges 11(Suppl 3):10–15 (11–16)

15.

Heath M, Jaimes N, Lemos B et al (2008) Clinical characteristics of Merkel cell carcinoma at diagnosis in 195 patients: the AEIOU features. J Am Acad Dermatol 58:375–381

16.

Heindl LM, Cursiefen C (2015) Conjunctival melanoma: a systemic disease: Novel surgical and adjuvant therapies. Ophthalmologe 112:890–891

17.

Heindl LM, Hofmann-Rummelt C, Adler W et al (2011) Prognostic significance of tumor-associated lymphangiogenesis in malignant melanomas of the conjunctiva. Ophthalmology 118:2351–2360

18.

Heindl LM, Hofmann-Rummelt C, Adler W et al (2011) Tumor-associated lymphangiogenesis in the development of conjunctival melanoma. Invest Ophthalmol Vis Sci 52:7074–7083

19.

Heindl LM, Koch KR, Schlaak M et al (2015) Adjuvant therapy and interdisciplinary follow-up care of conjunctival melanoma. Ophthalmologe 112:907–911

20.

Heining C, Horak P, Groschel S et al (2017) Personalized oncology. Radiologe 57:804–811

21.

Hoerster R, Schlaak M, Koch KR et al (2017) Merkel cell carcinoma of the eyelid. An often unrecognized tumor entity: clinical aspects and treatment strategies. Ophthalmologe 114:134–139

22.

Joseph J, Zobniw C, Davis J et al (2018) Avelumab: a review of its application in metastatic Merkel cell carcinoma. Ann Pharmacother. https://doi.org/10.1177/1060028018768809

23.

Kahana A, Worden FP, Elner VM (2013) Vismodegib as eye-sparing adjuvant treatment for orbital basal cell carcinoma. JAMA Ophthalmol 131:1364–1366

24.

Kakkassery V, Heindl LM (2017) SOP—standarized procedures in diagnostics and therapies of periocular basal cell carcinoma. Klin Monbl Augenheilkd https://doi.org/10.1055/s-0043-120086

25.

Kakkassery V, Loeffler KU, Sand M et al (2017) Current diagnostics and therapy recommendations for ocular basal cell carcinoma. Ophthalmologe 114:224–236

26.

Kaufman HL, Russell JS, Hamid O et al (2018) Updated efficacy of avelumab in patients with previously treated metastatic Merkel cell carcinoma after ≥1 year of follow-up: JAVELIN Merkel 200, a phase 2 clinical trial. J Immunother Cancer 6:7

27.

Kopecky A, Koch KR, Bucher F et al (2016) Results of Cutler-Beard procedure for reconstruction of extensive full thickness upper eyelid defects following tumor resection. Ophthalmologe 113:309–313

28.

Lang BM, Balermpas P, Bauer A et al (2019) S2k-Leitlinie Basalzellkarzinom der Haut – Teil 1: Epidemiologie, Genetik und Diagnostik. J Dtsch Dermatol Ges 17:94–104

29.

Lang BM, Balermpas P, Bauer A et al (2019) S2k guidelines for cutaneous basal cell carcinoma – part 1: epidemiology, genetics and diagnosis. J Dtsch Dermatol Ges 17:94–103

30.

Lang BM, Peveling-Oberhag A, Faidt D et al (2018) Long-term survival with modern therapeutic agents against metastatic melanoma-vemurafenib and ipilimumab in a daily life setting. Med Oncol 35:24

31.

Long GV, Atkinson V, Lo S et al (2018) Combination nivolumab and ipilimumab or nivolumab alone in melanoma brain metastases: a multicentre randomised phase 2 study. Lancet Oncol 19:672–681

32.

Lovett RD, Perez CA, Shapiro SJ et al (1990) External irradiation of epithelial skin cancer. Int J Radiat Oncol Biol Phys 19:235–242

33.

Mantripragada K, Birnbaum A (2015) Response to anti-PD‑1 therapy in metastatic Merkel cell carcinoma metastatic to the heart and pancreas. Cureus 7:e403

34.

Mor JM, Heindl LM (2017) Systemic BRAF/MEK inhibitors as a potential treatment option in metastatic conjunctival melanoma. Ocul Oncol Pathol 3:133–141

35.

Nghiem PT, Bhatia S, Lipson EJ et al (2016) PD‑1 blockade with pembrolizumab in advanced Merkel-cell carcinoma. N Engl J Med 374:2542–2552

36.

Oram CW, Bartus CL, Purcell SM (2016) Merkel cell carcinoma: a review. Cutis 97:290–295

37.

Sadeghi R, Adinehpoor Z, Maleki M et al (2014) Prognostic significance of sentinel lymph node mapping in Merkel cell carcinoma: systematic review and meta-analysis of prognostic studies. Biomed Res Int 2014:489536

38.

Schilling G, Schulz-Kindermann F (2018) Psychosocial impact of personalized therapies in oncology. Recent Results Cancer Res 210:181–190

39.

Song JC, Ding XL, Sun XH et al (2017) Brain metastasis in a patient with melanoma receiving Pembrolizumab therapy: a case report and review of the literature. Medicine (Baltimore) 96:e9278

40.

Tai PT, Yu E, Winquist E et al (2000) Chemotherapy in neuroendocrine/Merkel cell carcinoma of the skin: case series and review of 204 cases. J Clin Oncol 18:2493–2499

41.

Taralli S, Sollini M, Milella M et al (2018) (18)F-FDG and (68)Ga-somatostatin analogs PET/CT in patients with Merkel cell carcinoma: a comparison study. EJNMMI Res 8:64

42.

Touze A, Le Bidre E, Laude H et al (2011) High levels of antibodies against merkel cell polyomavirus identify a subset of patients with merkel cell carcinoma with better clinical outcome. J Clin Oncol 29:1612–1619

43.

Vellani C, D'ambrosio D, Licata L et al (2018) Monitoring response of advanced Merkel cell carcinoma to Avelumab with (18)F-FDG PET/CT. Eur J Nucl Med Mol Imaging 46(5):1197–1198. https://doi.org/10.1007/s00259-018-4230-x

44.

Weiling M, Bergua A, Kruse FE et al (2016) Therapy options for malignant eyelid tumors. Ophthalmologe 113:1095–1108

45.

Wong HH, Wang J (2010) Merkel cell carcinoma. Arch Pathol Lab Med 134:1711–1716

46.

Zimmermann AC, Klauss V (2001) Predictors of recurrent basalioma of the eyelids and periorbital region. Ophthalmologe 98:555–559
Ethics declarations
Interessenkonflikt
A.C. Rokohl, K.R. Koch, J.M. Mor, N. Loreck, M. Schlaak, C. Mauch, N.E. Bechrakis, A. Mohi, V. Kakkassery und L.M. Heindl geben an, dass kein Interessenkonflikt besteht. Es wird versichert, dass keine Verbindungen mit einer Firma, deren Produkt in dem Artikel genannt ist, oder einer Firma, die ein Konkurrenzprodukt vertreibt, bestehen. Die Präsentation des Themas ist unabhängig und die Darstellung der Inhalte produktneutral.
Für diesen Beitrag wurden von den Autoren keine Studien an Menschen oder Tieren durchgeführt. Für die aufgeführten Studien gelten die jeweils dort angegebenen ethischen Richtlinien. Für Bildmaterial oder anderweitige Angaben innerhalb des Manuskripts, über die Patienten zu identifizieren sind, liegt von ihnen und/oder ihren gesetzlichen Vertretern eine schriftliche Einwilligung vor.
About this article
Cite this article
Rokohl, A.C., Koch, K.R., Mor, J.M. et al. Personalisierte Medizin in der Behandlung von periokulären Tumoren. Ophthalmologe (2020). https://doi.org/10.1007/s00347-019-01034-z
Schlüsselwörter
Basalzellkarzinom

Merkel-Zell-Karzinom

Konjunktivales Melanom

Augenlidtumore

Sonic-hedgehog-Pathway
Keywords
Basal cell carcinoma

Merkel cell carcinoma

Conjunctival melanoma

Eyelid tumors

Sonic hedgehog pathway