Zusammenfassung
Hintergrund
Eine Raumforderung der Lider im jungen Erwachsenenalter ist oft ein Zeichen einer Entzündung, eines Traumas oder einer benignen Neoplasie. Ziel dieser Kasuistik ist es, die Rarität eines Basalzellkarzinoms darzustellen, das mutmaßlich bereits im Teenageralter ohne weitere größere Risikofaktoren auftrat.
Methoden
Ein 28-jähriger Patient stellte sich zur Mitbeurteilung einer schmerzlosen Raumforderung des rechten Unterlides vor. Anamnestisch bestand die Raumforderung bereits seit dem 16. Lebensjahr und erinnerte ursprünglich an ein Molluscum contagiosum. Es wurde von einem niedergelassenen Augenarzt die Verdachtsdiagnose eines Trichoepithelioms gestellt. In der weiteren Anamnese wies der Patient eine Blutgerinnungsstörung auf. in der klinischen ophthalmologischen Untersuchung zeigte sich am rechten Unterlid eine noduläre Raumforderung mit einem Randwall und Teleangiektasien. Die weitere ophthalmologische Untersuchung war beidseits unauffällig. Aufgrund des Verdachtes auf einen malignen Prozess wurde daraufhin zeitnah eine Operation in Lokalanästhesie mit vollständiger Tumorexzision und Schwenklappenplastik sowie histopathologischer Aufarbeitung zur Diagnosefindung durchgeführt.
Ergebnisse
Histopathologisch zeigten sich unterminierende Infiltrate eines basaloiden Tumors mit ballenförmigem trabekulärem Wachstum, zum Teil mit peripherer Palisadenstellung der Zellen. Die Zellen stellten sich überwiegend monomorph mit vereinzelt pleomorphen Nuclei und zum Teil eingeschlossenen Mitosen dar. Immunhistochemisch waren die Zellen kräftig positiv für BerEP4 und negativ für EMA. Es konnte die Diagnose eines nodulären Basalzellkarzinoms des rechten Unterlides gestellt werden. Alle Schnittränder zeigten sich tumorfrei (R0-Resektion). Das dermatologische Screening ergab keine weiteren Manifestationen.
Schlussfolgerung
Trotz des Auftretens einer Raumforderung am Augenlid bei einem Patienten im jungen Erwachsenenalter und auch ohne weitere Risikofaktoren sollte neben einem entzündlichen Geschehen und einem gutartigen Tumor auch eine maligne Erkrankung, wie z. B. ein Basalzellkarzinom, in Betracht gezogen werden. Eine Probebiopsie oder vollständige Exzision mit anschließender histologischer Aufarbeitung inklusive einer immunhistochemischen Analyse ist zur Abgrenzung anderer Tumorentitäten essenziell.
Abstract
Background
A space-occupying lesion of the eyelid in young adults is often a sign of an inflammation, a trauma or a benign neoplasm. The aim of this case report is to demonstrate a rare basal cell carcinoma, which presumably already arose in adolescence without further high-risk factors.
Methods
A 28-year-old male patient presented for a second opinion on a painless swelling of the right lower eyelid. According to the patient's history the swelling had been present since the age of 16 years and originally resembled a molluscum contagiosum. An ophthalmologist in private practice made the diagnosis of a suspected trichoepithelioma. The extended patient history revealed a blood coagulation disorder. The clinical ophthalmological examination revealed a nodular space-occupying lesion with a border wall and telangiectasia. The further ophthalmological examination was bilaterally inconspicuous. Due to the suspicion of a malignant process, an operation was promptly carried out using local anesthesia with complete tumor excision and pedicled flap plasty as well as a histopathological investigation to confirm the diagnosis.
Results
The histopathological investigation revealed underlying infiltrates of a basaloid tumor with bale-shaped trabecular growth, sometimes with peripheral palisading of the cells. The cells were predominantly monomorphic with isolated pleomorphic nuclei and sometimes enclosed mitoses. Immunohistochemically the cells were strongly positive for BerEP4 and negative for epithelial membrane antigen (EMA). The diagnosis of a nodular basal cell carcinoma of the right lower eyelid was made. All incision margins were free of tumor cells (R0 resection). In the dermatological screening no further manifestations were detected.
Conclusion
Despite the occurrence of a space-occupying lesion of the eyelid in a young adult patient and also with no further risk factors, in addition to an inflammatory event and a benign tumor, a malignant disease, such as a basal cell carcinoma should also be taken into consideration. A tissue biopsy or complete excision with subsequent histological examination including an immunohistochemical analysis are essential for differentiation from other tumor entities.
This is a preview of subscription content, log in to check access.
Access options
Buy single article
Instant unlimited access to the full article PDF.
US$ 39.95
Price includes VAT for USA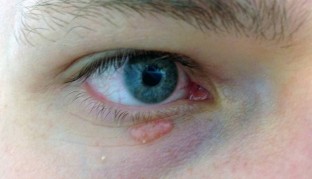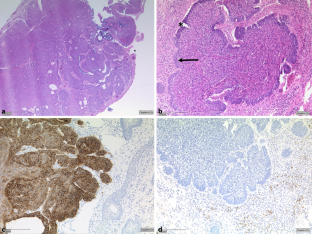 Literatur
1.

Auw-Haedrich C, Frick S, Boehringer D et al (2009) Histologic safety margin in basal cell carcinoma of the eyelid: correlation with recurrence rate. Ophthalmology 116:802–806

2.

Cancer Ta JC (2017) AJCC Cancer Staging Manual. Springer, Chicago

3.

Hauschild A, Breuninger H, Kaufmann R et al (2013) Brief S2k guidelines—basal cell carcinoma of the skin. J Dtsch Dermatol Ges 11(Suppl 3):10–15 (11–16)

4.

Kahana A, Worden FP, Elner VM (2013) Vismodegib as eye-sparing adjuvant treatment for orbital basal cell carcinoma. JAMA Ophthalmol 131:1364–1366

5.

Kakkassery V, Heindl LM (2017) SOP—Standarized procedures in diagnostics and therapies of periocular basal cell carcinoma. Klin Monbl Augenheilkd. https://doi.org/10.1055/s-0043-120086

6.

Kakkassery V, Loeffler KU, Sand M et al (2017) Current diagnostics and therapy recommendations for ocular basal cell carcinoma. Ophthalmologe 114:224–236

7.

Keramidas DC, Anagnostou D (1987) Basal-cell carcinoma of the lower lid in a 27-month-old child. Z Kinderchir 42:250–251

8.

Kopecky A, Koch KR, Bucher F et al (2016) Results of Cutler-Beard procedure for reconstruction of extensive full thickness upper eyelid defects following tumor resection. Ophthalmologe 113:309–313

9.

Kopecky A, Rokohl AC, Heindl LM (2018) Techniques for the reconstruction of the posterior eyelid lamella. Klin Monbl Augenheilkd 235:1415–1428

10.

Lang BM, Balermpas P, Bauer A et al (2019) S2k guidelines for cutaneous basal cell carcinoma—Part 1: epidemiology, genetics and diagnosis. J Dtsch Dermatol Ges 17:94–103

11.

Lauterbach B, Kakkassery V, Debus D et al (2019) Advanced periocular basal cell carcinoma—a therapeutic challenge. Ophthalmologe 116:273–277

12.

Lesueur BW, Silvis NG, Hansen RC (2000) Basal cell carcinoma in children: report of 3 cases. Arch Dermatol 136:370–372

13.

Lovett RD, Perez CA, Shapiro SJ et al (1990) External irradiation of epithelial skin cancer. Int J Radiat Oncol Biol Phys 19:235–242

14.

Rokohl AC, Koch KR, Mor JM et al (2019) Personalisierte Medizin in der Behandlung von periokulären Tumoren – Zielgerichtete Therapien und der Einsatz von Immun-Checkpoint-Inhibitoren. Ophthalmologe. (Under Review)

15.

Shi Y, Jia R, Fan X (2017) Ocular basal cell carcinoma: a brief literature review of clinical diagnosis and treatment. Onco Targets Ther 10:2483–2489

16.

Sunjaya AP, Sunjaya AF, Tan ST (2017) The use of BEREP4 immunohistochemistry staining for detection of basal cell carcinoma. J Skin Cancer 2017:2692604

17.

Waldman RA, Grant-Kels JM (2017) Malignant skin tumors: kids are not just little people. Clin Dermatol 35:517–529

18.

Weiling M, Bergua A, Kruse FE et al (2016) Therapy options for malignant eyelid tumors. Ophthalmologe 113:1095–1108

19.

Wittekind C (2017) TNM Klassifikation maligner Tumoren, 8. Aufl. Wiley-VCH, Weinheim

20.

Woolley SD, Hughes C (2013) A young military pilot presents with a periocular Basal Cell Carcinoma: a case report. Travel Med Infect Dis 11:435–437

21.

Zimmermann AC, Klauss V (2001) Predictors of recurrent basalioma of the eyelids and periorbital region. Ophthalmologe 98:555–559
Ethics declarations
Interessenkonflikt
A.C. Rokohl, H. Löser, J.M. Mor, N. Loreck, K.R. Koch und L.M. Heindl geben an, dass kein Interessenkonflikt besteht. Es wird versichert, dass keine Verbindungen mit einer Firma, deren Produkt in dem Artikel genannt ist, oder einer Firma, die ein Konkurrenzprodukt vertreibt, bestehen. Die Präsentation des Themas ist unabhängig und die Darstellung der Inhalte produktneutral.
Für diesen Beitrag wurden von den Autoren keine Studien an Menschen oder Tieren durchgeführt. Für die aufgeführten Studien gelten die jeweils dort angegebenen ethischen Richtlinien. Für Bildmaterial oder anderweitige Angaben innerhalb des Manuskripts, über die Patienten zu identifizieren sind, liegt von ihnen und/oder ihren gesetzlichen Vertretern eine schriftliche Einwilligung vor.
About this article
Cite this article
Rokohl, A.C., Löser, H., Mor, J.M. et al. Junger Patient mit ungewöhnlicher Raumforderung am Unterlid. Ophthalmologe 117, 73–77 (2020) doi:10.1007/s00347-019-00948-y