Ein Patient, dem Hören und Sehen verging
Anamnese
Ein 38-jähriger Patient stellt sich zur Abklärung einer seit 2 Wochen bestehenden linksbetonten Hörminderung, Dauerdrehschwindel mit ungerichteter Fallneigung und Zephalgien in der Klinik für Neurologie vor (Abb.
1
). Bereits vor einigen Monaten war ein Aneurysma der A. carotis interna (ICA) rechts mit einem "Clipping" versorgt worden. Es besteht seit Längerem eine arterielle Hypertonie. Der Patient ist seit einiger Zeit in Russland in leitender Position berufstätig.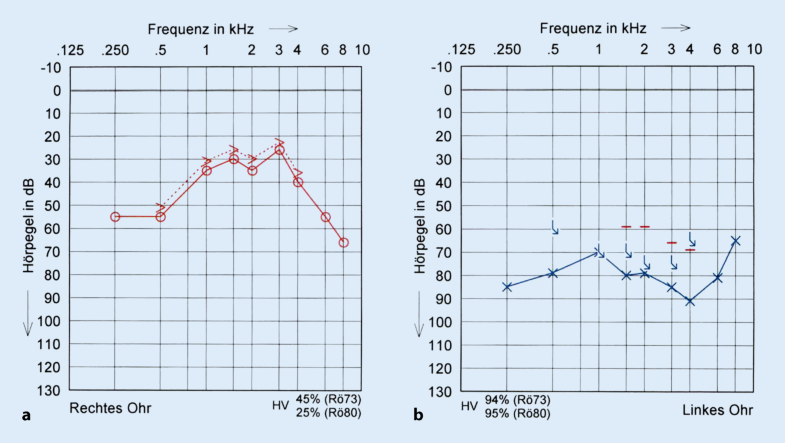 A patient who lost the sense of hearing and sight
Notes
Einhaltung ethischer Richtlinien
Interessenkonflikt
A. Rübsam, M. Pahlitzsch und U. Pleyer geben an, dass kein Interessenkonflikt besteht.
Dieser Beitrag beinhaltet keine von den Autoren durchgeführten Studien an Menschen oder Tieren. Für Bildmaterial oder anderweitige Angaben innerhalb des Manuskripts, über die Patienten zu identifizieren sind, liegt von ihnen und/oder ihren gesetzlichen Vertretern eine schriftliche Einwilligung vor.
Copyright information
© Springer Medizin Verlag GmbH, ein Teil von Springer Nature 2018