Zusammenfassung
Hintergrund
Vorgestellt wird das therapeutische Prinzip der Narkoseuntersuchungen von Kindern in Vollnarkose mithilfe der mikroskopintegrierten optischen Kohärenztomographie (MI-OCT). Ziel ist die Evaluierung neuartiger Indikationen und Limitationen der MI-OCT mit dem Ziel, die ophthalmologischen Untersuchungen unter Vollnarkose bei Neugeborenen und Kleinkindern zu verbessern.
Methodik
Grundlage war eine Literaturübersicht aus google.scholar.com und PubMed. Wir ergänzten eigene Daten einer prospektiven Studie am Zentrum für Augenheilkunde der Uniklinik Köln. Es wurden 14 Kinder mit Anomalien des vorderen und hinteren Augenabschnittes eingeschlossen, bei denen eine Narkoseuntersuchung unter Zuhilfenahme eines kommerziell erhältlichen MI-OCT-Gerätes durchgeführt wurde. Analysiert wurden die generelle Durchführbarkeit der MI-OCT bei der ophthalmologischen Untersuchung von Kindern unter Vollnarkose für den vorderen und hinteren Augenabschnitt und der Benefit für die jeweilige Indikationsstellung sowie die intraoperativen Befunde.
Ergebnisse
Die MI-OCT bereicherte signifikant die Narkoseuntersuchungen von Kindern und lieferte zusätzliche Informationen, die mit dem alleinigen Operationsmikroskop nicht zugänglich waren. Gerade in Situationen, bei denen der Einblick in die Vorderkammer limitiert war, ermöglichte die MI-OCT die Schätzung von Distanzen wie der Hornhautdicke. Darüber hinaus wurden 12/14 therapeutische Entscheidungen intraoperativ beeinflusst. Zudem ermöglichte die MI-OCT die Untersuchung der Nervenfaserschichtdicke der Sehnervenpapille und der Retina.
Diskussion
Die hier präsentierten Daten verdeutlichen den Benefit der mikroskopintegrierten intraoperativen OCT bei ophthalmologischen Untersuchungen von Kindern unter Vollnarkose, insbesondere auch bei Kindern mit Hornhauttrübungen, falls eine Untersuchung unter Vollnarkose notwendig wird.
Abstract
Background
The therapeutic principle of examinations of children under general anaesthesia using microscope-integrated optical coherence tomography (MI-OCT) is presented. The aim was to assess novel indications as well as limitations for MI-OCT to enhance ophthalmological examinations of neonates and children under general anesthesia.
Methods
The study was based on a review of the literature from google.scholar.com and PubMed and our own data from a prospective study (Department for Ophthalmology, University of Cologne) of 14 children with anterior and posterior segment anomalies undergoing examinations under anesthesia. Patients were examined using a commercially available MI-OCT device. The study analyzed the general feasibility of MI-OCT for ophthalmological examination of children under general anesthesia for the anterior and posterior eye segments and the benefits of indications and intraoperative findings.
Results
The MI-OCT significantly enriched the examinations of children under general anesthesia and delivered additional information not visible with the surgical microscope. Even in situations with a limited anterior chamber view MI-OCT enabled estimation of distances, such as corneal thickness. In addition to influencing therapeutic decisions, in 12/14 children MI-OCT also enabled examination of the thickness of the nerve fibre layer of the optic nerve disc and the retina.
Conclusion
The data presented here underline the benefit of the intraoperative MI-OCT in ophthalmological examinations of children under general anesthesia. In particular MI-OCT enables examinations of children with corneal opacification, if an ophthalmological examination under general anesthesia becomes necessary.
This is a preview of subscription content, log in to check access.
Access options
Buy single article
Instant unlimited access to the full article PDF.
US$ 39.95
Price includes VAT for USA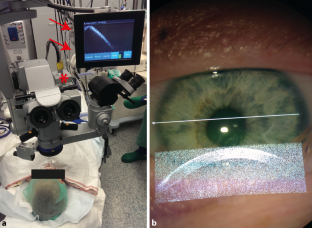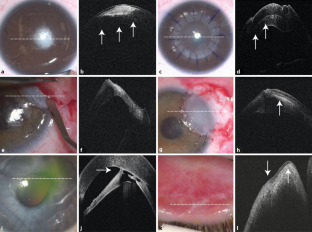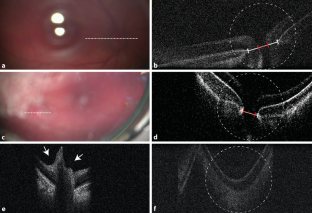 Literatur
1.

Cheng H‑C, Lee S‑M, Hsieh Y‑T et al (2015) Efficacy of intravitreal injection of anti-vascular endothelial growth factor agents for stage 4 retinopathy of prematurity. Retina 35:660–666

2.

Ehlers JP, Dupps WJ, Kaiser PK et al (2014) The prospective Intraoperative and perioperative ophthalmic ImagiNg with optical coherencE tomogRaphy (PIONEER) study: 2‑year results. Am J Ophthalmol 158:999–1007

3.

Engels B, Dietlein TS, Jacobi PC et al (1999) Ultrasound biomicroscopy diagnosis of congenital glaucoma. Klin Monbl Augenheilkd 215:338–341

4.

Hong J, Yang Y, Cursiefen C et al (2016) Optimising keratoplasty for Peters' anomaly in infants using spectral-domain optical coherence tomography. Br J Ophthalmol. https://doi.org/10.1136/bjophthalmol-2016-308658

5.

Maldonado RS, Izatt JA, Sarin N et al (2010) Optimizing hand-held spectral domain optical coherence tomography imaging for neonates, infants, and children. Investig Ophthalmol Vis Sci 51:2678–2685

6.

Maldonado RS, O'connell R, Ascher SB et al (2012) Spectral-domain optical coherence tomographic assessment of severity of cystoid macular edema in retinopathy of prematurity. Arch Ophthalmol 130:569–578

7.

Mwanza J‑C, Oakley JD, Budenz DL et al (2011) Ability of cirrus HD-OCT optic nerve head parameters to discriminate normal from glaucomatous eyes. Ophthalmology 118(e241):241–248e1

8.

Pasricha ND, Shieh C, Carrasco-Zevallos OM et al (2015) Real-time microscope-integrated OCT to improve visualization in DSAEK for advanced bullous keratopathy. Cornea 34:1606–1610

9.

Siebelmann S (2015) Benefit der Technik mehrfach belegt. In: Ophthalmologische Nachrichten. Biermann Medizin, Köln, S 30–31

10.

Siebelmann S, Cursiefen C, Lappas A et al (2016) Intraoperative optical coherence tomography enables noncontact imaging during canaloplasty. J Glaucoma 25(2):236. https://doi.org/10.1097/IJG.0000000000000367

11.

Siebelmann S, Hermann M, Dietlein T et al (2015) Intraoperative optical coherence tomography in children with anterior segment anomalies. Ophthalmology 122(12):2582. https://doi.org/10.1016/j.ophtha.2015.06.004

12.

Siebelmann S, Steven P, Cursiefen C (2015) Intraoperative optical coherence tomography: ocular surgery on a higher level or Just nice pictures? JAMA Ophthalmol 133:1133–1134

13.

Siebelmann S, Steven P, Hos D et al (2016) Advantages of microscope-integrated intraoperative online optical coherence tomography: usage in Boston keratoprosthesis type I surgery. J Biomed Opt 21:16005–16005

14.

Steinera P, Považay B, Stoller M et al (2015) Real-time optical coherence tomography observation of retinal tissue damage during laser photocoagulation therapy on ex-vivo porcine samples. In: European Conference on Biomedical Optics. , Optical Society of America, S 95410Q
Ethics declarations
Interessenkonflikt
S. Siebelmann erhielt eine Reisekostenförderung von Haag Streit Surgical. B. Bachmann, M. Matthaei, J. Horstmann, T. Dietlein, A. Lappas, P. Scholz und C. Cursiefen geben an, dass kein Interessenkonflikt besteht.
Die Deklaration von Helsinki wurde berücksichtigt. Die lokale Ethikkommission stimmte der prospektiven Sammlung und Auswertung der Daten zu (Ethik Kommission der Uniklinik Köln, Köln, Deutschland, 15-226, 07/2015).
Caption Electronic Supplementary Material
Video: Intraoperativer Volumenscan der Papille eines 3 Jahre alten Kindes nach Stammzelltransplantation mit einer okulären GvHD. Die Papille ist deutlich prominent, und die intraoperative OCT zeigt ein Papillenödem.
About this article
Cite this article
Siebelmann, S., Bachmann, B., Matthaei, M. et al. Mikroskopintegrierte intraoperative optische Kohärenztomographie bei der Narkoseuntersuchung von pädiatrischen Patienten. Ophthalmologe 115, 785–792 (2018). https://doi.org/10.1007/s00347-018-0756-3
Schlüsselwörter
Amblyopie

Kinder

Ophthalmologische Untersuchung

Vorderer Augenabschnitt

Hinterer Augenabschnitt
Keywords
Amblyopia

Children

Ophthalmological examination

Anterior eye segment

Posterior eye segment