Zusammenfassung
Operationsziel
Das Ziel der mechanischen Pupillenerweiterung bei enger Pupille ist, einen ausreichenden Zugang zur Linse zu erreichen, um sicher eine Kapsulorhexis, Phakoemulsifikation sowie Kunstlinsenimplantation zu ermöglichen.
Indikationen
Die Indikation wird bei Patienten gestellt, bei denen eine medikamentöse Pupillenerweiterung nicht möglich ist.
Operationstechnik
Im Rahmen der routinemäßigen Kataraktoperation können spezielle faltbare Ringe zur Pupillenerweiterung mit dem entsprechenden Injektor unter Viskoelastikum eingesetzt werden. Dabei werden die Ringe vorsichtig bei der Entfaltung am Pupillarsaum appliziert, bis sich die Pupille zirkulär auf 6–7 mm erweitert hat. Nach der Kunstlinsenimplantation wird vor der Absaugung des Viskoelastikums der Ring behutsam mit dem Injektor wieder gefaltet und entfernt. Anhand eines Operationsvideos, das online zur Verfügung steht, wird die Operationstechnik detailliert dargestellt.
Ergebnisse
Eine mechanische Pupillenerweiterung konnte bei allen untersuchten Patienten (n = 14) erreicht werden, so dass eine komplikationslose Phakoemulsifikation und Kunstlinsenimplantation möglich war. Die beiden untersuchten Ringsysteme ermöglichten eine mittlere Pupillenerweiterung auf 6,6 mm. Am Ende der Operation war der Pupillendurchmesser nach Malyugin-Ring (MST, Redmond, Washington, USA) bei 4,89 mm und nach I‑Ring (Visitec, Waltham, MA, USA) bei 4,93 mm (p > 0,05). Kleinere Einrisse am Pupillarsaum oder Pigmentaussaat bei der Implantation und Explantation waren von der individuellen Ausgangssituation und weniger vom eingesetzten Ring abhängig.
Schlussfolgerung
Die mechanische Pupillenerweiterung mit Ringen ermöglicht eine ausreichende Erweiterung zur Durchführung der Kataraktoperation. Sowohl mit dem Malyugin-Ring als auch mit dem I‑Ring konnte eine gleichmäßige und schonende Pupillenerweiterung erreicht werden.
Abstract
Objective
The purpose of mechanical pupillary dilatation in small pupils is a sufficient visualization of the lens to be able to perform capsulorhexis, phacoemulsification and intraocular lens implantation.
Indications
The indications for mechanical dilatation are fulfilled in patients where a sufficient pharmacological preoperative pupil dilatation is not possible.
Surgical technique
During routine cataract surgery specific foldable rings can be employed to dilate the pupil with the appropriate injector under viscoelastic substances. These rings are carefully placed at the pupillary margin until circular pupillary dilatation up to 6–7 mm is achieved. After intraocular lens implantation and before removing the viscoelastic substance the rings are slowly folded into the injector and then removed. The surgical technique is demonstrated in detail with the help of a video of the operation, which is available online.
Results
Mechanical pupillary dilatation was possible in all patients studied (n = 14), which allowed uncomplicated phacoemulsification and intraocular lens implantation. For both ring systems studied the mean pupillary dilatation was 6.6 mm. At the end of surgery, the pupillary diameter was 4.89 mm using a Malyugin ring (MST, Redmond, Washington, USA) and 4.93 mm with an I‑ring (Visitec, Waltham, MA, USA; P > 0.05). Small lesions at the pupillary margin or pigment dispersion during implantation or explantation depended mostly on the individual patient situation and not on the ring used.
Conclusion
Mechanical pupillary dilatation with rings allows sufficient dilatation to perform cataract surgery. Both the Malyugin ring and the I‑ring achieved smooth and atraumatic pupillary dilatation.
This is a preview of subscription content, log in to check access.
Access options
Buy single article
Instant unlimited access to the full article PDF.
US$ 39.95
Price includes VAT for USA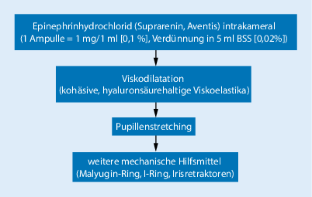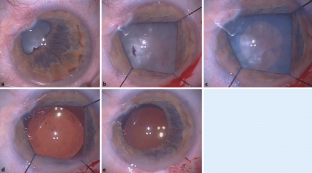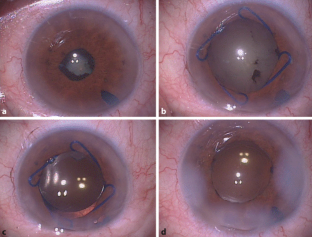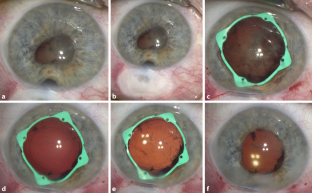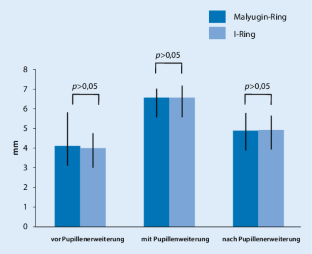 Literatur
1.

Akman A, Yilmaz G, Oto S, Akova YA (2004) Comparison of various pupil dilatation methods for phacoemulsification in eyes with a small pupil secondary to pseudoexofiation. Ophthalmology 111:1693–1698

2.

Bacskulin A, Kundt G, Guthoff R (1998) Efficiency of pupillary stretching in cataract surgery. Eur J Ophthalmol 1998(8):230–233

3.

Birchall W, Spencer AF (2001) Misalignment of flexible iris hook retractors for small pupil cataract surgery: effects on pupil circumference. J Cataract Refract Surg 27:20–24

4.

Bissen-Miyajima H (2008) Ophthalmic viscosurgical devices. Curr Opin Ophthalmol 19:50–54

5.

Chang DF (2008) Use of Malyugin pupil expansion device for intraoperative floppy-iris syndrome: results in 30 consecutive cases. J Cataract Refract Surg 34:835–841

6.

Corbett MC, Richards AB (1994) Intraocular adrenaline maintains mydriasis during cataract surgery. Br J Ophthalmol 78:95–98

7.

Dinsmore SC (1996) Modified stretch technique for small pupil phacoemulsification with topical anesthesia. J Cataract Refract Surg 22:27–30

8.

Fine IH (1994) Pupilloplasty for small pupil phacoemulsification. J Cataract Refract Surg 20:192–196

9.

Hashemi H, Seyedian MA, Mohammadpour M (2015) Small pupil and cataract surgery. Curr Opin Ophthalmol 26:3–9

10.

Kershner RM (2002) Management of the small pupil for clear corneal cataract surgery. J Cataract Refract Surg 28:1826–1831

11.

Liou SW, Chen CC (2001) Maintenance of mydriasis with one bolus of epinephrine injection during phacoemulsification. J Ocul Pharmacol Ther 17:249–253

12.

Malyugin B (2007) Small pupil phaco surgery: a new technique. Ann Ophthalmol 39:185–193

13.

Nichamin LD (1993) Enlarging the pupil for cataract extraction using flexible nylon iris retractors. J Cataract Refract Surg 19:793–796

14.

O'Brien PD, Fitzpatrick P, Power W (2005) Patient Pain Dur Stretching Small Pupils Phacoemulsification Performed Using Top Anesth 31:1760–1763

15.

Oetting TA, Omphroy LC (2002) Modified technique using flexible iris retractors in clear corneal cataract surgery. J Cataract Refract Surg 28:596–598

16.

Stürmer J, Scherrer M, Lansel N (2012) Mechanische Pupillenerweiterung zur Kataraktoperation: erste Erfahrungen mit dem 6,25 mm Malyugin-Ring. Klin Monatsbl Augenheilkd 229:365–368

17.

Tian JJ, Garcia GA, Karanjia R, Lu KL (2016) Comparison of 2 pupil expansion devices for small-pupil cataract surgery. J Cataract Refract Surg 42:1235–1237

18.

Wilczynski M, Wierzchowski T, Snyder A, Omulecki W (2013) Results of phacoemulsification with Malyugin Ring in comparison with manual iris stretching with hooks in eyes with narrow pupil. Eur J Ophthalmol 23:196–201

19.

Yuguchi T, Oshika T, Sawaguchi S, Kaiya T (1999) Pupillary functions after cataract surgery using flexible iris retractor in patients with small pupil. Jpn J Ophthalmol 43:20–24
Ethics declarations
Interessenkonflikt
C. Wirbelauer, S. Schmidt und C. Puk geben an, dass kein Interessenkonflikt besteht.
In diesem Videobeitrag wurden die klinischen Ergebnisse an 14 Patienten vorgestellt. Es handelte sich um Routineoperationen mit einer entsprechenden Patientenaufklärung. Dieser Beitrag beinhaltet keine von den Autoren durchgeführten Studien an Menschen oder Tieren.
Caption Electronic Supplementary Material
Video: Mechanische Pupillenerweiterung mit Ringen zur Kataraktoperation bei enger Pupille. (Copyright: PD Dr. C. Wirbelauer, Augenklinik Berlin-Marzahn GmbH, Berlin)
About this article
Cite this article
Wirbelauer, C., Schmidt, S. & Puk, C. Mechanische Pupillenerweiterung mit Ringen zur Kataraktoperation bei enger Pupille. Ophthalmologe 115, 329–335 (2018). https://doi.org/10.1007/s00347-018-0678-0
Schlüsselwörter
Irisretraktoren

Malyugin-Ring

I-Ring

Kunstlinsenimplantation

Phakoemulsifikation
Keywords
Iris retractors

Malyugin ring

I-ring

Intraocular lens implantation

Phacoemulsification