Zusammenfassung
Wir beschreiben den Fall einer 35-jährigen Patientin mit einer beidseitigen und rezidivierenden Panuveitis. Nach Diagnose eines Vogt-Koyanagi-Harada-Syndroms wurde die Patientin mit Kortikosteroiden behandelt. Hiermit wurde rasch eine funktionelle und morphologische Besserung erreicht. Nach Rückgang der exsudativen Netzhautablösung wurden peripapillär ausstrahlende und lacksprungähnliche Linien beobachtet.
Abstract
We report the case of a 35-year-old female patient with bilateral and recurrent panuveitis. Diagnosed with Vogt–Koyanagi–Harada syndrome, the patient was treated with corticosteroids, achieving rapid improvement of functional and morphological findings. After recovery of the exudative retinal detachment, peripapillary lacquer crack-like findings were observed.
This is a preview of subscription content, log in to check access.
Access options
Buy single article
Instant unlimited access to the full article PDF.
US$ 39.95
Price includes VAT for USA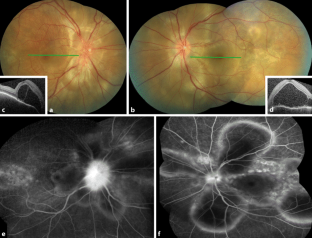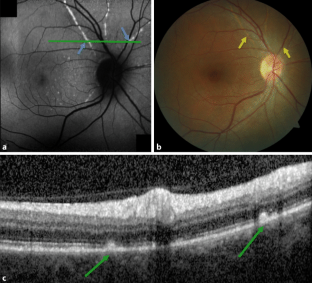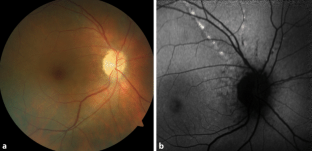 Literatur
1.

Du L, Kijlstra A, Yang P (2016) Vogt-Koyanagi-Harada disease: novel insights into pathophysiology, diagnosis and treatment. Prog Retin Eye Res 52:84–111

2.

Ng JY, Luk FO, Lai TY et al (2014) Influence of molecular genetics in Vogt-Koyanagi-Harada disease. J Ophthalmic Inflamm Infect 4:20

3.

Silpa-Archa S, Silpa-Archa N, Preble JM et al (2016) Vogt-Koyanagi-Harada syndrome: perspectives for immunogenetics, multimodal imaging, and therapeutic options. Autoimmun 15(8):809–819

4.

Silpa-Archa S, Noonpradej S, Amphornphruet A (2014) Pattern of uveitis in a referral ophthalmology center in the central district of Thailand. Ocul Immunol Inflamm 23:320. doi:10.3109/09273948.2014.943773

5.

Ohguro N, Sonoda KH, Takeuchi M et al (2012) The 2009 prospective multi-center epidemiologic survey of uveitis in Japan. Jpn J Ophthalmol 56:432–435

6.

Al-Mezaine HS, Kangave D, El-Asrar AAM (2010) Patterns of uveitis in patients admitted to a university hospital in Riyadh, Saudi Arabia. Ocul Immunol Inflamm 18:424–431

7.

Perkins ES, Folk J (1984) Uveitis in London and Iowa. Ophthalmologica 189:36–40

8.

Barisani-Asenbauer T, Maca SM, Mejdoubi L et al (2012) Uveitis: a rare disease often associated with systemic diseases and infections: a systematic review of 2619 patients. Orphanet J Rare Dis 7:57–63

9.

Cimino L, Aldigeri R, Salvarani C et al (2010) The causes of uveitis in a referral centre of northern Italy. Int Ophthalmol 30:521–529

10.

Read RW, Holland GN, Rao NA et al (2001) Revised diagnostic criteria for Vogt-Koyanagi-Harada disease: report of an international committee on nomenclature. Am J Ophthalmol 131:647–652

11.

Rao NA, Gupta A, Dustin L et al (2010) Frequency of distinguishing clinical features in Vogt-Koyanagi-Harada disease. Ophthalmology 117:591–599

12.

da Silva FT, Damico FM, Marin ML et al (2009) Revised diagnostic criteria for Vogt-Koyanagi-Harada disease: considerations on the different disease categories. Am J Ophthalmol 147:339–345

13.

Panda-Jonas S, Jonas JB, Jakobczyk-Zmija M (1996) Retinal pigment epithelial cell count, distribution, and correlations in normal human eyes. Am J Ophthalmol 121:181–189

14.

Schmitz-Valckenberg S, Fleckenstein M, Scholl HP et al (2009) Fundus autofluorescence and progression of age-related macular degeneration. Surv Ophthalmol 54:96–117

15.

Inomata H, Rao N (2001) Depigmented atrophic lesions in sunset glow fundi of Vogt-Koyanagi-Harada disease. Am J Ophthalmol 131:607–614

16.

Vasconcelos-Santos DV, Sohn EH, Sadda S et al (2010) Retinal pigment epithelial changes in chronic Vogt-Koyanagi-Harada disease: fundus autofluorescence and spectral domain-optical coherence tomography findings. Retina 30:33–41

17.

Cuchacovich M, Solanes F, Díaz G et al (2010) Comparison of the clinical efficacy of two different immunosuppressive regimens in patients with chronic Vogt-Koyanagi-Harada disease. Ocul Immunol Inflamm 18:200–207

18.

Agarwal M, Ganesh SK, Biswas J (2006) Triple agent immunosuppressive therapy in Vogt-Koyanagi-Harada syndrome. Ocul Immunol Inflamm 14:333–339
Ethics declarations
Interessenkonflikt
M. Parlak,G. Kocaoglu und A. O. Saatci geben an, dass kein Interessenkonflikt besteht.
Dieser Beitrag beinhaltet keine von den Autoren durchgeführten Studien an Menschen oder Tieren. Alle Patienten, die über Bildmaterial oder anderweitige Angaben innerhalb des Manuskripts zu identifizieren sind, haben hierzu ihre schriftliche Einwilligung gegeben.
Caption Electronic Supplementary Material
Optische Kohärenztomographie, rechts, volumetrisch (2. Rezidiv, 6 Monate nach Erstvorstellung): Die peripapillären Linien korrelieren mit RPE-Falten während der aktiven Chorioiditis.
About this article
Cite this article
Parlak, M., Kocaoglu, G. & Saatci, A.O. Vogt-Koyanagi-Harada-Syndrom. Ophthalmologe 114, 1158–1161 (2017). https://doi.org/10.1007/s00347-016-0427-1
Schlüsselwörter
Autofluoreszenz

Azathioprin

Ciclosporin

Vogt-Koyanagi-Harada-Syndrom

Uveitis
Keywords
Autofluorescence

Azathioprine

Cyclosporine

Vogt-Koyanagi-Harada Syndrome

Uveitis