Abstract
Hintergrund
Seit 2004 wird die Krankenhausbehandlung offener Augenverletzungen in der DRG C01Z als Fallpauschale abgerechnet. Da das Ausmaß der Behandlungsmaßnahmen allerdings signifikant vom sehr heterogenen Verletzungsmuster abhängt, werden in dieser DRG ökonomisch sehr unterschiedliche Fälle zusammengefasst. Ziel dieser Arbeit war daher die Überprüfung der Kostendeckung für die operative Behandlung von offenen Augenverletzungen an einer Universitäts-Augenklinik.
Material und Methoden
Die Leistungsdaten für die DRG C01Z wurden für die Jahre 2005 und 2006 über die E1-Bögen nach §21 KHEntG zusammengefasst. Die Behandlungskosten wurden über die Berechnung der OP-Fixkosten, der variablen OP-Kosten inklusive Personal und Material und der stationären Kosten auf eine durchschnittliche OP heruntergebrochen.
Ergebnisse
Im Untersuchungszeitraum wurden 180 offene Augenverletzungen von insgesamt 4721 stationären Operationen behandelt. In 80 Fällen wurde eine Hornhaut-/Skleranaht (+Phako/IOL; n=10); (mittlere OP-Zeit: 67,81 min) durchgeführt. In 100 Fällen wurde eine Pars-plana-Vitrektomie (ppV) mit entsprechenden adjuvanten Maßnahmen (mittlere OP-Zeit: 124,69 min) benötigt. Der OP-Fixkostenanteil pro OP belief sich auf 130,60 EUR; die variablen Kosten inklusive Personal und Material variierten zwischen durchschnittlich 570 EUR (Hornhaut-/Skleranaht ± 250 EUR für Phako und IOL; n=10) und 1230 EUR für die ppV. Kostenträchtige Adjuvanzien wie die Benutzung von Cerclage, Perfluorocarbonen, Gas und Silikonöl sowie die kombinierte Phako ± IOL verursachten zusätzliche Kosten zwischen 51 und 250 EUR pro Zusatz (durchschnittlich 182 EUR) wobei mindestens zwei dieser Zusätze bei 50% und mindestens ein Zusatz bei 90% der ppVs benutzt wurde. Die stationären Kosten beliefen sich bei einer mittleren Verweildauer von ca. 8 Tagen pro Fall auf 2184 EUR (Tagessatz 273 EUR). Die durchschnittlichen Gesamtkosten eines Falles differierten maßgeblich für die reine Naht-OP (2662 EUR, mittlere Verweildauer: 7,06 Tage) und ppVs (3712 EUR; mittlere Verweildauer: 8,62 Tage). Zusätzliche nicht gedeckte Kosten entstanden bei 20 Fallzusammenführungen (11,1%) für Reoperationen während des stationären Aufenthaltes.
Schlussfolgerung
Die C01Z wurde im Erhebungszeitraum mit durchschnittlich 3205,96 EUR bei einem Relativgewicht von 1,177 und einer Baserate von 2723,79 EUR in Bayern vergütet. Damit sind die ppVs deutlich unterbezahlt und die reine Versorgung durch Naht ist deutlich überbezahlt. Aufgrund der Inhomogenität befürworten wir einen Split der C01Z für penetrierende Augenverletzungen.
Abstract
Background
Since 2004, inpatient health care for penetrating eye injuries in Germany had been paid according to the calculated DRG C01Z. Because the extent of treatment mainly derives from the extent of eye damage, this DRG economically summarises very heterogeneous cases. It was the aim to check the cost recovery for the surgical treatment of penetrating eye injuries at a university eye hospital.
Material and methods
Performance data for the DRG C01Z were collected for the years 2005 and 2006 using the E1 sheets according to §21 KHEntG. Costs for single operations were calculated from fixed and variable costs for the operating theatre and the ward, including costs for personnel and supplies.
Results
In the 2-year period, out of 4,721 inpatient procedures, 180 perforating eye injuries were surgically treated. In 80 cases, a pure corneal/scleral suture (plus cataract surgery, n=10; mean operating time 67.81 min) was performed. In the other 100 cases, a pars plana vitrectomy (ppV) with adjuvant measures (mean operating time 124.69 min) was needed. Each operation had fixed surgical costs of EUR 130.60; variable costs, including personnel and supplies, varied between EUR 570 for corneal/scleral suture (± EUR 250 for combined cataract surgery (n=10) and EUR 1230 (mean) for a ppV. Cost-effective additional adjuncts such as cerclage, perfluorocarbon, gas, silicone oil, or cataract surgery led to extra costs of between EUR 51 and EUR 250 per adjunct (mean EUR 182). At least two of these adjuncts were used in 50% of ppVs, and at least one was used in 90% of ppVs. Hospitalisation costs were about EUR 2184 (EUR 273 per day), with a mean stay of 8 days. The overall costs of an operation for penetrating eye injuries differed significantly in terms of the procedure (corneal/scleral suture: EUR 2662, mean length of stay 7.06 days; ppV: EUR 3712, mean length of stay 8.62 days). Additional costs for multiple surgeries, as occurred in 11.1% of all cases, were not compensated by the DRG system.
Conclusion
In consideration of a relative DRG weight of 1,177 and a base rate of EUR 2723.79 in Bavaria for 2005 and 2006, perforating eye injuries were compensated within the C01Z DRG at EUR 3205,96. Thus, for ppVs no costs are recovered, whereas "pure suture" procedures are overweighted. Due to this inhomogeneity, a split in the C01Z DRG is necessary.
This is a preview of subscription content, log in to check access.
Access options
Buy single article
Instant access to the full article PDF.
US$ 39.95
Price includes VAT for USA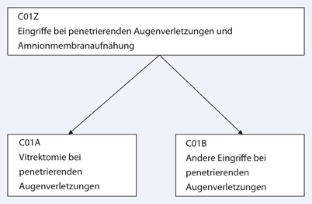 Literatur
1.

Framme C, Franz D, Mrosek S, Helbig H (2007) Kosteneffizienz von Netzhaut-/Glaskörperchirurgischen Eingriffen mittels pars-plana Vitrektomie an einer Universitäts-Augenklinik unter DRG-Bedingungen. Ophthalmologe 104: 866–874

2.

Framme C, Roider J (1999) Epidemiologie offener Augenverletzungen. Klin Monatsbl Augenheilkd 215: 287–293

3.

Franz D, Roeder N, Hörmann K, Alberty J (2006) Möglichkeiten und Grenzen einer Abbildung der HNO-Heilkunde im G-DRG-System. Ergebnisse des DRG-Evaluationsprojektes. HNO 54: 179–189

4.

Institut für das Entgeltsystem im Krankenhaus gGmbH (2006) Abschlussbericht – Weiterentwicklung des G-DRG-Systems für das Jahr 2007. Download: http: //www.g-drg.de

5.

Knorr G, Kraemer A (2006) Drei Jahre G-DRG-System – Zwischenbilanz und Ausblick. Krankenhaus 4: 275–279

6.

Kooperation und Verantwortung (2007) Gutachten des Sachverständigenrates zur Begutachtung der Entwicklung im Gesundheitswesen. Dowbload unter www.svr-gesundheit.de

7.

Operationenschlüssel (OPS), Version 2007, Deutsches Institut für Medizinische Dokumentation und Information (DIMDI). http: //www.dimdi.de

8.

Roeder N (2006) Anpassungsbedarf der Vergütungen von Krankenhausleistungen für 2007. Gutachten im Auftrag der Deutschen Krankenhausgesellschaft

9.

Spiegel D, Nasemann J, Nawrocki J, Gabel VP (1997) Severe ocular trauma managed with primary pars plana vitrectomy and silicone oil. Retina 17: 275–285

10.

Vereinbarung zum Fallpauschalensystem für Krankenhäuser für das Jahr 2007. (Fallpauschalenvereinbarung 2007 – FPV 2007). Download unter: www.g-drg.de
Danksagung
Die Autoren bedanken sich bei allen Mitarbeitern des Klinikums Regensburg, die uns bei der Sammlung der Kostendaten unterstützt haben.
Interessenkonflikt
Der korrespondierende Autor gibt an, dass kein Interessenkonflikt besteht.
About this article
Cite this article
Framme, C., Franz, D., Mrosek, S. et al. Kostenkalkulation für die Behandlung von offenen Augenverletzungen in der DRG C01Z an einer Universitäts-Augenklinik. Ophthalmologe 105, 936–942 (2008). https://doi.org/10.1007/s00347-007-1667-x
Schlüsselwörter
Kostenkalkulation

Offene Augenverletzungen

Leistungsdaten

Inhomogenität

Split
Keywords
Cost calculations

Penetrating eye injuries

Performance data

Inhomogeneity

Split