Abstract
Purpose
To review the recent advances in terms of surgical technique and new robotic platforms applied to radical perineal prostatectomy (RPP).
Methods
A literature review was performed focusing on original articles on perineal prostatectomy searching via Medline/Pubmed and Embase. The entire spectrum was covered such as development of surgical technique including pelvic lymphadenectomy, adoption of novel surgical platforms, learning curve and future directions.
Results
Surgical removal of the prostate plays a significant role on the treatment of localized prostate cancer (PCa). RPP was the first surgical approach described for radical prostatectomy. This technique declined in popularity secondary to the development of the retropubic approach. Recently, the appearance of novel robotic technology has generated renewed interest in the perineal approach.
Conclusion
There has been a recent resurgence on the interest of radical perineal prostatectomy for the treatment of localized PCa driven by the advent of new robotic surgical technologies into the field. Future studies are needed to better determine the learning curve of the perineal approach and its current role in the treatment of prostate cancer.
This is a preview of subscription content, log in to check access.
Access options
Buy single article
Instant access to the full article PDF.
US$ 39.95
Price includes VAT for USA
Subscribe to journal
Immediate online access to all issues from 2019. Subscription will auto renew annually.
US$ 199
This is the net price. Taxes to be calculated in checkout.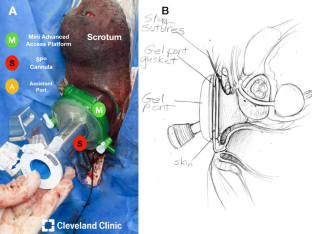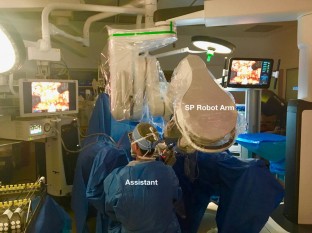 References
1.

Bray F, Ferlay J, Soerjomataram I, Siegel RL, Torre LA, Jemal A (2018) CA Cancer J Clin 68(6):394–424

2.

Wallis CJD, Saskir R, Choo R et al (2016) Surgery versus radiotherapy for clinically-localized prostate cancer: a systematic review and meta-analysis. Eur Urol 70(1):21–30

3.

Sanda MG, CAdeddu JA, Kirkby E et al (2018) Clinically localized prostate cancer: AUA/ASTRO/SUO Guideline. Part I: risk stratification, shared decision making, and care options. J Urol 199(3):684–690

4.

Mottet N, Bellmunt J, Bolla M et al (2017) EAU-ESTRO-SIOG guidelines on prostate cancer. Part 1: screening, diagnosis, and local treatment with curative intent. Eur Urol 71(4):618–629

5.

Young HH (1945) The cure of cancer of the prostate by radical perineal prostatectomy (prostate-seminal vesiculectomy): history, literature and statistics of Young's operation. J Urol 53:188–256

6.

Walsh PC, Lepor H, Eggleston JD (1983) Radical prostatectomy with preservation of sexual function: anatomical and pathological considerations. Prostate 4:473

7.

Gouley JWS (1885) Some points in the surgery of the hypertrophied prostate. Trans Meet Am Surg Assoc 3:163–192

8.

Billroth T. Carcinoma der prostate. Chir Erfahrungen, Zurich 1860-67. Langenbecks Arch Klin Chir Ver Dtsch Z Chir 1869; Bd X, S:548

9.

Young HH (1940) A surgeon's autobiography. Harcourt, Brace and Co, New York, pp 104–134

10.

Young HH (1905) Conservative perineal prostatectomy: the results of two years experience and report of seventy-five cases. Ann Surg 41(4):549–557

11.

Belt E (1942) Radical perineal prostatectomy in early carcinoma of the prostate. J Urol 78:28

12.

Millin T (1958) The surgery of the malignant prostate. Br J Urol 30:407–410

13.

Reiner WB, Walsh PC (1987) An anatomical approach to the surgical management of the dorsal vein and Santorini's plexus during radical retropubic prostatectomy: the apical dissection. J Urol 138(3):543–550

14.

Weldon VE, Tavel FR (1988) Potency sparing radical perineal prostatectomy: anatomy, surgical technique and initial results. J Urol 140:559–562

15.

Saito S, Murakami G (2003) Radical perineal prostatectomy: a novel approach for lymphadenectomy from perineal incision. J Urol 170:1298–1300

16.

Abbou CC, Hoznek A, Salomon L et al (2000) Remote laparoscopic radical prostatectomy carried out with a robot. Report of a case. Prog Urol 10:520–523

17.

Binder J, Kramer W (2001) Robotically-assisted laparoscopic radical prostatectomy. BJU Int 87:408–410

18.

Lowrance WT, Eastham JA, Savage C et al (2012) Contemporary open and robotic radical prostatectomy practice patterns among urologist in the United States. J Urol 187:2087–2092

19.

Resnick MI (2003) Radical perineal prostatectomy. BJU 92(6):522–523

20.

Janoff DM, Parra RO (2005) Contemporary appraisal of radical perineal prostatectomy. J Urol 173:1863–1870

21.

Laydner H, Akca O, Autorino R, Eyraud R, Zargar H, Brandao LF, Khalifeh A, Panumatrassamee K, Long JA, Isac W, Stein RJ, Kaouk JH (2014) J Endourol 28(12):1479–1486

22.

Kaouk JH, Akca O, Zargar H, Caputo P, Ramirez D, Andrade H, Albayrak S, Laydner H, Angermeir K (2016) Descriptive technique and initial results for robotic radical perineal prostatectomy. Urology 94:129–138

23.

Akca O, Zargar H, Kaouk JH (2015) Robotic surgery revives radical perineal prostatectomy. Eur Urol 68(2):340–341

24.

Tugku, Akca O, Simsek A et al (2017) Robot-assisted radical perineal prostatectomy: first experience of 15 cases. Turk J Urol 43(4):476–483

25.

Tugcu V, Akca O, Simsek A et al (2019) Robot-assisted perineal versus transperitoneal radical prostatectomy: a matched-pair analysis. Turk J Urol. https://doi.org/10.5152/tud.2019.98254

26.

Ramirez D, Maurice MJ, Kaouk JH (2016) Robotic perineal radical prostatectomy and pelvic lymph node dissection using a purpose-built single-port robotic platform. BJU Int 118(5):829–833

27.

Bertolo R, Garisto J, Gettman M, Kaouk J (2018) Novel system for robot single-port surgery: feasibility and state of the art in urology. Eur Urol Focus. 4(5):669–673

28.

Kaouk J, Garisto J, Bertolo R (2019) Robotic urologic surgical interventions performed with the single port dedicated platform: first clinical investigation. Eur Urol 123(4):733–739

29.

Gillitzer R, Thuroff JW (2002) Relatavie advantages and disadvantages of radical perineal prostatectomy versus radical retropubic prostatectomy. Crit Rev Oncol Hematol 43(2):167–190

30.

Sullivan LD, Weir MJ, Kinahan JF, Taylor DL (2000) A comparison of the relative merits of radical perineal and radical retropubic prostatectomy. BJU Int 85(1):95–100

31.

Gillitzer R, Thomas C, Wiesner C, Jones J et al (2010) Single Center comparison of anastomotic strictures after radical perineal and radical retropubic prostatectomy. Urology 76(2):417–422

32.

Matsubara A, Yoneta T, Nakamoto T et al (2007) Inguinal Hernia after radical perineal prostatectomy: comparison with the retropubic approach. Urology 70(6):1152–1156

33.

Frazier HA, Robertson JE, Paulson DF (1992) Radical prostatectomy: the pros and cons of the perineal versus retropubic approach. J Urol 147:888–890

34.

Haab F, Boocon-Gibod L, Delmas V, Toublanc M (1994) Perineal versus retropubic radical prostatectomy for T1, T2 prostate cancer. Br J Urol 74:626–629

35.

Zippe CD, Rackley RR (1996) Non-nerve sparing radical prostatectomy in the elderly patient: perineal vs retropubic approach. J Urol 155(Suppl):284

36.

Lassen PM, Kearse WS (1995) Rectal injuries during radical perineal prostatectomy. Urology 45:266–269

37.

Bishoff JT, Motley G, Optenberg SA et al (1998) Incidence of fecal and urinary incontinence following radical perineal and retropubic prostatectomy in a national population. J Urol 160(2):454–458

38.

Briganti A, Blute ML, Eastham JH et al (2009) Pelvic lymph node dissection in prostate cancer. Eur Urol 55:1251–1265

39.

Partin AW, Mangold LA, Lamm DM et al (2001) Contemporary update of prostate cancer staging nomogram (Partin Tables) for new millennium. Urology 58:843–848

40.

Keller H, Lehmann J, Beier J (2007) Radical perineal prostatectomy and simultaneous extended pelvic lymph node dissection via the same incision. Eur Urol 52:384–388

41.

Matsubara A, Murakami G, Arakawa T et al (2003) Topographic anatomy of the male perineal structures with special reference to perineal approaches for radical prostatectomy. Int Urol 10:141–148

42.

Hsu RL, Kaye AD, Urman RD (2013) Anesthetic challenges in Robotic-assisted urologic surgery. Rev Urol 15:178–184

43.

Wiltz AL, Shikanov S, Eggener SE et al (2009) Robotic radical prostatectomy in overweight and obese patients: oncological and validated-functional outcomes. Urology 73:316–322

44.

Chavali JS, Garisto J, Bertolo R, Agudelo J, Dagenais J, Kaouk J (2018) Robotic radical prostatectomy after aborted prostatectomy: still feasible? The experience from a tertiary care center. J Robot Surg. https://doi.org/10.1007/s11701-018-0870-x

45.

Harris MJ (2007) The anatomic perineal prostatectomy: an outcomes-based evolution. Eur Urol 52:81–88

46.

Sullivan LD, Weir MJ et al (2000) A comparison of the relative merits of radical perineal and radical retropubic prostatectomy. BJU Int 85:95–100

47.

Comploj E, Palermo S, Trenti E et al (2001) Radical perineal prostatectomy: an outdated procedure? Int J Surg 9:400–403

48.

Vickers A, Bianco F, Serio AM (2007) The surgical learning curve for prostate cancer control after radical prostatectomy. J Natl Cancer Inst 99(15):1171–1177

49.

Mokulis J, Thompson I (1997) Radical Prostatectomy: is the perineal approach more difficult to learn? J Urol 157(1):230–232

50.

Eliya F, Kernen K, Gonzalez J, Peters K et al (2011) Radical perineal prostatectomy: a learning curve? Int Urol Nephrol 43(1):139–142

51.

Wronski S, Slupski P, Wisniewski P (2012) A Single institution study on patient's self-reporting appraisal and functional outcomes of the first set of men following radical perineal prostatectomy. Cent Eur J Urol 65(3):124–129

52.

Kaouk J, Garisto J, Etlemamy M, Bertolo R (2019) Pure-single site robot-assisted partial nephrectomy using the sp surgical system: initial clinical experience. Urology 124:282–285

53.

Kaouk J, Bertolo R, Eltemamy M, Garisto J (2019) Single-port robot-assisted radical prostatectomy: first clinical experience using the sp surgical system. Urology 124:309

54.

Kaouk J, Garisto J, Eltemamy M, Bertolo R (2019) Step-by-Step technique for single-port robot-assisted radical cystectomy and pelvic lymph nodes dissection using the da Vinci SP surgical system. BJU Int. https://doi.org/10.1111/bju.14744

55.

Kaouk J, Garisto J, Eltemamy M, Bertolo R (2019) Single-port robotic intracorporeal ileal conduit urinary diversion during radical cystectomy using the SP surgical system: step-by-step tecnique. Urology 130:196–200

56.

Bertolo R, Garisto J, Eltemamy M, Kaouk J (2019) Pure single-site transperineal robotic radical prostatectomy: first clinical report using the SP surgical system. Eur Urol Suppl 18:e2282

57.

Martis G, Diana M, Ombres M (2007) Retropubic versus perineal radical prostatectomy in early prostate cancer: eight-year experience. J Surg Oncol 95(6):513–518
Ethics declarations
Conflict of interest
Jihad Kaouk certifies that all conflict of interest, including specific financial interest and relationships and affiliations relevant to the subject matter or materials discussed in the manuscript (e.g., employment/affiliation, grants or funding, consultancies, honoraria, stock ownership or options, expert testimony, royalties or patents filed, received or pending), are the following: Jihad Kaouk is consulting research for Intuitive Surgical. The rest of the authors (Juan Garisto, Riccardo Bertolo, and Clark A. Wilson) have nothing to disclose.
Research involving human participants and/or animals
This article does not contain any experimental studies with human participants or animals performed by any of the authors.
Informed consent
The individual re-identifiable pictures in this article were included with the informed consent of the patient.
Additional information
Publisher's Note
Springer Nature remains neutral with regard to jurisdictional claims in published maps and institutional affiliations.
About this article
Cite this article
Garisto, J., Bertolo, R., Wilson, C.A. et al. The evolution and resurgence of perineal prostatectomy in the robotic surgical era. World J Urol (2019). https://doi.org/10.1007/s00345-019-03004-1
Received:

Accepted:

Published:
Keywords
Robotic

Perineal prostatectomy

Prostate cancer

Single port