Abstract
Introduction
The endoscopic stone treatment step 1 (EST s1) protocol has been developed after 2 years of collaborative work between different European Association of Urology (EAU) sections.
Objectives
In this study, we added construct validity evidence to the EST s1 curriculum.
Materials and methods
The EST-s1 curriculum includes four standardized tasks: flexible cystoscopy, rigid cystoscopy, semi-rigid URS and flexible URS. Validation was performed during the annual 2016 EUREP meeting in Prague. 124 participants provided information on their endoscopic logbook and carried out these 4 tasks during a DVD recorded session. Recordings were anonymized and blindly assessed independently by five proctors. Inter-rater reliability was checked on a sample of five videos by the calculation of intra-class correlation coefficient. Task-specific clinical background of participants was correlated with their personal performance on the simulator. Breakpoint analysis was used to define the minimum number of performed cases, to be considered "proficient". "Proficient" and "Non-proficient" groups were compared for construct validity assessment. Likert scale-based questionnaires were used to test content and to comment on when the EST-s1 exams should be undertaken within the residency program.
Results
124 participants (105 final-year residents and 19 faculty members) took part in this study. The breakpoint analysis showed a significant change in performance curve at 36, 41, 67 and 206 s, respectively, corresponding to 30, 60, 25 and 120 clinical cases for each of the 4 tasks. EST-s1 was scored as a valid training tool, correctly representing the procedures performed in each task. Experts felt that this curriculum is best used during the third year of residency training.
Conclusion
Our validation study successfully demonstrated correlation between clinical expertise and EST-s1 tasks, adding construct validity evidence to it. Our work also demonstrates the successful collaboration established within various EAU sections.
This is a preview of subscription content, log in to check access.
We're sorry, something doesn't seem to be working properly.
Please try refreshing the page. If that doesn't work, please contact support so we can address the problem.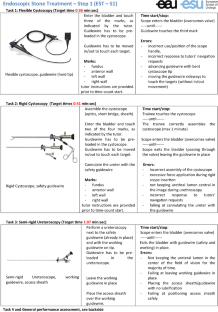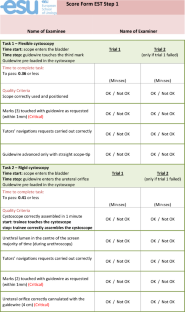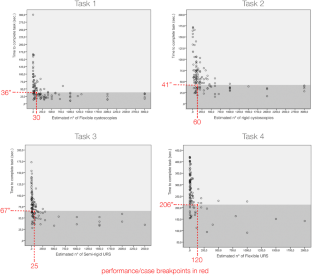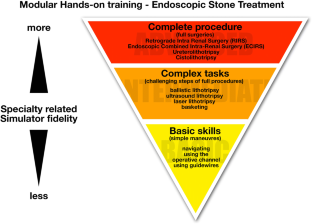 Abbreviations
EAU:

European Association of Urology

HoT:

Hands-on training

YAU:

Young Academic Urologists

EUREP:

European Urology Residents Education Programme

EST-s1:

Endoscopic stone treatment step 1 (curriculum)

ESU:

European School of Urology

ESUT:

European Section of Uro-Technology

EULIS:

European Section of Urolithiasis

URS:

Uretero-renoscopy

SD:

Standard deviation
References
1.

Geraghty R, Jones P, Somani BK (2017) Worldwide trends of urinary stone disease treatment over the last two decades: a systematic review. J Endourol 31(6):547–556

2.

Brunckhorst O, Aydin A, Abboudi H, et al. Simulation-based ureteroscopy training: a systematic review. J Surg Educ. 2015;72(1):135-43.

3.

Seitz C, Fajkovic H (2014) Training in ureteroscopy for urolithiasis. Arab J Urol 12(1):42–48. https://doi.org/10.1016/j.aju.2013.08.010

4.

Veneziano D, Ahmed K, Van Cleynenbreugel BSEP, Gözen AS, Palou J, Sarica K, Liatsikos EN, Sanguedolce F, Honeck P, Alvarez-Maestro M, Papatsoris A, Kallidonis P, Greco F, Breda A, Somani B (2017) Development methodology of the novel endoscopic stone treatment step 1 (EST s1) training/assessment curriculum. J Endourol. https://doi.org/10.1089/end.2017.0248

5.

Türk C, Neisius A, Petrik A, Seitz C, Skolarikos A, Tepeler A, Thomas K, Dabestani S, Drake T, Grivas N, Ruhayel Y (2017) EAU guidelines on urolithiasis

6.

Hananel D, Stubbs J, Sweet R (2015) Simulator development—from idea to prototype to product. In: Aggarwal R, Korndorfer J, Cannon-Bowers J (ed) ACS principles and practice for simulation and surgical education research. American College of Surgeons, Chicago, pp 138–152

7.

Brinkman W, Tjiam IM, Schout BMA, Hendrikx AJM, Witjes JA, Scherpbier AJJA, et al. Designing simulator-based training for nephrostomy procedure: an integrated approach of cognitive task analysis (CTA) and 4-component instructional design (4C/ID). J Endourol. 2011;25:A29-A

8.

Khamis NN, Satava RM, Alnassar SA, Kern DE (2016) A stepwise model for simulation-based curriculum development for clinical skills, a modification of the six-step approach. Surg Endosc 30(1):279–287. https://doi.org/10.1007/s00464-015-4206-x

9.

EST s1 video instructions. https://uroweb.org/education/online-education/surgicaleducation/endoscopic-stone-treatment-est/

10.

Messick S (1994) Validity of psychological assessment: validation of inferences from persons' responses and performance as scientific inquiry into score meaning. Am Psychol 50:741–749. https://doi.org/10.1037/0003-066X.50.9.741

11.

Korndorffer JR, Kasten SJ, Downing SM (2010) A call for the utilization of consensus standards in the surgical education literature. Am J Surg 199(1):99–104

12.

Sweet RM, Hananel D, Lawrenz F (2010) A unified approach to validation, reliability, and education design for for surgical technical skills training. Arch Surg 145(2):197–201

13.

Goldenberg M, Lee JY (2018) Surgical education, simulation, and simulators—updating the concept of validity. Curr Urol Rep 19:52

14.

Vassiliou MC, Feldman LS, Andrew CG, Bergman S, Leffondrè K, Stanbridge D, Fried GM (2005) A global assessment tool for evaluation of intraoperative laparoscopic skills. Am J Surg 190:107–113

15.

Jones RH, Molitoris BA (1984 Aug 15) A statistical method for determining the breakpoint of two lines. Anal Biochem 141(1):287–290

16.

Sarmah P, Voss J, Ho A, Veneziano D, Somani B. Low vs high fidelity: the importance of 'realism' in the simulation of a stone treatment procedure. Curr Opin Urol. 2017;27:316–322.

17.

Brinkman WM, Tjiam IM, Schout BMA, Muijtjens AMM, Van Cleynenbreugel B, Koldewijn EL et al (2014) Results of the European basic laparoscopic urological skills examination. Eur Urol. 65(2):490–496

18.

Fried GM. FLS assessment of competency using simulated laparoscopic tasks. J Gastrointest Surg. 2008;12(2):210–2. https://doi.org/10.1007/s00345-015-1657-6(World J Urol)

19.

Veneziano D, Minervini A, Beatty J et al (2016 Apr) Construct, content and face validity of the camera handling trainer (CHT): a new E-BLUS training task for 30° laparoscope navigation skills. World J Urol 34(4):479–484. https://doi.org/10.1007/s00345-015-1657-6(Epub 2015 Aug 6)

20.

Kowalewski TM, Sweet R, Lendvay TS et al (2015) Validation of the AUA BLUS tasks. J Urol 195:998–1005

21.

Regehr G, MacRae H, Reznick RK et al (1998) Comparing the psychometric properties of checklists and global rating scales for assessing performance on an OSCE-format examination. Acad Med 73:993–997

22.

Wood TC, Raison N, Haldar S et al (2016) Training tools for nontechnical skills for surgeons—a systematic review. J Surg Educ. https://doi.org/10.1016/j.jsurg.2016.11.017

23.

Brunckhorst O, Shadid S, Aydin A, Khan S, Mcllhenny C, Brewin J (2015) The relationship between technical and nontechnical skills within a simulation-based ureteroscopy training environment. J Surg Educ 72(5):1039–1044
Acknowledgements
ESU Training Group members are: Ben Van Cleynenbreugel, Domenico Veneziano, Ali Gozen, Bhaskar Somani. All their institutions are already in the paper as they are also listed as authors.
Ethics declarations
Conflict of interest
The authors declare that they have no conflict of interest.
Research involving human participants and/or animals
All procedures performed in studies involving human participants were in accordance with the ethical standards of the institutional and/or national research committee and with the 1964 Helsinki declaration and its later amendments or comparable ethical standards.
Informed consent
Informed consent was obtained from all individual participants included in the study.
Additional information
Publisher's Note
Springer Nature remains neutral with regard to jurisdictional claims in published maps and institutional affiliations.
The members of ESU Training Group are listed in Acknowledgements.
Suggested tweet
The novel EST s1 training curriculum is a valid tool to certify proficient mastery of the basic endoscopic skills.
Patients summary
In this study we validated the novel basic training curriculum for Endoscopic Stone Treatment, called EST-s1, developed after 2 years of collaborative work inside the EAU. We found that our curriculum is valid to certify proficiency of the basic endoscopic skills. The protocol is now established as a standard tool to certify proficiency of the basic endoscopic skills in Europe, with potential of worldwide adoption in the future.
Take home message
Our study successfully added face and construct validity to EST-s1 tasks. The protocol is now established as a standard tool to certify proficiency of the basic endoscopic skills in Europe, with potential of worldwide adoption in the future.
About this article
Cite this article
Veneziano, D., Ploumidis, A., Proietti, S. et al. Validation of the endoscopic stone treatment step 1 (EST-s1): a novel EAU training and assessment tool for basic endoscopic stone treatment skills—a collaborative work by ESU, ESUT and EULIS. World J Urol 38, 193–205 (2020). https://doi.org/10.1007/s00345-019-02736-4
Received:

Accepted:

Published:

Issue Date:
Keywords
Stone treatment

Training

EST-s1

Hands-on training

Education

Curriculum

Training protocol