Abstract
Purpose
The mid-urethral synthetic sling (MUS) procedure has become the standard of care for treatment of female stress urinary incontinence. However, a small number of patients will have complications following MUS including failure, obstructive voiding, sling erosion, or chronic pain. This paper discusses the role of 2D and 3D ultrasound imaging in the evaluation of the female patient with complications following placement of a synthetic mid-urethral sling.
Results
The MUS is easily visualized as an echogenic structure on ultrasound and can be imaged by transperineal, transvaginal and introital approaches. Ultrasound allows dynamic assessment of the sling and can assist in the diagnosis of sling failure, obstruction, erosion and mesh related pain.
Conclusions
Pelvic floor ultrasound has an emerging role in the assessment of complications following MUS surgery. 3D ultrasound can assist the clinician in assessment of the complex patient with multiple slings or meshes in situ.
This is a preview of subscription content, log in to check access.
Access options
Buy single article
Instant unlimited access to the full article PDF.
US$ 39.95
Price includes VAT for USA
Subscribe to journal
Immediate online access to all issues from 2019. Subscription will auto renew annually.
US$ 199
This is the net price. Taxes to be calculated in checkout.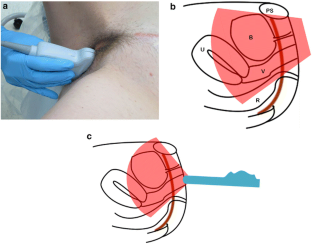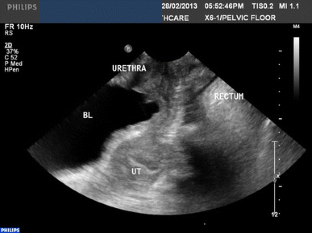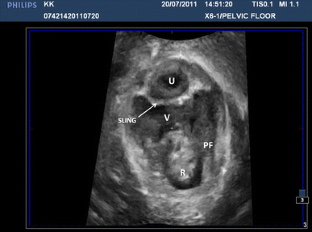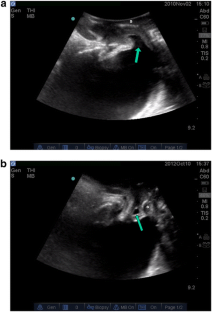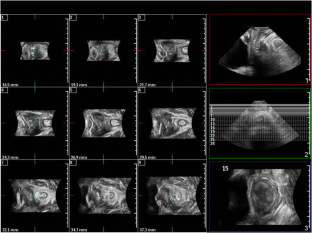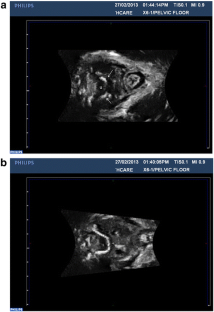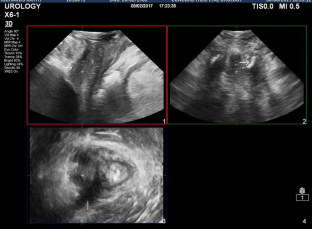 References
1.

Fusco F, Abdel-Fattah M, Chapple CR, Creta M, La Falce S, Waltregny D et al (2017) Updated systematic review and meta-analysis of the comparative data on colposuspensions, pubovaginal slings, and midurethral tapes in the surgical treatment of female stress urinary incontinence. Eur Urol 72(4):567–591

2.

Blaivas JG, Purohit RS, Benedon MS, Mekel G, Stern M, Billah M et al (2015) Safety considerations for synthetic sling surgery. Nat Rev Urol. 12(9):481–509

3.

Brubaker L, Norton PA, Albo ME, Chai TC, Dandreo KJ, Lloyd KL et al (2011) Adverse events over two years after retropubic or transobturator midurethral sling surgery: findings from the Trial of Midurethral Slings (TOMUS) study. Am J Obstet Gynecol 205(5):498e1–498e6

4.

Shek KL, Dietz HP (2014) Imaging of slings and meshes. Australas J Ultrasound Med. 17(2):61–71

5.

Shek KL, Chantarasorn V, Dietz HP (2010) The urethral motion profile before and after suburethral sling placement. J Urol 183(4):1450–1454

6.

Hegde A, Nogueiras M, Aguilar VC, Davila GW (2017) Dynamic assessment of sling function on transperineal ultrasound: does it correlate with outcomes 1 year following surgery? Int Urogynecol J 28(6):857–864

7.

Dietz HP, Wilson PD (2004) The 'iris effect': how two-dimensional and three-dimensional ultrasound can help us understand anti-incontinence procedures. Ultrasound Obstet Gynecol 23(3):267–271

8.

Dietz HP (2011) Pelvic floor ultrasound in incontinence: what's in it for the surgeon? Int Urogynecol J 22(9):1085–1097

9.

Kociszewski J, Fabian G, Grothey S, Kuszka A, Zwierzchowska A, Majkusiak W et al (2017) Are complications of stress urinary incontinence surgery procedures associated with the position of the sling? Int J Urol 24(2):145–150

10.

Takacs P, Larson K, Scott L, Cunningham TD, DeShields SC, Abuhamad A (2017) Transperineal sonography and urodynamic findings in women with lower urinary tract symptoms after sling placement. J Ultrasound Med 36(2):295–300

11.

Majkusiak W, Pomian A, Tomasik P, Horosz E, Zwierzchowska A, Kociszewski J et al (2017) Does the suburethral sling change its location? Int J Urol 24:848–853

12.

Larson K, Scott L, Cunningham TD, Zhao Y, Abuhamad A, Takacs P (2017) Two-dimensional and three-dimensional transperineal ultrasound findings in women with high-pressure voiding after midurethral sling placement. Female Pelvic Med Reconstr Surg. 23(2):141–145

13.

Manonai J, Rostaminia G, Denson L, Shobeiri SA (2016) Clinical and ultrasonographic study of patients presenting with transvaginal mesh complications. Neurourol Urodyn 35(3):407–411

14.

Staack A, Vitale J, Ragavendra N, Rodriguez LV (2014) Translabial ultrasonography for evaluation of synthetic mesh in the vagina. Urology. 83(1):68–74
Ethics declarations
Conflict of interest
The authors have no potential conflicts of interest to disclose.
Human participants or animals rights
This article does not contain any studies with human participants or animals performed by any of the authors.
Electronic supplementary material
Below is the link to the electronic supplementary material.
Supplementary material 1 (AVI 7937 kb) Video 1 Transperineal 2D ultrasound of MUS imaged in para-sagittal plane showing dynamic compression of the mid-urethra by sling during coughing
Supplementary material 2 (AVI 23449 kb) Video 2 Transperineal ultrasound of patient with MUS who reported recurrence of urinary incontinence following heavy physical exercise at 3-weeks post surgery. Note lack of dynamic compression of the urethra suggesting that the sling may have become loose after exercise
Supplementary material 3 (AVI 21818 kb) Video 3 Transperineal ultrasound (imaged in sitting position) of patient with voiding dysfunction following pubovaginal fascial sling demonstrating marked angulation of proximal urethra/ bladder neck by sling during Valsalva
Supplementary material 4 (AVI 78750 kb) Video 4 Transvaginal ultrasound in patient with pelvic pain, previous MUS, and mesh repair of rectocele. Pain was reproduced by gentle pressure of transducer on MUS but not on posterior mesh—this patient subsequently underwent excision of sling with resolution of pain
About this article
Cite this article
Chan, L., Tse, V. Pelvic floor ultrasound in the diagnosis of sling complications. World J Urol 36, 753–759 (2018). https://doi.org/10.1007/s00345-018-2253-3
Received:

Accepted:

Published:

Issue Date:
Keywords
Mid-urethral sling

Ultrasound

Mesh complications