Abstract
Purpose
Vesico-ureteral reflux (VUR) represents one of the most significant risk factors for acute pyelonephritis in children. Surgery is an important part of its management. Laparoscopic ureteric reimplantation using the Lich–Gregoir technique is an option for VUR. The aim of this study is to assess short- and medium-term outcomes of this approach.
Materials and methods
This is a retrospective study including all children with VUR treated by laparoscopic extravesical ureteral reimplantation with the Lich–Gregoir technique in University Hospital of Saint-Etienne from August 2007 to May 2016. Surgery was performed after the age of 12 months in cases with repeated urinary tract infection (UTI) and a deterioration of renal function. All patients were followed-up post operatively.
Results
117 children (92 girls, 25 boys) representing 159 renal units were included. The mean age at surgery was 47.1 months (±32.7 months). The mean follow-up was 59.3 months (±31 months). The resolution rate for VUR in terms of no febrile urinary UTIs was 98.3%. The mean operative time was 96 min (±37.7 min) for unilateral procedures and 128 min (±46.1 min) for bilateral procedures. The mean hospital stay was 25.3 h (±6.3 h). There was no difference between males and females regarding age, weight, renal function or follow-up duration.
Conclusions
Laparoscopic reimplantation with Lich–Gregoir technique is an efficient, quick and safe technique for the management of VUR. The success rate is comparable to open techniques with the advantages of laparoscopic approach; this can potentially be performed as a Day Case procedure.
This is a preview of subscription content, log in to check access.
Access options
Buy single article
Instant unlimited access to the full article PDF.
US$ 39.95
Price includes VAT for USA
Subscribe to journal
Immediate online access to all issues from 2019. Subscription will auto renew annually.
US$ 199
This is the net price. Taxes to be calculated in checkout.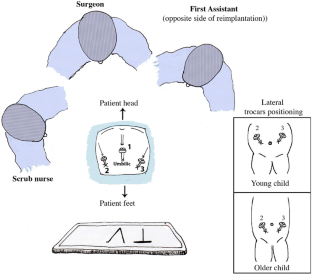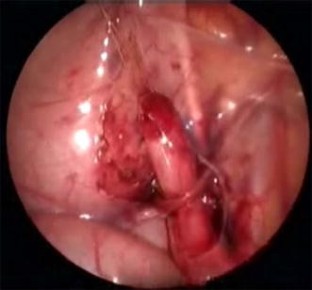 References
1.

Olbing H, Claësson I, Ebel KD, Seppänen U, Smellie JM, Tamminen-Möbius T et al (1992) Renal scars and parenchymal thinning in children with vesicoureteral reflux: a 5-year report of the International Reflux Study in Children (European branch). J Urol 148(5 Pt 2):1653–1656

2.

Demède D, Cheikhelard A, Hoch M, Mouriquand P (2006) Médecine factuelle et reflux vésico-urétéral. EMC Urol doi:10.1016/S0000-0000(06)40852-4

3.

Paquin AJ (1959) Ureterovesical anastomosis: the description and evaluation of a technique. J Urol 82:573–583

4.

Esposito C, Escolino M, Lopez M, Farina A, Cerulo M, Savanelli A et al (2016) Surgical management of pediatric vesicoureteral reflux: a comparative study between endoscopic, laparoscopic, and open surgery. J Laparoendosc Adv Surg Tech 26(7):574–580

5.

Lebowitz RL, Olbing H, Parkkulainen KV, Smellie JM, Tamminen-Möbius TE (1985) International system of radiographic grading of vesicoureteric reflux. International Reflux Study in Children. Pediatr Radiol 15(2):105–109

6.

Peters CA, Skoog SJ, Arant BS, Copp HL, Elder JS, Hudson RG et al (2010) Summary of the AUA guideline on management of primary vesicoureteral reflux in children. J Urol 184(3):1134–1144

7.

Riquelme M, Lopez M, Landa S, Mejia F, Aranda A, Rodarte-Shade M et al (2013) Laparoscopic extravesical ureteral reimplantation (LEVUR): a multicenter experience with 95 cases. Eur J Pediatr Surg 23(2):143–147

8.

Wicher C, Hadley D, Ludlow D (2010) 250 consecutive unilateral extravesical ureteral reimplantations in an outpatient setting. J Urol 184(1):311–314

9.

O'Donnell B, Puri P (1984) Treatment of vesicoureteric reflux by endoscopic injection of Teflon. Br Med J Clin Res Ed. 289(6436):7–9

10.

Hayn MH, Smaldone MC, Ost MC, Docimo SG (2008) Minimally invasive treatment of vesicoureteral reflux. Urol Clin North Am 35(3):477–488

11.

Barrou B, Bitker MO, Chatelain C (1990) Réimplantations urétéro-vésicales anti-reflux. EMC Tech Chir—Urol 41:133

12.

Trial Investigators RIVUR, Hoberman A, Greenfield SP, Mattoo TK, Keren R, Mathews R et al (2014) Antimicrobial prophylaxis for children with vesicoureteral reflux. N Engl J Med 370(25):2367–2376

13.

Lich R, Howerton LW, Davis LA (1962) Ureteral reflux, its significance and correction. South Med J 55:633–635

14.

Gregoir W (1964) The surgical treatment of congenital vesico-ureteral reflux. Acta Chir Belg 63:431–439

15.

Palmer JS (2008) Extravesical ureteral reimplantation: an outpatient procedure. J Urol. 180((4 Suppl)):1828–1831 (discussion 1831)

16.

Fung LC, McLorie GA, Jain U, Khoury AE, Churchill BM (1995) Voiding efficiency after ureteral reimplantation: a comparison of extravesical and intravesical techniques. J Urol 153(6):1972–1975

17.

David S, Kelly C, Poppas DP (2004) Nerve sparing extravesical repair of bilateral vesicoureteral reflux: description of technique and evaluation of urinary retention. J Urol 172((4 Pt 2)):1617–1620 (discussion 1620)

18.

Casale P, Patel RP, Kolon TF (2008) Nerve sparing robotic extravesical ureteral reimplantation. J Urol 179(5):1987–1989 discussion 1990

19.

Smith RP, Oliver JL, Peters CA (2011) Pediatric robotic extravesical ureteral reimplantation: comparison with open surgery. J Urol 185(5):1876–1881

20.

Bayne AP, Shoss JM, Starke NR, Cisek LJ (2012) Single-center experience with pediatric laparoscopic extravesical reimplantation: safe and effective in simple and complex anatomy. J Laparoendosc Adv Surg Tech A. 22(1):102–106

21.

Herz D, Fuchs M, Todd A, McLeod D, Smith J (2016) Robot-assisted laparoscopic extravesical ureteral reimplant: a critical look at surgical outcomes. J Pediatr Urol 12(6):402-e1–402-e2

22.

Kasturi S, Sehgal SS, Christman MS, Lambert SM, Casale P (2012) Prospective long-term analysis of nerve-sparing extravesical robotic-assisted laparoscopic ureteral reimplantation. Urology. 79(3):680–683

23.

Falkensammer ML, Gobet R, Stauffer UG, Weber DM (2008) To Cohen and forget? Evaluation of postoperative imaging studies after transtrigonal ureteric reimplantation for vesicoureteric reflux in children. Urol Int 81(2):218–221

24.

Grossklaus DJ, Pope JC, Adams MC, Brock JW (2001) Is postoperative cystography necessary after ureteral reimplantation? Urology. 58(6):1041–1045

25.

Sorensen MD, Johnson MH, Delostrinos C, Bice JB, Grady RW, Lendvay TS (2010) Initiation of a pediatric robotic surgery program: institutional challenges and realistic outcomes. Surg Endosc 24(11):2803–2808

26.

Tapscott A, Kim SS, White S, Graves R, Kraft K, Casale P (2009) Port-site complications after pediatric urologic robotic surgery. J Robot Surg. 3(3):187

27.

Lakshmanan Y, Fung LC (2000) Laparoscopic extravesicular ureteral reimplantation for vesicoureteral reflux: recent technical advances. J Endourol 14(7):589–593 (discussion 593–4)

28.

Lopez M, Varlet F (2010) Laparoscopic extravesical transperitoneal approach following the Lich–Gregoir technique in the treatment of vesicoureteral reflux in children. J Pediatr Surg 45(4):806–810

29.

Lopez M, Melo C, François M, Varlet F (2011) Laparoscopic extravesical transperitoneal approach following the Lich–Gregoir procedure in refluxing duplicated collecting systems: initial experience. J Laparoendosc Adv Surg Tech A 21(2):165–169
Authors' contribution
VS Project development, data collection and management, data analysis manuscript writing and editing AS project development, data management, manuscript writing and editing ML Project development, data collection and management, manuscript editing CYL data analysis manuscript editing ST data analysis manuscript editing SV manuscript editing FV project development, data management, data analysis manuscript writing and editing.
Ethics declarations
Conflict of interest
The authors declare that they have no conflict of interest.
Ethical responsibilities of the authors
The authors declare that the manuscript has not been submitted to more than one journal for simultaneous consideration. It has not been published previously (party or full). No data have been fabricated or manipulated to support our conclusions. Authors whose names appear on the submission have contributed sufficiently to the scientific work.
Research involving human participants
For this type of study (retrospective study), formal consent is not required.
Electronic supplementary material
Supplementary material 1 (MOV 62,666 kb)
About this article
Cite this article
Soulier, V., Scalabre, A., Lopez, M. et al. Laparoscopic vesico-ureteral reimplantation with Lich–Gregoir approach in children: medium term results of 159 renal units in 117 children. World J Urol 35, 1791–1798 (2017). https://doi.org/10.1007/s00345-017-2064-y
Received:

Accepted:

Published:

Issue Date:
Keywords
Laparoscopy

Vesico-ureteral reflux

VUR

Lich–Gregoir

Children